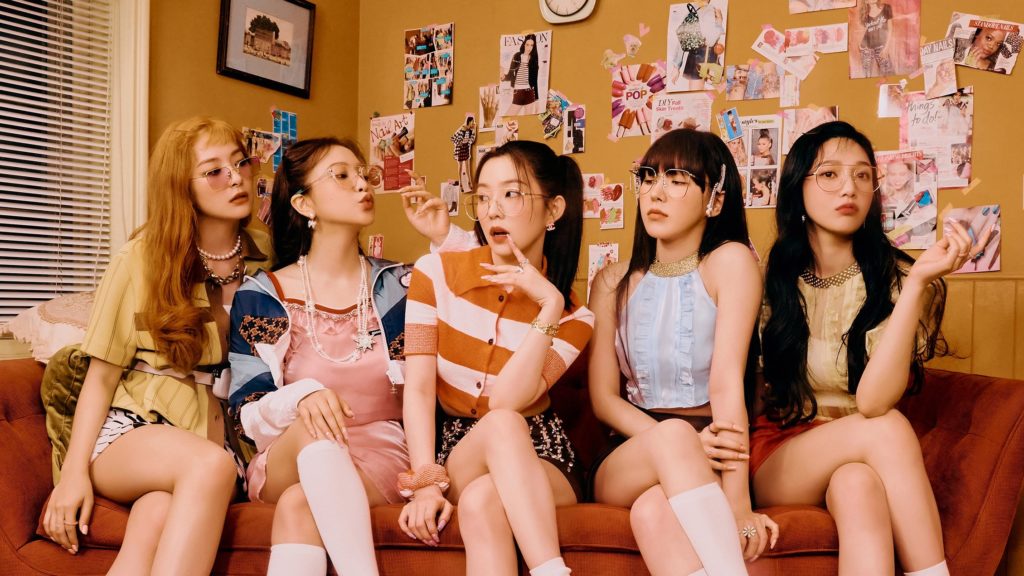 SM Entertainment's five queens are back. Seven months after releasing Queendom, K-pop girl group Red Velvet is back with The ReVe Festival 2022 – Feel My Rhythm, a mini-album with six songs. They announced the new installment of their "ReVe Festival" series on March 2 at 12 AM KST. Their seventh mini-album continues the theme of their 2019 trilogy.
The brief teaser features an animated girl wearing a box over her head that has a robot face drawn onto it. She sits on a rustic wooden table that is in front of a well-decorated wall where all kinds of trinkets are moving around her. Her legs also move, as does a lever that is attached to her makeshift mask.
Once the lever is pulled, audio that sounds like a film vcr plays and the moving objects behind her can be heard. The lightbulb on the box also glows. Full of cryptic and wonder, this teaser is right up Red Velvet's alley.
Establishing a Queendom With Their Return As A Group
Last August, Red Velvet released music for the first time since 2019. They released their Queendom mini-album, which gained traction on global charts. It peaked at number 2 on Gaon's Weekly Album Chart, 11 on Billboard's World Albums Chart, and 11 on Oricon's Weekly Chart. According to Gaon, the mini-album sold over 363,000 copies in 2021.  The lead single, "Queendom," also earned a spot on global charts, including a top 10 position on Billboard's World Digital Song Sales Chart. At the Gaon Chart Music Awards in January, Red Velvet won Artist of the Year (Digital Music) for the month of August. 
While the achievements speak to Red Velvet's success as artists, Queendom marked the group's reunion. This was their first time releasing music as five since their 2019 "ReVe Festival" trilogy. In terms of music, the pop-dance-R&B fusion album displayed Red Velvet's abilities as top-notch singers and established their identity as queens with their empowering music.
Looking Back to the Trilogy
In June 2019, the "ReVe Festival" series was launched with ReVe Festival: Day 1, a six song EP leading with the mystifying single "Zimzalabim." In August, Red Velvet released the next installment of their special project: ReVe Festival: Day 2. The EP had with six new tracks, including "Umpah Umpah"– an upbeat song reminiscent of Red Velvet's previous summer singles. The group concluded their trilogy with The ReVe Festival: Finale, a combination of songs from both EPs and four new songs. Red Velvet lead the December album with their chilling R&B track, "Psycho."
With all three lead tracks vastly different in style, Red Velvet boasted their versatility and cohesion as a group. Even though the tracks were distinct, all three videos stayed true to Red Velvet's signature flair. Both "Zimzalabim" and "Umpah Umpah" had an otherworldly magical atmosphere. However, "Psycho," the more mature song of the trio, had a more haunting, thriller-esque visual that resembles some of their previous videos like "Peek-A-Boo."
What's next?
Ahead of the release of their mini-album, Red Velvet are hosting two "2022 The ReVe Festival: Prologue" shows on March 19 and 20. This special live is their first show live streamed and in-person since 2019.
With new content on the way, Red Velvet will certainly keep fans on their toes with intriguing teasers and concepts. The group always displays completely new sides of themselves while maintaining their flamboyant and creepy duality. 

Want more recent comeback news? Check out our piece on NCT DREAM's second album announcement here.