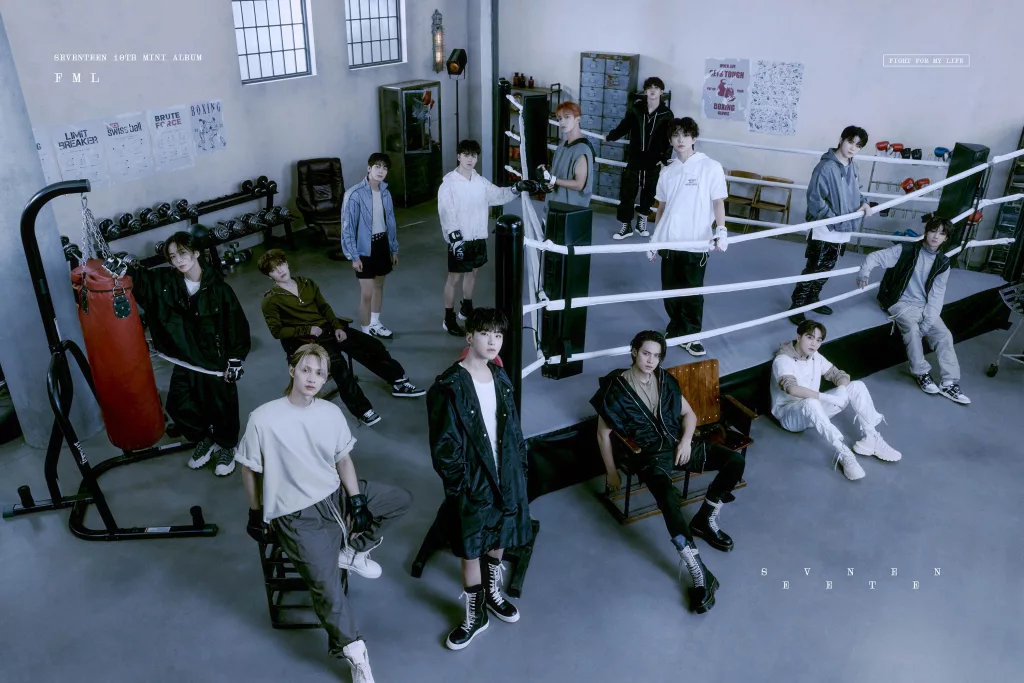 On May 29, 2015, SEVENTEEN burst onto the K-pop scene with their high-energy debut song, "Adore U." These 13 young men (yes, 13 not 17) showed off their crisp, tightly-in-sync choreography and youthful charms during a time when hip-hop and fantastical concepts dominated K-pop. As S.Coups, Jeonghan, Joshua, Jun, Hoshi, Wonwoo, Woozi, DK, Mingyu, The8, Seungkwan, Vernon, and Dino have grown up these past eight years, the 13 have created an expansive and diverse catalog. 
In anticipation of the group's 10th mini album, FML, Team EnVi rounded up 14 SEVENTEEN B-sides any Carat—or casual K-pop fan—must listen to.
"Shining Diamond" 17 Carat (2015)
"Shining Diamond" is the confident opening track for SEVENTEEN's debut EP, 17 Carat, and entices listeners to join the group on their musical journey by whispering, "Slip into the diamond life." This track is filled with a dynamic energy as they sing and rap strongly against groovy electric and bass guitars, early 2000s-reminiscent synths, and a brass fanfare. With SEVENTEEN's heartfelt declaration, "Even after time passes / I won't become weak, I'll keep it up," it is apparent why the group has immense international success today. Promising their beloved Carats that the group will work hard to make them proud, "Shining Diamond" is a testament to SEVENTEEN's hard work, as well as their love and devotion to their fans.
"Rock" – Boys Be (2015)
The puppy love found in "Adore U," the group's debut track, disappears in this SEVENTEEN B-side from their 2015 mini album Boys Be. They sing, maybe even with a growly tinge, of "Feelings that became intense / So dangerous I cannot hide" against the push-and-pull of an electronic hook. SEVENTEEN's signature eternal youthful energy is woven into this track alongside its more mature lyrical content. Plus, the repetition of "Rock my head" in the chorus worms its way into listeners' minds until you also want to rock your head, too.
"Healing" – Love&Letter repackage album (2016)
SEVENTEEN is beloved for a variety of reasons—including for their YouTube show Going Seventeen—but a popular one is the group's comforting lyrics. Even a year out from their debut, SEVENTEEN demonstrated their self-producing prowess and the reflective nature of their music. In "Healing" from the group's first repackaged album, the 13 focus on resting and cheering up their listeners after a long day. Lyrics such as "If you feel empty, hold my hand," "It's alright if you lay things down for a moment," and "Do I always have to be busy?" are there for fans and non-fans alike whenever they need to hear from someone who understands. And when you need an extra reason to smile, take a peek at the joy on the faces of SEVENTEEN in their "Healing" music video.
"Smile Flower" – Going Seventeen (2016)
Speaking of comforting SEVENTEEN songs, "Smile Flower" is a particularly special one. A soft ballad that closes out Going Seventeen, their third mini album and third release in 2016, SEVENTEEN dedicate "Smile Flower" to their fans. "I'll remain here by your side," the 13 promise. Even though this track is from their beginning musical years, the group still performed it during their 2019–2020 Ode To You tour. As the dire situation of Covid-19 grew more apparent, SEVENTEEN and their fans assured each other, "Whenever and wherever we are / Even if we can't be together / As always, we make our smile flowers bloom / I'll be the spring to your smile." Through laughter and tears, through perfect springs and brutal winters, SEVENTEEN have their Carats and Carats have SEVENTEEN.
"Crazy in Love" – Al1 (2017)
Looking for a B-side that is a bit more passionate and risqué? Check out "Crazy in Love" — a dance-driven track that meshes electronic and funk influences. SEVENTEEN are cool and reserved throughout the verses only to unleash their energy when the chorus hits. From deep baritone raps to seductive falsetto riffs, "Crazy in Love" is a rollercoaster, just like love can be. With lyrics such as "You are the only fire that melts me," and "Ah, my head, is overflowing with the waves that are you," the group captures the hot and cold nature of an overwhelming love.
"Lilili Yabbay" – Teen, Age (2017)
The Performance Team of SEVENTEEN, one of the three subunits the 13 members break into, is a force to be reckoned with. Their unit track on Teen, Age, SEVENTEEN's second full-length album, overflows with smooth sensuality. In "Lilili Yabbay," Hoshi, Jun, The8, and Dino (the youngest member) blend and juxtapose their vocals. Dino's earthy tone and rap builds onto the atmospheric instrumental, while Jun's airy falsetto elevates the rapid flutters of the electric guitar. To further witness the strength of the performance unit, watch their simple yet hypnotizing choreography video for this track.
"Our dawn is hotter than day" – You Make My Day (2018)
As comforting as a summer breeze, "Our dawn is hotter than day" is a B-side that warms your heart. SEVENTEEN come together on this bouncy yet sentimental ballad to bask in the heat of their passion. Just before the chorus, the instrumental ceases and the members chant together, "Our dawn is hotter than day / Until morning," enhancing the emotional nature of the track. With the lines, "When the day is bright / The world is ours," the group recognizes how their success comes from the tireless efforts poured into their craft. Working both day and night, SEVENTEEN are driven by the love from their beloved Carats to continue working hard.
"Good to Me" – You Made My Dawn (2019)
SEVENTEEN have quite a few earworms in their discography and, arguably, "Good to Me" is one of them. This synth-heavy pop track is loaded with an electric staccato motif and 808 beats. The post-chorus hook reels listeners and will have you singing, "Good to me, good to me, ay yaya," with the K-pop group. Leave it to SEVENTEEN to not only create an undeniably catchy track, but one that is heartfelt as well. They sing, "It was a long time since my firewall broke down / Pass with the password," sharing the overall message of being vulnerable and opening your heart up for love.
"Snap Shoot" – An Ode (2019)
In celebration of their fifth anniversary, SEVENTEEN dropped a special self-produced music video for the bright and catchy "Snap Shoot." The buoyant song contrasts the other darker and more intense tracks from their third studio album, An Ode. Shot in the United States while the group was on tour, the video's vividly saturated visuals coupled with the members' playful cameos complement the song's vibes perfectly. With lyrics that are all about forgetting your worries and living in the moment, you can't help but want to get up and jam to "Snap Shoot" every time it plays. "Snap Shoot" remains a fan favorite at concerts, and the audience rapping along to Dino's iconic verse is definitely a highlight for both Carats and SEVENTEEN.
"Kidult" – Heng:garae (2020)
SEVENTEEN's seventh mini album Heng:garae was released in the middle of the pandemic, and its name translates to tossing someone victoriously into the air in celebration. It seems fitting, then, that "Kidult" encapsulates the precarious moment at the peak of the toss when your stomach swoops as the ground comes rushing back at you. "Kidult " recounts the fears and uncertainties that come as you grow up but still feel like a child. The song encourages you to embrace your growing pains and reassures you that no matter how many candles you blow out on your birthday cake, it's still okay to cry like a kid. Falling and failing aren't shameful. Lyrics penned by S.Coups, Woozi, and Vernon reiterate that despite the times where you fumble around in the dark, "your world is fine." Life isn't limited to just bright spots, after all, and SEVENTEEN remind us that "even our hidden sorrows" are "precious."
"All My Love" – ; [Semicolon] (2020)
A soft, warm ballad, "All My Love" closes off SEVENTEEN's 2020 mini-album, ; [Semicolon]. The album is a breath of fresh air amidst the constant bustle of life, a pause to recenter and reflect. While the album's other B-sides are performed by various sub-units, "All My Love" reunites the 13 members in one final track. Woozi, Vernon, and Seungkwan crafted lyrics that manage to simultaneously express an apology and thankfulness. Gratitude is exemplified plainly in the chorus as the members take turns singing a straightforward "thank you for staying by my side." Regret, meanwhile, comes across in the helpless lyric: "I see you crying with your head down / I don't know what to do." Even if their love for Carats can only do much, SEVENTEEN promise to always try and be the "spring to whatever winter it may be."
"Heaven's Cloud" – Your Choice (2021)
"Heaven's Cloud" kicks off the group's eighth EP, Your Choice. With a light and bouncy air, SEVENTEEN come together to showcase their vocal abilities on this track. Layered with impressive harmonizations, the heavenly tone of the track is accentuated from beginning to end. "Heaven's Cloud" is a B-side for the lovestruck. As the members sing, "If you were to fall to the ground from here / Even if that is the first time we met / We could immediately recognize each other," they reassure that not even falling from heaven's cloud could stop their love.
"To you" – Attacca (2021)
2021 ushered in the revitalization of SEVENTEEN's rock phase, along with many other K-pop groups. With Attacca comes its opening track, "To you." Synths, drums, and a quick riff on an electric guitar gradually build to rush into Jeonghan's gentle first lines, "You, I always need you." SEVENTEEN sweep their listeners—and each other—away on a wave of harmony, satisfying synths, interwoven vocals, and uplifting energy. This is a song for you, they seem to sing, the weight behind their words clear as day.
"Circles" – Sector 17 (2022)
SEVENTEEN hold no artifice, and the messages they express in their music are ones they themselves believe in. "Circles" from SEVENTEEN's fourth album repackage Sector 17 is a song of hope in the face of despair. In Dingo Music's Tipsy Live, Woozi shared that he produced the song for Wonwoo and himself, as a reminder that while you may experience helplessness and hurt, life will eventually work out. In the track, the members take turns reminding Carats: "It's gonna be okay, like the hands on the clock / They'll go in circles back to their places."
In a surprise release, SEVENTEEN dropped a special music video for "Circles" on 30 December 2022 to close off the year. The music video featured the 13 members in various states of exhaustion as they rehearsed or rested backstage during their Be The Sun tour. These scenes are interspersed with clips of them on stage, performing their hearts out and looking in awe at the seas of Carats and Caratbongs (SEVENTEEN's official lightstick). The dichotomy shown in the music video is exactly what "Circles" is about – life is tough, but you will be okay.
Stay up to date with all things SEVENTEEN, make sure to follow the group on Instagram, TikTok, Twitter, and YouTube!
Want more K-pop B-sides to add to your daily playlist? Check out the K-pop B-sides that went viral in 2022 here!