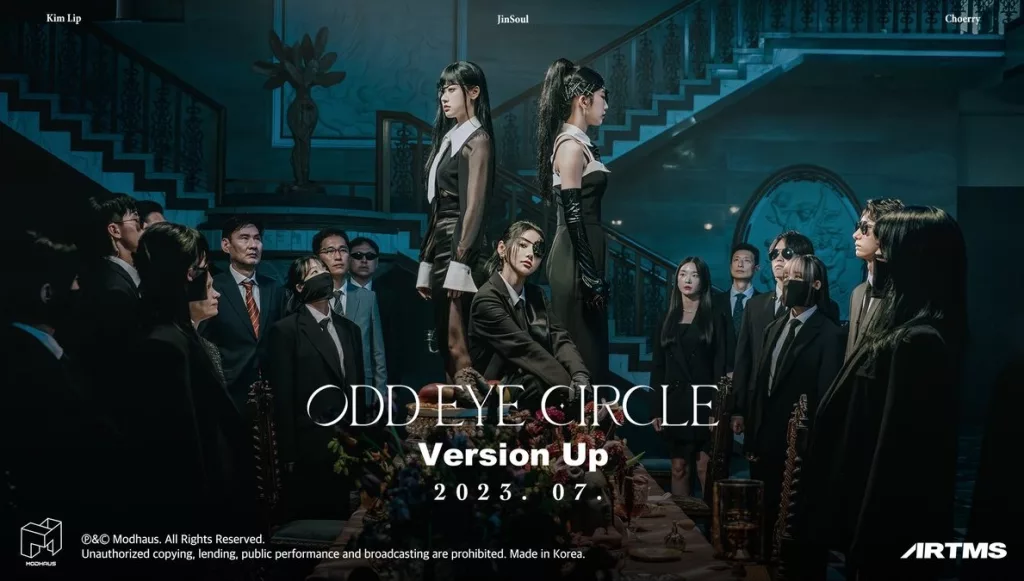 After a seven-year wait, ODD EYE CIRCLE have made their highly anticipated return with their six-track EP Version Up. Now signed under the company Modhaus, the girls are debuting for the second time as a unit under the ARTMS project. Members Kim Lip, JinSoul, and Choerry stepped back into the spotlight, continuing their story right where they left off. Released on July 12, Version Up reveals a mature, sophisticated side to ODD EYE CIRCLE while maintaining their signature ethereal sound.
A New Journey
ODD EYE CIRCLE was originally a subunit of the 12-member girl group LOONA under the company Blockberry Creative. Following a series of legal battles spanning months, the members successfully terminated their contracts with Blockberry Creative. ODD EYE CIRCLE, along with former LOONA members HeeJin and HaSeul, signed under their new company Modhaus.
Parting ways with Blockberry Creative in 2019, LOONA's former creative director and producer, Jaden Jeong, became the founder and CEO of Modhaus. In a recent interview, Jeong shared ARTMS "will continue the identity of LOONA," resuming his creative visions originally reserved for LOONA. Turning a new chapter, ODD EYE CIRCLE set on a new journey with ARTMS without sacrificing their established, distinct concept.
Step It Up Like Air Force One
As ODD EYE CIRCLE are known for their light and dreamy concepts, the accompanying music video for "Air Force One" came as a pleasant surprise to fans. Dressed in black and white, various scenes show the members fighting enemies and racing through the city. Many fans noticed several visual references to LOONA's past music videos, connecting LOONA's rich lore to the group's present concept.
"Air Force One" was written by member Kim Lip and lyricist G-high, who was involved in the production of ODD EYE CIRCLE's "Uncover" and LOONA's "Butterfly." In the showcase, JinSoul shared that the song is inspired by the Air Force One jet used to transport the president of the United States. Also mentioning the iconic Air Force One sneakers, the lyrics "Step it up like Air Force One" refers to ODD EYE CIRCLE's determination to succeed. The members sing "Heart is beating faster / Let it fly to the sky," ready to reach for their biggest dreams as they continue their journey together.
B-side Debrief
Version Up's intro song, "Did You Wait?" introduces fans to a new era while paying homage to ODD EYE CIRCLE's past discography. In the showcase, Kim Lip shared that this track contains a message for fans who waited seven years for their return. Fan-favorite songs "Sweet Crazy Love," "LOONATIC," and "Uncover" can be heard through radio static as the channel transitions to a new beat. The fresh sound eases listeners into the mini album's title track, "Air Force One." 
"Je Ne Sais Quoi" continues the EP with an alluring expression of blind attraction. The chorus features ODD EYE CIRCLE's signature dreamlike vocals while revealing a more mature side of their concept. Written with the help of SoHyun from Modhaus' girl group TripleS, the song describes desiring someone without knowing the reason. Using a French expression to describe an unexplainable appealing quality, the girls sing, "Je Ne Sais Quoi / Your attraction / I wanna approach you." 
Written with a heartfelt message to their loyal fanbase, "Lucid" describes feeling reborn and pursuing a dream with someone. "It has a message of thanking the fans who have waited a very long time," said Kim Lip. "You drifted apart and I don't want to lose you again," Choerry sings, looking toward a brighter future with their loyal fans.
"Love Me Like" paints an enticing picture of overwhelmingly addictive love. "It's a love where we are more forward, more provocative," JinSoul said. "I think you're a love potion / Looks, gestures, fall in soon enough," JinSoul and Kim Lip sing. Overcome by these emotions toward someone they love, they feel themselves falling harder, almost in a hypnotic trance. 
Closing out the EP, "My Secret Playlist" stands out from Version Up as an upbeat, playful track. "This song has a lot of pop lyrics that are popular, so it's a fun song to find those references," Choerry said. The song describes the exciting emotions that come with new love. The lyrics express innocent curiosity, encouraging the person they love to show their true colors to understand the deepest parts of them.
Coming Up
ODD EYE CIRCLE made their long-awaited comeback with their new EP Version Up. Fans look forward to reuniting with the trio as they hit the stage on their Europe tour, Volume Up in August. Listen to their newest music release on Spotify and Apple Music, and follow ARTMS on Instagram, Twitter, TikTok, and YouTube for the latest updates!
Looking for more girl group content? Check out 7 Things to Know about the newly debuted group KISS OF LIFE here!