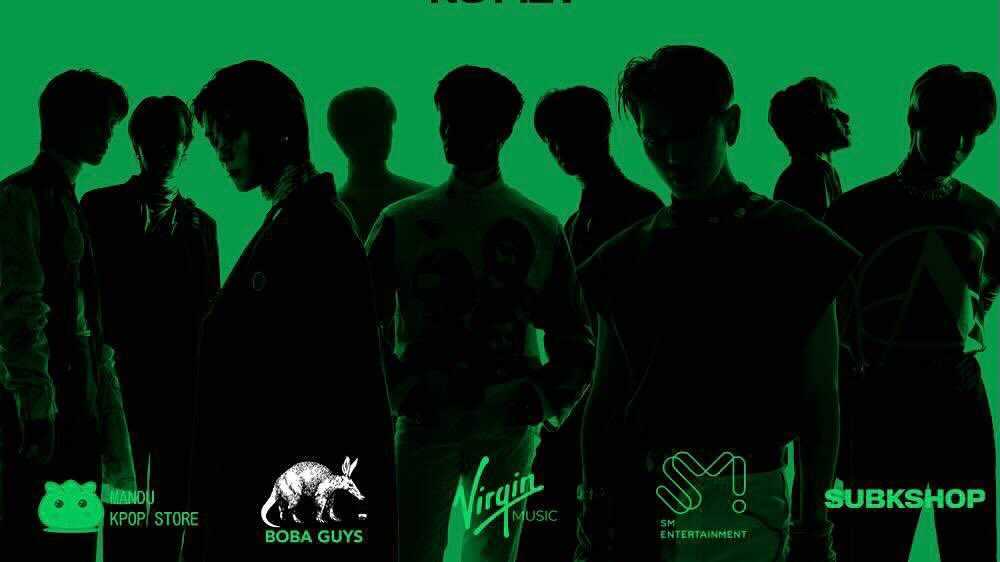 If one had been walking the streets of New York City on September 19, they most likely stopped and stared around the corner of Broadway, taking in the bustle of excitement around them. The focus of their attention– the collaboration of the century. 
Local bubble tea franchise, Boba Guys surprised many when they announced their collaboration with global K-pop sensation, NCT 127. Boba Guys announced a cup-sleeve event in celebration of NCT 127's new studio album, Sticker. The one-day only event was hosted in just two cities in the U.S: Los Angeles and New York City. A green-themed Boba Guys truck traveled to three locations across the cities to celebrate the group's comeback along with NCTzens. 
‼️ ATTENTION #NCTZENS ‼️

Come celebrate the release of @NCTsmtown_127's #Sticker with @BobaGuys' specially crafted NCTEA 🔥

➡️ LA & NY 9/19 ⬅️ @SMTOWNGLOBAL pic.twitter.com/Hy5n3lDQnj

— Virgin Music (@virginmusic) September 19, 2021
To honor the group, the event served a specially crafted bubble tea drink called NCTea. The drink was made of lemonade and matcha, a reference to both NCT's official color and their b-side track, "Lemonade." To say NCTzens were ecstatic to celebrate their favorite artists would be an understatement. From the moment the event was announced on September 17, NCTzens' excitement and surprise couldn't be contained. 
AH SHIT I GOTTA TAKE A BUS BACK TO CITY??? BET https://t.co/cHu0vrDBHU

— sans♥︎ (@taejukuz) September 18, 2021
NYC??? I HAVE A FREE FLIGHT LETS GOOO WTFF https://t.co/ByAzs8hy9p

— JH & TY | 📍Shipping days (@t_yonggie) September 17, 2021
this is such a cute and clever collab. can't wait to hear the flavors and go to my local shop to try and recreate lol https://t.co/1NKRUZMooc

— shaf¹²⁷🌱 LOVE RIGHT BACK (@curlyjohnny) September 17, 2021
Lining up the streets of New York City, NCTzens brought along their friends and family to join the fun as they showed their loyalty to their favorite boys. EnVi had the opportunity to talk to fans, as they waited in line for some NCTea and album goodies provided by Mandu Apparel. 
Had a fun time at the @NCTsmtown_127 x @BobaGuys event~ 💚 #Sticker #NCT127 #NCT127_Sticker #bobaguysnctea #EllenandBrian pic.twitter.com/Y4wk17Flt7

— Ellen and Brian (@EllenxBrian) September 19, 2021
How It Came To Be: The Team Behind The NCTea Event
There's something special that happens when you put together a team of like-minded individuals who love creating as much as they love music and connecting fans with their favorite artists. There's no better way to promote an artist than to have an event filled with live music, refreshing drinks, a bubbly atmosphere, and  fans ready to talk all about it. EnVi had the pleasure of speaking to Michelle Locke, the Branding Partnership Coordinator for UMG's creative solutions team 1824. This team focuses on connecting artists and brands directly to fans through storytelling and experiences. 
"One of our reps in Nashville had found Boba Guys, I set up a call with them and we started thinking about artists who could potentially be good for a partnership. I brought them–Boba Guys to the table to Capitol and Virgin during a weekly meeting we had with the labels, for initially another Capitol artist," Michelle said. "They were like, 'Hey, NCT is dropping an album next week, do you think we could potentially do something for them, for the album? Because we don't have any in-market–because they don't live here, can we do any in-market activation for the fans?" 
NCT 127 x Boba Guys
📍Times Square, NYC #BobaGuysNCTea #NCT127_Sticker#NCT127 @NCTsmtown_127 pic.twitter.com/Y2PUdfhHkf

— d e b b i e (@illgirl) September 19, 2021
With only a week and a-half to plan, Michelle and her team hit the ground running, making calls non-stop everyday in order to make this event come to life. The anticipation for this event was felt through every avenue, from Michelle and her team to SM themselves. The entire team behind this were excited to bring this idea to life. "Yeah, they told us that they were really excited about it, and that it was a great idea and a great way to get the fans to feel like they were a part of the album release without the band being in-market. I was really excited, so when they were on board, I was like, yeah, this is really happening." 
NCT 127 x Boba Guys event in Williamsburg 💚 @NCTsmtown_127 @BobaGuys #NCT127 #Sticker  #NCT127_Sticker #BobaGuysNCTea pic.twitter.com/nYCZFqRZaM

— KPOP IN NYC 💎 (@kpopinnyc) September 19, 2021
From the conception to its execution, the NCTea event was a success. Coming together so perfectly, the event not only gathered NCTzens in celebration, but also encompassed many elements of the Sticker album along with that of a typical K-pop cup sleeve event fans usually host for their idols. 
"The album is called Sticker. Boba Guys has done custom stickers before. I know, like, cup sleeves and things like that are really popular in K-pop culture as well, which they've also done before. And then they do lemonade-based drinks, and I was like, wow. It just all came together so perfectly, that I knew it was meant to be," Michelle gushed. 
The Sweet and Fashionable NCTzen Sisters: Amina and Imani Cooke
There's nothing more sweet than meeting a fellow K-pop fan, one who enjoys the same groups and songs as you do. What's even sweeter? When that fan is also someone whom you know personally. For sisters Amina and Imani Cooke, having a sister who likes K-pop is exciting and fun, especially when they get to enjoy going to concerts and dancing around their room to their favorite groups together. 
Having been fans of SM groups such as Girls Generation for a while, it was no surprise once SM Rookies announced their line up for their new boy group back in 2016, the sisters fell into the NCT lore. "I've been following them since then, they debuted and they were just so cool to me. It was just so new and different, and I was excited to see them grow, and what they were going to do, and I just really like their music too," Amina shared.
While Amina gushed about having stanned NCT since pre-debut, Imani didn't get into the global group until their introduction. It was during the drop of NCT U's "The 7th Sense," that Imani was lured into the world of NCT, "When the seven sense dropped, I was like, oh, this is it. This is the group, I'm about to become a stan," Imani smiled.
Amina admits she did not expect the NCTea event to be something that would be planned for NCT's comeback. She appreciated the sentiment of wanting to do something for fans–especially international fans, when touring is not possible at the moment. "So they wanted to do something for the fans, so they thought of this. And it's kind of amazing to think, 'oh, wow they do kind of think about international fans,' because sometimes we feel like we're kind of left behind. But to have this and see everybody come out, it's pretty cool." 
Building new friendships and relationships is a common theme that occurs in the K-pop community. It's easy to build a community when you share similar interests with others around your age. Imani shared this sentiment when expressing the special thing about K-pop that makes it possible to build relationships with other people. 
"Yeah, it's really easy to build a community in K-pop because there is such a way, it's so different to how other artists curate their fandom. There's always something to watch, always something to be a part of, something to enjoy when you stan a K-pop idol, or artist. It's almost inevitable that you start meeting people who are similar in your taste," she expressed. 
Continuing on, she shared that even when your interests don't always align, it's still a moment to rejoice in because you're able to build a deeper relationship with one another, join spaces where you're able to enjoy the same things. 
"My group chat, we consistently have spaces on twitter where we talk about anything that is going on in the fandoms that we enjoy. So I think it's really easy in that sense, because you want to enjoy things with other people because it is fun. I think that's the best way to put it, you just want to enjoy things with other people. Especially when they have your fave's face in their display picture." 
Perhaps one of the cherishing things about being a part of a fandom is being able to experience moments like the NCTea event together with your loved ones. And if there's one thing the Boba Guys x NCT 127 collaboration showed, it is how dedicated and loyal NCTzens are when it comes to supporting their favorite boys. 
Want more? Check out our recap of the "Sticker" music video here!