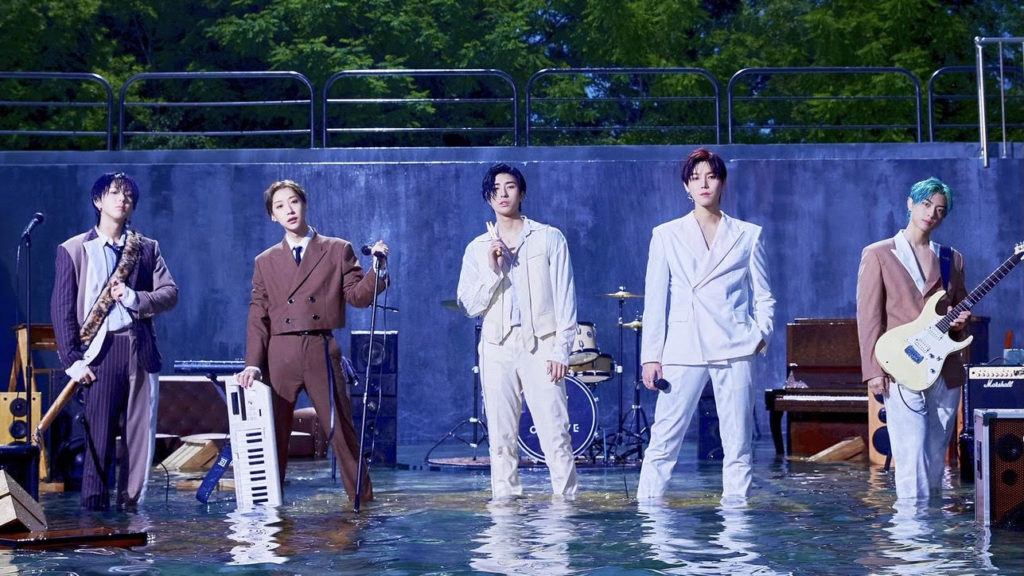 After a seemingly long six months since their last release (Memory: Illusion), the five-piece band ONEWE delivered a magical reawakening in their first EP, Planet Nine: Alter Ego. The band consists of lead singer Yonghoon, guitarist Kanghyun, bassist and rapper CyA, keyboardist and vocalist Dongmyeong, and drummer Harin.
Who Is ONEWE?
Debuting under RBW Entertainment in 2019, ONEWE is the rock counterpart to idol group ONEUS (which Dongmyeong's twin brother Xion is part of). Both have forged their paths very differently in the industry, with ONEUS gaining recognition through mainstream K-pop and ONEWE opting for the lesser-traveled indie route. The latter band, in particular, has had a fascinating scope of sounds as the members filled a previously hollow niche, even within the Korean rock scene.
With every member credited on the EP as a writer or composer, Planet Nine: Alter Ego is the exploration of all the different sides they have yet to show their audience.
Let It Rain
The lead single, "Rain To Be" is an uptempo rock song born from an inside joke between the band and its fans, WEVE. According to Kanghyun, whenever the band would have to go to work, it always seemed to rain on them. While none of the members enjoyed the rain (except Kanghyun), they all loved the idea of turning a gloomy concept into one bursting with joy and excitement.
"The rain that flowed between the collar / soaked with memories /The days I meet you / will always exist where it rains," Dongmyeong sings.
It's a beautiful notion when you think about it—turning sadness into empowerment. The music video also supported this idea with a visually stunning set and subdued hue. As ONEWE stood at the bottom of an empty pool, clad in polished suits, the water began to fill up with no sign of slowing down, but neither did they. While most people would avoid the rain, ONEWE embraced every drop falling on their skin and every inch that continued to swallow them up. Previous releases like "Regulus" and "End of Spring" have had gorgeous videos, but "Rain To Be" might just take the cake.
Inspiring, ambitious, and emotional, you'll find yourself coming back to this song to find a new hidden gem every time.
Through the Cosmos of Planet Nine's B-sides
Conceptually, "Intro: Spaceship" set the tone as ONEWE's first-ever intro track for an album. In the band's highlight medley, CyA explained this was the starting point for their journey to Planet Nine and completed the album. Its eerie opening mimicked the sounds of a spaceship preparing for lift-off, but the highlight was the distorted retro guitar synths blasting through the end. Although it's unclear whether this was intentional, it seemed to foreshadow an 80s influence on another track down the line.
Throughout the third and fourth tracks, "Aurora" and "LOGO," respectively, Yonghoon continuously proved vocally, there's nothing he can't handle, and Kanghyun proved no ONEWE song is complete without his electrifying guitar solos. 
Aside from "Rain To Be," the final three tracks, "A.I," "Veronica," and "COSMOS" left the biggest impact upon first listen.
The full Korean title of "A.I." is "로보트도 인간에게 감정을 느낀다," which means "Robots Also Have Human Emotions." Dongmyeong described it as a "city pop track with some elements of jazz." Written by CyA, the song had been previously released on Soundcloud before it was recomposed into ONEWE's style. Although the lyrics were meaningful and deep, the lighthearted melody was infectiously playful and addictive.
"Veronica," however, danced on the tropical side of fun in the sun. Recalling CyA's distant kindergarten past, he was inspired to write a dedicated song about his first crush, Veronica. The island vibe was a glaring contrast to the rest of the band's discography but is welcomed with open arms this summer. As per usual, Harin's godlike drumming skills were what kept the momentum going in ONEWE songs, and was blatantly evident here.
Finally, the EP reached its closing with "COSMOS," a crown jewel among the other six tracks. With spacious details similar to the intro, the band instruments painted an endless sky of stars and constellations within the track. It's the one track that received unanimous votes for its placement in the album. According to Dongmyeong, fans would understand why it's the final track after hearing it. With Yonghoon's soft vocals towards the end, the listener is placed in a state of euphoria, hopefully feeling at peace with the 22-minute-long album. From the fans' comments online, it seemed the responses were also unanimous.
i think i can confidently say that "cosmos" is one of onewe's most beautiful songs ever pic.twitter.com/GTmLP3PdSW

— via-ronica ❖?⁹ (@soIarblues) June 17, 2021
COSMOS BY ONEWE.

THAT'S IT. THAT'S THE TWEET.

— Cath \ᵛ ☔ baby weve! ? (@myweveday) June 12, 2021
onewe is literally not capable of making a bad song oh my god COSMOS SUPREMACY pic.twitter.com/9m0MTQ0sqx

— via-ronica ❖?⁹ (@soIarblues) June 16, 2021
ONEWE Levels Up
Various bands have existed throughout the K-rock industry, and each one has put its unique stamp on the world. With the members of ONEWE, their sonic landscape is incredibly colorful and they never lean too far into one side of the spectrum.
From soft rock, jazz, alt-rock, and even folk, they pushed themselves to new limits and know who they want to be. Planet Nine: Alter Ego was no different as it takes listeners on a cosmic trip of what rock music can accomplish. Whether it's the dance-worthy bangers or the gut-wrenching ballads and mid-tempo numbers, ONEWE has yet to miss a single beat.
Listen to Planet Nine: Alter Ego on Spotify and Apple Music, and be sure to follow ONEWE on Twitter and Instagram.
For more content, check out EnVi's recent coverage of ONEUS' Binary Code EP!
Thumbnail Courtesy of RBW