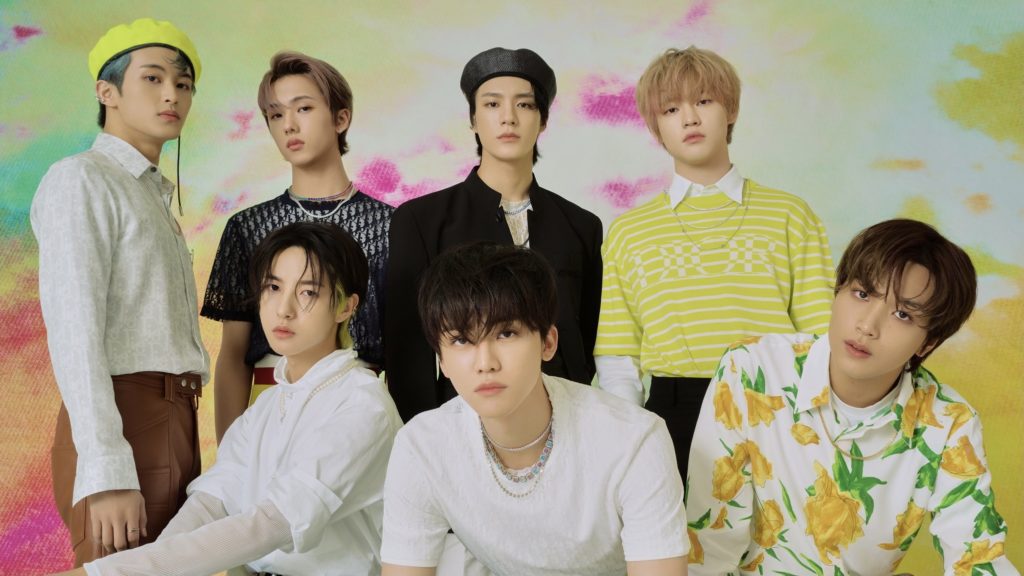 If anyone can pull off a funky summer concept, it's NCT Dream. With hit songs like "We Young," "We Go Up," and "Hot Sauce," NCT Dream is nothing if not versatile. Post the commercial success of their first full-length album Hot Sauce, they've proven it yet again. The septet consisting of Mark, Renjun, Jeno, Haechan, Jaemin, Chenle, and Jisung have returned with an eclectic summer anthem. NCT Dream's first album repackage Hello Future was released on June 28 at 6:00 pm KST. The title track for this album also titled "Hello Future" has taken NCity by storm along with two new B-sides, "Life Is Still Going On" and "Bungee."
A Neo(n) Summer
Written and produced by Kenzie, Adrian McKinnon, and Moonshine, "Hello Future" is a bass-heavy anthemic summer song. With lyrics like "Because I met you / We shine brighter together," the song carries a feel-good message accompanied by an addicting beat. The music video for "Hello Future" was a visual delight in itself. Filled with psychedelic colors and a fantasy-like intro, the video was very reminiscent of NCT Dream's 2017 release, "We Young."
Further into the video, the seven members can be seen in various settings. Accompanied by bright neon visuals, and a rainbow sequence that matches the chorus choreography, "Hello Future" took viewers on a journey with a camping set-up. The setting is futuristic, reflective of true NCT fashion. The choreography is energetic and groovy.
"Hello Future" was received well by fans who felt nostalgic and excited with NCT Dream's return to their roots.
OK CAN I JUST SAY I LOVE HOW HELLO FUTURE JUST HIGHLIGHTED EACH AND EVERY ONE IN NCT DREAM LIKE YES THANK YOU FOR GIVING US A BEAUTIFUL PRESENT WRAPPED IN HOPES AND DREAMS

— 제노리 (@jenoxious) June 28, 2021
Hello Future is very uplifting, it is the anthem of love & positivity & I like how the lyrics keeps you motivated & it gives you a kick in the backside like NCT Dream picks you up to motivate you on achieving your goals. It provides a little lift that we occasionally need. ??

— ً (@suhshiqim) June 28, 2021
I THINK WE CAN ALL AGREE THAT THIS IS NCT DREAM'S BEST MV SO FAR ?!!!!??!?!?!???????!???!?

— solgi ⚘ (@areumdauszxc) June 28, 2021
Hello Future reminds me to be a better version of myself everyday! past is a lesson, but we should say hello to our future and makes the best out of it, as long as we can. ?? pic.twitter.com/lkYvBrkwEZ

— stari⁷⁷ ? (@jaehyunsky_) June 28, 2021
Best Lyrics of the Year Award goes to NCT Dream's Hello Future pic.twitter.com/kAE6FuMaL9

— gelo; STREAM HELLO FUTURE (@jijaechan) June 28, 2021
Bungee Jumping Into Fan's Hearts
Even with "Hello Future" leading the way, "Bungee" is the new kid in town on the repackaged album. Produced by Kenzie, Moonshine, and Stephen Benson, the song is a new genre for NCT Dream in their already versatile discography. Using elements of EDM combining techno and house, "Bungee" is a dance-worthy track with an addicting build-up to the chorus coupled with NCT Dream's solid vocals and rap.
nct dream bungee…she's the one for me

— jay✴︎¹²⁷ (@tyongcandy) June 28, 2021
excellent i think https://t.co/xikiLsd51s

— lina (@tyongphobia) June 28, 2021
BUNGEE IS GOOD GOOD nct dream's bsides never disappoint, this is why their discography is excellent

— marti ? (@hyuckkook) June 28, 2021
Have you ever been punched by a song? Like in a good way. https://t.co/zlTpeiVuH4

— Plug in Da Kwangya ? (@suhbliss) June 28, 2021
A Dreamy Summer Ending
Finally, adding onto an already stellar lineup is "Life Is Still Going On." An R&B pop song with the sound of a music box playing in the background, this song was accompanied by a pre-release track video. 
Exuding summer vibes with a laid-back poolside aesthetic, "Life Is Still Going On" was immediately touted as a Dream classic by fans online. 
life is still going on enthusiasts where u at?!! pic.twitter.com/HlDxS4KymF

— sofia ♡ (@J4EMINCULTECH) June 28, 2021
life is still going on… it's addictive not gonna lie…

— 뀨? (@renminrise) June 28, 2021
listening to life is still going on be like: pic.twitter.com/sxFbiphxJE

— carl° (@jeongjaevin) June 28, 2021
i honestly thought dive into you was gonna be the song for me but life is still going on owned my heart pic.twitter.com/qFl5Y4mYrH

— mauwrb (@dytututu) June 28, 2021
NCT Dream's Hello Future is set to be promoted starting this week and has the fans anticipating performances and more. In the meantime, you can listen to the album on Spotify and Apple Music. 
Read all about NCT Dream's lead up to Hello Future and their evolution over the years here!
Thumbnail courtesy of SM Entertainment.