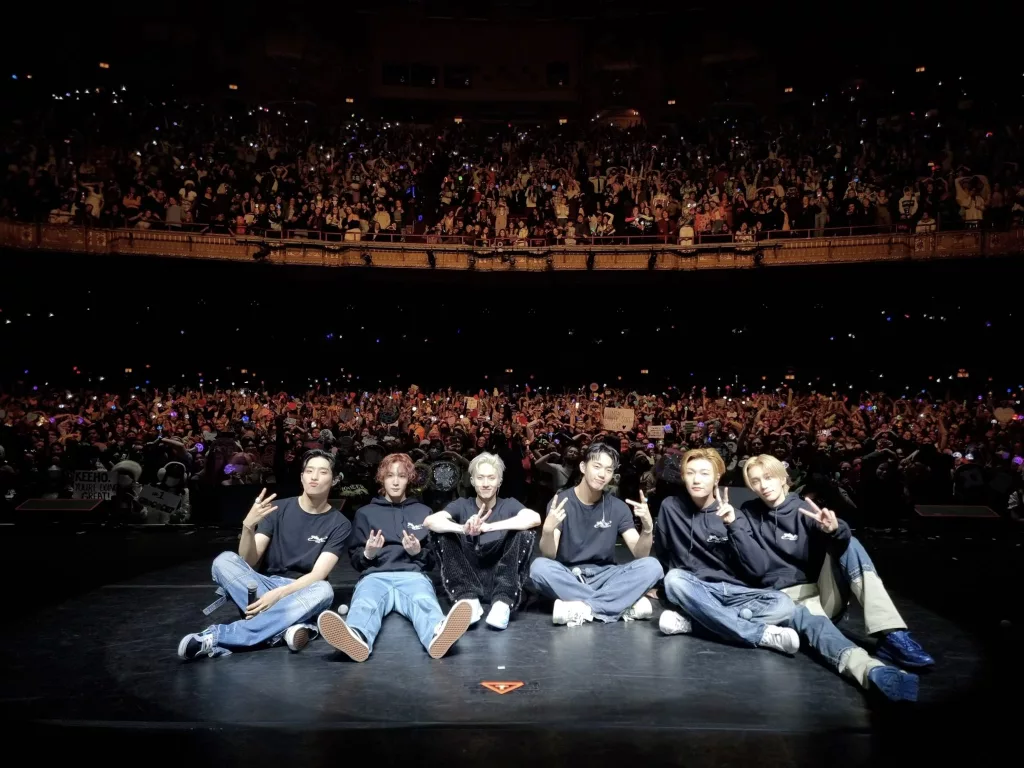 "How does one prepare for a P1Harmony concert?" you may ask yourself as you wake up on the morning of your long-awaited concert experience. If you were lucky enough to attend the K-pop group's first US tour in 2022, you already have a pretty good idea of what to expect. But for those who may be experiencing their first P1Harmony show (or at least contemplating it), let's just say you're in for a real treat.
On January 29, 2023, the six-piece group took Chicago by storm for their second US tour, "P1ustage H: P1ONEER." With a venue boasting 3,200 seats (a nearly 2,000-seat upgrade from last year), the crowd's energy was electrifying from the moment Keeho, Jiung, Theo, Intak, Soul, and Jongseob made their way to center stage.
Never Back Down
If there's one thing about Chicago's K-pop fandoms, they will show up and show out, rain or shine. Despite the city's cold, snowy weather, The Chicago Theatre was filled to the brim with anticipation as the lights went out and the screams began—7:30 p.m., right on the dot.
Strolling out in matching red and black decorative outfits, the P1Harmony members lined up and took their positions with the opening song, "Look At Me Now," on full blast. "What's up, Chicago?" Jiung yelled, and the cheers intensified. Throughout the group's first set (which included their latest single, "Back Down," and a rock remix of "Scared"), one of the most impressive aspects of the performance was their intense choreography, which continued for the rest of the night. From eye-catching formations to show-stopping footwork, you were almost scared to blink because you might miss fantastic moments like Soul's freestyle during the dance break of "Scared." At this moment, he proved, for the first time of many that night, what a firecracker he can be.
After the first set, the group paused for a quick water break and introductions. Once the main vocalist and leader, Keeho, initiated the group intro, each member took his time to greet the audience and express their excitement for the show. In a pre-tour press conference held a week before the show, P1Harmony specifically mentioned Chicago as one of their most anticipated stops, and it showed even more in person. "You probably already know this, but last year, Chicago was one of my favorite stops," Keeho said. "We're starting 2023 off on a good note, guys." And from there on out, Chicago P1ece, P1Harmony's fandom name, had a mission to live up to the group's expectations, which (spoiler alert!) they did not disappoint.
Getting To Know P1Harmony
One of the best parts of a K-pop concert is getting to see the group's personalities bounce off of each other in real-time. And for P1Harmony, all of their "cool, tough guy" personas swiftly melted away as they set time aside to interact with their fans. If you're new to the fandom, you'll quickly learn that Keeho is just as comfortable chatting it up and making people laugh as he is with singing—both just come naturally. On the other hand, Jiung is incredibly earnest and gazes at the audience with literal stars in his eyes like he's the luckiest guy on Earth; his gratitude shows from ear to ear.
Jongseob and Intak, both rappers of the group, are natural showmen. Both carry heaps of swagger in their performances, but Intak wholeheartedly embraces his "aeygo," while Jongseob is soft and charming without even trying. Theo, although seemingly shy on the outside, has a witty sense of humor that's amplified around his members, so he's a bit of a wild card sometimes. And finally, Firecracker Soul may be fierce on the dance floor, but when he's not performing, he is the textbook definition of rainbows and sunshine.
There: now you know all about P1Harmony with only three songs down. Still wondering how the rest of the concert played out? Let's take a ride through the next segment of the P1ONEER tour.
P1ece's Love Never Felt So Good
As the lights dimmed again, the hip-hop-centric group slowed things down with their mid-tempo single, "Me Too," before bringing the energy back up with "Doom Du Doom," "End It," and one of their strongest performances of the night, "Black Hole." The latter showcased the members' intense synchronicity in the most explosive way—you could literally feel the venue reverberating from the amount of energy onstage and the crowd.
Once the song ended and everyone had a moment to catch a much-needed breath, the group flew off into the theater wings for the first costume change of the night. Meanwhile, fans were treated to a fun VCR of P1Harmony playing a game called P1 On Here (a play on the tour name, P1ONEER). While most VCRs are for fans to watch and enjoy, this one called for fan participation, to which the crowd passionately complied. Later on, Keeho revealed, as he smiled, he could hear P1ece shouting his name from backstage.
Next up were the solo and unit stages, where each member prepared a cover of their favorite songs. Trust us when we say: this is nothing you could prepare for even if you tried. First, Theo covered Korean R&B artist Dean with "21," a song that perfectly matched his higher timbre. The second solo stage was Soul's cover of "Hug Me" by Jung Joon-il, a heartbreaking ballad backed by a soothing piano. Although Soul was noticeably shy, and maybe even a bit nervous, he handled the ballad with grace, allowing the moonlit screen behind him to shine even brighter in his presence.
The second set of solos bled into each other seamlessly, with Keeho starting off singing Beyonce's 2007 hit, "Deja Vu." Sporting a dark green suit (suede, possibly velvet?), P1Harmony's leader brought all the charisma while flexing intricate vocal runs that fell effortlessly into place every time. His performance only lasted a minute before Jiung appeared and turned the stage to gold for his cover of Michael Jackson's "Love Never Felt So Good."
With an MJ-inspired outfit and dance intro, Jiung set the vibes aglow that could even make a non-P1Harmony fan see he was made for this. After belting out the chorus and executing a few dance steps, fans were thrilled to see Keeho and Soul rejoin the stage for this disco throwback of a performance. To say this stage was magical would be an understatement—it was stunning and one of the most memorable. With the trio gliding (or moonwalking) across the floor, it's clear that suave and sophisticated numbers are just as much their forte as strong hip-hop performances are. As the guys ended the song with a gentleman-like bow, the swoons came flooding in like wildfire. Can we have this subunit for real?
Finally, rounding out the unit stage was Intak and Jongseob with a ferocious rap performance. With two chairs facing each other, the members sat across from one another and exchanged some hard-hitting verses before vigorously consuming the stage and igniting the fire. The two artists' rap personas are so far removed from their usually bright personalities, it almost felt like whiplash seeing them don muzzles while aggressively rap-battling each other. (Talk about duality at its finest.) With all the solos, duets, and trios complete, it was time to see P1Harmony back together again as one team.
Chicago Got That Secret Sauce
Even throughout all of the performances thus far, the crowd's energy (and P1Harmony's) never faltered for a second. The next set of songs included a balanced mix of powerful songs like "Siren," fan-favorites, "Follow Me," and "Do It Like This," as well as soft, brighter tracks like "Nemonade" and "Gotta Get Back." After the third VCR played, one of the highlights was the bubbly track, "BFF (Best Friend Forever)," which showcased the group's more playful side.
During what was seemingly the end of the concert, the guys went down the line and summed up their overall thoughts and feelings about the show. "When we first heard we were coming back [to Chicago], I was just imagining how great this show would be," Keeho admitted. "It's so much more than I would've imagined." But just when fans thought the show was over and the members were leaving, the group surprised everyone by coming into the audience and walking through the aisles while singing their encore song, "Swagger."
The crowd's enthusiasm grew tenfold as P1Harmony took their time participating in wholesome interactions with their P1eces. From high-fives to hand-hearts, and even plushies, the members received an immense amount of love and respect every step of the way. Intak sweetly announced, "I'm so proud of my Chicago P1ece…this energy is so crazy." The group was having so much fun themselves; they brought back an encore for "Do It Like This," which wasn't even a part of the pre-planned setlist. Jiung, in particular, was so in awe, he pulled out his phone multiple times to record the crowd jumping, dancing, and singing along to every word.
As the guys used their final moments onstage to take pictures, their reluctance to leave was written all over their faces—and the fans felt the same. With a final bow, P1Harmony finally fulfilled their year-long wish to perform in Chicago again, and it was definitely a night to remember.
So how do you prepare for a P1H concert? Short answer: you don't. As long as you go in with an open mind, open heart, and comfortable shoes to dance in, you'll leave wondering how you survived so long without experiencing P1Harmony in all its glory until now.
For more on P1Harmony's tour, check out the remaining list of cities, dates, and ticket availability here, and follow the group on Twitter and Instagram!
Want even more P1Harmony content? Check out EnVi's full coverage of the group's pre-tour press conference here!