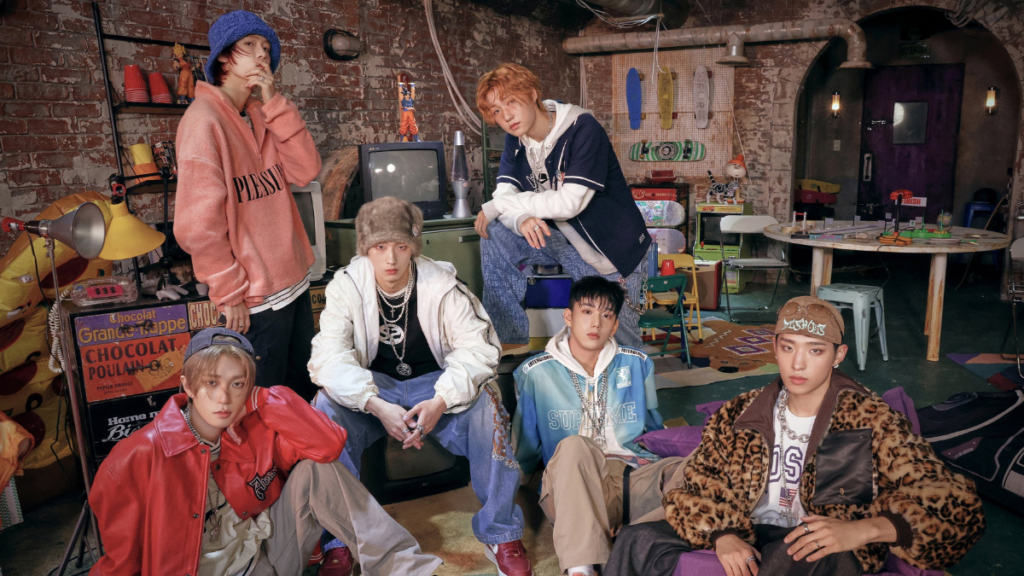 Calling all P1ECE! The six members of P1Harmony (Keeho, Theo, Jiung, Intak, Soul, and Jongseob) are finally back on the road for their second U.S. tour, P1ustage H : P1ONEER. After holding a successful first overseas tour in 2022 and releasing three EPs over the last six months, the FNC Entertainment group is revved up and ready to show fans what they've been working on these last few months and why this tour is even better than the previous.
Kicking off their first U.S. stop in Los Angeles, EnVi sat in on the group's press conference the day before the show as the members shared some insight on what fans can expect from the P1ONEER tour.
Roll Call, Zoom Call
Joining via Zoom, the guys of P1Harmony sat on the couch of their hotel room, donning matching brown suits, as they kindly introduced themselves to the press. Honestly, P1Harmony is a name that speaks for itself; the group has been blazing the K-pop trail since its debut in 2020. With multiple Billboard entries and continuously increasing album sales, the hip-hop-focused group has earned the title of one of the "top fourth-generation acts" in the industry.
While all these feats are something to take pride in, P1Harmony hope to make its fans even prouder during this second tour. "When it comes to music and how we want to format or create our albums, we're always trying to make songs that would be fun to perform on stage, in front of an audience," group leader Keeho said. Rapper, dancer, and youngest member, Jongseob, added, "Because COVID has gotten a little better over the past year, we've had more experiences performing in front of an audience, so we are very excited to show [our fans] how much we've improved."
With venue upgrades and new cities added to the current tour, the improvement (and uptick in popularity) is already apparent. When EnVi asked what different elements they planned to bring to the stage this time around, Keeho translated Jiung's answer, "Definitely the biggest thing is that there are remixes of original songs." "Songs that our fans are used to and already know, but with this tour, this is where we switch things up and make them sound a little different." Keeho also cleverly added, "It'll be the same songs but in different fonts, so I think that's the main appeal of this new tour."
Preparing for the Road Ahead
Like with any tour, there are copious amounts of work and preparation needed to plan, train for, and execute a successful tour. From finalizing the set list to the choreography to lighting and wardrobe, every decision is made meticulously from start to finish. Did the boys of P1Harmony have any hardships while preparing? Theo, who Keeho said is very involved in everything from the set list to the special effects, said, "There could have been more time to prepare, so that was hard remembering all the choreography and lyrics in such a short amount of time." Keeho chimed in, "We tried to really think how can we show [the fans] a new experience without having too much of the same songs performed again."
This year's tour name, P1ONEER, is derivative of the word 'pioneer,' which Keeho said was inspired by the group's song, "Follow Me." "I feel like the whole thing is telling our fans to follow along with us wherever we go," the singer explained. "We're going to a lot of different places and familiar places, as well, but no matter what we do or where we go, we hope our fans are there with us."
From West to East Coast, and Everything in Between
As previously mentioned, the group's tour includes 12 stops, including shows in Washington D.C., Chicago, New York, and Houston. When asked which cities they were looking forward to most, there were a variety of answers. For Theo, it's Oakland (which they've already played by the time this is published) because they've never performed there, and he knew a lot of fans were excited to be there.
Both Jongseob and Keeho agreed Chicago is one of their most anticipated stops because of the fans' energy and the overall vibe of the city. "In the last tour, Chicago's fans are very energetic, and they actually do the dance with us," Jiung said. Keeho added, "We feel like, considering it's such a big city, Chicago is also very calm and warm-hearted but energetic when they need to be." Rapper and dancer Intak, however, is excited for whatever stop is last, which, in this case, is Dallas. "When it's the very last stop of the tour, I feel like the fans definitely try to give their all because they know it's the last stop too, so I'm looking forward to that the most."
As for dream tour destinations that P1Harmony haven't performed in yet, the members' top picks are New Zealand, Australia, France, Brazil, Spain, and Canada — a broad spectrum of cultures to experience. With the way the sextet's popularity is rising, it wouldn't be surprising if they're able to hit all of these places at some point. But for now, the guys are laser-focused on showing U.S. fans an even better performance with P1ustage H : P1ONEER.
During their final comments, Theo reflected on what he wants fans to get out of this new tour compared to the previous one. "Last time, we were really just six guys having and going crazy, and this time, we still want to have fun, but be cool while having fun," the singer said. "Everything is very well-thought-out, so we hope our fans can feel and understand that, as well."
2023 P1Harmony Live Tour:
P1ustage H: P1ONEER
Saturday, January 14 – Seoul, South Korea, Bluesquare Mastercard Hall
Sunday, January 15 – Seoul, South Korea, Bluesquare Mastercard Hall
Friday, January 20 – Los Angeles, California, Palladium
Sunday, January 22 – Oakland, California, Paramount Theater
Tuesday, January 24 – Denver, Colorado, Fillmore Auditorium
Thursday, January 26 – Houston, Texas, 713 Music Hall
Sunday, January 29 – Chicago, Illinois, Chicago Theater
Wednesday, February 1 – Atlanta, Georgia, Coca-Cola Roxy
Friday, February 3 – Reading, Pennsylvania, Santander Arena
Sunday, February 5 – New York City, New York, Terminal 5
Wednesday, February 8 – Washington D.C., MGM National Harbour
Sunday, February 12 – Nashville, Tennessee, Grand Ole Opry
Tuesday, February 14 – Austin, Texas, ACL Live
Thursday, February 16 – Dallas, Texas, Music Hall at Fair Park
Tickets for P1Harmony's P1ustage H: P1ONEER 2023 Tour are on sale now — click here to purchase tickets!
Want more P1H content? Check out EnVi's coverage of the group's fifth EP, Harmony: Set In, here!