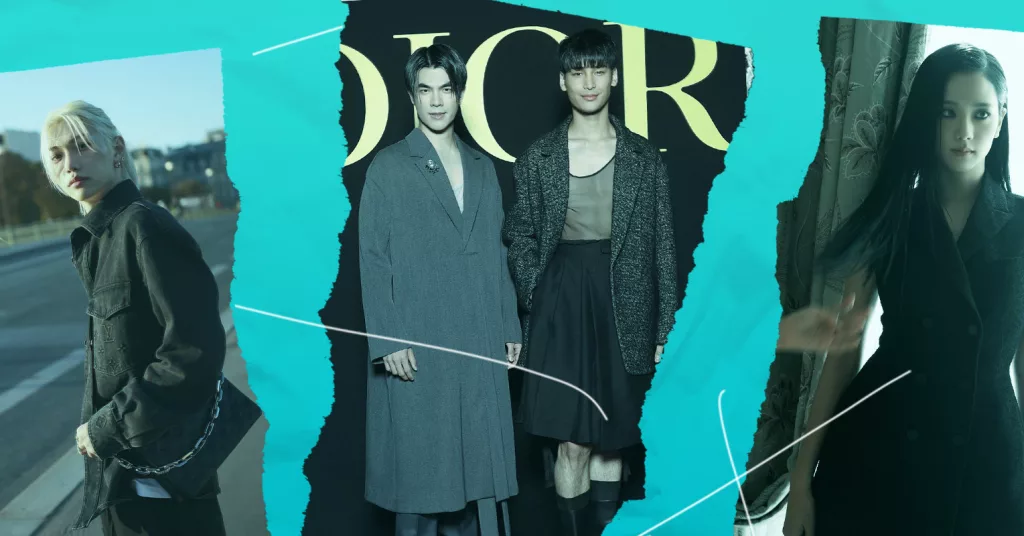 Paris Fashion Week (PFW) is arguably the most awaited event in the fashion calendar. Powered by the Fédération de la Haute Couture et de la Mode (FHCM), PFW reunites top fashion brands, promising emerging designers and the industry's most important players. For seven days, the city welcomes the fashion elite and becomes a parade of world-class celebrities. 
The latest Spring Summer 2024 (SS24) season was not any different. According to the latest tallies from the data company Launchmetrics, SS24 PFW saw an increase of 30% in Media Impact Value™ (MIV®), as compared to last year.
In a press conference, Launchmetrics' CEO, Michael Jaïs, and Pascal Morand, Executive President of the FHCM, addressed key insights from the last edition of PFW. Read on to discover the main takeaways and MIV figures.
Dior Rules Paris Fashion Week
Just like every season, the software and data company Launchmetrics — which specializes in the Fashion, Lifestyle, and Beauty (FLB) industry — monitored MIV numbers regarding Paris Fashion Week. This proprietary Machine Learning algorithm allows Launchmetrics to calculate the impact of media placements by analyzing social media posts, media mentions, blog entries and more to ultimately assign a monetary value to every placement and measure the Return Of Investment (ROI) of a brand.
As per Launchmetrics' most recent data, during the Spring Summer 2024 Paris Fashion Week, Dior came at the top of the brand ranking, amassing $58.7 million in MIV. The brand, which delivers one of the most-awaited fashion shows every PFW, presented a collection titled "NOT HER," in front of a star-studded audience that included brand ambassadors Jisoo, Nattawin Wattanagitiphat (Apo) and Phakphum Romsaithong (Mile). 
Apo and Mile, who have steadily made a name for themselves in luxury spaces, became the top celebrity voices at the event, gathering $6 million in MIV each. The onscreen couple were also responsible for eight out of ten of the highest-valued placements for Dior. 
Meanwhile, Dior's long-standing ambassador, Jisoo, authored the top placement for Dior with an Instagram post worth $1.6 million. Jisoo's attendance also generated $6.5 million of MIV in social echo. Other high-profile attendees generating echo buzz were Jenna Ortega ($5.2 million), Robert Pattinson ($2.7 million), Rosalia ($3.7 million) and Jennifer Lawrence ($4.5 million). 
Louis Vuitton's APAC Stars Parade
Just like Dior, Louis Vuitton presents one of the most anticipated shows of PFW. Correspondingly, the brand's SS24 collection unveiling earned a total of $38.2M in MIV. The event made waves online with the attendance of A-list stars such as Zendaya, who racked up $9.4 million in MIV in echo mentions — 25% of the total MIV amassed at the event. 
But the power of Louis Vuitton's APAC ambassadors was at an all-time high during the SS24 show. K-pop star Felix, who made his first front-row appearance since his appointment as brand ambassador, was responsible for $6.6 million in MIV through echo mentions. On the other hand, LE SSERAFIM members, who didn't attend the event, but showed their support online, authored top placements for Louis Vuitton. Yunjin, Eunchae and Chaewon respectively generated $615K, $535K and $522K in MIV, while Sakura was responsible for the brand's top placement, accruing $776K in MIV with an Instagram post. 
Miu Miu Ranks Third for the First Time
After rising to the top of the Lyst Index in Q3 of 2023, Miu Miu is officially the hottest fashion brand. Accordingly, the Prada Group label amassed $24.7M in MIV, climbing to the top 3 of the brand ranking at PFW for the first time. 
Miu Miu was particularly well-loved by the media, which drove 46% of the total MIV. But the brand also benefited from the voices of its celebrity ambassadors. K-pop stars Wonyoung, Momo and Yoona authored top placements worth $947K, $927K and $800K respectively. Momo became the top voice present at the show, racking up $3.8M in MIV. Other relevant guests at the show included ambassadors Sydney Sweeney and Emma Corrin. 
A Fashion Month Recap
On October 24, Launchmetrics also presented its anticipated SS24 Fashion Week Insights, which dives deep into the data monitored during New York, London, Milan and Paris Fashion Week. Ahead is a recap of the most relevant figures. 
New York Fashion Week (NYFW) kicked off Fashion Month with runway returns by heritage American brands, generating $265.3 million in MIV. The three brands delivering the individual highest MIV values were Ralph Lauren, Michael Kors, and Tory Burch. These brands benefited from the presence of American superstars like JLo, Sofia Richie, Vanessa Hudgens, and Ashley Graham at their shows. Dahyun of TWICE returned to NYFW and dominated the conversation around Michael Kors, generating $478K in MIV as the show's top Celebrity Voice. 
Launchmetrics reports that Brazil and India were top regional players at NYFW this year. The higher placement was due to the attendance of popular local influencers, like Malu Borges ($2.2 million in MIV at NYFW) and Krutika ($1.2 million in MIV at NYFW). 
London and Milan
London Fashion Week (LFW) SS24 yielded the highest MIV for the city to date at $87.3 million. This was the season for South Korean celebrities at LFW, bumping South Korea from 16th to 7th place in MIV generation. Daniel Lee's second show for Burberry, in particular, saw the attendance of some of the brand's high-profile Asian ambassadors, including South Korean soccer player Son HeungMin and Thai actor Bright. In fact, Son HeungMin authored the brand's top placement, worth $596K in MIV.
Finally, Milan Fashion Week (MFW) saw a similar year-over-year increase, amassing $328.6M in MIV. In Milan, South Korea was the highest regional contribution to MIV through Celebrity Voice, bringing in $15.7M in MIV. Gucci and Prada harnessed the influence of K-pop idols, inviting Hanni of NewJeans ($786K in MIV), Sana of TWICE ($880K in MIV), and ENHYPEN ($7M in MIV) to attend their shows.
Italian designers also turned to Asia's other rising regions, including Thailand and India. Actress Alia Bhatt authored Gucci's top placement, worth $1.1M in MIV. Thai darling Win Metawin singlehandedly produced $2.9M in MIV with his attendance. Finally, Thai multihyphenate Zeepruk was the top voice at Dolce & Gabbana, generating $2.7M in MIV.
Unstoppable APAC Power
As Launchmetrics' data suggests, brands continue to rely on the power of celebrity voices and APAC ambassadors during Fashion Month. At Paris Fashion Week alone, countries in the Asia Pacific region yielded great influence in terms of Media Impact Value. India, Thailand, South Korea, and Japan racked up $29.4, $21.1, $20.4 and $11.2 million in MIV, respectively.
In particular, countries such as India and Thailand are strengthening their power both as MIV-generating countries as well as the countries with celebrities exerting influence in fashion spaces. "India is steadily emerging as the latest epicenter for luxury fashion, and this transformation is driving exponential growth in the region," wrote the company in their PFW report. "Meanwhile, Thailand takes the 3rd spot in terms of growth in APAC, and surprisingly, ranks 1st globally for Celebrity-generated MIV®," they added.
Pascal Morand explained the influx of entertainment faces at PFW, "Paris Fashion Week is a cultural event, [the presence of celebrities] makes it interesting and makes it legitimate," he shared. The data backs up his statement. 
Interested in more fashion content? Check out Instagram's top-performing brands and voices in the Fashion Lifestyle and Beauty sector here.