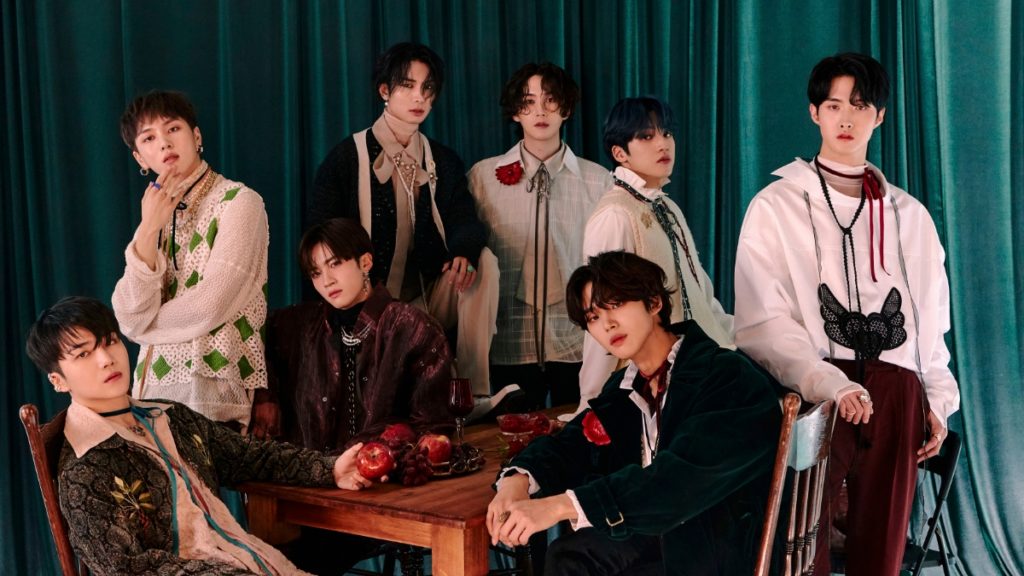 On January 24, PENTAGON held a showcase for the press ahead of their latest EP, IN:VITE U, and revealed their new single, as well as detailed info on the six new tracks. After 10 (long) months since their last album, it only feels right for the nine-member group to kick off 2022 with new music. 
View this post on Instagram
At the top of their "Launching Show," members KINO, WOOSEOK, HONGSEOK, YEO ONE, JINHO, SHINWON, YUTO, and YANAN all stepped out with full style and confidence. Once they were introduced for photos, the group's main dancer, KINO, reflected on how it felt to release their twelfth EP.
"PENTAGON is already on their thirteenth album. There have been 12 mini albums and one full-length," he said. "During that time, I think we've showcased a lot of different concepts and music. We're confident that the album is solid because we thought a lot about how to show a different side and a changed maturity."
Feelin' Like: RunwayCore
Over the years, PENTAGON has received love far and wide through their bright, uptempo tracks, such as "Shine," "Naughty Boy," and "Do or Not." However, they're no strangers to switching up their style every once in a while. "Feelin' Like" is no exception. 
Written by KINO, JINHO, and WOOSEOK, "Feelin' Like" is an irresistible earworm of pop and R&B where PENTAGON displays their changed attitude. With a heavy bassline and charming hook, the track exudes maturity in a way the group hasn't shown before.  In comparison to their previous tracks, there's a sexy runway feel to it that YEO ONE felt suited their newfound sophistication as a group. 
"After selecting the song, it was really easy to apply PENTAGON's signature color to the choreography and album jacket," he told the press. "We prepared for this comeback with a happy heart because we were able to tell a good story."
KINO undoubtedly shines as the center for the point choreography—which he demonstrated during the conference—and skillfully leads the pack in the chorus. Eldest member JINHO is also a highlight as this is his first comeback since his military enlistment in 2020.
An IN:VITATION Inside the EP
Aside from the lead single, IN:VITE U welcomes listeners in with five other diverse tracks that are quite new to PENTAGON's sonic palette. The EP delivers the group's unique capacity to a full extent, both harmonically and conceptually. As the showcase carried on, the members shared their thoughts behind each of the following tracks.
The first B-side track is "One Shot," an alternative rock song based on a mesmerizing hard rock guitar riff. Written by members WOOSEOK and SHINWON, "One Shot" is an uplifting track with blasting energy that figuratively describes the desire to "fearlessly go on a spree in a situation when there is only one last shot left to our lives," SHINWON said. "The theme 'You' in the track allows listeners to imagine their own subject, and depending on who or what you think of, it enables the song to be more diverse with its meanings, hence making it more amusing."
Next is "The Game," an electronic-rock song with an added "glitch-synth" element. The lyrics for this were solely penned by the youngest member and rapper WOOSEOK. As Chinese member YANAN explained, "This track compares happenings full of tensions in our life to a game to illustrate PENTAGON's relaxed and humorous attitudes despite whatever situation they are in." It's wild, ambitious, and everything PENTAGON fans weren't expecting—a bonus. 
"In particular, the powerful and catchy lyrics in the chorus and the operatic elements are added to offer a more unique and mature musical color of PENTAGON," rapper YUTO added.
Next, KINO and producer KimZion, who's worked with PENTAGON previously, have joined forces again for the fourth track, "Call My Name." It's a cool mix of suave and funky—two things the group excels at already. KINO has used 'voice' as a motif in his previously released mixtape song "Voicegasm" and in "Call My Name," the motif is taken further from that to sing about a story between the two that has become deeper.
The final two tracks on the EP are "Sparkling Night" and "BAD," both of which are much softer than their predecessors. In "Sparkling Night," YEO ONE described the '80s synth-pop number as "a song that portrays a Ferris wheel at the center of a theme park on a beach where millions of stars are flowing in the sky." PENTAGON's members KINO and WOOSEOK participated in writing the lyrics to highlight the song's nostalgic and emotional mood. 
"Sparkling Night" metaphorically illustrates the wistful feeling of when your time is up (in a relationship), but you can't let go of your lover that easily. Similarly, "BAD" seems to point to a breakup in a relationship—whether they want it to or not.
"There's a guy who loves his lover more than anything, but everyone around him—and the situation he is in—seems to be telling him breakup is the only answer," WOOSEOK thoughtfully explained. "This song tells a familiar yet bad breakup story of everyone who is so badly considerate that they wish for the other person's happiness even at the very moment of saying the last goodbye."
With WOOSEOK's lyricism on a roll, the track is based on a simple but concise guitar riff, a catchy melody, and a classic sound source as the main rhythm. It wishes to comfort and empathize with those going through a heartbreaking breakup. A sweet yet sour note to end an album on, but it's beautiful nonetheless.
Fan Reactions
As PENTAGON ushers in this new era, fans share all of their first reactions to the album and music video. From the styling to the choreography, IN:VITE U already seems to be a hit among PENTAGON enjoyers.
Pentagon's new song is soo damn good!!! That choreo is just wow!!!

— NeoGotMyBack 🪔 (@10velyneos) January 24, 2022
All in all, i think The Game took the crown for this comeback, it would do well as a title track tbf, so unique.

I can see why Pentagon member's picked Feelin Like as their title track tho, it suits their runaway model concept.#PENTAGON#펜타곤#INVITE_U #Feelin_Like

— Pedestal 🌺 #feelin_like (@starionlit) January 24, 2022
tbh everyone got so many moments to shine in this album, it feels really cohesive while also giving everyone time in the spotlight more than what i feel is usual?? bravo pentagon 👏👏#PENTAGON_INVITES_U#PENTAGON  #펜타곤 #INVITE_U  #Feelin_Like @CUBE_PTG

— penny | IN:VITE U 🌻 (@DYOREMl) January 24, 2022
'Feelin' Like' got me feeling like…some kind of way. Cool, smooth and potentially my new favourite styling. Seriously every member looks *impeccable*#펜타곤 #PENTAGON #INVITE_U #Feelin_Like pic.twitter.com/7izpLJS3Jz

— Across the Kalaxy (@Acrossthekalaxy) January 24, 2022
Yep, Pentagon just locked in their status as my favourite boygroup with this new album. The title track is fine, but the b-sides are absolutely fantastic. I can absolutely see that being an AOTY contender for me 🔥

— Steph (@lilacdahlia_) January 24, 2022
Not only are the responses overwhelmingly positive, but this comeback has also landed the group its second-highest first-day sales for the new album. Soon, it won't be long until K-pop fans new and old discover—or rediscover—the wonders of PENTAGON and their talents.
Be sure to check out PENTAGON with IN:VITE U on all streaming platforms here.
Want more music coverage? Read up on our latest article for Mark Tuan's single, "My Life," here.