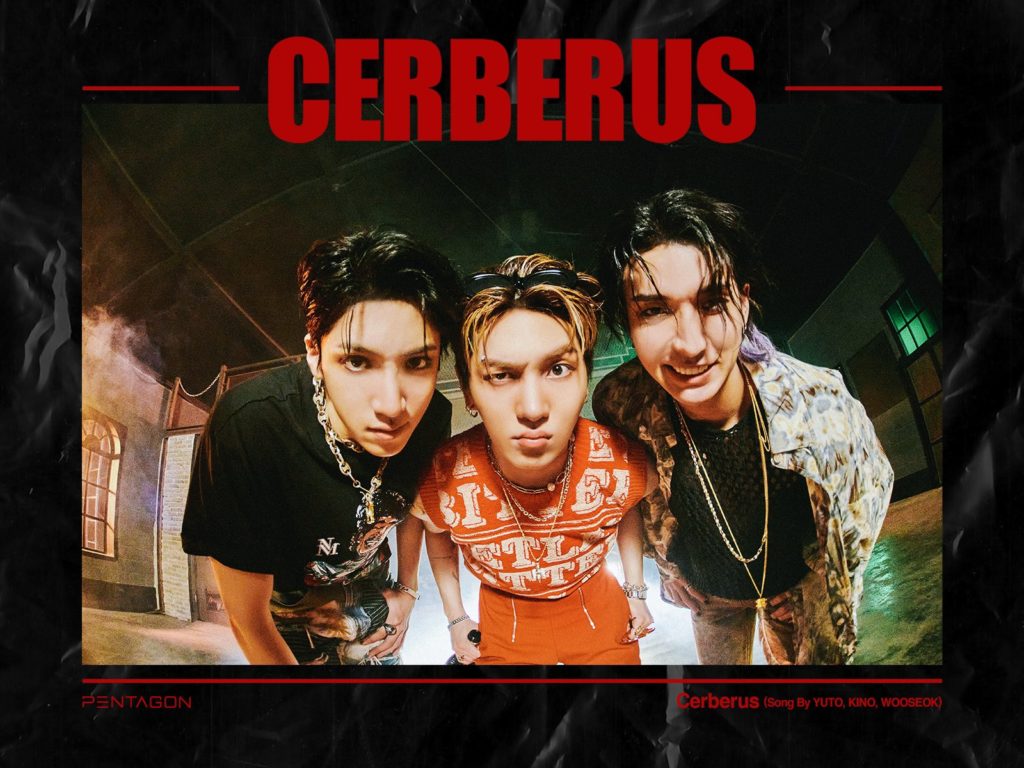 On August 10, PENTAGON dropped a mysterious teaser for their new digital single, "Cerberus," a trio release from the group's youngest members: Yuto, Kino, and Wooseok. It's also their first single since the release of their 11th EP, LOVE or TAKE, back in March. As a whole, PENTAGON is known for its quirky numbers like "Humph!" and "Do or Not," and its edgier jewels like "Daisy" and "Dr. BeBe." But as a unit, the three ravenous rappers truly channel their inner beasts in this new single.
View this post on Instagram
We Are Cerberus
For anyone familiar with this trio of members, you probably guessed "Cerberus" would fit into the hip-hop category of the spectrum. And as promised, Yuto, Kino, and Wooseok deliver with a heart-thumping bassline and damn near perfect rap deliveries. Its lyrics, as well as the music video, showcase the rowdy performers as misfits who play by their own rules. At one point, Japanese rapper Yuto even says: "I don't follow anybody, only with these folks I trust," referencing his two bandmates.
This single comes at an interesting time in the K-pop world. Out of all the infinite subunits the industry has to offer, not many have delivered a spontaneous hip-hop unit like these three. "Cerberus" is a refreshing listen and almost reminiscent of boisterous and suave units like Block B's BASTARZ.
Nevertheless, if you've taken the time to dive into PENTAGON's B-sides, you'll find these hip-hop unit tracks are sort of a tradition. Everything from "Get That Drink" to "Lost Paradise" is top-notch and adds an extra dose of spice to their EPs. The only difference with "Cerberus" is that the rap-heavy team has finally earned the spotlight they've deserved — music video and all.
The Meaning of Cerberus & Its Connection
As many fans have pointed out, the name Cerberus references Hades' three-headed guard dog. In Greek mythology, Cerberus acts as a guard to and from the Underworld and prevents the dead souls from leaving Hades' domain. The most famous story of Cerberus is his eventual capture by Hercules during the latter's Twelfth Labor.
Throughout these labors, the mighty god is sent to atone for the murder of his children. By command of the goddess Hera, she and King Eurytheseus sent Hercules on various suicide missions in which he conquered them all. His final task was to capture Cerberus from the Underworld on one condition: he could not use any weapons to obtain him.
In theory, the concept is poignant for PENTAGON's unruly threesome. The line, "We are Cerberus," refers to the rappers becoming one with each other to form a single creature. Even more so, the video's storyline resembles the same Twelve Labor myth to some extent.
In the beginning, we see Yuto, Kino, and Wooseok taking a man hostage before untying him to join in on the celebration. In the end, however, the three are seemingly drugged and put in the trunk of a car by the same man — Hercules, perhaps?  However the video is meant to be interpreted, the modern-day mythology clues are extraordinarily clever and thrilling.
An Unexpected Rapper Shines
Of course, in any PENTAGON song, main rappers Yuto and Wooseok never shy away from dominating a verse. Yuto's raps are normally as deep, rich, and controlled as his voice itself. Wooseok's best moments, however, reside in his chaotic, slightly unhinged tones that'll throw the listener for a loop and crave for more. 
While Kino, on the other hand, is a wild card in the rap game. He's no stranger to a verse here and there in PENTAGON tracks, but he's never shown out quite like this, and the fans are loving it.
bro?? who knew kino could rap like THAT???

— bella (@pcyvern) August 18, 2021
KINO WAS SPITTING BARS LIKE???? HE RAPS SO FAST????

— Jess ✰ Cerberus (@Kinosuniverse) August 18, 2021
kino's rap part took me off guard ???????https://t.co/k7ATaSg5Qc

— totto ♡ (@TAR0LUMI) August 18, 2021
Kino, new addition to the rap unit ?✋? https://t.co/y5IWeASze9

— /ᐠ。ꞈ。ᐟ (@amie__nm) August 18, 2021
Yuto even showcases more of his prowess by rapping a single verse in his native language. "I can do it in Japanese, as well. Nobody like us has ever existed before." A multilingual flex will forever be the most badass move in the book.
yuto rapping in korean and japanese, kino exploring a different side of his rap and inserting his growling in the verses, wooseok starting with his usual chill rap then going intense. i can't explain how satisfying it is to watch them do what they love and do it so well

— d: cerberus (@ptgshinee) August 18, 2021
just yuto saying he can rap in 3 languages lets go ?

— mikayla. ⭔ (@mikaylamnesia) August 18, 2021
YUTO SINGLEHANDEDLY RAP IN 3 LANGUAGES ?

— sar (@mezzaquartz) August 18, 2021
The Start of Something New
While this doesn't seem like a move for a fixed subunit, it does bring an exciting flavor to PENTAGON's ever-growing catalog. Over the years, the group has proven they are the jack-of-all-trades in K-pop and masters of, well, all of them.
From their impressive rap, vocal, and dance lines to their self-producing abilities and even acting, the nonet has dabbled in quite a bit. Now, with two key members serving in the military, the others are free to try new things, starting with the rambunctious "Cerberus." Fortunately, Yuto, Kino, and Wooseok are here to shake things up and become your best "worst" nightmares. 
Click here to check out "Cerberus" on all music platforms, available now.
For more PENTAGON coverage, be sure to read our breakdown for their latest EP, LOVE or TAKE!
Thumbnail Courtesy of CUBE Entertainment