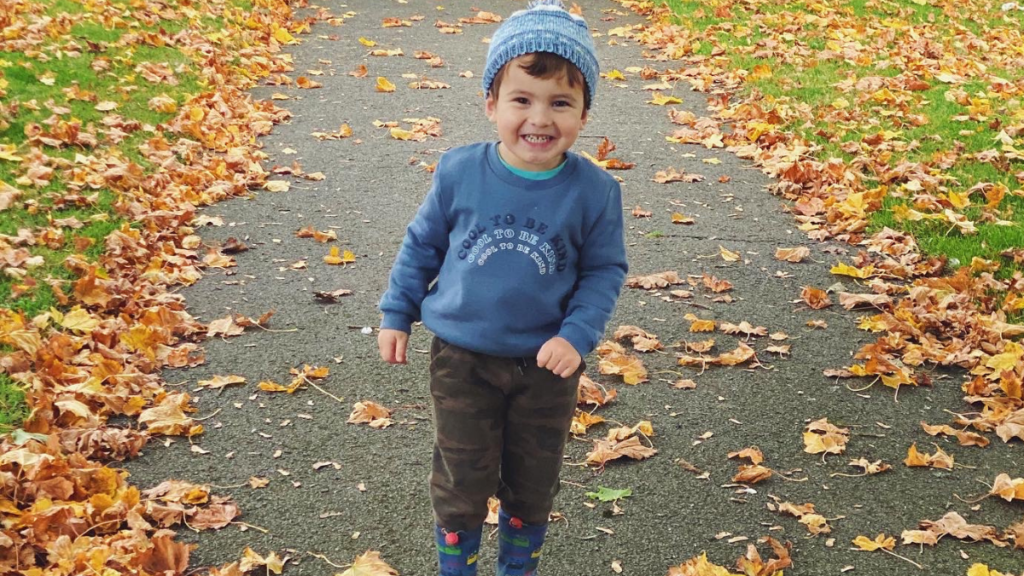 Mark Lee isn't the only Spider-Man that saves the world of NCity! In an exclusive interview, Devie Bullen, mother of Malachi Hardy Bullen (Mali)—popularly known to NCTzens as the "Mark Lee Spider-Man"—spoke with EnVi. Devie told us about the 3-year-old's superhero adventures and the moment when NCT's Mark Lee shared a video of Mali on his Instagram story.
Thanyou NCTzen so happy that Mark saw my boy, and he wants to protect him omgomgomg 💚😍😭 #MARKLEE #NCT2021 #NCT #kpop #NCT_Universe pic.twitter.com/lD0yNbImLS

— Dev Bullen (@winwinsholdup3x) November 17, 2021
EnVi: Tell us a bit about your family! 
Devie: The members of our family are my husband, Matthew, myself, Malachi, and his baby brother Emmaus. I am originally from Indonesia and Matthew is from England. Malachi was born in Bali, Indonesia, and Emmaus is British because he was born here in the UK. 
EnVi: How and when did you get into K-pop? 
Devie: I got into K-pop in 2011 when my friend Michelle introduced me to EXO when they were about to debut and I've been an EXO-L since. Then I found NCT in 2018. At first, I was a bit skeptical about them. At that time, I was also an ARMY and an Ahgase so I didn't want to stan too many groups. NCT seemed so confusing with the different units and so many members, but I wanted to listen to their music so I did and that's when I got hooked. 
EnVi: I see that you are a huge EXO-L and NCTzen, and more specifically, a Johfam! What are your favorite things about these groups? Are you excited for NCT 2021 and Kai's new album? 
Device: EXO and NCT are quite versatile with their music and that always gets me excited about their comebacks and they never disappoint. Their vocals, visuals, dance, and raps always fit the concepts and the songs. They are just the best groups for me, personally. I am so excited for NCT and Kai's new album. I'm really looking forward to getting them! 
EnVi: What are your favorite things about Johnny?
Devie: My favorite thing about Johnny is his personality. He is such a chill and humble person. He's quite funny and always makes people laugh with his acts and joke—and he is very hot! He wasn't my first bias, it was Winwin, but as I watched more NCT videos, I [thought Johnny] was very cool. [He is] kind of close to Sehun, who is my EXO bias. 
EnVi: Did you get your family into K-pop as well? What sparked your son's interest in NCT? 
Devie: At first, I got my little brother into EXO and now he knows even more about K-pop than me. When I was pregnant with Mali, I listened [and sang] to K-pop a lot. When he was a baby, I took him to the SM office in Indonesia to see NCT Dream in Jakarta. I sometimes do K-pop dance covers and Mali always dances with me. I  guess he is used to me listening to EXO and NCT so he's familiar with the songs. He used to think all the members [were] called Chenle. He also loves lightsticks. 
EnVi: How did he become a fan of Mark? 
Devie: It started not long ago actually. [This] Halloween, he saw Mark dressed up as  Spider-Man and he got excited and kept asking me to show him Mark's video. He would say that Mark is "so cool" and now every time we're in the car he always asks us to play Mark Lee's song, ["Sticker"]. I guess that's his favorite song from the album. He was going to dress up as a zombie for Halloween, but after he saw Mark, he changed his mind and wanted to be Spider-Man to go trick-or-treating! 
EnVi: Your viral video of your son looking for watermelon for "Mark Lee Spider-Man" was adorable! Can you describe that day? What was going through your mind? What made him want to go to the supermarket that day? 
Devie: When we went to [the] supermarket, he saw a watermelon and asked us to get one. We didn't get it because we were in a hurry. A few days after that, he asked us again if we could go to Tesco to get a watermelon. I asked [him] why and he said, "it's for Mark Lee cause he likes watermelon." We went and thought we should record it, and when we recorded him and asked him questions he just came up with those answers and we were shocked [by] what he said. He's got quite [the] imagination so he just says anything that's on his mind. 
EnVi: How does it feel to have an NCTzen son? 
Devie: Honestly, I am so proud of him because we always chill and listen to NCT and EXO's music and enjoy them together. He sometimes dances for us too. 
EnVi: How does it feel to have a Spider-Man son? 
Devie: Not gonna lie, sometimes it annoys us because he doesn't want to wear any other clothes, just Spider-Man suits all day and even all week. Sometimes our washing line is full of Spider-Man suits. His favorite one is his papa's. [The costume] used to be his papa's when he was Mali's age and now he keeps wearing them and even brought [it] to the nursery without us knowing. He put them in his bag secretly and I would pick him up and see him with his Spider-Man suit on. 
EnVi: What was the family's reaction to finding out that Mark Lee saw your video and posted it on his story? 
Devie: My husband and I were super excited and couldn't believe it. We saw lots of comments on my TikTok account about [how] Mark saw my video so we went to Instagram and saw Mark's Instagram story and we were like "Yeah! He saw the video!" and just went mental. My family was excited because they know I am such a huge K-pop fan, especially NCT and EXO. I always asked my mum to look after Mali when I went to their concerts in Jakarta so they kind of automatically [knew] who Mark [was] and they're so proud of Mali. My sister and parents-in-law don't really know much about K-pop, but they're very happy for him. 
EnVi: Anything else you would like to add? 
Devie: I just want to [give] a big shout out to NCTzens for supporting Mali and for the kind comments. Thank you so much for helping Mali get noticed by Mark. It wouldn't [have happened] without them. They are just amazing and the best! 
As Mark said, we truly must protect this boy at all costs! If you want to keep up with "Mark Lee Spider-Man" and his next adventures, follow his mother on TikTok and Instagram! 
Want more Marvel and NCT? Check out our article on the 6 Times NCT 127 referenced the Marvel Universe!
Thumbnail courtesy of Devie Bullen.