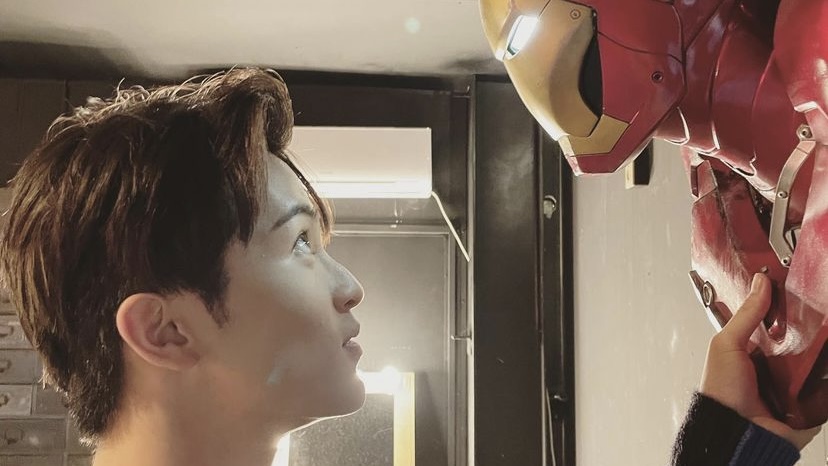 As the Marvel Cinematic Universe made a big comeback this year, so did their biggest fans. On August 19, NCT 127 shocked fans with a first look at their upcoming album, STICKER. Inspired by the college-themed aesthetic, each member uploaded a cozy photo of themselves at the NCIT (Neo Culture Institute of Technology). However, among the many photos and videos they've posted recently, there seems to be one common theme tying them all together: Marvel.
As certified MCU fanboys, the comic book references have been coming in hot and causing quite the buzz. So, in case you've missed it, here are six times NCT 127 has referenced the Marvel Universe over the last few weeks.
1. Jaehyun Sports a Captain America Shirt for NCIT: The first Marvel nod came from Jaehyun as he subtly uploaded a new profile picture on Instagram. The first photo shows him wearing a somewhat closed navy hoodie. But, shortly after, the singer switched to a slightly different photo showing that he's Team Cap all the way.
the transition between these photos is truly one of a kind. everything he does is naturally funny 😭😭 pic.twitter.com/v3HAHpnMhk

— 천재현♡̴ (@jaehvunism) August 20, 2021
jeong jaehyun of nct 127 celebrating the news of captain america 4 after anthony mackie closed deal just yesterday! pic.twitter.com/itvMRvpP8Y

— yuniverse¹²⁷ 💻 NCT 127 MAIN CHARACTERS (@doyutiful) August 20, 2021
2. Johnny Breaks Some House Rules While Reading Marvel Comics: Now, this one may be hard to catch if you're not paying attention. But, 127's resident Chicagoan was seen chilling in the NCIT dorms with an impressive stack of Marvel comic books. From Spider-Man to Fantastic Four's Silver Surfer, Johnny is sure to be your next-door superhero buff.
naurrr Johnny is reading silver surfer comic 🥺🥺🥺🥺 pic.twitter.com/6nxL3JPcbS

— fay 🛼 (@suhschat) August 21, 2021
the marvel references in 127's teasers so far pic.twitter.com/p0PHuFUNrM

— 천재현♡̴ (@jaehvunism) August 21, 2021
3. Mark Revisits an Old Favorite of Iron Man: If there's one person you can always count on for top-tier MCU references, it's Mark Lee. On August 26, the wide-eyed rapper uploaded a photo of himself with one of Iron Man's most iconic suits. As his clever caption suggests, the number "42" references Tony Stark's Mark XLII suit shown in Iron Man 3.
SHUT UP?!!?? HIS BRAIN 😭 pic.twitter.com/YWlN1Ev8l2

— ً (@LMKFILE) August 26, 2021
GUYS WTF THE IRON MAN ON YANGYANG'S PHOTO…AND MARK??? pic.twitter.com/yLLqG0s0dn

— ash (@mltfn__twt) August 28, 2021
spider-man but it's mark lee pic.twitter.com/ho1cXadFbq

— mark loops (@mkloops) August 27, 2021
4. Mark Gives Mad Props to Tom Holland's Spidey Portrayal: After many allegations and conspiracy theories, it's safe to say Mark is indeed Tom Holland's web-slinging understudy. During a fansign call, he was asked about his favorite Marvel character and complimented the English actor for his Spider-Man portrayal. From one Peter Parker to another.
@TomHolland1996 get over here https://t.co/A4v8RZrF0J

— milf catgirl (@kimyeris) August 29, 2021
Have you ever seen Mark Lee and Tom Holland in the same room? pic.twitter.com/739PWVWcMJ

— YOO YOUNG JIN'S VOODOO (@LUCIDREAMSOTY) August 27, 2021
listen i need someone to prank interview mark immediately pic.twitter.com/AihTnYmGt5

— sab (@loveh00lic) August 27, 2021
5. Mark Fanboys Over Spider-Man: No Way Home Trailer: Timing is everything in the vast multiverse of NCT and the MCU. So, when a lucky NCTzen had a fansign call after the No Way Home trailer dropped, the sticky topic couldn't be ignored. When Mark was asked if he had seen the trailer, the 23-year-old exploded with excitement, as did everyone on the Internet.
he looks so excited AAAAAAAAAAAAAAA FEEDING MY SPIDERMARK AGENDA https://t.co/FaKCBa7ur7

— 💌 (@iemmarian) August 30, 2021
alright so how can i get marvel to invite mark to spiderman's premiere pic.twitter.com/7YfPxnOWSp

— aya (@NEOTRACC) August 27, 2021
i want to talk spider-man with mark lee pic.twitter.com/ZDpDqsnWfO

— Jazz⁷⁷₁₂₇ (@jaesleftdimple) August 27, 2021
6. SpiderMark Confirmed? Johnny and Jaehyun Grow Suspicious: In a 90s sitcom-styled episode of NCIT House, Johnny and Jaehyun grow suspicious that their roommate, Mark, is hiding a secret identity. After Johnny discovers a Spider-Man mask hidden beneath Mark's textbooks, he and Jaehyun are determined to uncover the truth from their odd-behaving friend. Although Mark denies the Spidey allegations, his friends' theories are incredibly entertaining to watch. SpiderMark for Halloween 2021, please.
johnny discovering mark's mask 😹 pic.twitter.com/nWUyip8hPQ

— ً (@jsuhsource) September 1, 2021
(this isn't mark sorry) MARK SPIDERMAN??????? pic.twitter.com/P483ndzfIU

— mark loops (@mkloops) September 1, 2021
johnny is fucking hilarious man the spiderman butt thing pls 😭 pic.twitter.com/cwBC5aUHO9

— cami 愛 (@nctshunty) September 1, 2021
Hey Marvel, Pick Up The Phone
Although this isn't the first time NCT has shown interest in Marvel, these are only a fraction of examples. NCT 127's relationship with the cinematic universe runs deep as some of the members have already partnered with the studio. But now, as 127 grows in popularity, the possibilities are endless for even better collaborations between Marvel and SM Entertainment. Whether it's a spot on the next soundtrack or a meetup with the members and their favorite heroes, the fans are all craving something more.
Looking for more Marvel-related content? Check out which NCT members we'd recast in the MCU Disney+ shows here!
Thumbnail courtesy of Mark Lee's Instagram.