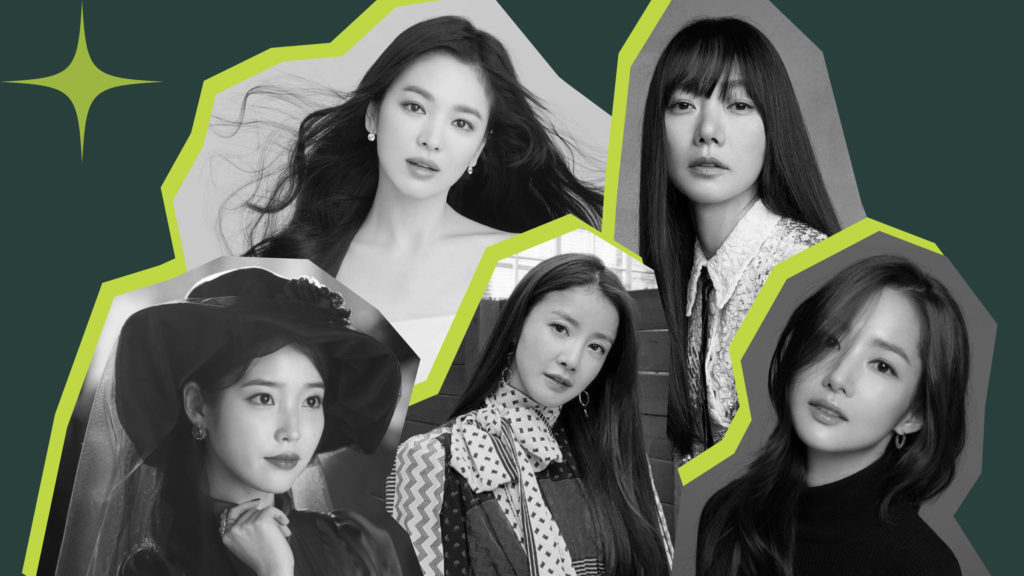 With each production, actors, and actresses steadily define their careers and who they become. It can transform how the public perceives them as they make their marks in the film industry. Not to be mistaken with typecasting, it's already a feat to even be recognized these days with such stiff competition. The ones that rise to prominence become almost like royalty reigning over specific genres as they hone their craft. From romance to thrillers to melodramas, there's sure to be someone who pops up in our minds when called to question. To honor some of the greats, let's look at what granted these queens their rightful crowns.  
Queen of RomComs, Park Minyoung
Like many rookie actresses, Park Minyoung started as a supporting character, debuting first in the beloved 2006 sitcom, High Kick! However, it wasn't until four years later that she rose to prominence with her breakthrough role as Kim Yunhee in Sungkyunkwan Scandal (2010). Playing a woman ahead of her time in the Joseon era, she captured hearts as a cross-dressing woman set on getting an education. Her chemistry with her co-star even won her the Best Couple Award at the 2010 KBS Drama Awards, setting a precedent of how she would continue to connect with her leading men. Her subsequent work was met with similar reception as she starred opposite Lee Minho in the action drama City Hunter (2011).
Her continuous success with popular high rating projects established her as one of the forefront runners of the new Hallyu wave, deeply admired for her "golden touch." Her acting skills and natural charm could also be attributed to why she was so well received. Despite the wide range of genres and storylines— Park's appeal derived from her chemistry with those she starred opposite combined with the ability to sync with her characters. Regardless of the situation, viewers could see the sweet connection between her leading actors and her, even in productions not solely focused on romance. Her most well-known works: Healer (2014), What's Wrong with Secretary Kim (2018), and Her Private Life (2019), garnered much love for her intense chemistry with the male leads. In fact, her kiss scene with Park Seojoon in What's Wrong with Secretary Kim has racked up 331 Million views to date on the official tvN YouTube channel proving she brings the heat to the screen with her co-stars.
Honorable Mentions: Hwang Jungeum (She Was Pretty, Mystic Pop-up Bar, Kill Me, Heal Me) & Park Boyoung (Oh My Ghost, Strong Girl Bong-soon, Doom at Your Service)
Queen of Suspense, Bae Doona
With credits like Sympathy for Mr Vengeance (2002) and The Host (2006) to her name, it's no surprise that Bae Doona has dominated in the suspense and drama categories for most of her career. Versatility is the name of her game–some of her English-speaking credits include Wachowski films Cloud Atlas (2012) and Jupiter Ascending (2015), and the Netflix series Sense8. Bae cites that she began to take acting seriously because of her role in Bong Joon-ho's Barking Dogs Never Bite (2000), but her real breakout role was in Bong's 2006 film The Host, which became the highest-grossing film in South Korean box office history.
Most recently, Bae has gained an even more significant following (and a few nominations) for her role on the Studio Dragon thriller series Stranger and nabbed a role opposite Gong Yoo in the new Netflix sci-fi suspense series The Silent Sea (2021). In Stranger, Bae plays the policewoman Han Yeo-jin–and she's a certifiable scene-stealer, drawing laughs and creating intrigue for the audience with subtle gestures and naturalistic acting. Opposite Bae is Cho Seung-woo, who plays prosecutor Hwang Si-Mok. Bae's chemistry with Cho: their characters flutter back and forth between complementary and antagonistic, demonstrating the tumultuous relationship between the prosecution and the police. There's no romance and fluff, yet Bae brings a fresh and charming perspective to the role, softening the rough-and-tough cop persona with a necessary veneer of humanity. Although, as Dr Song Jian in The Silent Sea, Bae embodies the grief-ridden, defeated doctor with delicacy, her signature subtleties continue to captivate fans worldwide.
Honorable Mentions: Kim Ok-bin (Children of the Lesser God, Sword and Flower, Arthadal Chronicles, Dark Hole)
Queen of Idol Actresses, Lee Jieun (IU)
Making her acting debut in Dream High (2011), IU was able to show her acting skills while still maintaining her life as a K-pop idol. Taking roles for dramas like You Are The Best! (2013), The Producers (2015), and Bel Ami (2013), IU has presented many different characteristics in her roles. Some of these genres contain romance-comedy, thriller, mystery, and suspense. One of her well-known roles is Go Ha Jin/Hae Soo in the historical melodrama Moon Lovers: Scarlet Heart Ryeo (2016). The drama has a rating of 8.7 on MyDramaList as the drama goes back in time to the start of the Goryeo Dynasty of Korea.
IU also played a significant role in horror romance-comedy Hotel Del Luna (2019). Playing Jang Man Wol, IU played the role of a strong, wealthy woman greedy for money but still has a warm heart. Although she is filled with hatred and seeks revenge, she also finds love along her long path to peace and happiness. Her ability to have emotions swimming in her eyes draws viewers in with how she expresses the feelings of the scene without words. As her acting career crosses over her idol career, IU also participates in official soundtracks making songs like "Our Happy Ending" (Hotel De Luna), "Someday" (Dream High), and "I Give You My Heart" (Crash Landing On You).
Honorable Mentions: Suzy (Dream High, Uncontrollably Fond, While You Were Sleeping, Start-Up), Krystal (The Bride of Habaek, Player, Search, Police University)
Queen of Action, Lee Siyoung
Lee Siyoung made her debut in 2008 and has been a part of a wide range of productions spanning vastly different genres. She's left a powerful image in the industry with her most memorable performances in My Beautiful Bride (2015), The Guardians (2017), No Mercy (2019), and Sweet Home (2020) which have established her as one of the top Korean action actresses. Initially taking up amateur boxing in 2010 to prepare for a role, she continued pursuing the sport and won a few titles. She most notably won the National Amateur Boxing Championships in 2013, making her a national team athlete, proving her talent in the field. Unfortunately, the actress retired from seriously pursuing the sport due to injuries but has continued using it as an asset in her action roles, choosing to do most stunts by herself.
The actress has never been one to sit still no matter the circumstance, demonstrating her tenacity in doing what she enjoys. When filming the show The Guardians, Lee was unaware of her pregnancy as she was still performing her own various stunts. Her most recent role as the skilled firefighter Seo Yikyung in Netflix's Sweet Home brought her international recognition for her incredible strength and toned body. She worked hard in preparing for this role, dedicating an exercise regime to reach the goal of achieving 8-9% body fat. Her expressive intensity in each scene as she struggled with survival and her circumstances allowed the audience to connect with her in the rare moments of vulnerability she let slip through. Lee is exceptionally skilled in showing a mix of emotions in her action scenes when sparring against her opponent. Frequently her face tells the audience of her anger, but the fear she adds in also grounds her characters as human. Continuously active and dedicated to her craft as an actress, it's no surprise Lee is acknowledged as a top action star.
Honorable Mentions: Jun Jihyun (The Thieves, Assassination, Blood: The Last Vampire, Jirisan)
Queen of Melodramas, Song Hyekyo
Song Hyekyo started off acting in 1996 in minor roles until her breakout role in the 2000 melodrama Autumn in My Heart. Starring opposite Song Seung Heon and Wonbin, she shot to stardom with her natural beauty and charm on the screen. The audience cheered and wept for her character Choi Eunsuh, who was met with so much hardship and pain despite her sweet personality. She could captivate viewers with her heartbreaking delivery. The show is attributed as one of the pioneers in the Korean melodrama genre, which gave way to similar emotional productions being made, hoping to meet similar success.
The actress cemented her Hallyu wave status with the comedic Full House (2004), contrasting her more emotional roles but proving her ability to choose high rating shows. Even as she explored other genres and acting styles, she couldn't help but gravitate back to melodramas. As years passed, she would star in many bittersweet films and dramas such as My Girl and I (2005), That Winter, the Wind Blows (2013), and Encounter (2018).
Growing from her own experiences, the actress now embraces the melodrama genre she once feared as being put into a box by the industry. In an interview with Dazed magazine, Song stated, "If in the past I could only perceive sadness at the first level, now four levels of emotions make my heart waver since I've aged and built experience. The sadness and pain I didn't know when I was young have become emotions I feel clearly after time passed." Despite such a bittersweet genre, Song's performances aim to teach viewers how to cope with embracing sadness and never forget the happiness that happened along the way.
Honorable Mentions: Kim Haneul (Piano, Stained Glass, 90 Days, Time to Love, On the Way to the Airport, The Wind Blows)
Want more? Make sure to read the full issue here!