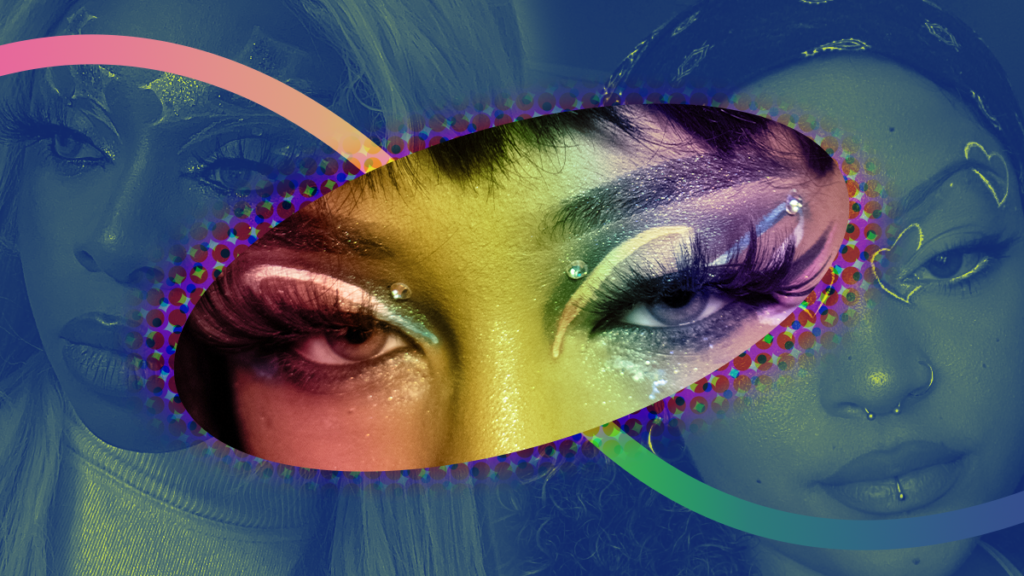 Pride Month is a time for individuals to band together and celebrate their gender and sexual identity. For years, the LGBTQ+ community has faced a lot of struggles, but through determination, persistence, and love, many have overcome them.
The first Pride March was held on June 28th, 1970 in New York City. It was held one year after the Stonewall Riots, a movement started by activists and drag queens Marsha P. Johnson and Sylvia Rivera. In 1969, Johnson and Rivera, along with many other activists, protested the homophobic and transphobic actions of police that would harass their community before detaining them. Nearly a decade after the influential six-day long uprising, Gilbert Baker, an openly gay man and drag queen, designed the first rainbow flag in 1978 with eight colors representing each part of identity. The colors are hot pink for sex, red for life, orange for healing, yellow for sunlight, green for nature, turquoise for art, indigo for harmony, and violet for spirit.
With so much history to celebrate and some members of our beauty team being part of the community, we've decided to create looks based on several LGBTQ+ flags for this year's Pride Month. Take a look at how we bring these vibrant flags to life!
Ellie
Pronouns: They/He/She
Flag you've chosen: Pride and Trans flag
Products and method
This look was quite a bit of fun to do. To start, I laid out all the lines using the NYX Cosmetics Epic Wear Liquid Eyeliner. The idea of this look was to make veins. One eye would be a trans flag and the other would be the pride flag. I often find issues applying eye makeup because my eyelids are more hooded. Because of its creasing, I decided to place lines higher on my eyelid. From there, I went in with color using the Clarospyche Psyche's Box Palette. I love this palette a lot because of how versatile and colorful it is. Since the lines are thin, I used an eyeliner brush to place color. Once I finished my colorful eyeliner look, I went in with the Clionadh Cosmetics Jewelled Multichrome Eyeshadow in shade Oculus. I feel like no look for me is ever finished without some sort of shine, so I finished off the look with the Bella Beaute Bar Flashing Lights Holographic Loose Pigment Eyeshadow and the Danessa Myricks Infinite Chrome Flakes in shade Strobe Light.
What does this look mean to you?
This look employs lines throughout my eyelids as if they are veins and tells a story of my own queerness. For me, my journey as someone in the LGBTQ+ community is so instrumental to my life. To this day, I am still not out to my family, despite being out online. This is a love letter to every person like me. The flags I decided to use were the trans flag and the pride flag. As a Black person who is part of the community, I want to look towards leaders like Marsha P. Johnson. Pride is Black culture, and Black people continue to push boundaries for LGBTQ+ people. That said, we are often left behind in terms of representation and visibility. This motivates me to present authenticity and be my most unapologetic self with my makeup.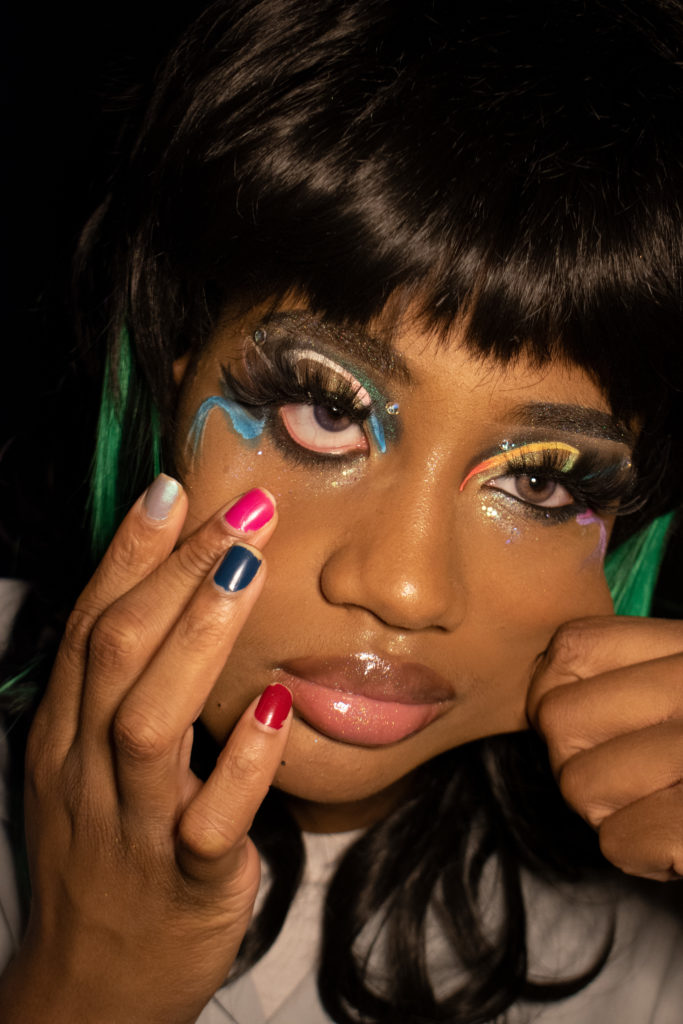 Taylor
Pronouns: She/Her
Flag you've chosen: Bisexual flag
Products and method
The P Louise Colored Eye Base is the perfect primer and also great for putting down a rough base. Using the base and a flat brush, I gently carved out a wiggly line above my crease. The placement was mainly to avoid transfer and because I have a lot of space on my eyelids. The fluid-like base shape and motif throughout the look was a nod towards my genderfluid friends and loved ones! After laying down my base, I used the Morphe Color Burst Palette to set the P Louise product. This makes sure the color is really vivid and it stays put all day! Pride Month is about owning who you are, so for me, the brighter the colors the better!
For my brows, I used the Morphe 9M Melon Pop Palette. This is currently my go-to palette for traveling as it has a good variety of shades. It also has the good color-match for my brows. I briefly hesitated about the color of my lips, but as Pride Month is about being bold and proud, I decided to use my matte lipstick from MAC Cosmetic in the shade Pink Pigeon. The color matched well and this lipstick shade was the first ever high-end lipstick I purchased, so it made the look even more personal. Next, to make this look pop, I used SUVA Beauty's Space Panda White Matte Hydra Liner by adding highlight points and little star details. I wanted the look to feel fun and magical, so by adding the small details, I think it creates the desired vibe. Again, I wanted to add homage to my genderfluid friends, so I highlighted the fluid shape I created earlier with the liner.
What does this look mean to you?
The lockdown was rough for everyone, but it also gave us a chance to be alone with ourselves and reflect—at least that's what I had. In the past, I was confused by my sexuality, having dated cis men, yet I was attracted to feminine-presenting people too. For me, it was through the pandemic that I was able to explore my feelings and attractions. After many complicated and confusing years, I figured out I was bisexual. This year is the first year I've been able to proudly and loudly say I am bisexual, so creating this flag look for Pride brings me so much joy.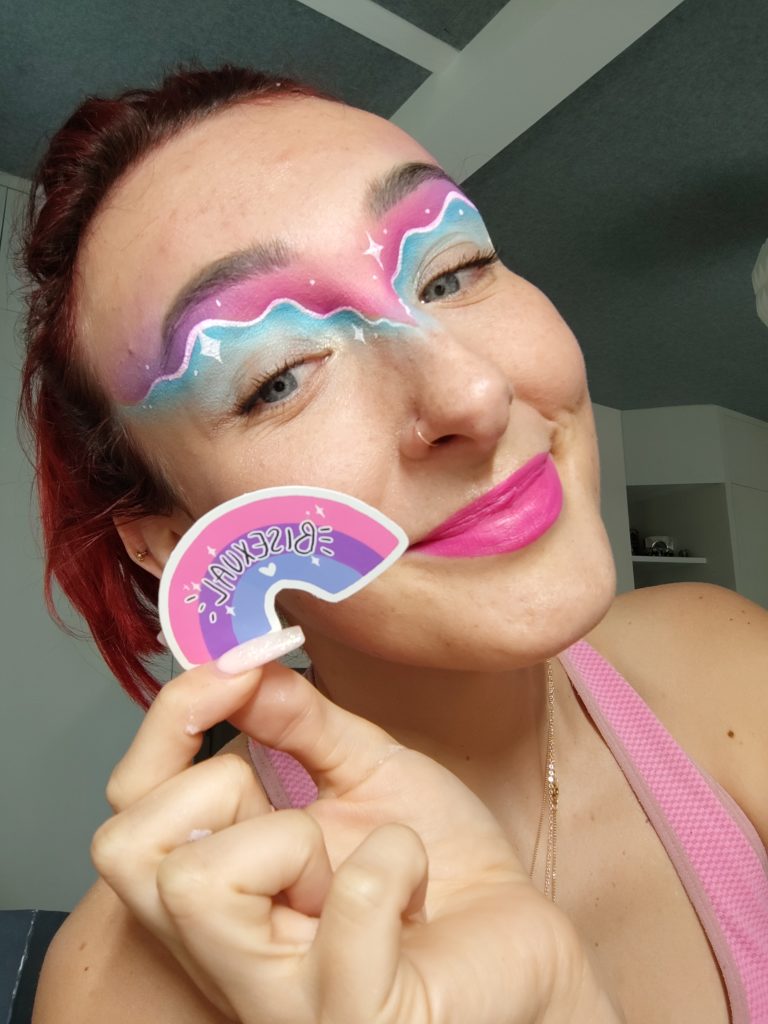 Kryscy
Pronouns: She/They
Flag you've chosen: Pansexual flag
Products and method
I had so much fun with dyeing this white synthetic wig in the colors of the pansexual flag. For the colors, I used Rit Dye More in the colors Super Pink and Daffodil Yellow, as well as Liquitex's Acrylic Ink in Turquoise Deep. I created the eye look using my favorite oil-based paint palette from UCANBE. First, I used the white paint to outline the stars, then shaded them in with the blue, pink, and yellow paints. Next, I used the yellow and pink shades to create thin and curved lines on the lid. To set the paint in place, I used small fluffy brushes to pack adjacent shades from BPerfect's Carnival Palette onto the stars. Lastly, I completed the eye look with dramatic lashes and black cream liner from e.l.f..
What does this look mean to you?
Pride is about showing your colors more vividly than ever and I think I achieved that with this look. I haven't always been confident in showing who I am, but I feel stronger than ever by tapping into my art and expressivity. I hope this look shows members of the LGBTQ+ community that it is okay to wear your colors proudly. We may not always be able to do this when we want because of the dangers society presents us. However, there will be days when we can because we have each other.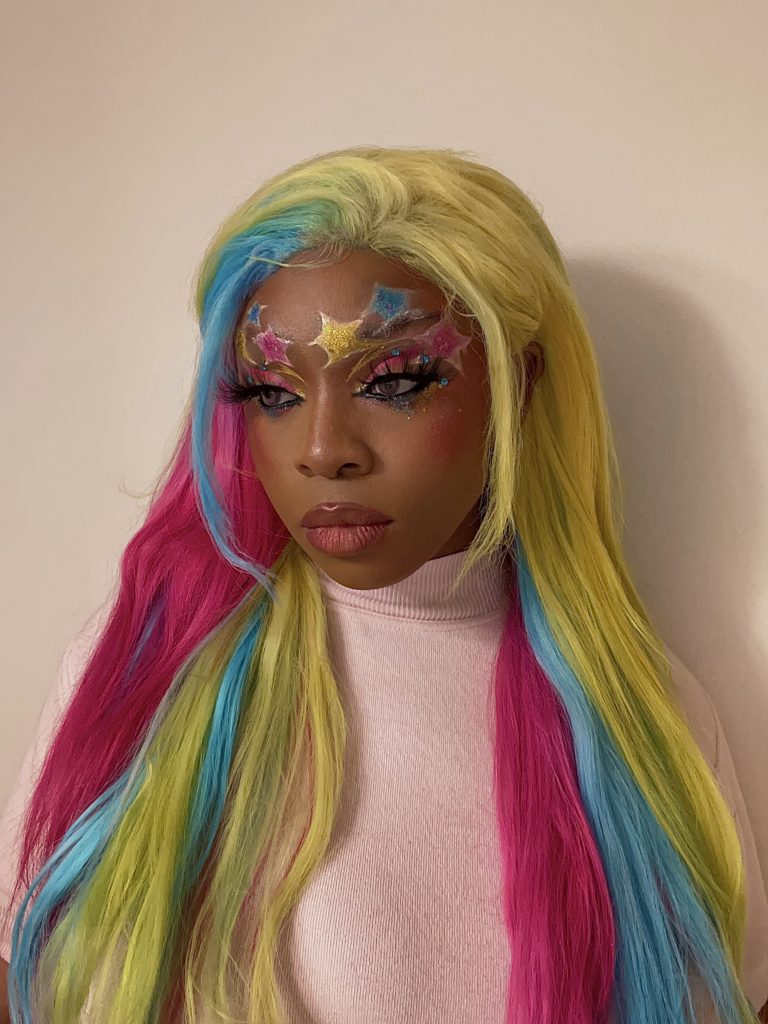 Annie
Pronouns: She/Her
Flag you've chosen: Bisexual flag
Products and method
I focused on doing a simple but still eye catching shadow look, using the Bruna Tavares's BT Velvet liquid eyeshadow in lavender, topping it with a shimmer from the Ruby Rose Flame and Ice eyeshadow palette, and putting even more glitter using the Bruna Tavares's BT Mirror highlighter. For the bi flag heart, I used the liquid eyeshadow again and the Colormake Aqua liners.
What does this look mean to you?
I've been out as bisexual for 8 years now. During those years, I've met people like me. I've also met people who didn't understand me, so I had to fight for my right to be respected and celebrated. My sexual identity has become a big part of my life, especially when you remember Pride is about fighting for the rights of the LGBTQ+ community and demand the respect that has been denied to us for so long. I never want to feel like I have to hide myself ever again. On top of that, purple, blue and pink are colors I adore and I love being represented by a flag so pretty.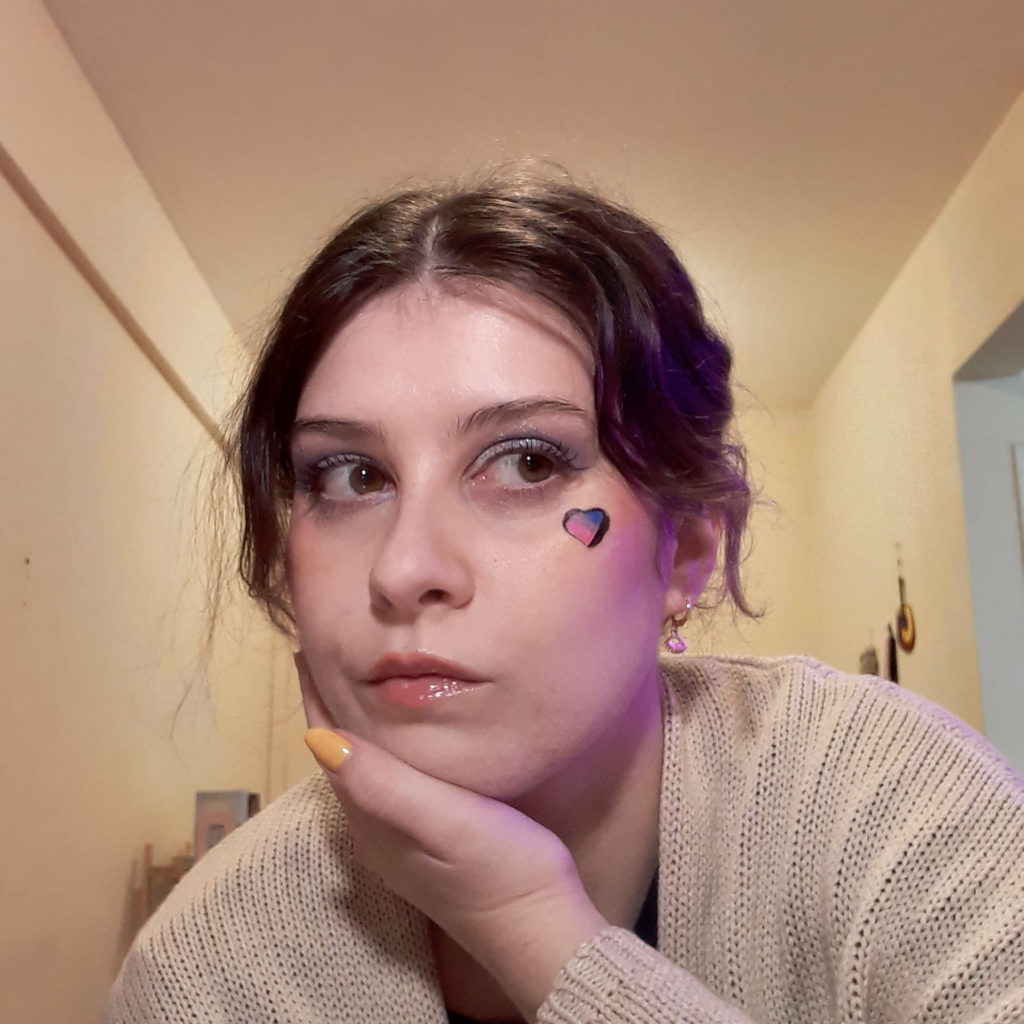 Chanel
Pronouns: She/They
Flag you've chosen: Lesbian Flag
Products and method
For this look, I wanted to try a new step in my foundation routine. I placed Rare Beauty's Soft Pinch Liquid Blush in Joy on before my foundation to get a super cute flushed look. After setting my foundation, I used a white eyeliner pencil to sketch out where I wanted the hearts on my eyes. To get the best match for the flag colors, I used three different palettes. I used the Morphe 35O palette for the deep and light oranges, the Morphe 25C Hey Girl Hey palette for the dark rose shade, and the BH Cosmetics Take Me Back to Brazil palette for the pink. After buffing out the colors, I took a small liner brush and used the NYX Jumbo Eye Pencil in Milk to re-outline the hearts. When you place eyeshadow—especially neon shades—under a white liner, it gives off a neon light effect!
What does this look mean to you?
I chose to do a look inspired by the lesbian flag. The lesbian community is often overlooked, so I would love to pay tribute to them. Aside from that, many people in my life that I look up to identify as lesbian. I wanted to do a look that shows how much love I have for them and our community! I believe that art, in any form, gives up the power and confidence to speak truly of who we are. During Pride Month, and every other month before and after it, I want people of the LGBTQ+ community to be proud of who we are and express that in any and every form they choose! I made sure that my look was simple, but bold so any person who wants to try it, can wear it too. I hope that we all can wear our colors with pride! <3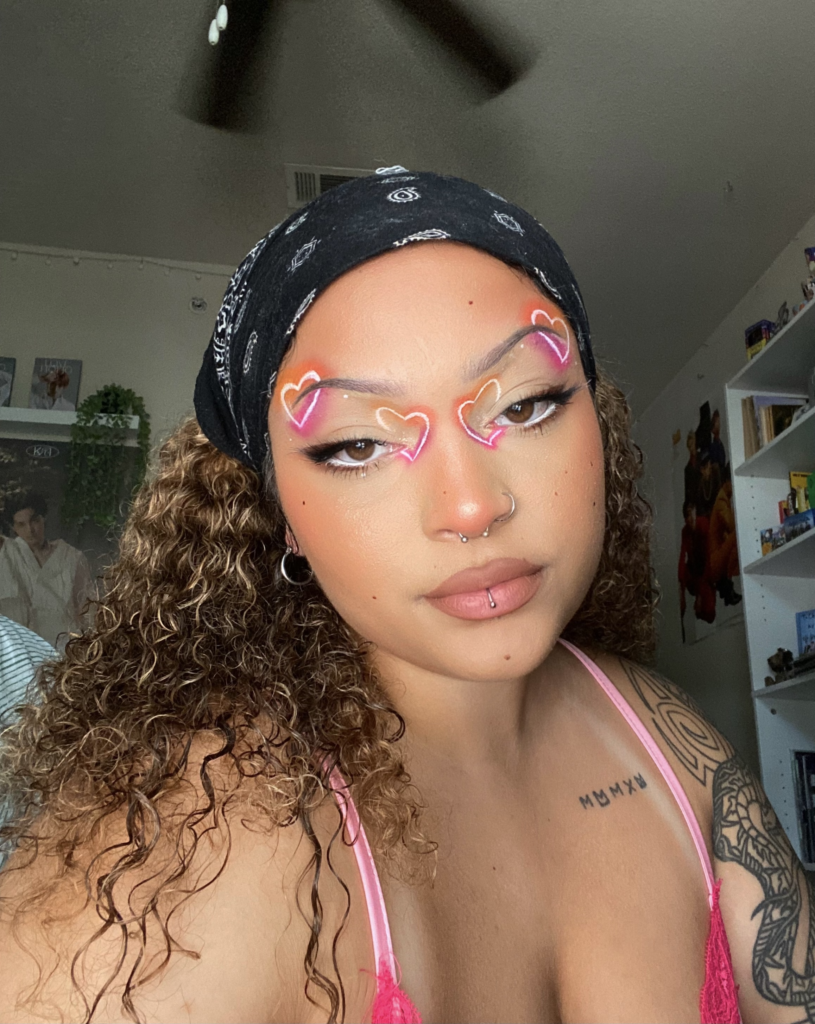 We want to see how you get creative and show your pride. Fill this form out for a feature in our next piece!
For more beauty looks by Team EnVi, check out our looks inspired by Golden Child here.