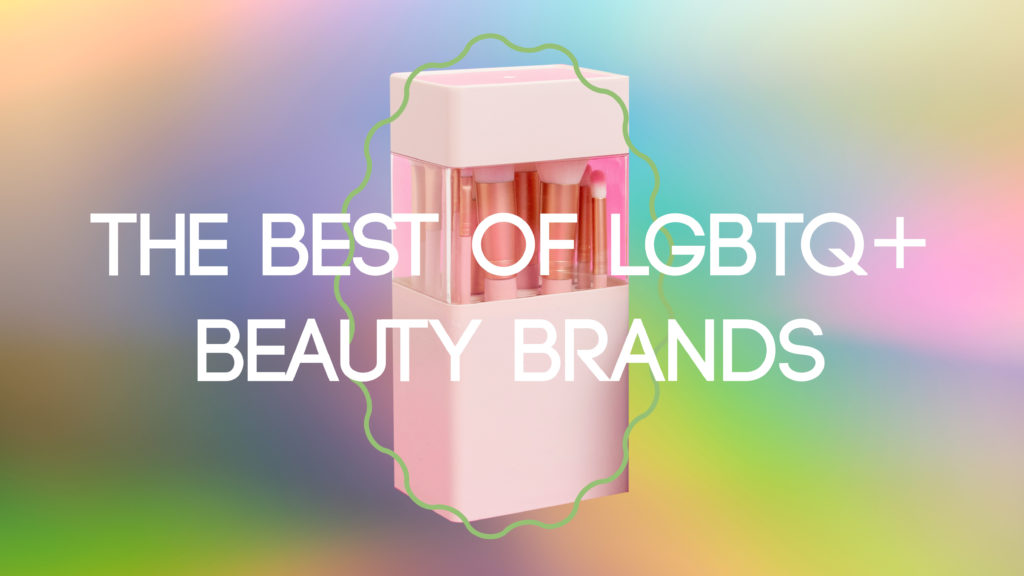 June has arrived, and with it we celebrate the LGBTQ+ Pride Month and the fight for equal rights. But instead of praising brands that just slap a rainbow on their items or social media and are done with it, at EnVi we lift up the voices of those who are actually part of the community. Here are 3 beauty brands that are founded, owned and run by people in the LGBTQ+ community that you totally should check out!
Brand: Made by Mitchell | https://madebymitchell.co.uk/
Owner: Mitchell Halliday 
About: Made By Mitchell sells a variety of cruelty free makeup products and tools. Founded by Mitchell Halliday, the brand's ethos revolves around "products for the makeup lovers, for the makeup addicts and for the self-expressionists." Following Mitchell's own success online and in the beauty industry, the brand was launched in 2020, after four years of development. Mitchell has based the entire Made By Mitchell brand on creating products that aid with an individual's beauty journey, allowing them to express themselves with help from his products. In an interview with Kirsty McKenzie, for Glasgow Live, Mitchell stated, "makeup doesn't have a gender, an age, a religion, sex – it's a one size fits all. It is so empowering and diverse." His all accepting outlook on life translates to his products, as many are accessible to the masses with a reasonable price tag and perfectly homed formulas. If you haven't checked out Made By Mitchell already, make sure to show this LGBTQ+ brand some love!
Brand: BIOGLITZ | |  https://www.bioglitz.co
Owner: Saba Gray 
About: BioGlitz is a sustainable makeup brand that sells biodegradable glitter. The brand works to create a product that is inclusive of all identities. The brand found its beginnings in 2014, when founder and CEO Saba Gray recognized a contradiction in her mission towards sustainability with her love for glitter—BioGlitz was born. The brand uses plant based materials to create a sustainable option for all glitter lovers. On their website movements like #TaketheLitteroutofglitter is highlighted and not only is the brand sustainable, but it is also cruelty-free. Aside from it's sustainability, BioGlitz also works to include people of all gender identities and they make it their mission to highlight LGBTQ+ community. The brand tells the story about its origin explaining, "Glitter was no longer "girly", but rather a genderless, universal tool for self expression. It could be punk, chic, funky, high fashion, pretty, scary, and everything in between." Want to try out BioGlitz? We recommend the Pride Glitz Kit!
Brand: FLUIDE | https://www.fluide.us/
Owner: Laura Kraber 
About: Created as a vegan and cruelty-free makeup brand designed to all gender expressions, FLUIDE was made "to support young people's self-expression and creativity". Co-founded by Laura Kraber and Isabella Giancarlo, and backed by an amazing and diverse team, FLUIDE's mission is to create makeup for everyone and push forward the idea that makeup has no gender. The website states, "through providing a platform and amplifying the voices of queer and gender expansive identities and through showcasing queer beauty, we hope to inspire others to create their identities on their own terms, opening up possibilities for everyone's self-expression."  It's visible through their products, models and creative team how much the brand values and lifts up queer voices. As Laura Kraber put it, on their website, "my dream was to create a beautiful and intimate online universe where everyone is comfortable being themselves—to evolve the mainstream conception of 'beauty' while creating a space for people to express themselves authentically." If you also believe in makeup as an identity expression tool, FLUIDE is very much worth a try!
Let us know what LGBTQ+-owned brands you know and love via our socials @envimediaco, and with the hashtag #EnVi!
Craving more beauty? Check out our beauty team's trend roundup for summer 2021!
Thumbnail courtesy of Nevi.