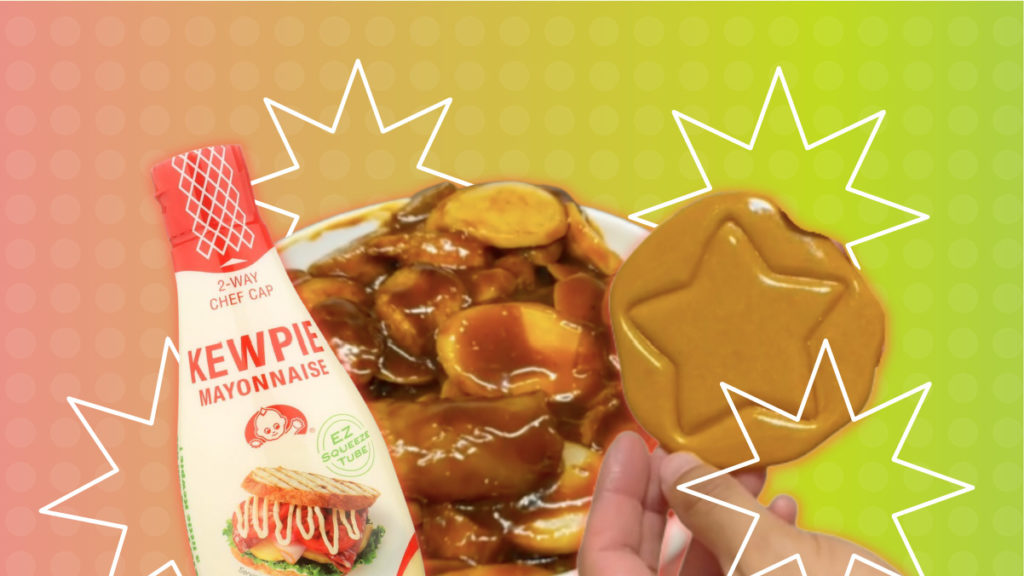 TikTok is the newest home of viral creations. With millions of recipes getting posted on the app every day, 2021's Food TikTok or FoodTok was crazy, creative, and delicious. TikTokers from various cultures and ethnicities shared recipes with the rest of the world through the platform and it was fun seeing what new and unique things they came up with! Check out our recap of our favorite recipes that went viral!
Kewpie Mayonnaise Ramen Hack
Mayonnaise and ramen? Don't knock it until you try it! While this hack can seem questionable at first glance, it's definitely worth it. Though not just with any regular mayonnaise, this recipe specifically requires Japanese Kewpie mayonnaise as one of its main ingredients. Japanese Kewpie mayonnaise uses vinegar and only egg yolks as opposed to using the entire egg. The result is a richer and creamier taste!
Ingredients
1 instant ramen packet of your choice
1 raw egg
1 tablespoon Kewpie mayonnaise
1 spring onion
1 garlic clove
Directions
Open the instant ramen packet and place noodles in boiling water. Set aside the seasoning packets for later.
While the noodles are cooking, mince the garlic clove.
In a bowl, thoroughly mix the seasoning packet, an egg, the tablespoon of Kewpie mayonnaise, and the minced garlic.
After the noodles are done cooking, slowly add in some of the boiled water from the noodles into the mayonnaise-garlic mixture (this will help cook the raw egg).
Keep adding small amounts of water into the mixture until desired consistency (You can leave it a thicker consistency if you want a creamier dish or a watery consistency if you want it to be broth-like).
Add the noodles and mix well until all the noodles are coated with the flavor.
Top the dish with chopped spring onion and enjoy!
Seitan Flour Chicken
With few ingredients, this vegan dish has been all over TikTok for the past couple of months. Users were astonished by how this recipe was able to mimic the texture of chicken. The dish dates back to the sixth century and has been continuously served throughout Asia.
Ingredients
3 cups all-purpose wheat flour
1 cup water
Cooking oil
¾ cup stock of your choice (vegetable/chicken)
Seasonings (or whatever seasoning of your choice)

1 teaspoon salt
1 teaspoon garlic powder
1 teaspoon onion powder
½ teaspoon of paprika
Directions
In a bowl, add 3 cups of flour and 1 cup of water and start kneading with your hands.
Once the dough is formed with no clumps, place dough in another bowl and cover with a lid. Let it rest for 1 hour.
After resting the dough, add enough water to the bowl to submerge the dough and begin kneading (this will help remove the starch).
Keep replacing the water and kneading until the water is almost clear.
Drain the dough.
Add your seasonings to the dough and knead until seasonings are well mixed.
Cover the dough for 1 hour.
After resting, twist, and knot the dough.
Add a splash of oil to a pan on medium heat, and begin pan-frying the dough on both sides.
Add stock to the pan and simmer on low heat for 30-40 minutes.
Shred your now flour turned chicken and enjoy!
Emily Mariko's Salmon Rice Bowl
Food and lifestyle blogger Emily Mariko's salmon rice bowl recipe completely took over TikTok last year. With more than 80 million views on her video, the recipe took TikTok by storm. Lots of people were eager to give her recipe a try. With simple ingredients and the use of a microwave, her recipe is a great way to make use of leftover salmon!
Ingredients:
1 salmon filet
1 cup white rice
1 ice cube
1 sheet of parchment paper
1 tablespoon soy sauce
Kewpie mayonnaise
Sriracha
½ avocado
1 roasted seaweed pack
Chopsticks
Directions
Place salmon into a plate/bowl and mash it up using a fork.
Add cooked white rice on top of the shredded salmon.
Place one ice cube in the center of the rice and cover the plate with a sheet of parchment paper.
Reheat the plate of salmon and rice in the microwave for 1-2 minutes (the ice cube will help steam the rice).
After microwaving, remove the ice cube and parchment paper.
Add 1 tablespoon of soy sauce to the rice.
Drizzle desired amount of sriracha and Kewpie mayonnaise.
Mix the salmon, rice, and condiments.
Slice half an avocado and lay it on top of the rice on the side.
Lay a piece of roasted seaweed on your rice and use your chopsticks to eat.
Rice Paper Tteokbokki
Out of rice cakes for your tteokbokki? No problem! Rice paper makes a great substitute for just about anything! Food TikTokers have been seen using rice paper in dumplings, rice paper puffs, and even as noodles. In this recipe, rice paper is used as a tteok (Korean rice cake) substitute.
Ingredients
12 rice paper sheets
2 Korean fish cakes (sliced)
Spring onion (chopped)
Tteokbokki sauce

1 ½ cups water
1 tablespoon gochujang paste
½ tablespoon gochugaru (Korean red chili flakes)
1 tablespoon soy sauce
1 tablespoon sugar
Directions
In a bowl of cold water, submerge 3 rice paper sheets for 3 seconds each (submerge each rice paper sheet separately so they don't accidentally stick to each other).
After submerging, carefully place the soaked rice paper sheets one on top of the other on a flat surface.
Gently press around the rice papers to get rid of any trapped air bubbles and excess water.
Start tightly rolling the rice papers from one end to the other end.
After you're done rolling, it should resemble an elongated tteok. Cut the tteok into 3 equal pieces.
Repeat steps 1-5 for the rest of your rice paper sheets and set them aside.
Place 1 ½ cups of water into a pot and bring it to a boil.
Add the gochujang paste, gochugaru, soy sauce, and sugar to the pot and stir it.
Add your rice paper tteok and sliced fishcakes to the pot and let it simmer for 5 minutes.
Turn off the stove and serve once it cools! Garnish with chopped spring onion.
Squid Game's Dalgona Candy Challenge
Ever since its release, Squid Game quickly climbed the charts and became the most-watched show on Netflix ever. Six Korean childhood games were used to eliminate players in the show, and the dalgona candy game was one of them. Fans of the show took this game to TikTok, with many attempting to make their own candy and carving out the shape with a needle when done. Back in the 70s, dalgona candy vendors would sell the candies on the street and playground and play a game with their customers. Customers would make their own dalgona candy and cut the shape out from a mold. If the customers succeed, they would get a second go for free. Now, dalgona candy has become a nostalgic childhood memory for many adults, which got rekindled when it appeared in Squid Game.
Ingredients
A metal ladle/saucepan
A single chopstick/ any wooden stick
3 tablespoons sugar
Baking soda
Molds
Needle
Directions
Add sugar to the ladle and heat it over the stove with low to medium heat (Alternatively, you can also do this in a saucepan).
Stir the sugar until it melts and caramelizes.
Add a pinch of baking soda and continue to stir the mixture away from the heat.
Once the mixture is well mixed, pour it onto a clean surface, and flatten the mixture while it's still warm.
With a mold, press a shape of your choice in before it solidifies.
Let it sit and cool.
And now for the challenge! Try your luck and use a needle to carve the shape out without breaking it!
Crunchy Mangonada
Candy with fruit and chamoy has been a long-standing favorite amongst people. TikTok user @4chicasbonitas' account is dedicated to mixing up wild and delicious combinations of sweet and spicy treats. Her latest creation that recently went viral has garnered over 8.6 million views. This recipe mimics the taste of a mangonada, which is a traditional Mexican beverage that typically uses frozen mango, chamoy, and Tajín. The difference between @4chicasbonitas' version and the typical mangonada, is that it's crunchy! All with the help of flavorful Fruit Roll-Ups.
Ingredients
1 Talenti Alphonso Mango Sorbetto
Tajín
2-3 tablespoons of chamoy
1 Fruit Roll-Ups piece
Directions
Open your Talenti Alphonso Mango Sorbetto and sprinkle some Tajín on top of it.
Drizzle a layer of chamoy onto the sorbetto and sprinkle more Tajín on top.
Grab a fruit roll up and roll it out flat.
Using the lid of the sorbetto as a guide to trace, cut out a circle from the flattened Fruit-Roll Up.
Place the cut-out Fruit-Roll Up on top of sorbetto.
Sprinkle more Tajín on top of the Fruit-Roll Up and freeze for 20 minutes.
Enjoy with a spoon!
We hope you get to try out these delicious recipes and we can't wait to see which recipes will go viral in 2022!
Want to check out our holiday-themed recipes? Read all about our holiday recipes here!