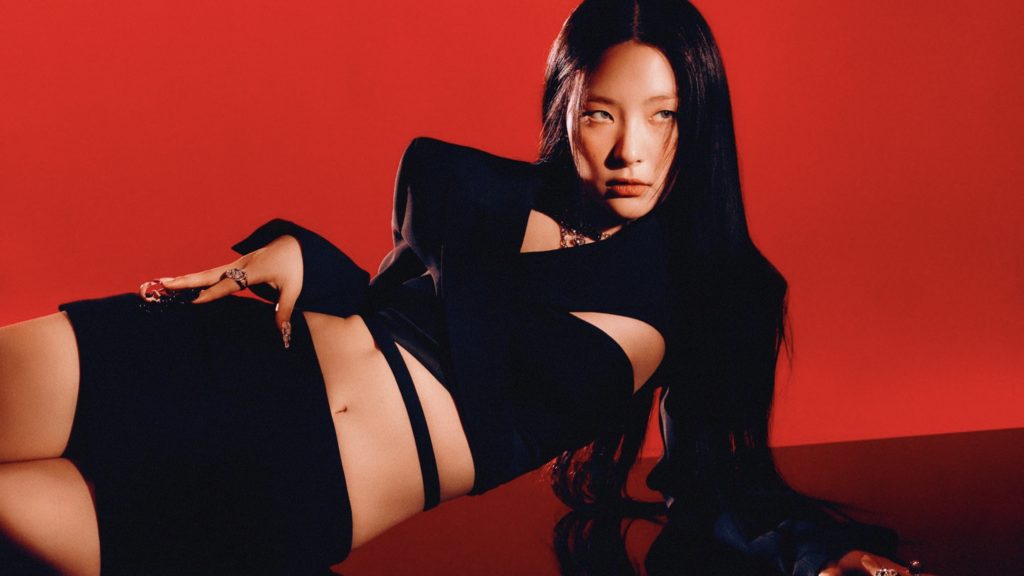 SEULGI's good and evil sides are exposed in an alluring release of her solo debut mini album, 28 Reasons. Following a highly anticipated comeback from K-pop girl group Red Velvet with their ninth EP in March, the lead vocalist has returned to the stage alone for the first time. On October 4, SEULGI defined her own sound, dropping a six-piece EP filled with captivating vocals and enchanting artistry.
SEULGI has consistently worked alongside her fellow Red Velvet members for eight years since their debut in 2014. The group has been wildly successful, with their album The ReVe Festival: The Finale topping the iTunes Top Albums chart in 44 countries, making them the first female K-pop act to do so. Prior to 28 Reasons, SEULGI had released Monster- The 1st Mini Album in collaboration with her bandmate Irene in 2020. Apart from this release and multiple K-drama OST's, 28 Reasons is our first exclusive glimpse into SEULGI's cinematic world. Seulgi emphasized that she will show the many dimensions to her artistry in the future by exploring diverse concepts. "I like so many concepts. Therefore, I'm not going to present only a single color. I always want to present 'SEULGI' in SEULGI's style," she said in a press conference.
The first hints of SEULGI's elaborate album concept were released on September 13 at midnight KST. The teasers revealed dark and suspenseful scenes with an eerie whistling sound in the background. An album release schedule poster was uploaded one week later, including two mysterious lines, "Good and evil people are not clearly distinguished," and "Good and evil coexist within one person." SEULGI continued to release a variety of teaser photos embodying this concept of good and evil, also named "sNOWWHITE" and "gRIMHILDE." Although these two characters are polar opposites in the classic fairytale, SEULGI personifies them both, pushing her theme of coexistence.
The theme of good and evil coexisting is the centerpiece of the EP's title track, "28 Reasons." The song itself juxtaposes the haunting whistle –- first introduced in the album teaser – with a strong bass, and SEULGI's velvet vocals blend with the two to paint a dark fairytale. SEULGI opens the song with the line, "I kiss your brother / I steal that heart," and her breathy tone quickly becomes a siren of questionable desire. The track then goes on to explore this eerie love story. In the chorus, SEULGI warns her lover of "28 reasons" for which they should leave her, but she sings that she has no bad intentions. Her act of infidelity hurts her lover, however, her lover chooses to stay with her. SEULGI justifies the toxicity of her actions with honesty: she is fully aware of the impact of her actions, but she encourages her lover to embrace the pain as a necessary byproduct of her love.
Within the song, SEULGI's character exhibits both traditionally good and bad qualities that seem to contrast one another, namely honesty and infidelity. Her character challenges the idea that people are either evil or good, showing that every person has the capacity of good and evil within them, and that is precisely what makes love so complicated. Even the not present lover holds both good and evil qualities. In the final chorus, SEULGI adlibs: "Do you just love the pain?" Her lover's masochist indulgence in a toxic relationship makes the dynamics of the relationship muddled and complex, hence harder to escape from.
The music video furthers this morally gray interpretation of humanity by playing on the classic tale of Snow White. SEULGI plays both the role of the traditional hero, Snow White, and the villain, Grimhilde. Combining both personas unto one person is a subversive way of reading the famed tale, adding nuance to the basic antagonization of the "Evil Queen" and the romanticization of Snow White. SEULGI's "sNOWWHITE" persona dons white, while the "gRIMHILDE" character is draped in black. The "sNOWWHITE" SEULGI has visible wounds upon her body, signs that she has been battling "gRIMHILDE". But beyond the superficial dichotomy, the two characters actually interact and connect via bondage: "gRIMHILDE" wears buckles across her body, but she holds chains that suspend "sNOWWHITE" mid-air. In this imagery, "good" is being held captive by "evil," hence the latter half of the music video includes scenes of destruction by fire, when evil wreaks havoc, inflicts pain, and feels neither remorse or shame.
The strained and restrained relationship between two characters represent the internal conflict of a person's light side and dark side: constantly at war but never able to escape the other. Despite their continued struggle for dominance and control, neither can truly exist without the other. The boundary between good and evil is marked by the ways the two restrict each other. SEULGI's characters embody moral grayness, forcing the viewer to question if "good" and "evil" are truly as far apart as they would like to believe. Instead, goodness can be a struggle and evilness can be liberation. The music video offers a nuanced perspective towards human nature, highlighting the choice between good and evil as the defining character of a person. The question the music video leaves us with is this: is "good" really that good and is "bad" truly so bad?
SEULGI showcased her mesmerizing songwriting skills in "Dead Man Runnin,'" a dark tale of falling into insanity after being hurt by someone close to her. With chilling lines including "A creepy voice in my ear / There's a demon smiling inside of me," The lyrics give a sinister look into SEULGI's mind as she observes herself becoming a villain. She's out for vengeance, warning her victim that they can run, but they're already dead before the chase even begins.
SEULGI's talent for storytelling does not end there. The following tracks on her album all showcase her artistic range and cohesive concept beautifully. On "Bad Boy, Sad Girl," SEULGI partners with Show Me the Money rapper, BE'O, and the deceptively upbeat song tells a pained story of skewed love, dissatisfaction, and manipulation. The title calls back to Red Velvet's iconic 2018 release, "Bad Boy," and it goes one step further to explore the sad, disappointing reality of loving a "bad boy."
In the entranced escape from familiarity that is "Anywhere But Home," SEULGI practically exhales longing with every word on top of a disco-infused dance pop track, perfect for a late-night drive. The next track indulges in the blinding adrenaline rush of the EDM track of "Los Angeles," and SEULGI's seemingly innocuous, velvety voice drips a near-sinister decadence that you can't help but descend into. It is only fitting that the closing number, "Crown," is sung from the perspective of a ruler –- on top of throne –- who lures people in with their powerful eyes and magical voice. The listener, after the experience of the mini album, will no doubt be drawn into SEULGI's charms.
SEULGI has already claimed her throne, earning the highest first-day sales of any K-pop female solo act in 2022. Hanteo reported a total of 149,139 copies sold in only the third day following the release. As of October 6, 28 Reasons is charting number one in 38 regions and has spent three consecutive days at the top spot on the Worldwide iTunes Album chart.
With 28 Reasons, SEULGI has enchanted her audience and established her unique sound with utmost power. Each track on the album holds a kernel of SEULGI's core as an artist, showcasing her unique sentimentality and imagination. The album is a cutting and chilling debut. As SEULGI sings in "Crown," "I'm one and only / And I'm with you." She is one and only, and she is here to stay. She commands attention, and we cannot wait to see what her genius comes up with next.
Want to fall under SEULGI's spell? Follow her on Instagram, as well as Red Velvet's Instagram, Twitter, YouTube, and TikTok for the latest updates.
Want more music? Check out EnVi's favorite September releases here!