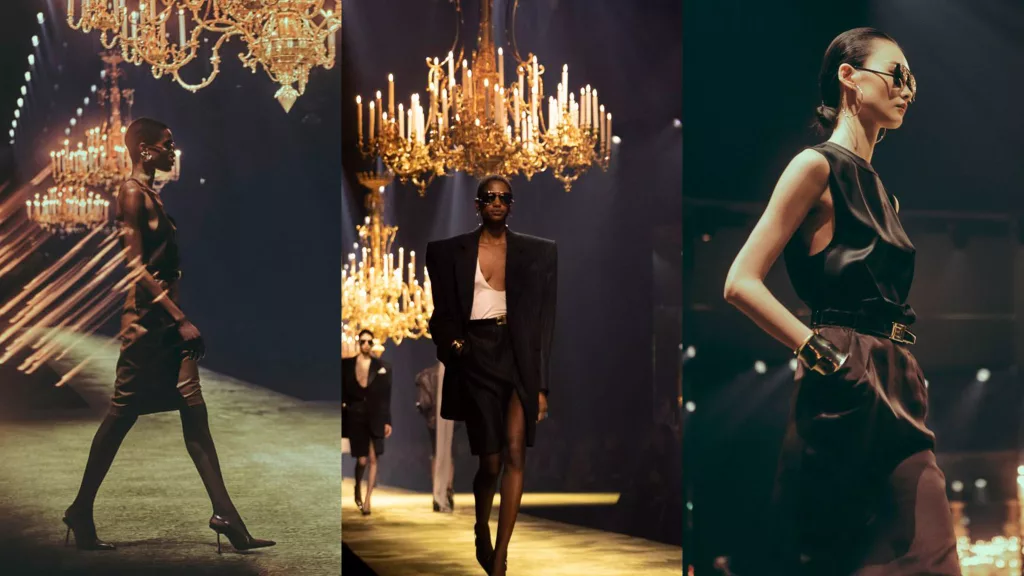 In his seven-year tenure at Saint Laurent, designer Anthony Vaccarello has thoroughly modernized the storied French maison adding an edge to the label's chic aesthetic. On February 28, Saint Laurent presented its Fall Winter 2023 collection — a lineup of sharp tailoring and soft contours that epitomized elegance — amidst Paris Fashion Week. The new line ingrained hints of masculinity into high-class femininity, in a way that honored the brand's timeless legacy.
A Box Of Opulent Elegance
Place de Varsovie, where the unveiling of Saint Laurent's most recent collection took place, welcomed the brand's chic crowd of guests into a box of opulent elegance. Matching the house's Parisian chic mood, the venue was decorated with large chandeliers hanging graciously from the ceiling and illuminating the runway with a regal, warm tone. Instead of opting for a sleek, black or white runway, the brand chose a velvety lime-green carpet that stirred a contrast between the looks and the stage. The rest of the location remained dim, with guests seated on the sidelines, barely visible.
An Ode to Elegance
French designer Yves Saint Laurent made his mark in fashion history with the introduction of Le Smoking, a groundbreaking innovation that turned formalwear — once upon a time a necessity reserved for men —- into a chic power ensemble for women. For Saint Laurent's Fall Winter 2023 collection, Anthony Vaccarello brought back this house staple, reinterpreting and reworking power suits in different ways. Despite the variety, a common factor in the plethora of suits was the exaggerated boxy shoulders — a play on office wear codes popularized in the '80s. These suit jackets were then styled over basic tanks, high-neck mesh tops, and satin inners, proving the versatility of the Saint Laurent suit.
Power shoulder aside, Vacarello explored his fixation with draping in the second half of the show. Models strutted down the runway with draped capes falling down their shoulders. Amongst the many showcases of draping, a highlight was a high-neck leather jacket, layered with a fringed leather scarf knotted on the shoulder with gold hardware. The look was an accurate portrayal of Saint Laurent's edgier style while still pertaining to the sense of womanhood and class Vacarello aimed to show. The closing look was also a notable one: a classic all-black Le Smoking suit with a pair of sharp killer pumps. The look was complemented by a sheer satin-lined cape that fell exquisitely down the model's shoulder. A gold hoop shaped the cape's draping while a gold belt tied the suit together, adding touches of gold to the lavish ensemble.
Although the looks might have seemed grand and palatial, Vacarello did not forget to include wearable pieces. The designer created elegant satin blouses equipped with boxy shoulders — staying on the theme — or drapery tailing along their backs. Halter-neck tops and velvet and satin dresses also added options for those who favor more casual and effortless looks.
Saint Laurent's Chic Crowd
Saint Laurent knows how to bring an A-list of superstars out for the night. A myriad of international celebrities flew in to attend the Fall Winter 2023 showing. Model Rosie Huntington-Whiteley, singer Carla Bruni and actresses Emma Mackey and Salma Hayek graced the red carpet in Saint Laurent ensembles.
Drawing a crowd of her own, as per usual, was BLACKPINK's Rosé, who wore a floor-length brown trench coat over a cut-out black mini dress and stilettos — a classy high-fashion take on her girl-next-door vibe. Fellow K-pop idol Doyeon of Weki Meki made her Paris Fashion Week debut at the same show, wearing flared burgundy pants with a gray, long-sleeved button-up shirt.
Meanwhile, British pop star Dua Lipa wore an overcoat in a black leather finish. With a matching black hooded one-piece and moody eye makeup, the singer embodied nighttime chic. American actress Zoë Kravitz was also dressed in all black, with startling red nails accentuating the look. She wore a one-sleeve mini dress paired with black tights and matching pumps. With dark sunglasses as her outfit's most notable accessory, Kravitz pulled off an effortlessly cool look.
Under Anthony Vaccarello's creative direction, Saint Laurent has stun audiences around the world. The Fall Winter 2023 Collection, in particular, recalls classic, upscale environments and the clean grace so often associated with the French house. In the long-winded variety of pieces on the runway, the common denominator was refinement and elegance. Backstage, Vacarello told Vogue, "Maybe elegance is something we have no sense of today. Maybe we don't care about it. Maybe it has some other meaning, or maybe it has no meaning at all. But I really wanted to bring that idea of being dressed." And certainly — we can all agree — Vaccarello's grandiose efforts to redefine elegance were nothing short of extraordinary.
Want more Paris Fashion Week coverage? Read about Dior's empowering homage to the 1950s here.