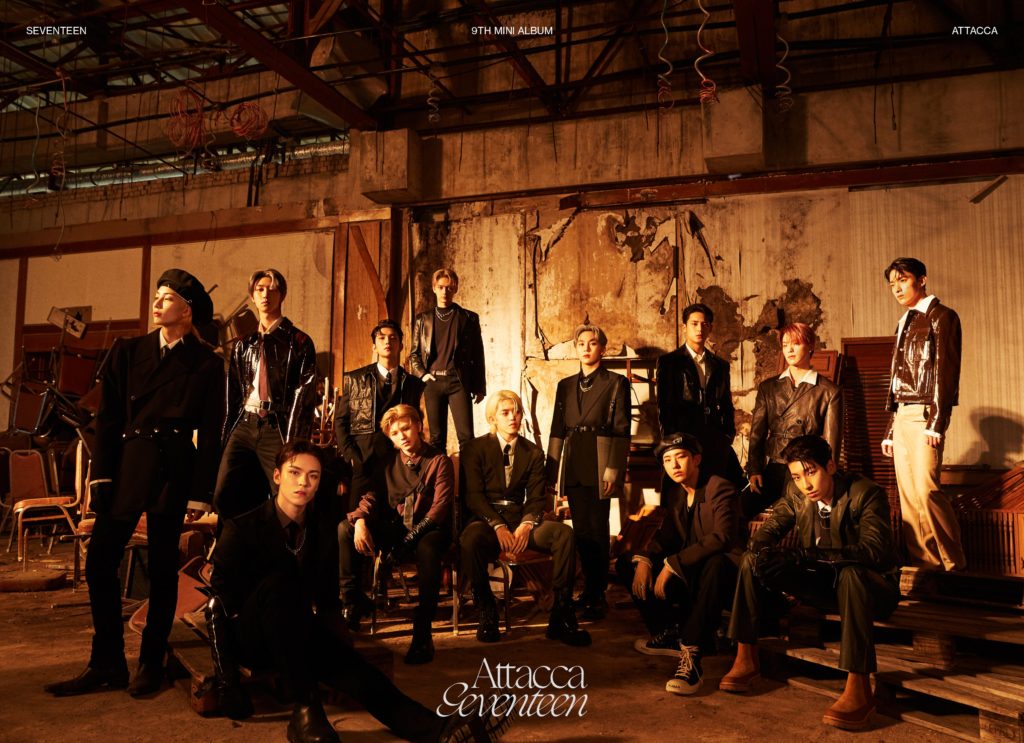 Four months after releasing their 8th mini album, Your Choice, SEVENTEEN is back and ready to wow us with a new comeback. On October 22, SEVENTEEN released their 9th mini-album called Attacca— releasing seven new songs including their title track "Rock with you."
SEVENTEEN 9th Mini Album 'Attacca'

2021.10.22 1PM (KST)
2021.10.22 0AM (ET)#세븐틴 #SEVENTEEN#Attacca pic.twitter.com/QOqrg68VZ7

— 세븐틴(SEVENTEEN) (@pledis_17) September 23, 2021
Concept Trailer
Weeks before the awaited comeback, SEVENTEEN released their first concept trailer for Attacca called "Rush of Love." At the beginning of the trailer, you can see the word "BOYHOOD" crossed off which fans indicated is the end of their boyhood youth as they are ready to show a rebellious side of themselves. 
omg do they represent the rebellious phase of boyhood??? ❤️‍🔥

ROCK WITH YOU TEASER 1 #Attacca_D2 #Rockwithyou  #세븐틴  #SEVENTEEN  @pledis_17 pic.twitter.com/X1MRQTavmD

— jie ☻ (@nanasxu) October 19, 2021
rookie boy groups having strong and sexy themes on their comebacks while seventeen, a 6 year boy group, just graduated from their boyhood…

— sora ソラ (@95ZINO) October 2, 2021
BOYHOOD ❌
RUSH OF LOVE 🔥🔥🔥

ATTACCA CONCEPT TRAILER #Attacca_D23 #세븐틴 #SEVENTEEN @pledis_17 pic.twitter.com/eaoYUrjFmr

— cine ✧ (@dadeuthannie) September 28, 2021
Attacca
As the album takes part in SEVENTEEN's project "Power of Love," SEVENTEEN still surprises us with various genres in their songs while still maintaining the theme of love in their music. With tracks like "Rock with You" and "Imperfect love," they both have a tune of rock, but you can hear the difference as "Rock with you" is more upbeat rock while "Imperfect love" has a ballad rock tune to it. 
Some of their songs are divided into group units which makes them very unique. You can listen to the type of tune and style all three units have individually. Some of these tracks include the hip-hop unit's "I can't run away," the performance unit's "PANG!"and vocal unit's "Imperfect love."
SEVENTEEN has also included a bonus track called "2 MINUS 1," an English track by the group's English speakers Joshua and Vernon. They have included this song because they wanted to repay all the love they have received from international fans.
Joshua and Vernon made a physical all-English song to pay back love from international CARAT, and tried to convey drier emotions that articulate separation.#SEVENTEEN #Attacca

— BuzzFeed K-Pop (@BuzzFeedDaebak) October 22, 2021
Fan Reactions
every song in attacca pic.twitter.com/aOYlDG2wNy

— fran (@cscwzi) October 22, 2021
Seventeen going from Your Choice to Attacca pic.twitter.com/UOellUgKR2

— 🙃 (@kentohui) October 22, 2021
Carats answering what's your favourite song in the Attacca Highlight Medley?:

○ To You
○ Rock With You
○ Crush
○ PANG!
○ Imperfect Love
○ I can't run away
○ 2 MINUS 1
● all of the above

It's a no skip album y'all😌🤝

— 슈아 🎸|| STREAM RWY (@Svtloml_) October 18, 2021
2MINUS1 🤘🎸#Attacca #SEVENTEEN #SVT_Rockwithyou #Rockwithyou @pledis pic.twitter.com/PBr5lB8L8m

— mingoo | STREAM RWY🎸 (@stmingoo) October 22, 2021
Fan Chant
As Carats, SEVENTEEN's fandom, continue to show support to the album, SEVENTEEN has prepared a guide video for "Rock with you" fan chants. They are very energetic and excited to share these fan chants with their Carats!
Listen to their new album on Spotify and Apple Music.
In a music mood? Check out our coverage on Monsta X's new album "The Dreaming" announcement, here!
Thumbnail courtesy of Pledis Ent.