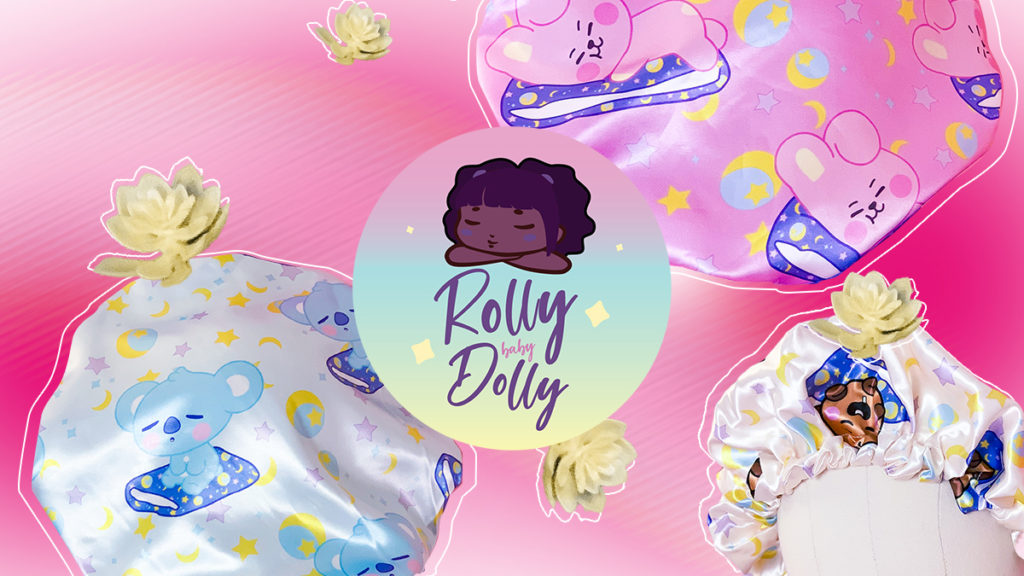 EnVi is back with another K-pop small business spotlight. For Black History Month, we are featuring Black-owned small business owners. This time, we spoke to Rahel from RollyBabyDolly, a Maryland-based store that makes BT21-themed bonnets and satin pillowcases for curly-haired fans. 
The 24-year old small business owner spoke to us about BTS, bonnets, and building confidence.
From Fan to Business Owner
Rahel has been a K-pop fan for 10 years and discovered BTS in 2015. For Rahel, becoming a fan of the group and connecting with the fandom has been life-changing. "They really changed my life, and I have met so many amazing people through a mutual love of the group," she told EnVi.
Rahel started RollyBabyDolly in June 2021. She described the RollyBabyDolly product-line as "BT21-themed bonnets and satin pillowcases that can really help curly girls on their hair health journey." The business idea was inspired by Rahel's ARMY group chat. "Casually, one day one of them brought up how they wished BIGHIT's merch catered to a more diverse set of the fandom, and how they would love BTS-themed bonnets," she revealed.
Being both a K-pop fan and a Black woman has played an important role in her business. "My identity as a K-pop fan helps inform me of what fans really want and are interested in," explained Rahel. "I really want to make sure other Black K-pop fans feel seen," she added. Beyond seeing a gap for products catering to Black fans, she also saw starting a business as a great opportunity. "Personally, I also really needed a change for myself," she explained, "I saw a chance at financial freedom through becoming a small business owner."
From Sketches to Final Products
"Usually, I start off with a sketch. From there, I'll typically move to a program like Illustrator to refine it," said Rahel, explaining how she develops design. She also credits her previous experience and studies in graphic design and illustration as advantages for the design process.
The next step is finding a manufacturer. "Honestly, this can be the trickiest part," Rahel told EnVi. "It is crucial to make sure you and the manufacturer are on the same page," she added. The RollyBabyDolly founder then orders samples and tests the quality, before making full orders. This process can be lengthy, but according to Rahel, "it is very rewarding opening up an enormous box filled with your completed products."
RollyBabyDolly Favorites
There is currently a limited range of products, but if Rahel had to choose a favorite item, she would say her Koya bonnet, which is also one of her bestsellers. She is also proud of the satin pillowcases. "I went through a lot of trial and error to get those to where I wanted them to be," she told EnVi.
"Don't let fear of failure push you away from pursuing your dreams"
A big learning curve for Rahel has been realizing business success does not happen immediately. "A major challenge of mine was being my own worst enemy and not believing I could make the sales and be successful," said Rahel. She also felt that social media warped her initial expectations. "I think social media breeds an unrealistic idea of being a small business owner," she confessed. "In reality, things move much slower than that, but it doesn't negate your success." Rahel did not experience immediate success with her previous Etsy and Storenvy stores, however, she shared, "I am doing a lot better than the me of yesterday."
Rahel's advice for other business owners focused on self-belief. "Don't let fear of failure push you away from pursuing your dreams," she encouraged. She also values the process of learning. "Don't be afraid to learn as you go and grow," she told EnVi. "Don't feel like you have to know everything and be an entrepreneurship expert right at the start." Beyond patience and self-belief, she feels financial investment is also vital to reap benefits. "It is important to understand you have to spend money to make money," she told EnVi.
The RollyBabyDolly founder is also proud of building a community around the brand. "I really enjoy talking to and building relationships with the people who have supported me," she explained. 
Rahel is excited for the future of the RollyBabyDolly brand. "I have always been the type to be bursting at the seams with ideas," she explained. This includes expanding the inventory of apparel and accessories. "I have a love for fashion and clothing like many K-pop fans," Rahel expanded. "I really embrace the fashion element of the music genre as well." No matter how long it takes, she is determined to achieve these goals. "Once I really put my mind to something, I know I have to see it through," she shared.
Thank you for speaking with us, Rahel! If you are interested in finding out more about RollyBabyDolly you can visit the website or follow RollyBabyDolly on Instagram, TikTok, and Twitter.
You can check out more of our Small Business Spotlights here.