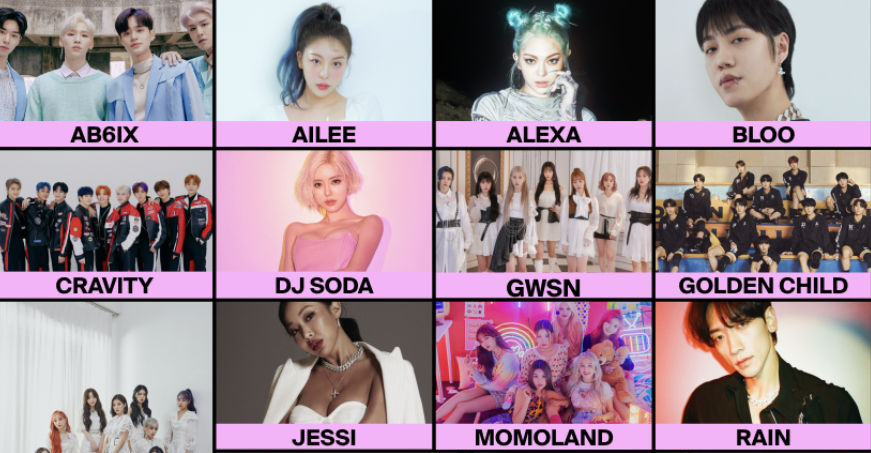 Saturday marked Sessions' first K-pop-only music festival: K-Pop SuperFest! For a one-day virtual music festival, K-Pop SuperFest did what it had to, and more—This was not a surprise, considering it was in collaboration with Joy Ruckus Club, the largest Asian music festival in the world. Unlike other virtual concerts, its diverse live acts lasted an euphoric eight hours. With stunning performances and music from 11 artists back-to-back, it almost felt like we were once again in a buzzing, crowded concert hall. K-Pop Superfest certainly lived up to its name. We're here to recap all of its energy for you if you couldn't make it. 
A History of K-Pop SuperFest
K-Pop SuperFest was created by Kublai Kwon, founder of Joy Ruckus Club, to honor his late cousin Shin Hae Chul. Shin Hae Chul was the pioneer of K-pop as a music genre in his time. The event is in memory of his legacy and spotlights current K-pop superstars as they leave their respective mark on the world. K-Pop SuperFest is sure to do so, as it brings together fans from across 194 countries to connect K-pop fan communities across oceans. 
Hosting the event was The Boyz' Kevin Moon, a Korean-Canadian idol with witty humor and a charming personality. Accompanying him as co-host was spunky and endearing AleXa, a Korean-American soloist who recently debuted in the K-Pop world at the end of 2019. The energetic co-hosts kept a playful mood between every performance with their lively dynamic. 
A Trifecta of Pop Stages
Following soloist AleXa's performance, the five-member girl group woo!ah! took the stage with "Bad Girl," a cute dance with an adorable cat paw choreography. After introductions, the tweed-clad girl group performed their songs "Scaredy Cat" and their latest comeback "Purple," filling the stadium with the members' sweet vocals and group harmonies.
In Woo!ah! we trust! #KpopSuperfest 💜@wooah_nv #Wooah #우아 pic.twitter.com/7cdjAp01Sh

— Joy Ruckus Club (@JoyRuckusClub) June 20, 2021
Afterward, the seven-member girl group GWSN put on a catchy performance with their newest title song, "Like it Hot." We were captivated by their precise dance moves, which transitioned between the song's calm and fierce girl crush verses. They also took some time to introduce themselves before transporting us into an ethereal space with their first live performance of the ballad, "Starry Night." When they finally closed with the refreshing, tropical "All Mine," we knew we found our next summer soundtracks. 
GWSN at #KpopSuperfest! 🥳@official_GWSN #GWSN #공원소녀 #公園少女 #公园少女 #GirlsinthePark pic.twitter.com/Vws5Qpll0B

— Joy Ruckus Club (@JoyRuckusClub) June 20, 2021
We were spell-casted by Lovelyz's performance of their song "Obliviate" from their latest September comeback. Following the Harry Potter allusion in its title, the song mesmerized the crowd as the group displayed their elegant style in the dramatic track. Immediately following were "That Day" and "Now, We," both bright and fresh tracks, with the latter showing off a unique air-kick choreography. The group continued the concert with their ballad "Rewind," a soothing tune reflecting on adulthood and the passing of time. Lovelyz moved into the fairytale-like tune "Hi~" and ended with a refreshing telling of "Ah-Choo." 
Ah Choo! Blessed by Lovelyz at #KpopSuperfest 🌻@Official_LVLZ #LOVELYZ #러블리즈 pic.twitter.com/6jcUVmiva5

— Joy Ruckus Club (@JoyRuckusClub) June 20, 2021
Taking a Darker Turn
Golden Child was next to take the stage, putting up a suave performance of "Wannabe" as the members glided across the floor clad in all-white outfits. From there, they moved into "Without You" and then "One (Lucid Dream)," juxtaposing themes between a soft heartbreak song with dreamy, drawn-out vocals and a darker, bass-focused track with a hint of EDM. "Compass" came next, followed by the emotive ballad "Milky Way." The group topped their act with an intense performance of their newest release, "Burn It," the members' shallow breaths and glistening foreheads evidence of their passionate stage. 
K-pop powerhouse Cravity immediately dove into an exhilarating performance of their song "Jumper," setting the venue alight with the hype track. "Stay," a softer, more personal number, and "Sunrise," a playful and energetic tune, followed next. Finally, Cravity's stage ended with "Mammoth" and "My Turn," the duo displaying the members' oozing confidence and power onstage. 
A Powerful Ending to Group Stages
MOMOLAND and AB6IX marked the halfway point of the virtual festival. MOMOLAND showed off their captivating stage presence with their opening song, "Ready or Not." For audiences, no matter our timezone, we couldn't help but dance along with their cheery performances. Split up between short talks with the viewers, they performed the sassy "Pinky Love," the unapologetic "Thumbs Up," their hit "BAAM," and ended with their legendary track, "BBoom BBoom." 
BBoom BBoom! 💟 THE absolute classic from Momoland #KpopSuperfest @MMLD_Official #MOMOLAND #모모랜드 pic.twitter.com/Xb5EJCc7Sy

— Joy Ruckus Club (@JoyRuckusClub) June 20, 2021
AB6IX had us dreamin 🌌 #KpopSuperfest @AB6IX @AB6IX_MEMBERS #AB6IX #에이비식스 pic.twitter.com/YLIgCtJla4

— Joy Ruckus Club (@JoyRuckusClub) June 20, 2021
The four-member boy group AB6IX then took the stage with charisma to give us their "Salute" performance, a bold contrast to MOMOLAND. After an entertaining and energetic introduction, they performed the deceptively positive-sounding coming of age song, "Stay Young," and flexed their vocal prowess with the inspirational "Shining Stars." Not only that, but their moves were absolutely endearing in their stages for the addictive "LULULALA" and the sparkling "Close." Finally, they had us floating in the clouds with "Heaven."
 The Boyz were the last K-pop group of the night to grace the stage, and they certainly did not disappoint. They encaptured the audience in a series of thrilling, sensuous performances. Starting with "Reveal," the eerie song showcased the 11 boys' power through their gripping gaze and dance. A live version of "Scar" was followed by the group's last mini-album Chase's title track, "Stealer."
How amazing were THE BOYZ at #KpopSuperfest 🥰@Creker_THEBOYZ @WE_THE_BOYZ #TheBoyz #더보이즈 pic.twitter.com/morGVgtKSf

— Joy Ruckus Club (@JoyRuckusClub) June 20, 2021
Solo Artists and Ending the Event
Every group made the venue their own, but let's also not forget about the solo acts! In addition to AleXa, other prominent artists were Ailee, Bloo, Jessi, Rain, and the closing act, DJ Soda. For a full, in-depth recap of their performances, keep an eye out for our piece on solo artists shining at K-Pop SuperFest. 
Overall, we loved the SuperFest and how the live performances accommodated American and Korean audiences and their time zones. This action speaks to the international reach of the virtual event. In addition, we were also intrigued by the different Sessions Live features, such as the option to pay for and attach "love" to your comment to highlight it for your favorite artists to see. The benefits did not stop there. There was also exclusive physical merchandise, like a T-shirt and signed posters, that could be purchased on Sessions Live. Even as a virtual event, "K-Pop SuperFest" perfectly captured all the feelings of a physical festival. 
It was such a synergy of power and talent; we can't wait for the next K-Pop SuperFest! 
Want more concert coverage? Check out our recap of 88Rising's "Asia Rising Together" concert!
Thumbnail Courtesy of Joy Ruckus Club