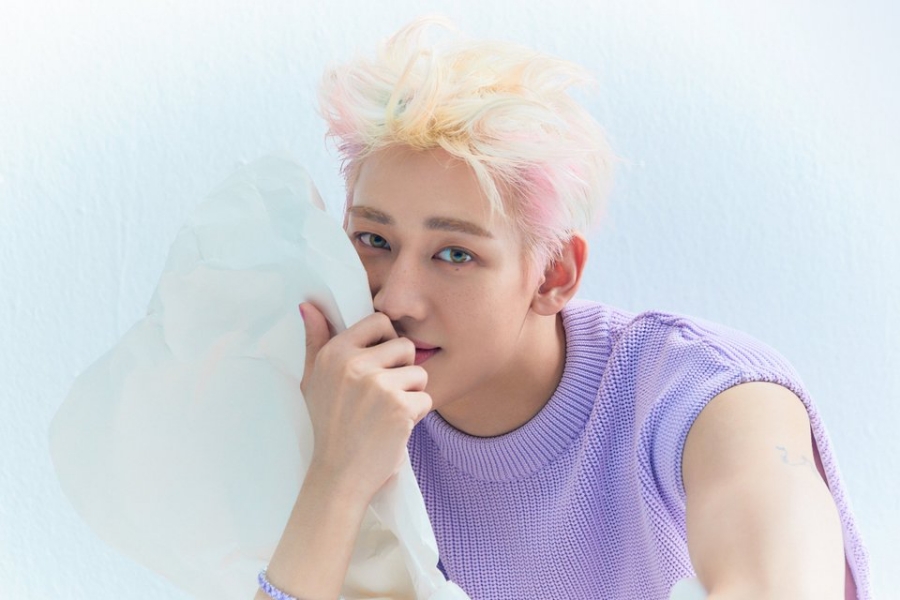 On June 15th at 6 PM KST, Thai artist BamBam officially made his solo debut with his roof-hitting album riBBon. The multi-hyphenate artist's versatility is evident throughout each track. Both peculiar and exciting, no two songs sound the same. 
REBORN-RIBBON: PANDORA'S BOX WELCOME TO ALICE'S WONDERLAND
BamBam's debut album revolves around the theme of starting a new journey and being reborn into a new world of artistic exploration filled with excitement and curiosity. Bubbly and quirky with bright pastel colors and whimsical sequences, BamBam's "riBBon" music video is a perfect representation of the artist's unique and charming self. 
Surrounded by multi-colored flowers, the artist lies in the middle of the stage appearing to be waking up from a dream with one particular orange flower between his lips. "See a better version of my side / I'm like a feather now I feel so light / whatever you want, want / I'll give you everything for sure, I'm ribbon." 
Having opened up his own Pandora's box, BamBam has fallen into his own fantasy world, as magical as Alice's Wonderland. A nod to his inner child, BamBam is curious about the new chapter ahead of him, embracing the good and the bad, while unleashing his artistic force. 
DIVE INTO THE ALBUM: A WORK OF ART 
The creative direction taken in riBBon, is not surprising, as BamBam is known for producing and creating artwork that has always had his unique touch to it. For his group GOT7, he has produced the lyrical version of their song "You Are." He has also directed, filmed, and edited a touching 3-minute video "Feel It, See It," featuring his fellow members, Ahgases, and people from all around the world. 
With the debut of riBBon, BamBam has shown a different side of his artistry, one that combines his peculiar taste with literary themes to create artistic pieces overflowing with symbolism. The second track off the album, "Pandora," includes a sophisticated Hip-hop beat, a simple bass loop, and a repeated humming with a powerful melody. 
Pandora's Box has always been symbolized as a source of curiosity and an unknown future where trouble always seems to loom within. In "Pandora," BamBam expresses this very idea as he talks about opening his Pandora box when his own curiosity explodes. "I open this Pandora's box when my curiosity explodes / don't look back, just burn everything / I always carry it like a familiar game." Continuing through this rap verse, he expresses being surrounded by enemies and dark temptations every night. Yet, he will not allow these things to be an obstacle that will prevent him from attaining his goals. 
On the next track, the artist's versatility is shown as he switches up the ambiance of the album and introduces a softer side of himself. "Under the Sky," is BamBam's first R&B ballad, where his soft melodic voice pleasantly delivers the preciousness and gratitude of his feelings of the past before a new start. During his Twitter Blue room show, the artist mentioned how the song was written as a reflection of everything that happened between GOT7 and Ahgases last year. He also mentions that it is the song that took him the longest to develop, and the one he waited for the longest to release.
"Murda on the Beatz so it's not nice," is the intro to track "Air"  produced by musical household and Grammy-Award-winning producer,  Murda Beatz. Featuring a drowsy melody and BamBam's sweet vocals, the song explores the feelings of being in love and missing your significant other–almost as if one is running out of air without their significant other. 
It's on the track "Look So Fine," that BamBam shows off his suaveness. An upbeat track, featuring a melody that anyone can easily follow, Look So Fine comforts fans through the artists lyrics who are surrounded by unwarranted judgmental eyes. He expresses the idea of not minding the eyes around them as they enjoy their moment together, doing things they love, and being confident in the clothes he chooses to wear with no worry about how the world sees him. "Today I won't care about others, yeah, yeah / I will wear pretty clothes with confidence / To the path I chose, just go for it /The main character is me." 
RIBBON THE ROOF-HITTING ALBUM 
According to the World Music Awards, within a few hours of release, riBBon, debuted at #1 on the Worldwide and European iTunes Album charts, after topping at #1 on iTunes Charts in 34 countries, and entering the Top 5 US iTunes chart. The title track, "riBBon", also topped the charts, hitting #3 on the Worldwide iTunes Song Chart with all of the songs from the album in the top 100. 
On the Korean music charts, "riBBon" achieved 6 roof hits on Genie— an incredible achievement that left many Ahgases beaming with happiness. The album also charted at  #14 for iCharts, trended at #1 on Melon search, and debuted at #29 on Melon's 24H latest hits. In 24 hours,  riBBon achieved 12M views and over 480,000 likes on YouTube and trended at #1 for music. 
BamBam has illustrated his limitless love for the arts, whether it is through his sharp and smooth dancing, or his creative vision, BamBam is mastering the art of his craft all on his own. riBBon isn't just a solo-debut album, it's an indication that he's an artistic force to be reckoned with. And the musical world is ready for him.
You can listen to BamBam's debut album  "riBBon" on Spotify and be sure to follow him on Twitter and Instagram!
Want more about BamBam, read 24 Reasons We've Fallen in Love with Got7's BamBam here. 
Thumbnail courtesy of ABYSS Company.