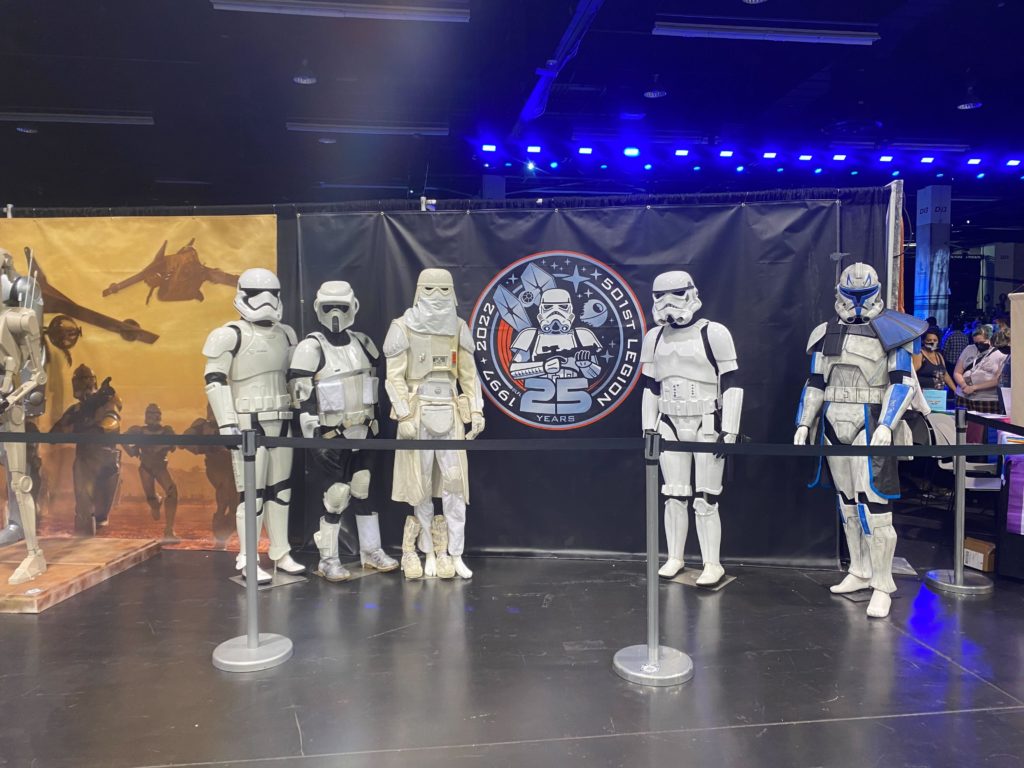 The Star Wars Celebration 2022 kicked off its first day at the Anaheim Convention Center with an exclusive panel from LucasFilm Studios showcase, featuring an inside-look on what is to come for the galaxy far, far away. The event, hosted by Yvette Nicole Brown, covered the upcoming Disney+ series: Obi-Wan Kenobi, Andor, Star Wars: Skeleton Crew – a new series by Jon Watts and Chris Ford, and the fifth installment of Indiana Jones. Here are some highlights into Disney+'s upcoming Star War series. 
OBI-WAN KENOBI
Obi-Wan Kenobi begins streaming on May 27 on Disney+. Stars Ewan McGregor and Hayden Christensen reunite once again to bring back the characters that are so beloved in the Star Wars Universe. In Anakin and Obi-Wan fashion, the live performance of "Duel of the Fates" introduced McGregor and Christensen to the stage where they were met with a standing ovation. Ewan went on to greet the cheering fans with his most iconic line "Hello, there," and Hayden affirmed their return to the universe "We are back." Yvette continued to introduce the rest of the cast members–Moses Ingram, Rupert Friend, Vice President of LucasFilm Kathleen Kennedy and Director Deborah Chow.
Director Deborah Chow expressed her excitement at being able to tell a new story with Kenobi and Vader, "It's quite a dark time period for the Jedi. It was a pretty incredible honor to tell a new story with these characters at this point in their lives." McGregor and Christensen also shared their sentiment on returning as Kenobi and Vader respectively after 20 years. "It has really just been amazing getting to come back to Star Wars, and getting to be here with all of you and picking up a lightsaber again," expressed Hayden. "There's just nothing like it. It's really been incredible, so thank you." 
ANDOR
Following Kenobi's Panel was the upcoming Disney+ Series Andor, the prequel to LucasFilm's 2016 A Rogue One Story. Diego Luna will reprise his role as Cassian Andor, alongside Geneiveve O'Reilly who will also reprise her role as Mon Mothma. Series creator Tony Gilroy and producer Sanne Wohlenberg also joined Luna and O'Reilly to discuss the new series and reveal the official poster and what to expect. Andor's first two episodes will premiere on Disney+ on August 31.
The series is set five years before the story of Rogue One and follows the story of rebel spy Cassian Andor during the formative years of the Rebellion. Gilroy gave a little bit of an inside scoop on the production process of Andor, which is set to be a two-season series. "We're going to rewind five years back from Rouge and we've done 12 episodes. Those 12 episodes have been shot; they will show this fall. They're going to take us one year closer," Gilroy told guests. He detailed the length of production, which consists of going back to shoot more episodes in November, another 12 episodes, and finishing off the second half of the story. The process will take four years, setting up the final scene to the start of Rogue One. Gilroy promises to deliver these stories as quickly as possible.
During an interview with Andy Gutierrez at the Live Stage Celebration, Diego expressed his own sentiments about coming back to play the complex and intricate role of Cassian Andor. "It's amazing to be back. Also I am not back as the character you met in Rogue One. I'm telling you the story five years before, I am telling you the story that answers all the questions that Rogue One didn't answer," Luna tells the crowd. "For me Rogue One is about the event, the sacrifice they make. But you don't know exactly why and where they come from. Where that decision is coming from. So now we are going to tell you that story."
Andor introduces the wounded man who has been fighting a rebellion since he was six years old. 
THE MANDALORIAN & AHSOKA
The trailer for the third season of The Mandalorian was revealed during the LucasFilm's Studio panel. Though not yet available to the public, producers Jon Favreau and Dave Filoni showed the crowd unfinished footage of the upcoming third season including Mando and Bo-Katan facing off (the latter sits on a throne is seemingly unimpressed with the Mandalorian), glimpses of Peli Motto and Greef Carga, along with some new creatures. Pedro Pascal's Din Djarin is on a mission to Mandalore–the destroyed homeworld of the Mandalorians to redeem himself for breaking his creed. "I'm going to Mandalore so that I may be forgiven for my transgressions," Djarin ominously announces. 
Though not present at the celebration due to her shooting schedule, Ahsoka star Rosario Dawson delivered a taped message to fans where she expressed her excitement on being able to film the Ahsoka series for the fans. Ahsoka is set to premiere in 2023, along with The Mandalorian's third season which is set for February 2023. Seems like fans have to wait a bit longer for more of Mando and Grogu's adventures across the galaxy. 
STAR WARS: SKELETON CREW 
The newest series announced within the Star Wars catalog is Jon Watts and Chris Ford's Star Wars: Skeleton Crew, said to be set after the events of Return of the Jedi, with Jude Law set to star. Watts described the series as centering around a group of 10 year old kids from a tiny little planet who has found themselves lost within the galaxy and ventures on a journey back to their planet. "We liked the idea of using kids to give you a different perspective and see the galaxy through a different pair of eyes," declared Watts. 
Filming for Star Wars: Skeleton Crew is set to begin soon with an anticipated release date 2023.
LOOKING FORWARD
The future of Star Wars is expanding into the small screen, carrying on a persistent story that continues to be told through various characters. As these stories are revealed in the upcoming series, fans can relive the newest story of Obi-Wan Kenobi and Anakin Skywalker by streaming Obi-Wan Kenobi on Disney+ now!
Want more EnVi Act!on articles? Click here!
Thumbnail credits to Veronica Espinal