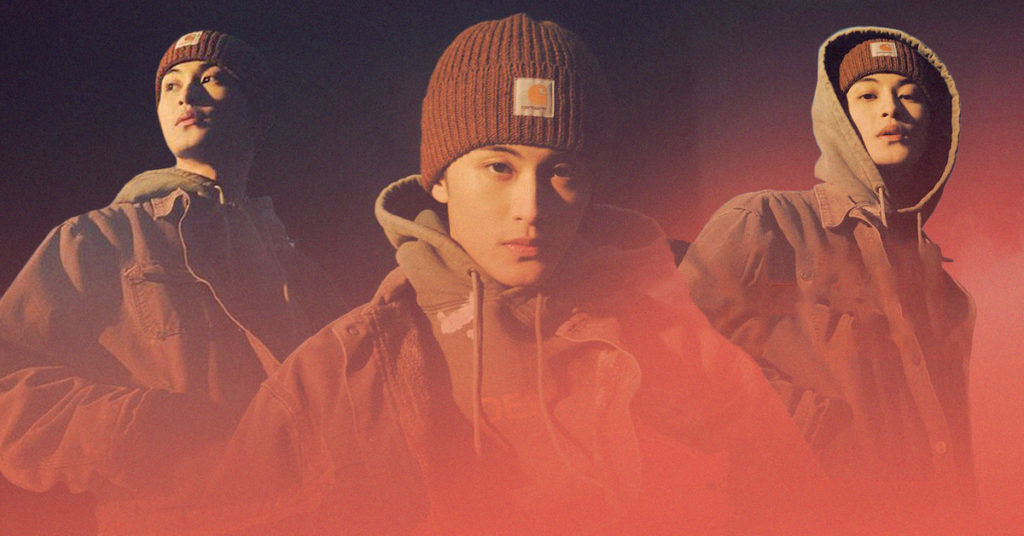 NCT member Mark Lee is known as K-pop's ultimate all-rounder. From his pre-debut appearances on South Korea's The Mickey Mouse Club to his anticipated solo debut in 2022, Mark has not only blossomed into a multifaceted, celebrated artist. All along, his taste in fashion has also evolved, building a sartorial approach that's entirely his own.
In the first installment of our new series, "Core" — where EnVi breaks down the fashion and beauty of our favorite celebrities — we'll dive deep into Mark Lee's style.
THE FASHION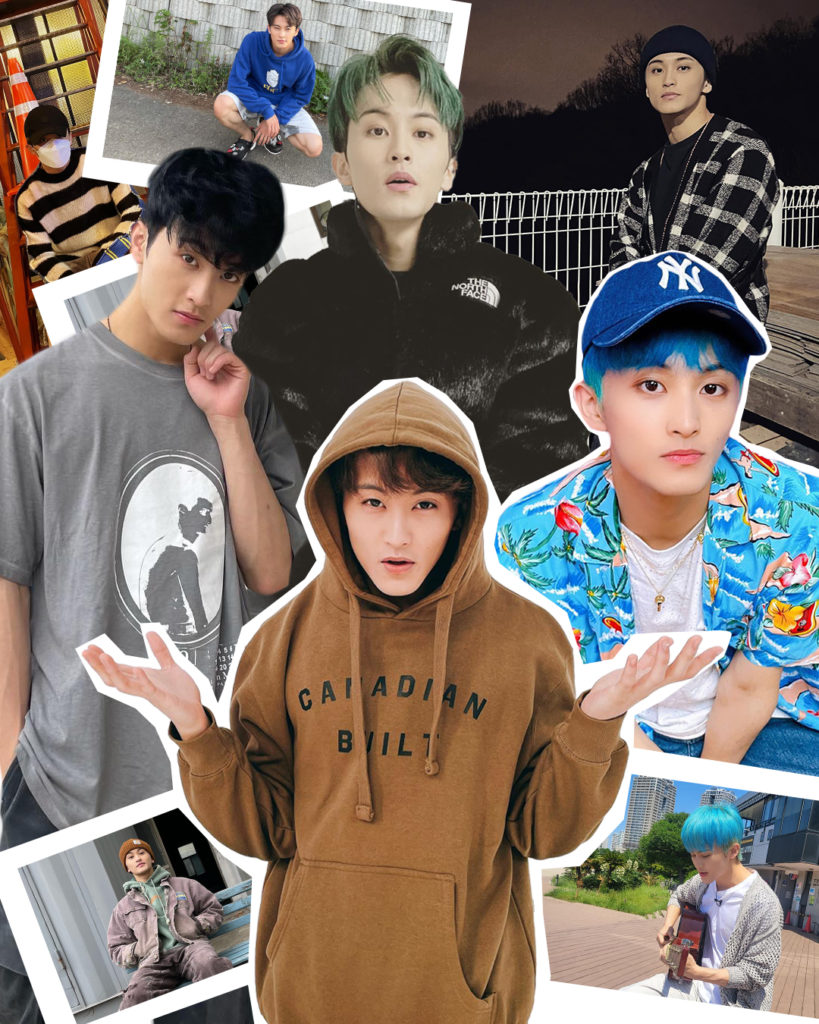 The Core Aesthetics
There's an ongoing debate in fashion about what 'core' truly encompasses and if over-utilizing the suffix has stripped it from its original meaning. However, 'core' is often used to describe a particular style aesthetic, or microtrend. From kidcore, to bikercore, the options are endless and there's even an online encyclopedia dedicated to documenting the existing 'cores' and clothing aesthetics. That being said, how would we describe Mark's aesthetics?
Mark's style could easily land at the intersection between effortlessly cool and fashion connoisseur. Coincidentally, that also happens to be the intersection between normcore and the increasingly popular skatercore. Following the idea of "embracing the universal concept of normalcy," the rapper often sports comfortable outfits. Plain jeans, oversized tees, and hats make the most appearances, creating go-to looks that embody everything normcore stands for—an unpretentious and casual attitude.
In the same spirit, Mark often opts for staples of skater style: hoodies, oversized T-shirts, baggy cargo pants, and a good pair of sneakers—all of them with a slight retro touch, of course. Some other examples include loose and practical clothing pieces like skate shorts, accented with tall socks, and flat-bottomed shoes.
The Color Palette
Keeping up with normcore aesthetics, Mark usually sports neutral colors—white, black, gray—earth tones, and different shades of blue. A scroll down his Instagram feed will suffice to notice the rapper's fondness for muted palettes. Nevertheless, there are also the occasional pops of color—red in particular—that serve to highlight his outfits and add a touch of fun.
The Brands
Though at first glance Mark seems to keep a rather lowkey approach to dressing—think of his penchant for sportswear brands such as Adidas and Nike—upon further inspection, his closet is packed with an interesting repertoire that includes both mainstream and niche fashion brands. From legacy fashion houses such as Louis Vuitton and Dior to streetwear labels like Supreme, GOLF WANG, and Stüssy, Mark's wardrobe is diverse and all-embracing. The superstar is also a well-informed style enthusiast who incorporates the likes of Amiri, Marni, Rick Owens, Raf Simons, and Kiko Kostadinov into his daily-life looks. Additionally, there are also notable pieces he repeatedly wears from brands like The North Face, Moncler, and Gallery Dept.
The Accessories
Most often, Mark's style stays on the minimalistic side, but he does tend to dabble in accessorizing. Sometimes, he turns to hats to cover his head, often going for baseball caps and beanies—mostly black ones from a variety of brands ranging from Margiela to Buzz Rickson.
Crossbody bags and backpacks are also musts for Mark. Keeping all of his personal belongings safe, whilst keeping with his own laid-back style, he has recently favored items like Bottega Veneta's Borso Backpack and System Home's Hobo Bag. However, when talking about Mark it is impossible not to mention the famous JanSport backpack he has worn throughout his career and—he has said—carries sentimental value.
And speaking of meaningful pieces, when it comes to jewelry, Mark occasionally sports a Juste un Clou ring from Cartier—a friendship token he shares with the members of NCT DREAM. Similarly, Mark also wears a silver bracelet from Dior's collaboration with Peter Doig and a Multi ID Saint Laurent bracelet, both gifts from his NCT 127 bandmates Jaehyun and Doyoung.
The Mindset
While Mark has found his own style flair, perhaps most important is his confidence and ability to pull off even the simplest looks. Though casual and understated, Mark does not miss out on the chance to add playful twists to his wardrobe. Take as an example the customized Crocs he adorned with references to NCT 127 and watermelon charms.
Undoubtedly at the core of Mark's fashion is the idea of showing himself exactly as he is, without pretensions, but with a dash of humor and fashion mastery.
THE BEAUTY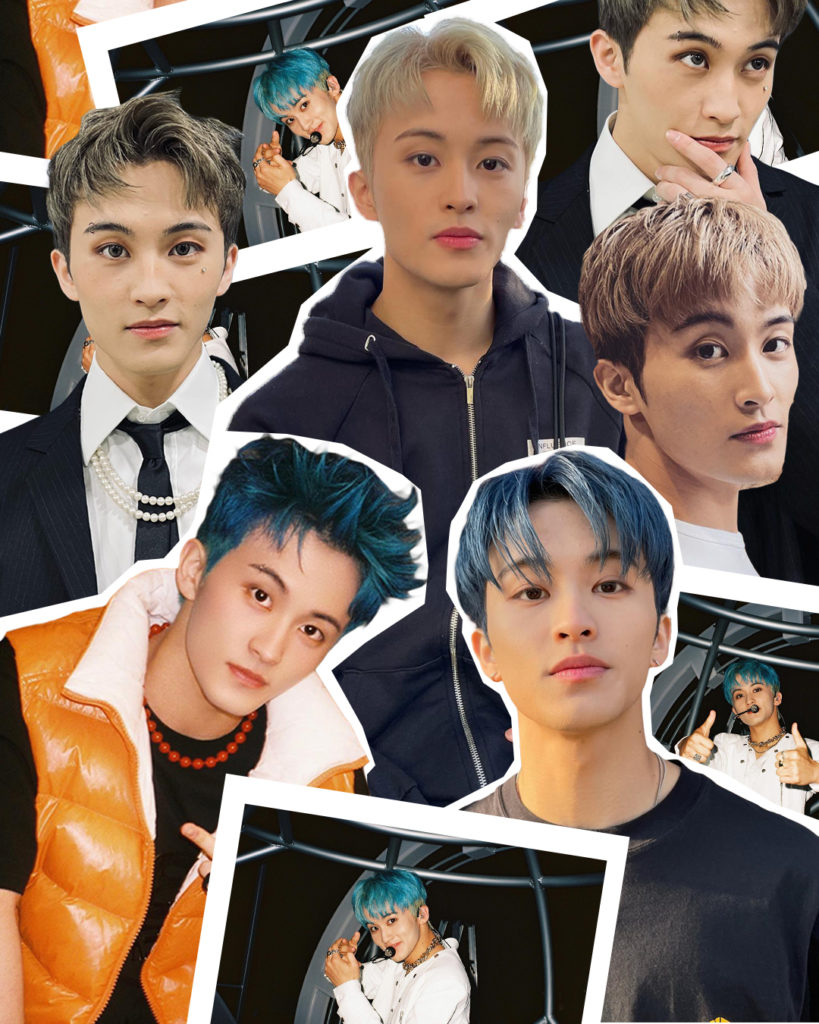 Makeup Moods
On a daily basis, Mark rarely wears makeup. However, when it comes to performances, public appearances, and other events, Mark usually appears in soft smokey eyes, curved brows, and contacts for added impact. The color palettes vary according to the stage and outfits but often fall into deep brows and dark liners that accentuate his eyes.
Happy Hair
Like most idols, Mark's hairstyles change according to his schedule and the overall concept of his projects. Throughout the years, the singer, songwriter, and rapper has changed up his hairstyles and hair colors several times, from the bowl cut from his early fame days to his present-day mix of undone and polished. However, among his most prominent and recurrent hairstyles are rounded cuts and medium-length hair with a bit of texture. Off stage Mark either keeps his hair free or wears a variety of hats to cover his head.
Smooth Skin
While Mark has shown himself with incipient facial hair from time to time, the singer often carries a shaver with him and has even shared his shaving routine with fans. In addition to his grooming habits, Mark doesn't shy away from pampering, using facemasks to help moisturize his skin. Previously bonding with fellow member Taeyong during SuperM promotions, Mark has indulged in facemasks and relaxation to keep his skin smooth.
Nice Nails
Though Mark usually keeps his nails au naturale, for one of Mark's recent NCT Dream comebacks, "Glitch Mode", Mark had his nails painted to match the styling of the project. The designs consisted of white, silver, and neon pink, with each finger having a different design. He excitedly showed fans his nails through behind-the-scenes YouTube content. The manicure followed other members' own fun nail designs such as Johnny and Yuta, as well as Ten.
Mark's personal style, both fashion, and beauty, seems to encapsulate his laid-back and fun personality perfectly. Mark is deeply aware of who he is, what he likes, and what suits him best, which is reflected in his outfit and beauty choices. As he continues to develop as a seasoned performer, we anticipate more of his high-level artistry and style evolution.
Enjoy EnVi's fashion content? Check out how Asian celebrities are conquering the fashion world here.