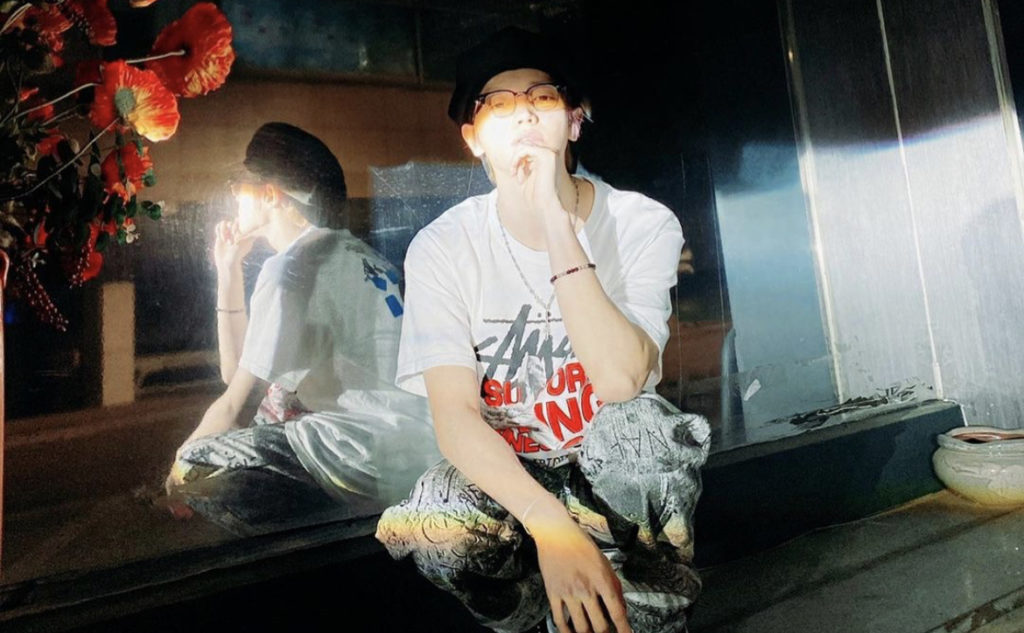 By Veronica Espinal | @minionyuta_
On March 14 at 12 AM KST,  NCT's Taeyong, released a demo version of his song, "Dark Clouds," along with the remix on his Soundcloud. The leader showcased his versatility in the new song with his rapping and falsettos illustrating Taeyong's diversity and range as a performer, composer, and lyricist. 
The song was first teased in summer 2019, when Taeyong sang a part of the chorus for fans during a Vlive. 
About six hours earlier, Taeyong teased his solo release with two photos of dark clouds on his instagram, captioned, "Check out my instagram at midnight (KST) something fun is about to happen." Both NCTzens and especially Tyongfs were overwhelmed with excitement while they anticipated the drop of "Dark Clouds." 
Proud is an understatement 
Dark Clouds gave us Taeyong rapping, singing, doing falsettos, and showing his incredible diversity and range as a performer and a lyricist.

Proud is an understatement. This is just the beginning of more solo work from Taeyong ?#TAEYONG_DarkClouds #TAEYONG #태용 #NCT태용 pic.twitter.com/cuTrFW63Z6

— Bey ? (@tydybear) March 14, 2021
Multifaceted artist 
Rapper, singer, composer, producer, songwriter. Dark Cloud shows it all. #TAEYONG_DARKCLOUDS

— ¹²⁷Shu Yi's momᵛ (@Malikah_Meyer) March 14, 2021
TyongFs right now 
????????????????????????????????????????????????????????????????????????????????????????????????????????????????????????????????????????????

— TAEYONG SOUNDCLOUD (@rosetyone) March 14, 2021
Amazing in all ways 
From Open the Door released on July 2014 to finally releasing your own track today, Dark Clouds, you have been amazing always in all ways. Never doubted you since Day 1, so proud of you Taeyong ?

? https://t.co/9TIbjA9nCe#TAEYONG_DarkClouds #TAEYONG #태용 #NCT태용 pic.twitter.com/OyVxNC0Ykd

— eh_ovo_nct ☆ taeyong (@taeyong1st) March 14, 2021
Long Flight + Dark Clouds 
no cause the way dark clouds is literally a continuation of long flight if you listen to the instruments in the back, taeyong's brain never fails to amaze me#TAEYONG_DarkClouds #TAEYONG #태용

— 沸 (@tyongsprout) March 14, 2021
Musical Genius 
no but i just feel so proud knowing that taeyong wrote the lyrics entirely by himself ? our musical genius #TAEYONG_DarkClouds pic.twitter.com/FZeEELC8fZ

— ً (@pixieyongs) March 14, 2021
A Lyrical Mastermind
Taeyong beautifully expresses his feelings through his music, unafraid to show the world his rawness. During his recent Vlive, he described sharks as the negative feelings he felt during "Long Flight"—as if sharks were chasing him around in his heart. But now, in "Dark Clouds," that feeling has changed into one of a big whale protecting him, "the song of the black whale covering the sky." While sharks symbolize the negative feelings in his heart, whales symbolize his peace and serve as a form of protection for him. 
Upon the release of his song, Taeyong trended twice on Twitter's worldwide trends and gained 60,000 followers on his Soundcloud page. As of this article post, "Dark Clouds" has surpassed 440,000 streams, and the remix 320,000 streams. Taeyong's power is undeniable. With so many compositions under his belt, he's a musical genius whose proved he is more than ready for his solo debut. 
The time has finally come! Be sure to check out Taeyong's journey to becoming the great artist he is and the anticipation behind his groundbreaking solo career here!