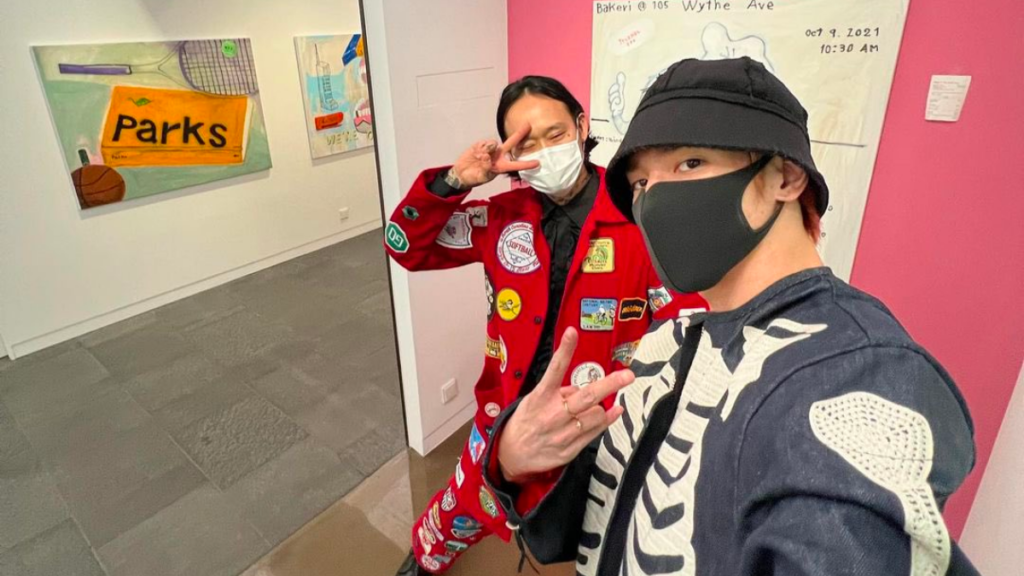 In his latest Instagram post and stories, Taeyong brings his followers along to none other than Korean artist Novo's latest solo exhibition. Presented by and hosted at Noblesse Collection from January 7 to February 11, "No reason not to be excited" features bright backgrounds and artwork filled with playful motifs and pop-culture references. Here is what you need to know about the exhibition, Novo, and his friendship with Taeyong!
"No reason not to be excited"
Ranging from paintings to snack carts, Taeyong posed with excitement in his Instagram post. Novo's latest solo exhibition includes a variety of artwork filled with a sense of familiarity. The different sized paintings include a shopping cart with supermarket items, the character Gumby, a Newport cigarette box, shelves with groceries, and Coca-Cola flavored Tic Tacs.
In a bright, yellow corner stands a snack cart with an umbrella, modeled after New York City hot dog stands. Similar to the paintings, it's stacked with familiar products like Sprite and Dr. Pepper cans, Advil and Tylenol boxes, Campbell's Soup cans, and the occasional toy figurine.
The lingering familiarity in the artworks come together in "No reason not to be excited" in a characteristically Novo style, where multimedia recreates stories and tells experiences.
Get To Know the Mind Behind the Wonders
Novo is a renowned Korean artist with several fair booths, brand collaborations, and exhibitions under his oeuvre. According to Novo's management label, Le Rêve Studio, Novo's artwork recreates stories of art, culture, and his personal experiences. Known for working with various mediums, Novo combines flat with three dimensional through installation, paintings, and drawings. By reinterpreting familiar objects, texts, and images, Novo continuously transforms daily experiences into visual artworks full of bright and hopeful energy.
Novo's list of collaborations include Nike's 2018 "Free Expression" campaign, in which he gave his own touch to Nike's Free RN sneakers. Similarly, in a collaboration with Le Coq Sportif Korea in 2021, Novo custom designed several items including sneakers.
Along with collaborations, Novo has also kept busy with exhibitions including "My Favorite Things," held in 2020 at Everyday Mooonday Gallery, and the "Novo Apartment" exhibition series hosted throughout 2021. "Novo Apartment" was described as a new form of exhibition: where spaces meet various people beyond galleries and presents artworks that suit that space.
Aside from his art, another notable characteristic about Novo is his sense of style. Novo's fashion choices are bold and unique. He freely mixes and matches colors, fonts, and patterns to create a style worthy of a talented artist like him. Novo's status in the fashion scene is exemplified in his collaboration with Farfetch x Gucci for the "Off the Grid" campaign.
Taeyong X Novo
This isn't the first occasion where Taeyong has visited an exhibition by Novo. On March 21, 2021 Taeyong posted a series of photographs with the caption "novo hyung apartment exhibitions." Since then, fans have been keeping tabs on the artist.
Novo has been an inspiration to Taeyong in a literal manner as well. While it was speculated in March of 2021 that Novo was Taeyong's tattoo artist, Novo's page administrator clarified that Novo is just a traditional artist. However, Taeyong's "UNDeRSTAND" tattoo may have been inspired after a conversation between the two.
TyongF are Also Fans
Novo's art style is fairly nostalgic, featuring casual items that are used day by day in the average household. The beauty in daily life is in part the reason why Tyongfs (Taeyong's fandom name) have quickly become admirers of Novo's creations.
After Taeyong posted his photos visiting the exhibition, fans were quick to comment on the relationship between the two artists. Many praise Novo for his imaginative mind, while others wish for an upcoming collaboration between Taeyong and Novo.
Novo has proven to be talented in the art field, someone worth keeping an eye out for. If you are in Korea, you can visit the exhibition "No reason not to be excited" at Noblesse Collection open Monday through Friday from 11 a.m. to 7 p.m. with the exception of public holidays. If you would like to see more of Novo's artistic endeavors, make sure to check out his Instagram and his management profile page!
If you would like to learn more about visual artists, check out our creative spotlight on Nua!