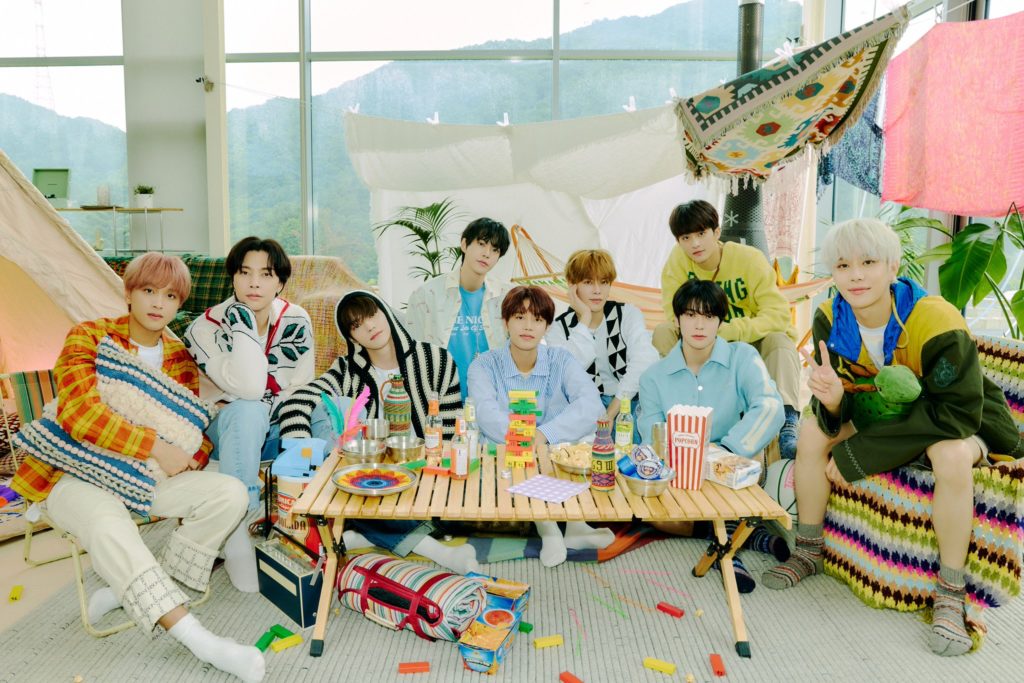 Ever had to take a rain check on your plans? NCT 127 can relate. On September 7 at 12AM KST, the K-pop boy group teased their rainy day track video for "Road Trip," ahead of their third full-length album, STICKER. NCT 127 gets comfortable in this joyful, yet slightly melancholic, music video, in line with the casual and friendly atmosphere created by their recent NCIT concept.  
'Road Trip' Track Video
Image Teaser #NCT127

NCT 127 The 3rd Album 'Sticker'
➫ 2021.09.17#NCT127 #RoadTrip#NCT127_Sticker #Sticker pic.twitter.com/7l2tWWaPlp

— NCT 127 (@NCTsmtown_127) September 6, 2021
A Sugary-Sweet Song
"Road Trip" is written by Le'mon, Ellie Suh, and San, and composed by Eric Lidbom and MLC. Unlike the funky "Dreamer" and R&B feel to "Magic Carpet Ride," this track is an acoustic pop song. "Road Trip" opens with Haechan's silky vocals accompanied by a soft melody made by an acoustic guitar— the perfect opening to a lovey-dovey track. 
Nothing can ruin a road trip as long as you're with the one you love, according to "Road Trip." The lyrics convey a desire to stay connected with a lover regardless of where they'll be. Due to the romantic nature of the lyrics, the song radiates nothing but love and affection. 
Keeping The Road Trip At Home
NCT 127 dropped an equally lighthearted yet sweet video for the teaser of "Road Trip." The short clip follows the nine members whose plans to go out are foiled by heavy rainfall. However, not even the rain can stop NCT 127 from enjoying themselves. NCT 127 turn the tides, opting to move furniture around for an adventure in their living room. 
Throughout the video, NCT 127 play games, eat snacks, watch movies, and relax in their indoor living room camp. The video ends with all members falling asleep after the excitement from the fun-filled day at home. 
Appreciation For NCT 127's Soft Side
With the release of new content always comes commentary. NCTzens have responded to the track, sharing their love for NCT 127, their voices, and acting.
taeyong trying to move the sofa in the most dramatic way 😂#NCT127_RoadTrip @NCTsmtown_127 pic.twitter.com/7aS5LWxRw4

— 태유연 🌹 (@taeyeweon) September 7, 2021
does yuta think i wouldn't take a bullet for him????? #NCT127_TrackVideo3#NCT127_RoadTrip#NCT127_Sticker pic.twitter.com/0YLsFbyf6t

— jie ◡̈ (@urkwns) September 7, 2021
we all need more vocalist mark lee in our lives!!pic.twitter.com/dSFSOmL9qT

— nctmarkarchive (@nctmarkhive) September 7, 2021
this sounds so comfortable 🥺 love the video too T___T they enjoy their time together 💕 I can imagine a nice soft rap verse in this too! It's very calming and cheery, love the harmony a lot too~

the boys really don't disappoint with their vocals https://t.co/2LFoqwZMoM

— ynhen (@__misft) September 7, 2021
haechan's vocals just added 10 years to my lifespan
pic.twitter.com/CT0gz7CkP6

— line (@ljnsbff) September 7, 2021
road trip suits jungwoo so well pic.twitter.com/s6JHuaqS53

— cil (@valswoo) September 7, 2021
Anticipation for STICKER
With "Road Trip," fans enjoy a sweeter side of NCT 127 and watch them make the most of their time indoors. NCTzens have also listened to a genre of music different from the previous track videos, "Dreamer" and "Magic Carpet Ride." With a diverse list of songs teased, it is clear that STICKER will have a song for everyone. 
STICKER will be released on September 17. Be sure to stay up-to-date with NCT 127 on Twitter and Instagram, and stream "Road Trip" on Spotify!
Want more neo news? Check out our coverage of NCT 127's last track video for "Magic Carpet Ride" here!
Thumbnail courtesy of SM Entertainment.