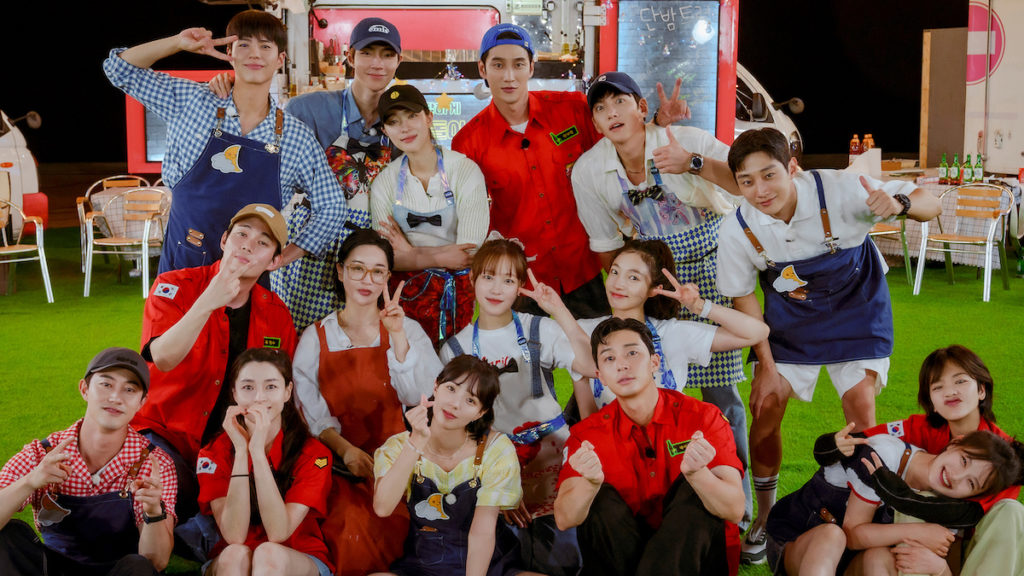 Summer isn't over just yet in Young Actors' Retreat, director Kim Sung-yoon's latest variety show. Having premiered on September 9, the variety show saw a collection of fifteen popular Korean actors and actresses from Kim's three hit K-dramas—Love in the Moonlight (2016), Itaewon Class (2020), and The Sound of Magic (2022) in a mega reunion. Deeming the show as the "first in Korean variety history" to host such a large-scale acting cast, Kim ambitiously merges K-drama with K-variety.
Set in Boryeong, one of Korea's coastal cities, summer is one drive away as the actors and actresses try their hand at variety's version of replicating the Korean MT experience. Games and drinks go hand in hand in this wild friendship retreat with the concept of "making special memories with new friends." Streaming every Friday, Young Actors' Retreat brings a fresh flavor into the genre of real variety that feels like close friends on a summer trip.
What's An MT?
MT, short for membership training, is the inspiration and backbone behind Young Actors' Retreat. Not focusing so much on actual training, the MT was designed for college students to socialize on a typical two to three day trip away from campus. Mostly catered towards freshmen in the beginning of the school year, MTs provide new students an opportunity to meet more people within their graduating year, school major, or enrolled clubs.
The MT is designed to build friendships within a larger student body through "ice-breaker" recreational activities like games and drinking and mostly, a combination of both. True to the MT experience, Young Actors' Retreat dedicates itself to capturing the making of friendships in real time as the actors and actresses interact through a shared living space, games, and activities that bring equal bouts of laughter and healing.
Cast Collection—Who's In It?
True to its MT origins in having a large "student body," Young Actors' Retreat introduced three fan favorite teams that raise the energy and stakes threefold. In Team Love in the Moonlight, Park Bo-gum, Kim Yoo-jeong, Kwak Dong-yeon, Chae Soo-bin, and Jung Jinyoung bring back  2016's historical rom-com dream team that hasn't lost their touch for six years. In Team Itaewon Class, Park Seo-joon, Ryu Kyung-soo, Lee Joo-young, Kwon Nara, Ahn Bo-hyun bring back Danbam's crew and rival as they cook up a spicy dynamic that throws other teams in for a loop. Team The Sound of Magic with Ji Chang-wook, Choi Sung-eun, Hwang In-yeop, Ji Hye-won, and Kim Bo-yoon shows magical chemistry as they leave music for madness. 
Faced with missions galore and so much more, these teams don't hesitate to give it their all for the sake of winning. After all, winning is the difference between getting a feast or a nibble at the end of the day. Although, don't get too comfortable seeing these teams—teams mingle and split from day one as Director Kim forces them to leave their home team. Cross-team friendships form as the cast bonds over competitions and fights against former home team members for a chance of victory.
Activities All Over
From talks of MBTI to the controversial perilla leaf debate, each team brought in unique members to showcase the strength of each K-drama cast as they worked through missions and activities. With activities fueling youthful passion, each team is desperate to win at the cost of throwing themselves, quite literally, into the games.
Flying (Chair) Into The Splash Zone
Dunked, splashed, and splattered in the Flying Chair Game, the cast members fought for their lives in a splash zone seat. Four actors represented two opposing teams as the prime targets of water cannons and "flying chairs." Chosen actresses Kim Yoo-jeong and Kwon Na-ra unknowingly triggered the controls of the splash button. Every trigger word or action done by the two actresses prompted a splash that drenched the actors or a fly that flung them into the pool.
To win, one has to prompt fewer trigger words and actions while engaging the chosen actress in conversation. If done right, the conversation smoothly flows to the other team. If done wrong, the water cannon drops. Worst case scenario, the chair flings back. In a hilarious back-and-forth dynamic that had Park Seo-jun jokingly wanting to go home after being wholly soaked, the splash zone brought a segment said to have the "entertainment god looking after them." Light-hearted even in their soaking distress, the battle ensued between the teams in their fight against the elements.
Haunted House Havoc
A fan-favorite segment featured in many K-variety shows, the haunted house special made a comeback. Integrated into a mission that had the cast gripping their seats in anticipation, a chosen representative was sacrificed to journey into the haunted house. Laced with ghosts and dim lighting, jump-scares tested the courage of the representatives as they ventured through an abandoned school. The horror moments highlighted those with hearts of steel, blitzing through the school with ease. While others, not so much. As teams put their faith into their representative, who came out first?
Everything Healing
Wild activities that pump adrenaline throughout the day are only sustainable with a nice, lovely break. Weaving together high-tension activities with more slow-paced ones showcased the relaxing side of summer. Crack open those watermelons and sit back with the cast as they set aside their competition to enjoy the MT.
Mukbang Must Watch
As an integral part of any friendship trip, food brings everyone together. Flying chair survivors and haunted house extraordinaries gathered in the kitchen for some munching—giving the cast a much needed power boost. Through light-hearted meals that give more insight on casual discussions and interactions between cast members, each member's personality shone through as Young Actors' Retreat captured the "real" in real variety.
As part of Korea's MT culture and drinking culture, a glass of soju is equivalent to an "invitation that means they want to listen to you." As the cast gathered around drinks and food, viewers are drawn inside the beginnings of a blossoming friendship and the hilarious conversations that ensue after.
Relax With A Ride
With a tagline of "hold your breath and dive into youth," summer truly hasn't left quite yet in the popular activity with a lively experience—ziplining. With both trepidation and excitement, Team Outdoor set off to a great height of 52m to a ziplining tower that promised a wild ride. Documenting the coastal view of Boryeong, the cast flew through the sky with a warm feeling that revived their energy batteries with a breath of fresh air. The moment included a refreshing view of the sea merging with the forest bordering the city, a combination that serves as a nice break from city life. Likewise, Young Actors' Retreat encourages healing through relaxation, laughter, and a nice break from life's responsibilities.
Sneak Peek: Young Actors' Cafe
In the sneak peek for episode 7, Director Kim revealed a special fan event restaurant that hosts three make-shift food trucks built for the fans. With the cast serving as the chefs, servers, and hostesses, they work together to make a hopefully functional food truck. Deemed the "Young Actors' Cafe," Itaewon Class fans are sure to get flashbacks of Danbam and their favorite actors and actresses working behind the kitchen. Set to release on October 14, 2022, episode 7 is anticipated to bring a fusion of food, fails, and fun.
Missing Summer? Relax and kick back with Young Actors' Retreat on Viki.
Interested in more ACT!ON content? Read our breakdown of Disney's D23 Expo here!