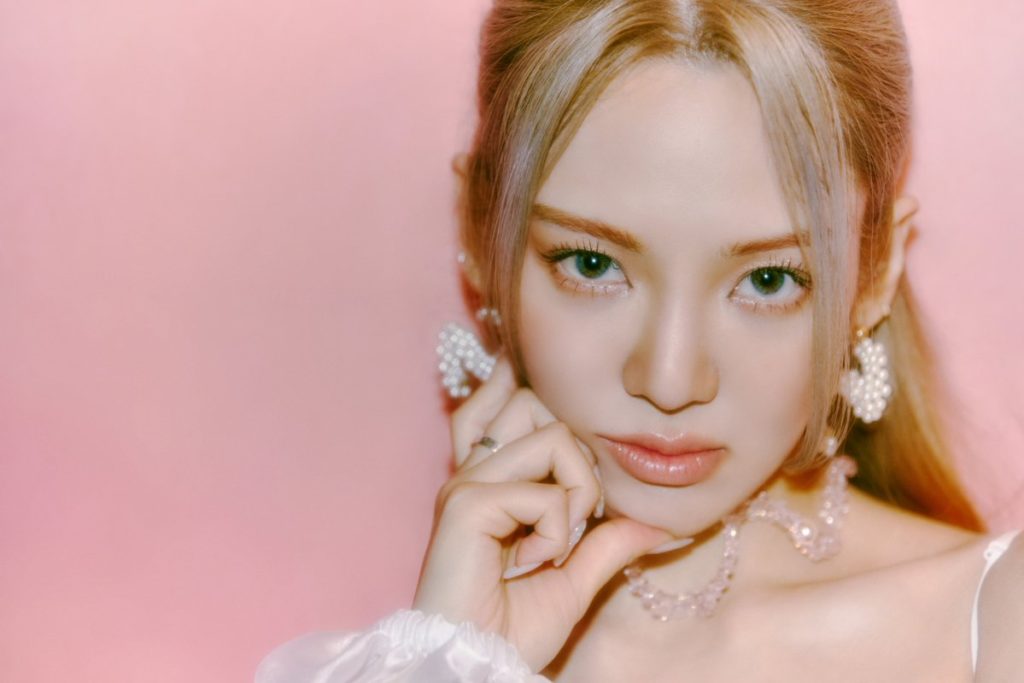 Time is precious, and HYO, solo artist,  DJ, and Girls Generation member knows it. In her latest single, HYO joined forces with the well-known rapper BIBI to create a party anthem encouraging people to take a second to enjoy themselves. On August 9, the single and music video for "Second" dropped— over a year following her viral dance track "Dessert" with Soyeon and Loopy, and her SM STATION single "Think About Me" with Raiden and Coogie.
효연 (HYO) Single [Second]

? 2021.08.09. 6PM KST #효연 #HYO #Second#소녀시대 #GirlsGeneration pic.twitter.com/NcMzg6br5V

— Girls' Generation (@GirlsGeneration) August 5, 2021
A Summer Dance Anthem
If there is one thing HYO is known for, it is dance. It is only fitting that "Second" would be a song where she can show off her skills. The summery, dance track "Second," written by Michel "Lindgren" Schulz, Britten Newbill, Farrago, Melanie Joy Fontana, BIBI, and Jeong Ha Ri, is an upbeat song with a 2000s feel to it. The track starts slowly with HYO easing into the chorus before the song becomes a lot more colorful. Much of the bright energy comes from the song's chorus, which layers percussions, horns, and HYO's almost chant-like vocals. 
Once HYO ends the chorus with "Wait a second," a dance break ensues, increasing in intensity until Bibi's smooth rap verse. Together, BIBI and HYO have good chemistry, seamlessly coming together for a party anthem.
A Fun Music Video 
The music video for "Second" is as bright as the song. The setting switches between a western desert with tapestries and an RV and the bright pink club with a neon blue "Second" light and LED bar. In the western set, HYO relaxes under an umbrella, chilling with some friends. In the RV, BIBI and HYO jam together as they sit in the vehicle. When the scene switches to the club, HYO owns it, strutting across the floor with confidence and posing for the camera. 
The video ends with a mix of scenes featuring choreography and freestyle from HYO, BIBI, and their dancers, who all appear to be having the time of their life.
Take A Second, Join This TikTok Challenge 
No stranger to TikTok, HYO uploaded a snippet of her "Second" choreography on TikTok on August 10. She later followed up with a second video of herself dancing next to SM Entertainment's founder Lee Soo Man. 
This single marks HYO's third dance challenge on TikTok, the first two being for her songs "Think About Me" and "Dessert." Of her two previous challenges, "Dessert" was the one that took off. It was performed by both fans and other K-pop artists, including her fellow Girls Generation members, NCT's Jaemin and Jeno, and KARD's Jiwoo. Fans cannot wait to see who else will hop aboard the "Second" challenge. 
What's Next?
First comes the single, second comes the promotions. HYO will be promoting "Second" on Korean music shows this week. 
HYO's latest single, "Second," is a relatable party song that everyone can keep in mind when they feel overwhelmed. Like HYO, we can all use the reminder to take a second and enjoy the moment. 
Be sure to check out "Second" on YouTube and follow HYO on Spotify and Apple Music. 
Need more music? Check out our review of Sunmi's latest EP here. 
Thumbnail courtesy of SM Entertainment.