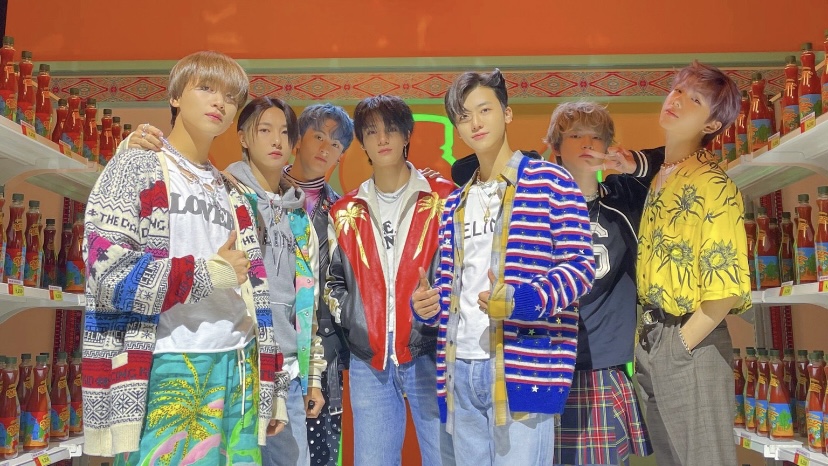 Following the success of their first full length album Hot Sauce, NCT Dream are now getting ready to promote their repackage album, Hello Future. The Hot Sauce music video alone reached 100 million views on Youtube, and the album has currently surpassed 2 million sales. The album and its aesthetic greatly impacted fans all around the globe, inspiring many to create unique artworks, some of which ventured into the realm of beauty. EnVi takes a look at a few of our favorite tasty comeback looks in anticipation of the repackage album.
Look 1
The first eye-catching look was created by the talented Instagram artist Lou (@suh.sadic69). Lou has not shied away from creating masterpieces on her face, many of which have been inspired by various K-pop albums, singles, and artists. Most recently, Lou created a look in honor of NCT Dream's Hot Sauce. This colorful design includes a detailed depiction of NCT Dream's Hot Sauce Album artwork. Painted on Lou's left eye is the album's signature hot sauce bottle and on the right, she uses the the recurring album colors used for her right eye. Lou breaks down, in her own words, what inspired her to create such an elaborate look for NCT Dream's 7-member comeback. 
Name: Lou
Pronouns: She/her
Handle: @suh.sadic69
NCT Dream bias: Mark and Jeno
Why do you enjoy makeup?: "It's my way to express how I feel and how I wanna feel in the future: happy and confident. It makes me forget about everything and makes me relaxed while I'm doing it, and I love to play with colors and styles, so it's always an experience that I enjoy."
What did you enjoy about the album?: "It fits Dream. It's joyful, fun, but it has some nostalgic vibes. Every song is a whole different world and I love how all together you cannot skip even one song. It makes it even more perfect that this time we have the 7 of them in the album, so it's just perfect in every way."
What inspired this look? "The excitement. This comeback is something that I waited for so long, and the moment I saw the first photo teaser I thought "oh, that's it!" The colors, the concept, everything. It's just so colorful and fun, it inspired me so much to do something with Hot Sauce asap, I couldn't stop myself."
The look: 
View this post on Instagram
Products used to create this look: "It's actually a Mexican brand that I use for the main part – the bottle of sauce was made with Colibrix's body paint and the rest of the face with NYX, Maybelline, Morphe, KVD and Fenty Beauty."
Look 2
Another show-stopping look that gained a lot of attention online, was created by Twitter-based makeup artist Kryscy Boulin (@enseeteajuan27), who like Lou, is a veteran at creating K-pop-inspired makeup looks. Her creation incorporates various design elements found in NCT Dream's Hot Sauce teasers, such as a checkerboard pattern, a vine-like brow detail and even a life-like dripping effect, which took "about 15" tries to get just right. Kryscy fully commits to her vision by adding a red contact lens in her left eye for a spicy feature. In her own words, she also shares with us what pushed her to create this beautiful design. 
Name: Kryscy Boulin
Pronouns: She/her
Handle: @enseeteajuan27
NCT Dream bias: Haechan 
Why do you enjoy makeup?: "Makeup is a form of art and a way to express oneself. The face and body can be a canvas, so I can completely change how I look for a day, and I think that's really cool but also freeing." 
What did you enjoy about the album?: "It's a beautiful album, I think it's very cohesive and explores a few genres. I like that it's a project NCT Dream were really excited for as well. They each did a wonderful job!"
What inspired this look?: "Dream's comeback, Hot Sauce. The imagery and the colors were the most inspiring. I feel like it's been a while since we've seen a K-pop group comeback with a concept so unique! The concept is very fun and the title track matches it perfectly with its upbeat tempo, so I wanted to create a look that was just as exciting and 'out-there.'"
The look: 
Shopping List:
Hot Sauce✅#NCTDREAM_맛_HotSauce #NCTDREAM #HotSauce @NCTsmtown_DREAM pic.twitter.com/y91DiKpOjr

— ten's third kitty?‍⬛ (@enseeteajuan27) May 13, 2021
Products used to create this look: Base: CoverFX's Blurring Primer, L'Oréal's 24-Hour Infallible Concealer and Foundation, Midas Cosmetics' "Dusk" palette.
Eyes: Glam Vice Cosmetics' Retro Liners in "Bandana," "Skate Date," and "Disco Fever," UCANBE Cosmetics' Athena Painting Palette.
Brows: ELF Cosmetics' Instant Lift Brow Pencil.
Lips: Wet N Wild "Pretty in Mink" pencil, Rimmel Matte Lipstick "Take the Stage," Makeup Revolution Pout Bomb lip gloss in "Cookie."
If you create any makeup looks inspired by NCT Dream's Hello Future, make sure to tag us on socials @envimediaco, and use the hashtag #EnVi!
For more about NCT-inspired makeup looks, check out EnVi's roundup of album-inspired makeup looks here.
Thumbnail courtesy of SM Entertainment.