Despite it being nearly midnight in Seoul, South Korea when we connect over Zoom, the flickers of youth and dreams shined bright in TFN. It gleamed in their eyes, in the way they moved their hands as they spoke, and in the shy smiles that flitted toward each other during our chat. The nine-member group's new mini-album, BEFORE SUNRISE Part. 4, explores the depths of this adolescent glimmer and the promises it holds for the future.
"We showed a lot of our 'me' [in this series]," On explained about the four-part chapter. BEFORE SUNRISE Part. 4 and its three preceding albums follow the boys through their youth and the subsequent time spent uncovering themselves. Through the grainy Zoom, sleep bid adieu for the moment, On continued. "From now on, we want to show a more mature 'me' and show growth." Following TFN's album release, EnVi spoke with Noa, Kevin, Gunwoo, Leo, On, Zero, Kairi, and Kio —Sian was absent due to recovering health issues—to learn more about what this new era looks like for them.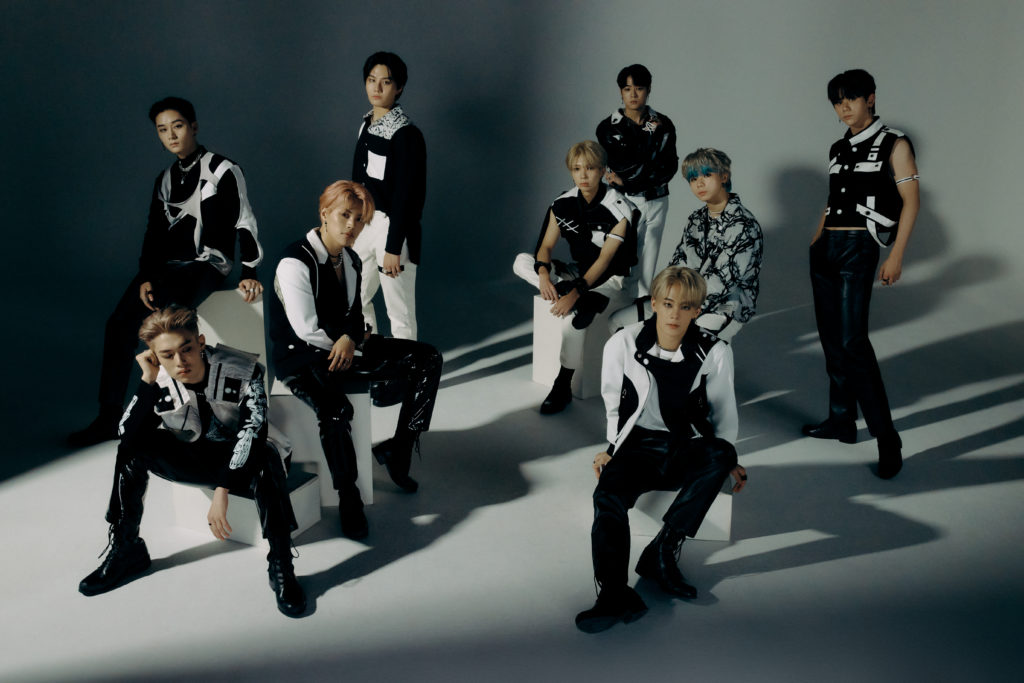 A Clean Slate for Growth
"We want to convey and we want to represent teenagers who are living in this society," Noa, TFN's reliable leader, shared thoughtfully, reflecting on the BEFORE SUNRISE series. Through parts one through four, the group delves into an exploration of themselves. From "ASURABALBALTA" to "EXIT," the young men aim to navigate the labyrinth of society and dreams through their rough, edgy-to-the-touch music with promises to not secede. Speaking about this human experience, Noa concluded that as part of the youth they're representing, it "is a very important thing to say through our songs."
This most recent chapter, BEFORE SUNRISE Part. 4, came with a rebrand to reflect the boys' coming-of-age. With the former name T1419, Noa shared that as T1419 "we wanted to represent teenagers who are confronting this problematic society." Now, as TFN (meaning "Try For New") who are more heavily equipped and entering adulthood, the group name symbolizes an expansive horizon with endless possibilities.
The title track, "AMAZON," comes as a perfect transition to this new era. "Through this song, we want to convey the rule of the jungle, which is that the power rules the weak one," explained Gunwoo. "AMAZON's" biting chorus and flashy dance complete this image, setting the stage for what is to come. Even for this interview, clad in monochrome outfits with standout silver jewelry and hints of leather, TFN appeared ready to show up on the fierce battlefield.
To describe TFN, words that immediately spring to mind are passion, love, and something akin to a youthful and bright hope. Flipping this query onto the members to describe their album, TFN hesitated, but not due to lack of words. Instead, the boys immediately dove into a discussion about which language to answer in; members Kevin and On repeat, "five words?" Finally, Gunwoo, apparently the group's representative for epic one-liners, was ready. "English – OK," he started confidently. "Power, sexy, handsome," and there's an intermission as On meets his eyes to offer a suggestion. "Heart!" Gunwoo continued, "and exciting." This wraps up the album pretty nicely.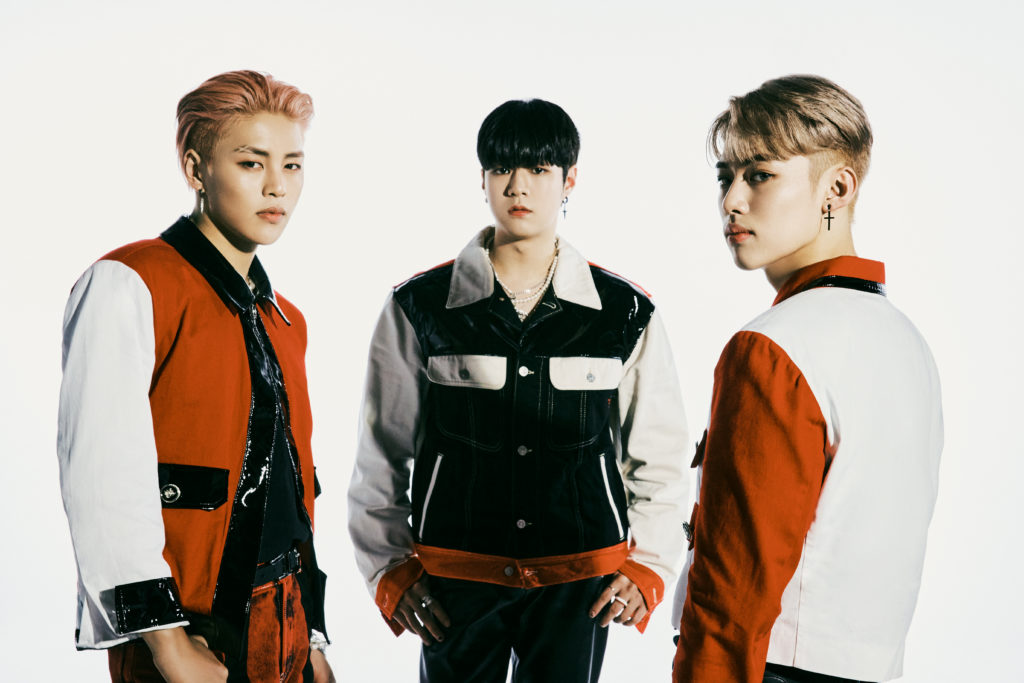 Deep Dive into the B-Sides
What makes BEFORE SUNRISE Part. 4 more climactic for TFN are Noa, On, and Kio's participation in the album's production. When talking through this process, Gunwoo immediately splayed his hands out, gesturing proudly to the aforementioned trio sitting beside him. Noa pressed two hands to his chest, starting, "For me, this is also my first experience composing a song and directing our members personally." Noa worked on the song "BLOOM," a honey-filled B-side track lovingly dedicated to TFN fans, Edelweiss. "Actually, we've known each other for a long time, but during this work, I could find new charms of our members, so I hope our fans can also see and know new aspects and new charms of our members." Slight nods from the others ensue.
On (starting his answer each time during this interview with a cute "On-입니다!," or "This is On!") shared the same sentiment, reflecting, "I know well about our members' best, so it was a good opportunity to make a song that can show the charming points of our members." He participated in "Deep dive," a darker, ghastly track with an addictive beat. "When I was working with this song, it took quite a long time, and I could see that even making a song, there's many efforts of many people and many steps, and even members." He spoke earnestly with a small smile, nodding along with the translator. With these reflections, it was clear the members of TFN have a deep-set appreciation for each other.
Now all eyes turn to Kio. Last to speak, the youngest member works through his thoughts in real time. "For me also, it was my first time making a song. It was a very good experience that I can have musical communication with our members." His demeanor is calm as he circles his hands while speaking. His song, "SLATE," is quite the opposite, a bass-heavy song with a slow, but hip chorus. "It was quite fresh for me, and also I learned a lot about different musical aspects. Also, it's [my] first time showing the public my song, so it's kind of reflecting myself, my musical ability, and musical sense. It was a good experience."
Blooming On a Global Scale
TFN's reach stretches far past South Korea. As a multinational group with a mix of Korean and Japanese members, TFN embrace many cultures and languages. Just this summer, they released a Spanish digital single called "When The Sun Goes Down."
Choosing a favorite word or phrase in a language other than their native one is a different trial entirely. To Gunwoo, it's a simple "Peace!" It fits the member's suave personality. Leader Noa was slower to answer, counting off on his fingers "I love you's" in various languages. "사랑해, I love you, Te amo (Spanish), 愛してる (Japanese), 我爱你 (Chinese)." A ripple went through the practice room as the members let out impressed "OHHHs" while an embarrassed Noa promptly hid his face, an unmistakable grin in place.
Warm-hearted On's answer added a little quirk to his personality. "個人的に" is his choice, an answer making Japanese members Kairi and Zero smile. It's a word meaning "personally" in Japanese, and one On likes it simply because the pronunciation is fun. Charming Kio, serious Zero, and vocal powerhouse Kevin had succinct responses, perfectly pronouncing – "Time is money," "Corazon (Spanish)," and "We are the one," respectively.
Bringing another round of laughter to the group, vocalist Kairi bellowed proudly, "밥
먹자 ('Let's go eat' in Korean)". Upon getting a positive response from his members, Kairi pumped a fist in the air and repeated – "밥 먹자!" On a more serious note, Kairi likes the word "애정," meaning affection for each other. Lastly, reserved Leo waited for the noise to die down before enunciating clearly, "There's no impossible things in life." This resulted in another set of resounding "WHOA" from the other members. Kairi clapped.
Fortifying their identity as a global group, TFN just hopped off the plane from a trip to America to film the music video for "AMAZON" in Miami and a performance at the K-Pop KAMP stage in LA. Although still in their beginning days as idols, the boys don't shy away from going on stage and admittedly love the feeling. "We try to enjoy the moment [onstage,]" shared On. In English, a smile played on his lips as he looked directly into the camera and said, "We are born to be on stage."
This conviction piqued another question, one surrounding a very trendy topic in South Korea these days: "What's your MBTI- are you extroverts?"
A loud second of silence passed before the aggressive head-shaking started. On, Noa, and Gunwoo all exclaimed heavy "no's" as if the question was incredulous. From how the members have spoken thus far and from the way they blaze across the stage, you would have thought otherwise. Gunwoo took the time to clarify this surprising tidbit. "Just on stage, we are very hot guys," and offered a thumbs up. It was that simple.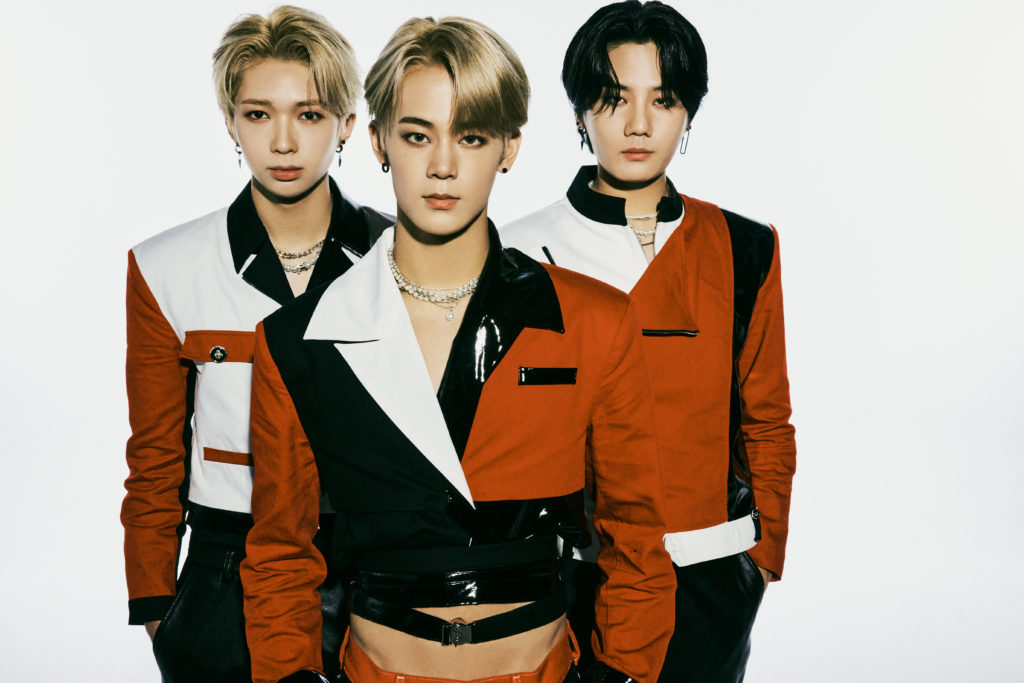 In Their Zone
"He's recovering now," On started on the topic of Sian. Killer vocalist Sian went on break ahead of the album's release due to sensorineural issues. For the nine boys who grew up together, missing a member is much bigger than just rearranging a choreography. "He always cheers us when we go on stage, cheering that we're doing our best. We are eight, but we're performing like nine, so I will tell him to please take a rest and please recover soon."
"I love you," On ends his message to Sian. Kairi adds a heart.
It's this constant stirring of love and trust in each other that defines TFN. Throughout our conversation, it's beneath every answer the members give. When they perform, "we never skip doing 'hwaiting' together," remarked On. Growing together, learning together, and trying new things together is the identity TFN is creating.
When Noa expressed his thanks to all his members, this love rippled through the group again who perked up at the sentiment and On clutched his leader's hand to his heart with a happy grin. The pair held hands as Noa continued, "Our team members are always good, so this time also they'll finish promoting this album well. I have confidence in my members."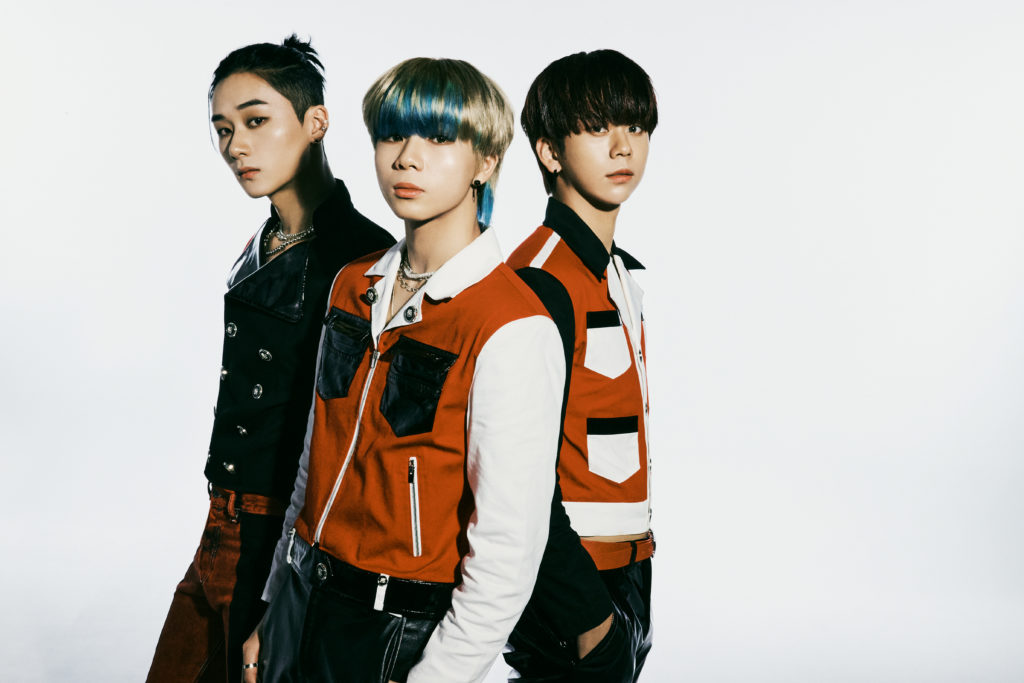 A Brighter Future for TFN
The future of TFN is filled with possibilities, a glance at the sunrise peeking through and everything on the horizon that lies beyond. A less ambiguous expectation for the time ahead is a potential sexy concept, something On would like to tackle as the group's youngest will soon be of adult age in 2023. On also added, "[Besides] our strong performance, I think all the members have very nice, beautiful voices, so in the future, if we have a chance, I want to do some songs where we can show our vocal abilities."
As TFN enter the stage more mature than before, there are inklings of regret. Of course, at the surface, having debuted amid a pandemic is not easy. When reflecting on the past two years, On shared, "there are a few things I feel regretful about, but the most important thing is to go forward because we are receiving a lot of love from our fans, Edelweiss, so we want to do more activities to pay back their love. Please look forward to our future activities."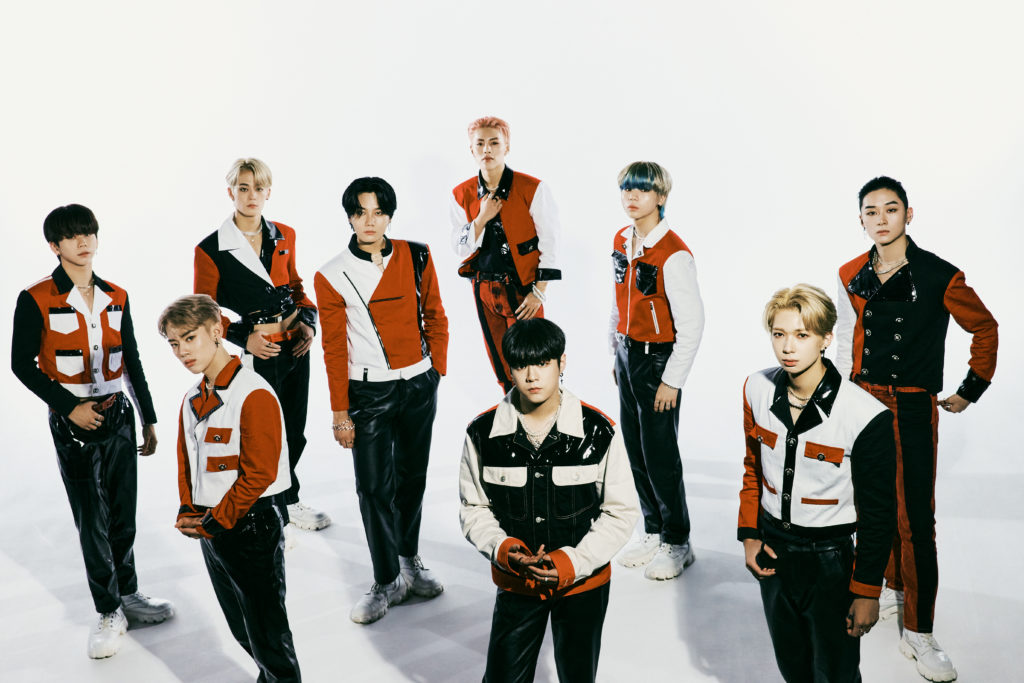 This ardent gratitude to their fans is ever-present in the group. To Kairi, it was a letter from Edelweiss that he received as a trainee that cemented his dream as an idol. "At that moment [of reading the letter], my desire to be an idol exploded." On too, shared, "I'm very grateful to our fans; it was not a short time until now having a comeback, so I want to give a lot of thanks to our fans. Also, we want to do our best as a reward for waiting for us. We love our fans a lot, and please look forward to our activities in the future." The group made hearts through the screen for Edelweiss, Gunwoo making a shaking heart, Kairi holding his hands above his head in a heart, and On making a heart with Kevin's face as Kevin makes a mini heart.
The overlooking view looks bright for TFN. As Noa reminds us, "'Try For New' means try new things, so not just music or performance, we also want to try many different kinds of activities in the future." It'll be nice to see what they come up with.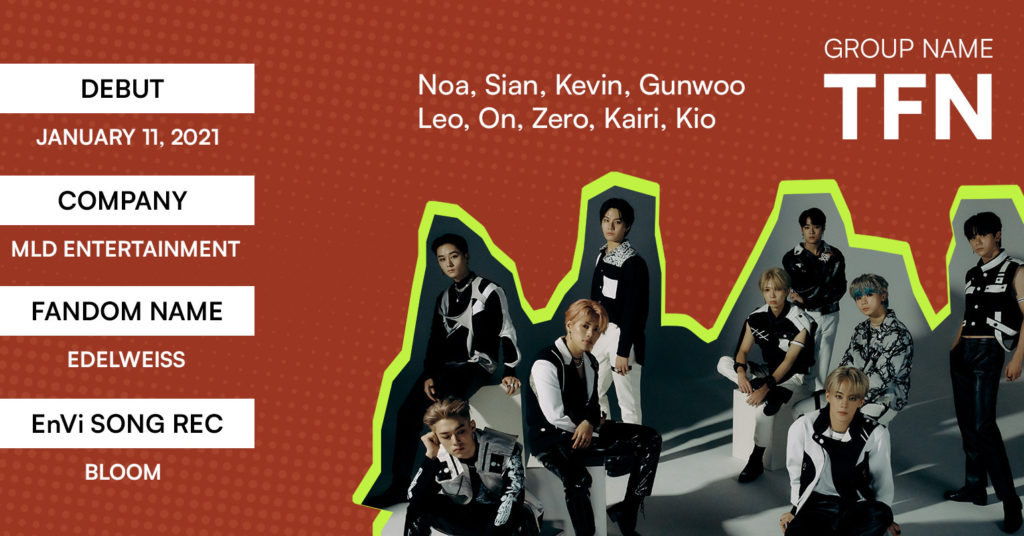 Check out TFN's newest album BEFORE SUNRISE Part. 4 on Spotify, and follow the group on Instagram and Twitter!
Want more exclusive interviews? Check out EnVi's interview with ILY:1 here!