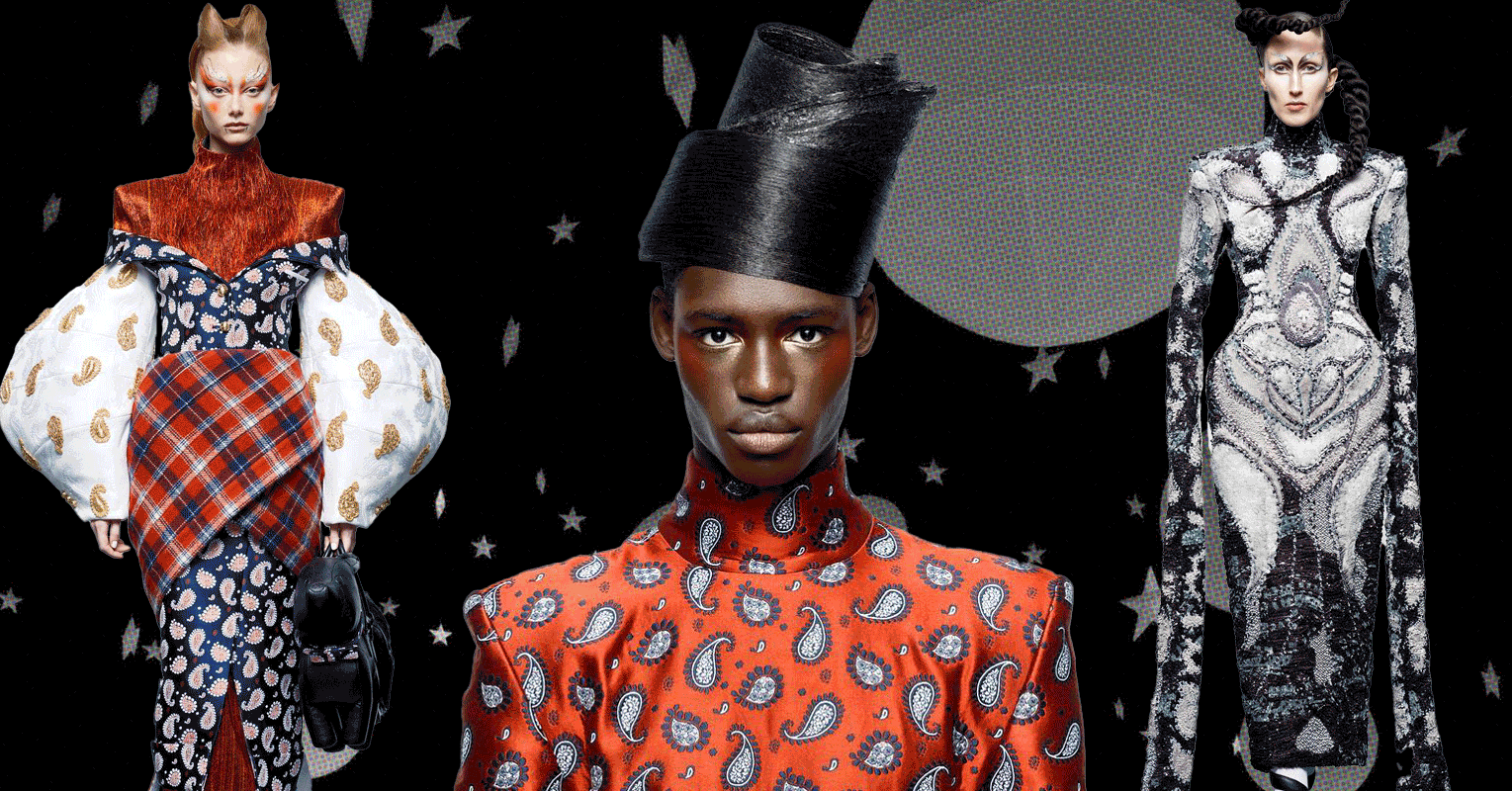 Going from strength to strength, Thom Browne has cemented his status as the ultimate tailor of cool. Recently assigned as Chairman of the Council of Fashion Designers of America (CFDA), the designer returned to the runways of New York Fashion Week on February 14. A tribute to Antoine de Saint-Exupéry's classic, The Little Prince, the Fall Winter 2023 collection upgraded Thom Browne's uniformed universe with literary references and a nearly philosophical message. Taking in the spectacle from the front row were A-list celebrities such as Lil Nas X, Queen Latifah, and K-pop star, Johnny Suh.
The Collection
Fresh off a Spring Summer 2022 collection that reached peak virality with a jockstrap and after winning a trademark case against the sportswear giant Adidas, Thom Browne is back. And the brand is stronger than ever. The Fall Winter 2023 show, showcased at The Shed in Hudson Yards, was a moving spectacle of fantasy.
Referencing the French classic Le Petit Prince — the novella about a young prince who learns about friendship as he explores both Earth and outer space — the runway took place against a white backdrop featuring planets, stars, and a plane. Lights out, narration in. As passages from the 1943 book resounded in the background, models walked down the catwalk channeling different characters: the pilot who crashes his plane in the middle of the desert, the Little Prince, and even some extraterrestrial figures.
Unfolding in three acts, the runway followed a carefully-planned narrative. First came the theatrical looks: a bubble-leg playsuit with matching sleeves, column-like dresses adorned with planet headpieces. Building on Browne's signature tailoring, the next section delved into the brand's classics: oversized overcoats, matching sets, and contrasting fabrics. The epic show closed with voluminous silhouettes, deconstructed ensembles, patchwork, and model Precious Lee clad in a wedding-like dress.
The Guest List
As the CFDA Chairman in functions, it's no surprise that Thom Browne attracted the most elite, fashionable crowd. The theme of the night seemed to be monochromatic patterns — be it plaid, paisley, stripes, or sketches. For one, K-pop superstars Eric Nam and Johnny Suh stunned in nearly matching, grey, and semi-plaid suits. Nam flaunted a skirt with hints of blue while Suh matched a classic suit with unreleased boots by the label.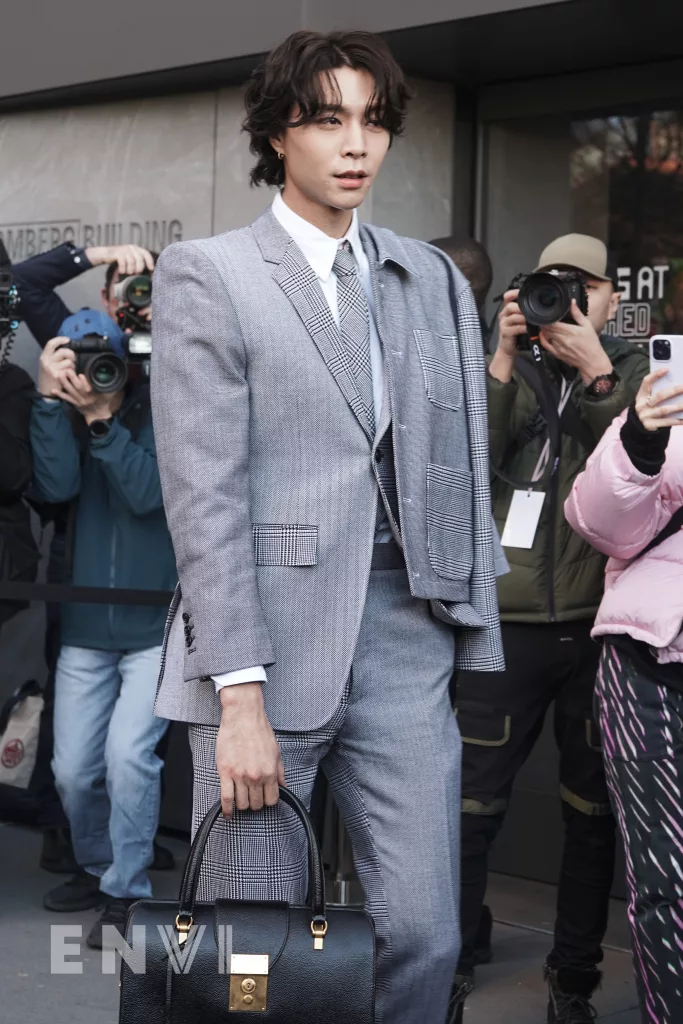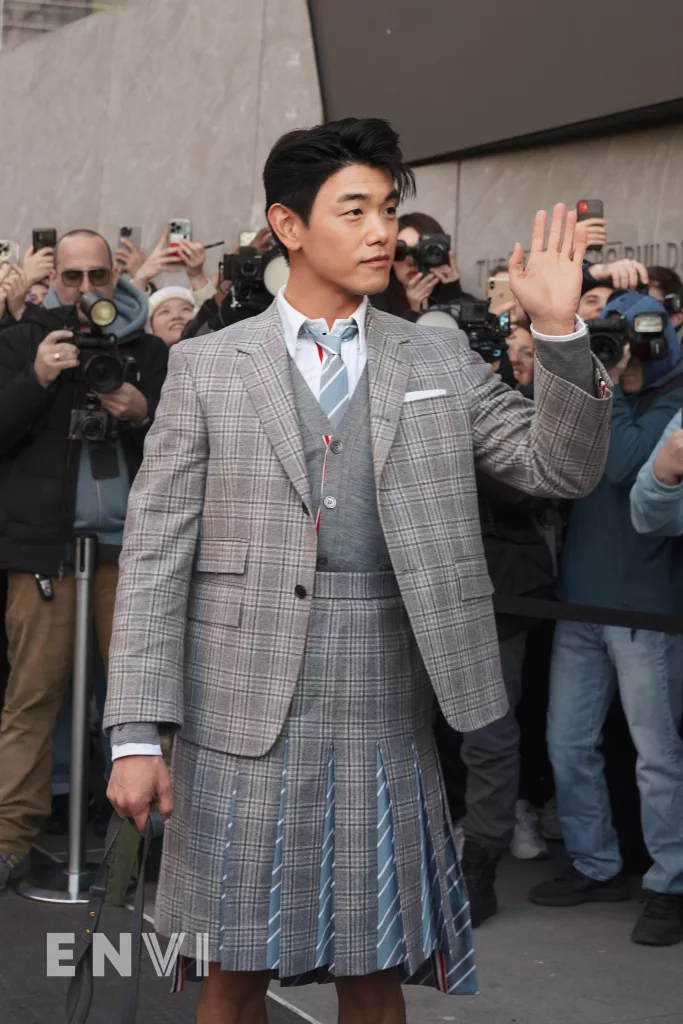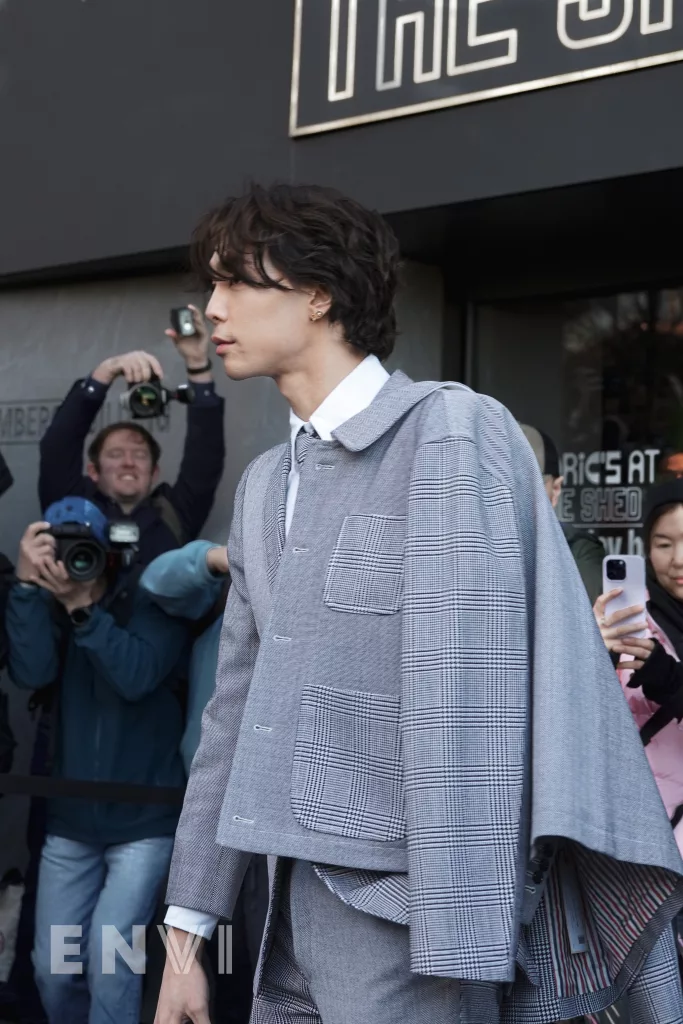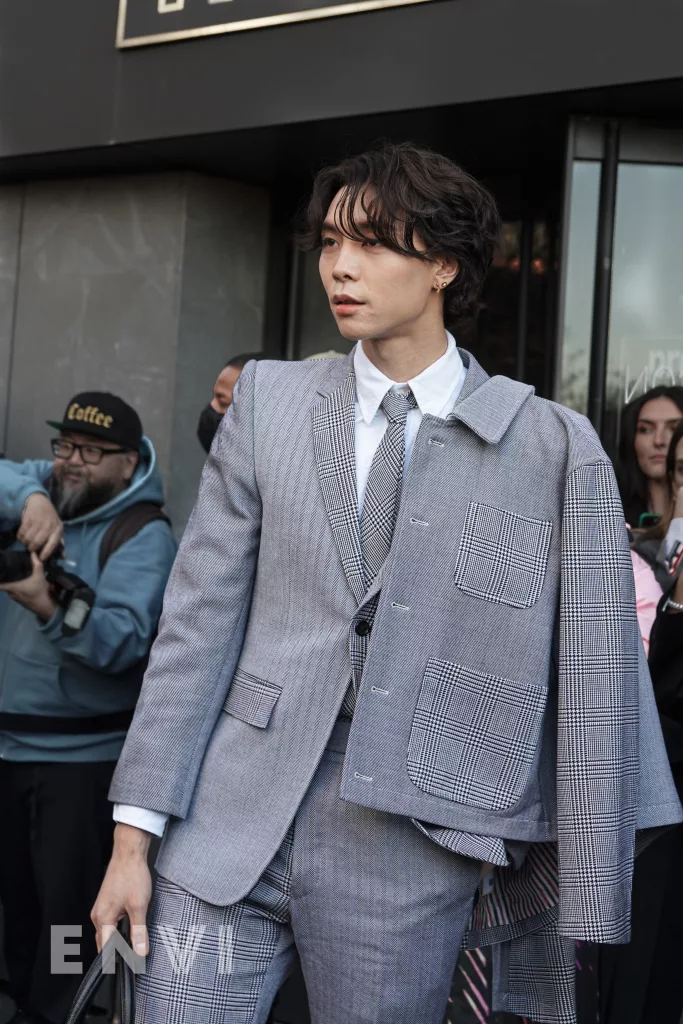 New York, Fall 2023 Fashion Week. Photographed by Niamh Murphy
Rapper Lil Nas X, always one to show up and show out, brought color to an otherwise monochromatic set with a green paisley overcoat and cropped trousers, holding onto a matching Daschund-shaped Hector Bag as he sat next to Anna Wintour. Meanwhile, the multi-talented Queen Latifah wore a puffer coat with black and white ocean-themed designs throughout.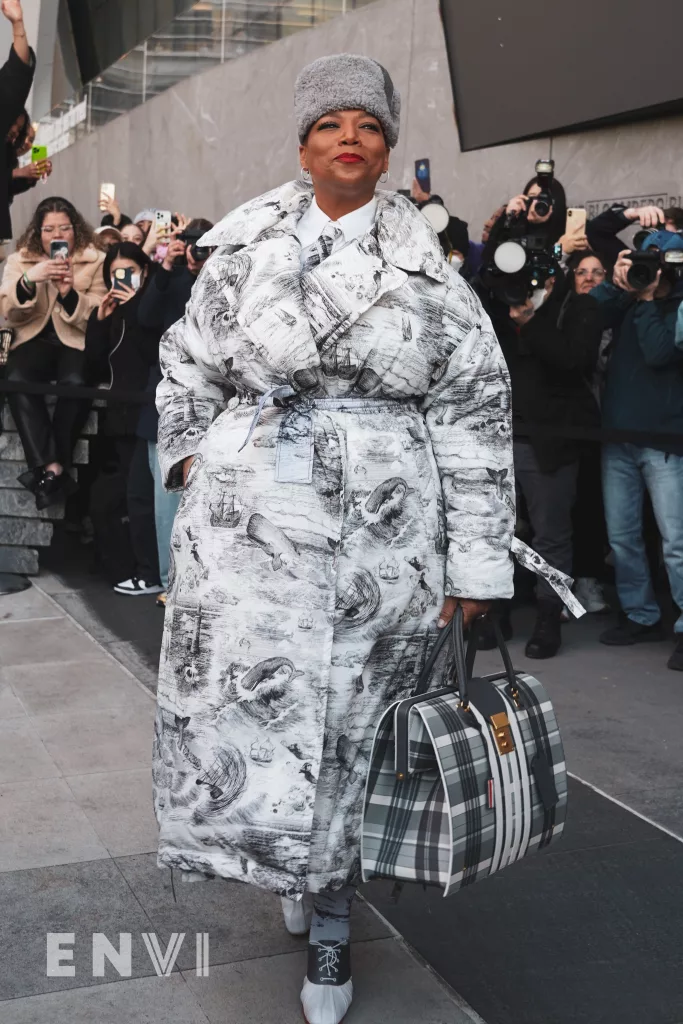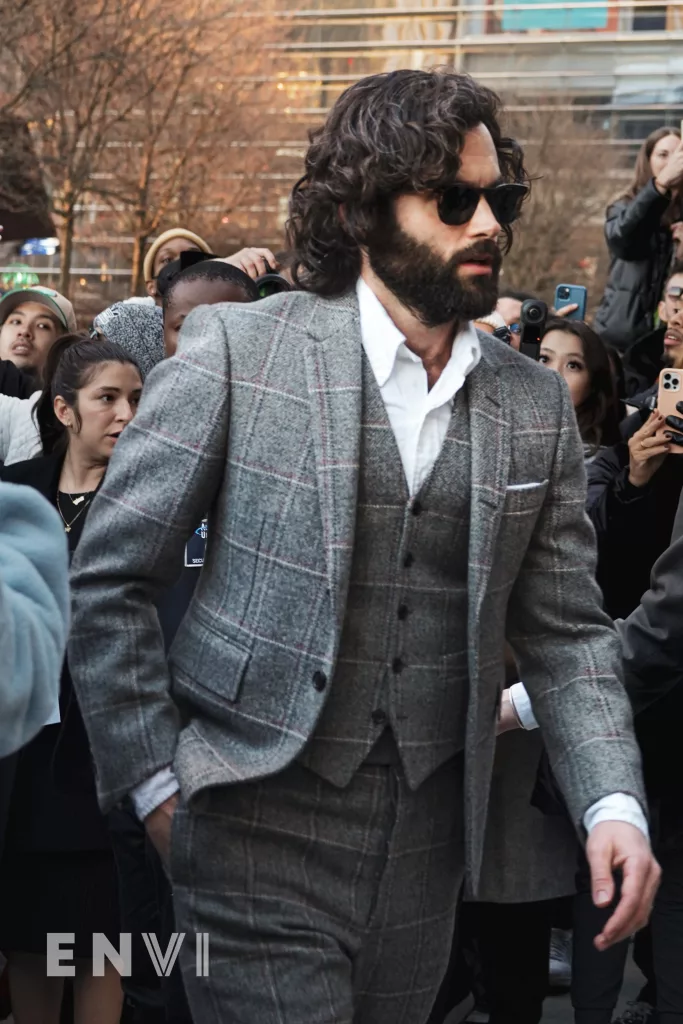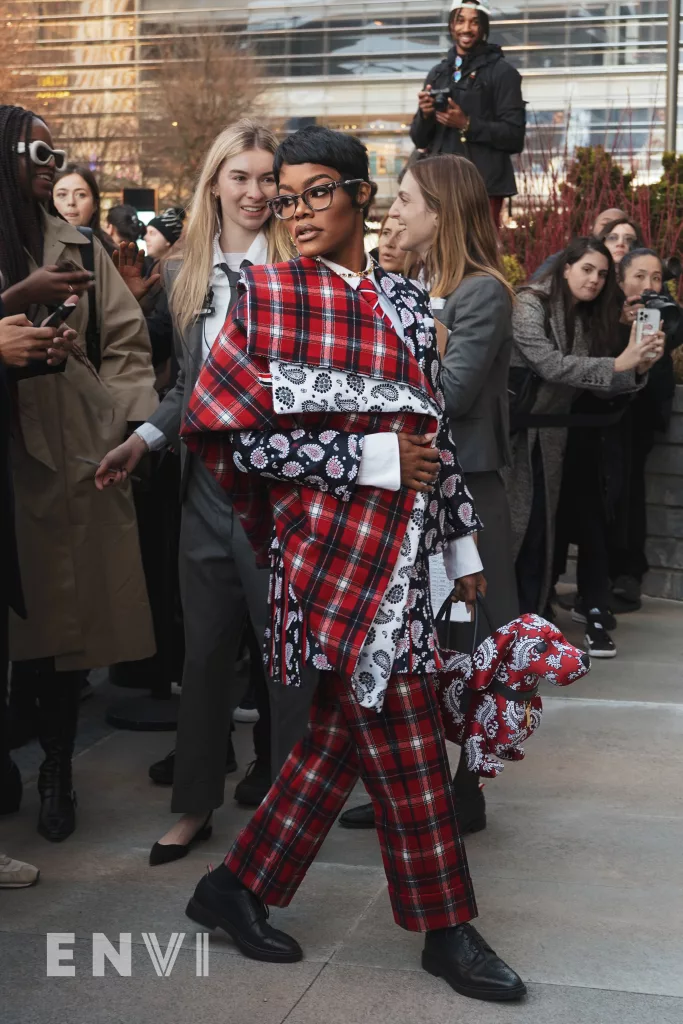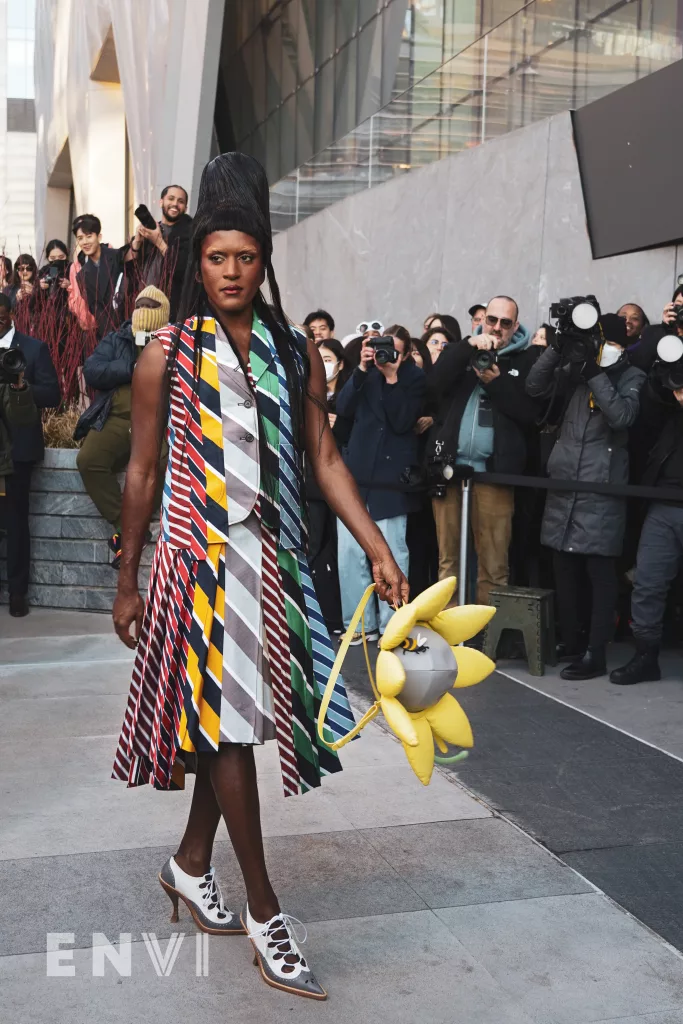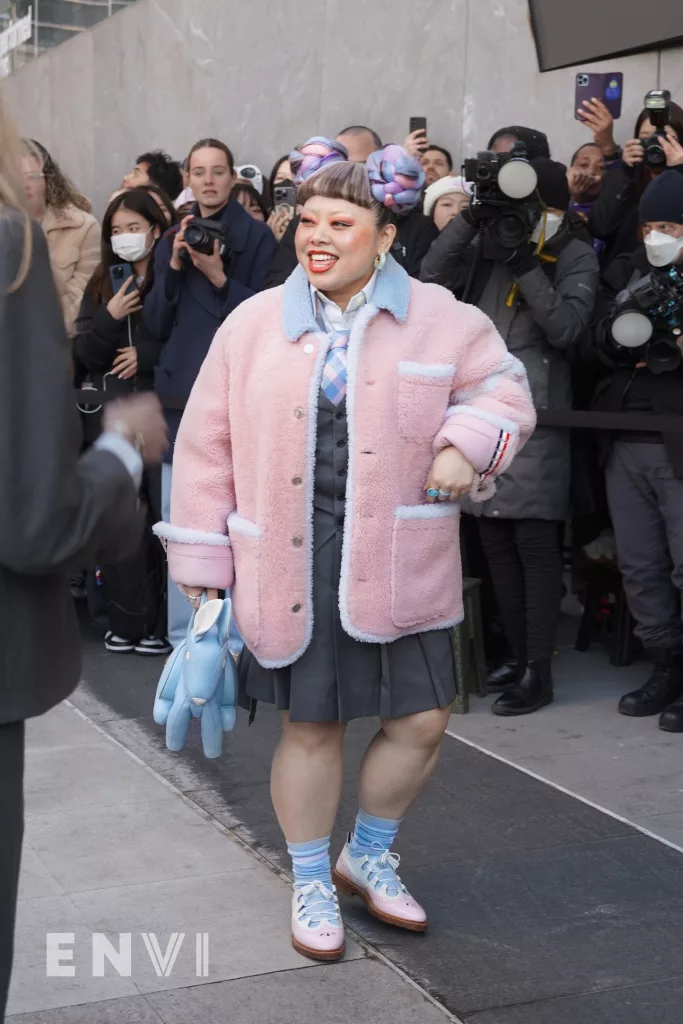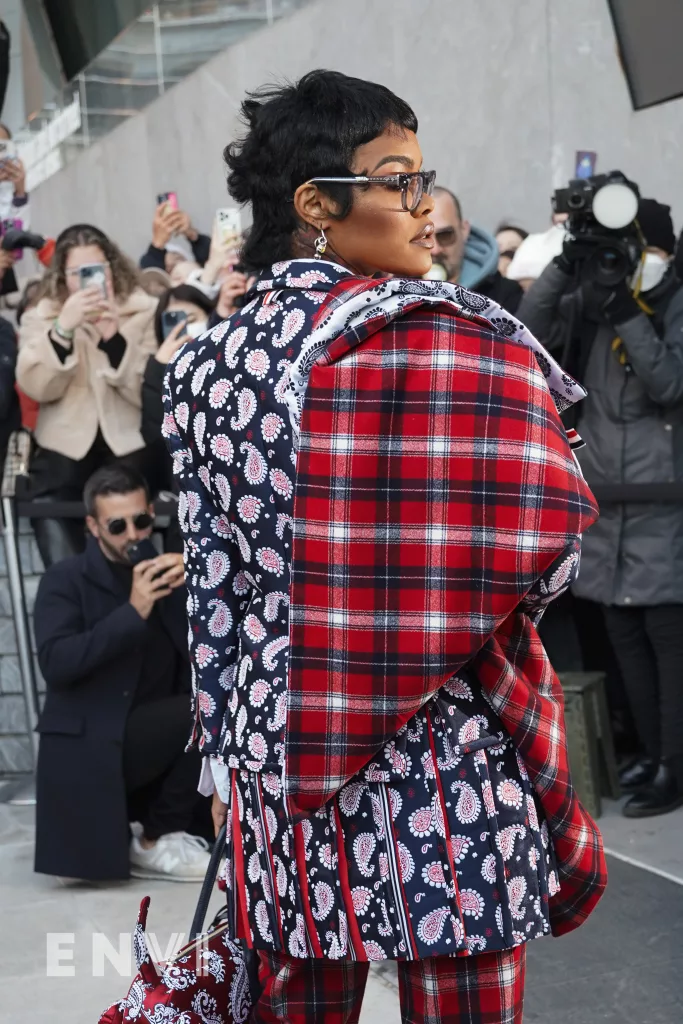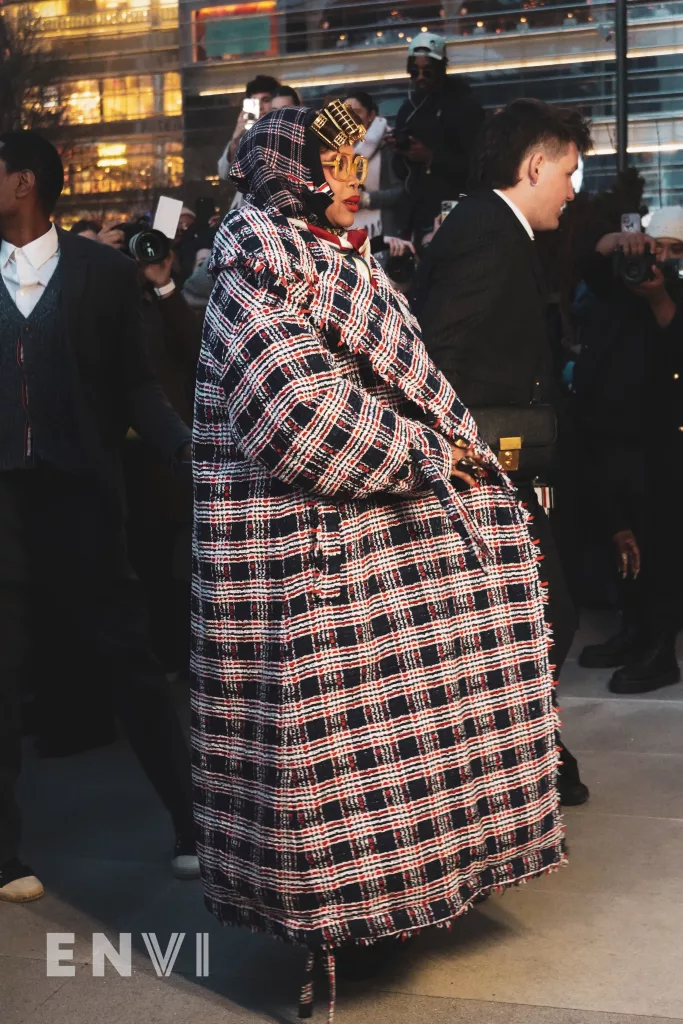 New York, Fall 2023 Fashion Week. Photographed by Niamh Murphy
You (2018) lead Penn Badgley and Stranger Things (2016) star David Harbour, who both have a history with the brand — Badgley was styled in Thom Browne during his Gossip Girl days, Harbour has participated in past campaigns for the label — were present at the show, fittingly layering in muted tones courtesy of Browne. Other stars in attendance included Teyana, Whoopi Goldberg, and Karolína Kurková.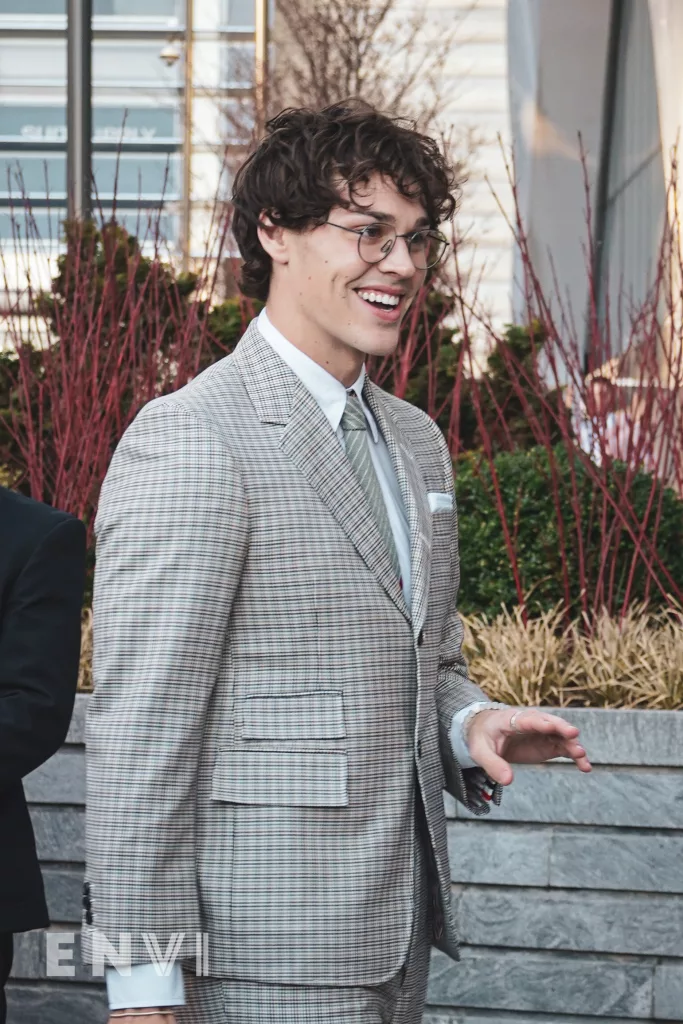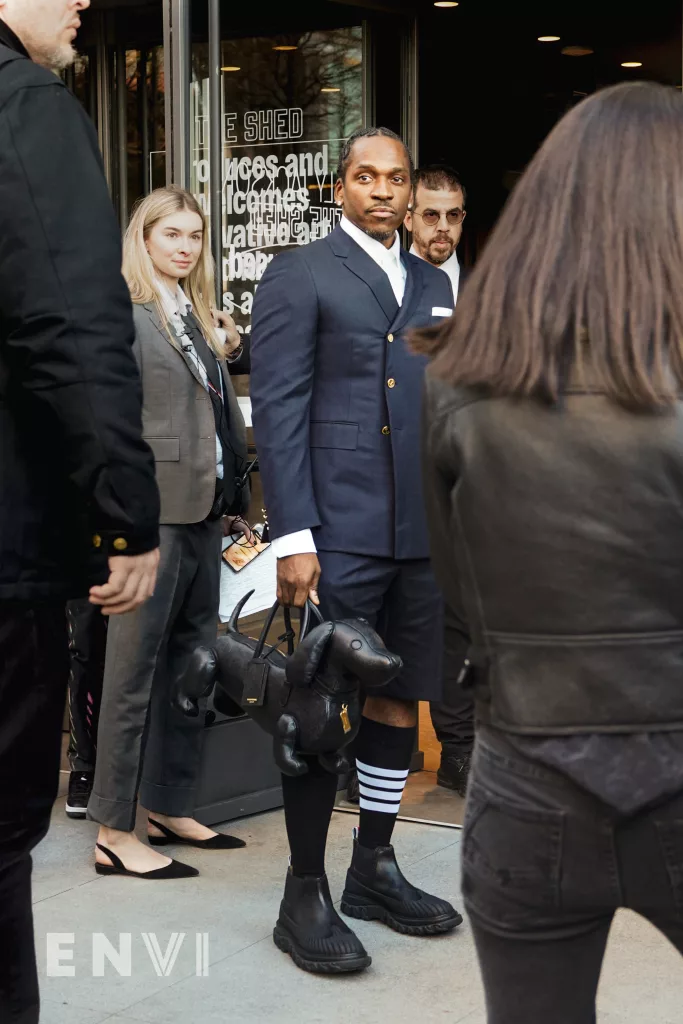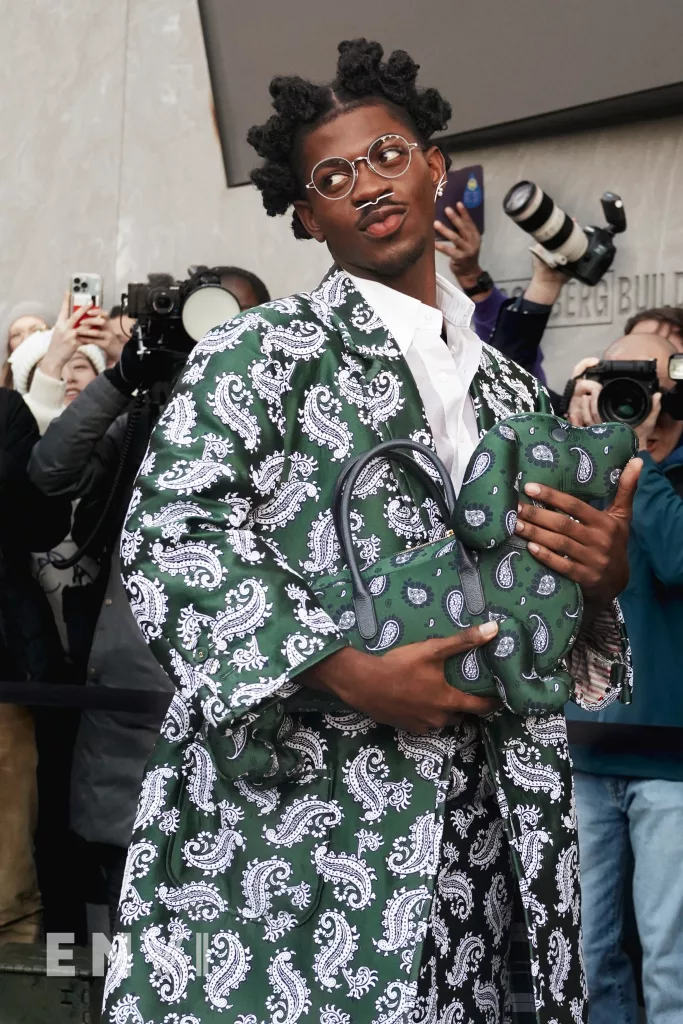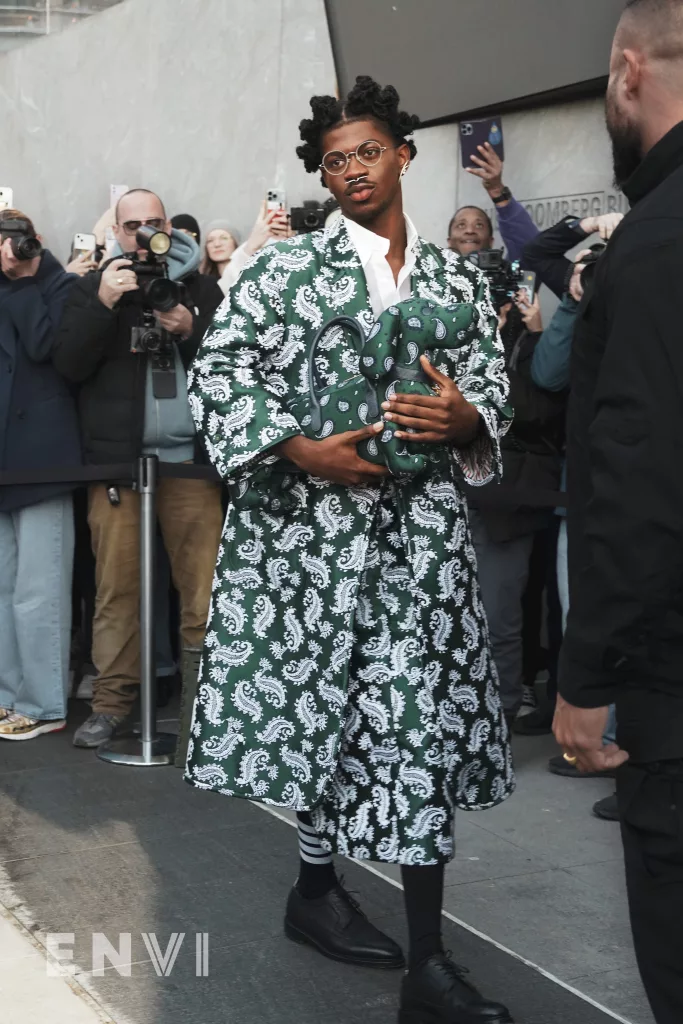 New York, Fall 2023 Fashion Week. Photographed by Niamh Murphy
With his Fall Winter 2023 collection, Thom Browne, whose creative direction has evolved drastically throughout the years, has once again proven himself to be one of fashion's most creative, lively designers.
Interested in more New York Fashion Week coverage? Read everything about Kim Shui's empowering Fall 2023 collection here.