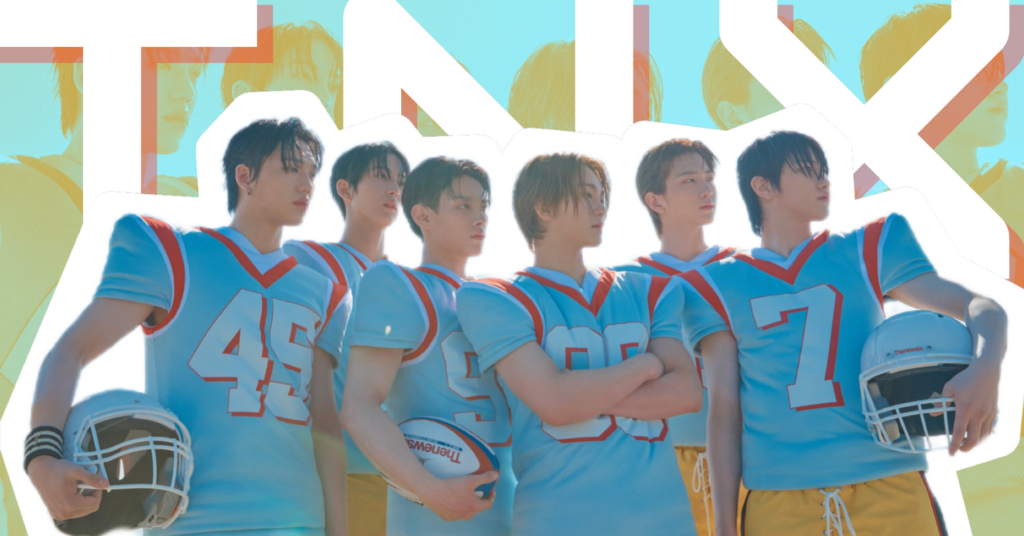 They say third time's the charm, and truer words couldn't be spoken for P NATION's THE NEW SIX (TNX). Members TAEHUN, KYUNGJUN, HYUNSOO, JUNHYEOK*, HWI, and SUNGJUN explore youth, love, and growth for their third mini-album BOYHOOD, which was released on June 7.
On a Monday afternoon, EnVi spoke with the members of TNX via video call about their latest comeback, journeys in music, and the people they look towards and up to.
An Ode to Boyhood
THE NEW SIX's third mini-album, BOYHOOD, consists of six songs telling the story of six boys gathering together for the same dream. With the whole group being in their late teens to early twenties, the color of youth becomes extra apparent. Title track "Kick It 4 Now," which the likes of PSY and PK have worked on, represents TNX's coolness and entry into summertime. It is a new jack swing track built on drum rhythms and synths. "Kick It 4 Now" also has an English version as the group "wanted to impact both our domestic and international fans," according to rapper KYUNGJUN. The croon-worthy and nostalgic jam has certainly caught on in fan spaces, and BOYHOOD already has the highest first-day sales out of all the group's releases thus far.
Aside from "Kick It 4 Now," BOYHOOD also maintains a sense of consistency in their fresh and synth-heavy vibe through their B-sides. Mike Daley-composed "By You" is an addictive jam about a boy in love. HWI and KYUNGJUN chose this song as their favorite track off the album because the song gives them a new vision and allows the listener to have sweet dreams. "Good Day," a dreamy song about enjoying one's days fosters a calm and sentimental atmosphere, is maknae (youngest member) SUNGJUN's favorite as it gave him a good vibe and reminded him of THX — otherwise known as TNX's fans. Leader TAEHUN's favorite song is "My Bias," which Korean title is coincidentally "취애" ("favorite"), a love song produced by member HWI, because of its "healing vibe."
HWI also shares that he's "been moving so fast and working with so many people" as he took part in producing for this album. It was an unexpected experience for him, but it made him happy regardless. Last but not the least in BOYHOOD's B-side tracks is "1000 Miles," a track with an unstoppable and grand arrangement, which is vocalist HYUNSOO's favorite song as he was able to "put a lot [of effort] into it."
Given the album's theme of boyhood, the members, dressed in schoolboy uniforms without the usual suit jackets to represent their casual youth, were also able to share what boyhood means to them. TAEHUN, HYUNSOO, and KYUNGJUN looked back at their childhood years, where they respectively saw themselves as people who "never actually stayed still," "[could] do whatever they wanted," and "made new friends [in a new environment]."
Similar to TAEHUN's bit about being active, HWI describes his boyhood as the state of being a cool, playful, and nice kid, which earns him a nod from SUNGJUN, who calls the former an "activity boy." Speaking of, SUNGJUN gestured coolly to signify that his boyhood is at the present time, especially "when [he] can express himself to the fans."
The New of "The New Six"
When asked about what makes their third mini-album special, the members are quick to bring up their concept videos and teasers, which evidently nod to the Y2K craze and first generation K-pop — complete with all-white outfits, 2000s-style television, and iconic middle-parted hairstyles.
True to their name, the sextet is adamant on bringing something new to the table for each of their releases, as seen in their ability to explore various concepts. While their third mini-album delves into a refreshing vibe (or "청량" in Korean, which yields search results of seascapes and blue motifs also seen in the "Kick It 4 Now" music video), this is not the only concept THE NEW SIX has tried out or will try out in the future. Their debut album WAY UP showed off the group's ability to pull off a darker side, which has been characteristic of many fourth generation boy group releases.
To transition from this edgy concept, complete with trumpet-heavy melodies and leather outfits, the group released their second album Love Never Dies. The album took on a more emotional and melancholic turn, capturing feelings of teenage angst and young love. While there were still darker themes, Love Never Dies allowed the group to hone in on concepts that focused on one's youth, ultimately leading them to the release of BOYHOOD.
Regardless of the concept they take on, progress is a common thread for anything and everything TNX do. HYUNSOO speaks on behalf of all his members when he says that they don't have a type of concept they prefer, as they see any concept as a way to convey their effort to their fans.
Coming from survival show Loud (2021), a collaboration between industry icons J. Y. Park and PSY, the TNX boys know more than a thing or two about hard work. SUNGJUN shares that "we've been trying to show our best to our fans, THX, and we think this is what makes us us." Ultimately, the group remains steadfast and curious about doing better each time they prepare for a comeback.
Behind, Above, and Beyond The New Six
As the first idol group under PSY's company, P NATION, it was only in order for the members of THE NEW SIX to talk about the lessons they've learned from key industry figures including the hitmaker himself. HWI shares that PSY as their producer "can hear what others cannot" by catching minute noises in their music to point out what incremental yet impactful improvements to make. Being a producer himself, HWI cites PSY as his role model due to the latter's high position in the industry and ability to stay at the top despite the hardships that come with doing so.
HYUNSOO also mentions PENOMECO as someone he looks up to as the group has received a lot of feedback and help from the K-R&B artist in their music journey. Given TNX's passion for music, SUNGJUN considers worldwide pop star Justin Bieber as "the reason I [took an] interest in music," with the youngest member getting "a lot of help" in expressing himself through listening to Bieber's songs.
That said, as driven the group is, music is not their only driving force. TAEHUN and KYUNGJUN look up to their parents because of the endless amount of love and support they've received growing up. SUNGJUN also mentions that the group spends their free time with their families by sharing meals and having conversations whenever they can.
THX to…
Throughout the promotions of their latest album BOYHOOD, TAEHUN shares that THE NEW SIX hopes to show off fresh vibes and happy energy perfectly fit for the summertime.
As they promote their latest album and reach new feats, the boys want to dedicate everything to their fans. They gave special thanks to their fandom, THX, complete with heart signs and professions of love from the entire group.
"Because we prepared really well and worked really hard [on our comeback], we wish that THX could enjoy what we [have in store]," SUNGJUN says. THE NEW SIX promises to do their best and work hard at all costs. While THX can always look forward to what new things TNX has to offer time and time again, the group's mentality built on effort is timeless and is bound to carry them to new heights.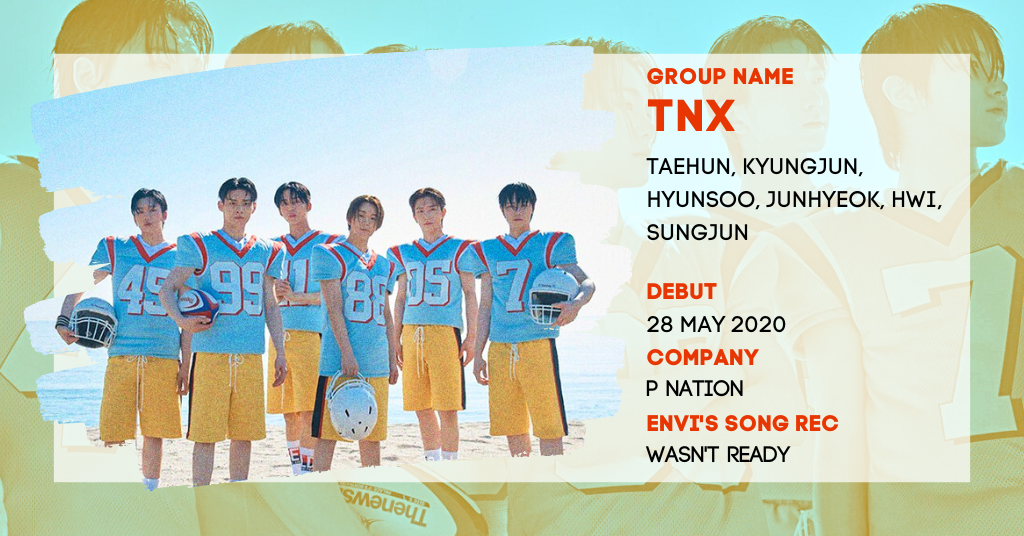 Want more of THE NEW SIX? Follow them on Instagram, Twitter, and TikTok, or watch the music video to "Kick It 4 Now" here!
Looking for more groups to stan? Read our exclusive interview with 8TURN here!
*Member JUNHYEOK was unable to participate in the interview due to his hiatus.