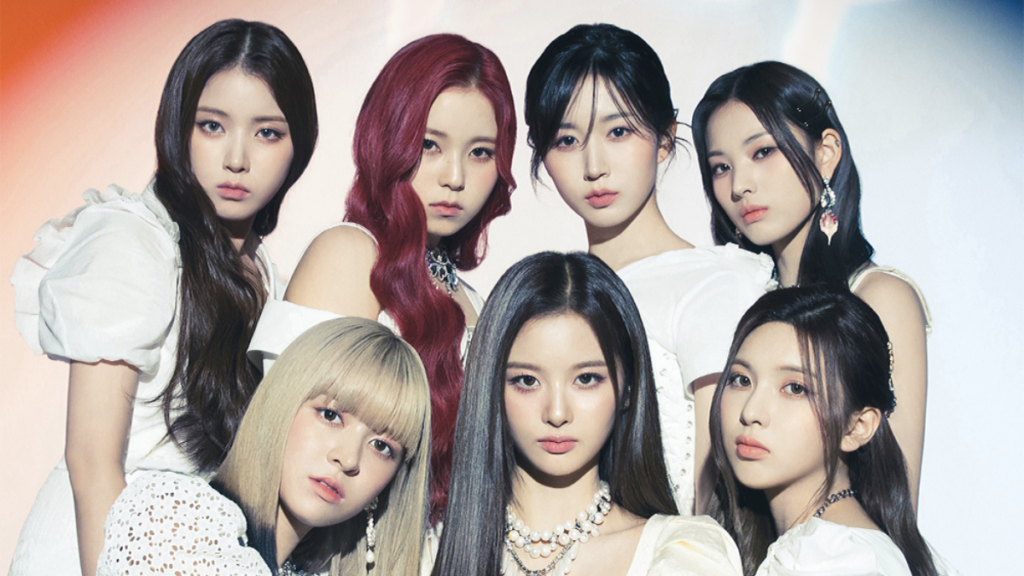 Despite K-pop's fast-paced nature, the wait for debuts and comebacks can test one's patience. Fortunately, most things are worth the wait, and NMIXX are a great example. Last September 19, JYP Entertainment's latest girl group made their first comeback with their second single album ENTWURF. 
While the septet made their debut with "O.O" in February, JYP Entertainment teased the group's debut for roughly six months through a "Blind Package," a mystery album package that initially concealed the group's identity, to be sent out at their debut. This sold more than 60,000 copies before anyone knew anything about the members. For EnVi's third piece of "The GGreat Battle" series, let's see why and how this mix may be a match for you.
The Mix of NMIXX
NMIXX are a seven-member girl group whose members were extensively teased by JYP Entertainment long before their debut. Instead of the usual concept images, members were introduced to the public through videos showcasing their various talents. Members Jinni, Jiwoo, and Kyujin were often featured in dance videos, but they also showcased their individual vocal prowess. Speaking of vocals, members Lily and Haewon and Sullyoon and Bae were respectively paired together for vocal covers while sharing individual covers, too.
Some NMIXX members have also been in the spotlight prior to all this. Korean-Australian member Lily's first claim to fame was her participation in K-pop Star Season 4, where she received contract offers from JYP Entertainment and YG Entertainment. Meanwhile, Jinni made an appearance as a backup dancer for 2PM Nickhun's "Lucky Charm" music video. Before joining JYP, Sullyoon formerly trained for Woollim Entertainment, and she also received contract offers from SM Entertainment and YG Entertainment. All the girls have had established pre-debut backgrounds in performing arts, as seen in their art school enrollments and dance academies, among others.
MIXXing It Up
During their debut rollout, JYP Entertainment emphasized that their newest septet would be putting forward a new style of music in K-pop called "MIXX POP." MIXX POP is characterized by its combination of various genres in fresh and unconventional manners. This was made clear in the group's first single "O.O," which combined pop, rock, and punk elements in a span of three minutes.
Given the unfamiliar nature of the song, many fans were initially confused about NMIXX's debut. "O.O" received mixed reviews across various fan spaces. Regardless of all the criticism, though, it seems that the group has been able to garner a sizable fanbase from the get-go. "O.O" garnered over 19 million views 24 hours within release, and their single album, AD MARE, sold more than 220,000 copies in its first week.
Prior to the release of ENTWURF, NMIXX sang two OSTs for American live-action series Gabby's Dollhouse and a remake of Rainbow's song entitled "Kiss."
Rolling the DICE
More than half a year after the release of "O.O," NMIXX came back with their newest single, "DICE." "DICE" is a pop song with jazz, hip-hop, and trap elements and influences. As a song under the MIXX POP umbrella, the song consists of multiple shifts and switch-ups. The vibrant single highlights the group's vocal chops and prowess even in bombastic melodies.
The girls seem to descend into Alice in Wonderland-like madness in their fictional world Mixxtopia, where NSWERs see the girls in a creepy circus and Mad Hatter-esque tea parties and board games, among others. True to the song title, a dice that decides on the concept the girls would find themselves in is dominant throughout the music video.
Like Ad Mare, ENTWURF also comes with a b-side. This time around, NMIXX offer "COOL (Your rainbow)," a dreamy R&B track reminiscent of a rainbow's iridescence. Once again, the girls get to show off their vocals, but in a much calmer melody. The song's magical aura makes it a fan favorite, especially for those who take a little longer to warm up to experimental music.
Onwards to Mixxtopia
With ENTWURF, NMIXX broke their personal record for first-day album sales. According to Hanteo, the second single album amassed over 250,000 units on the first day alone, rivaling AD MARE's first-day and first-week sales.
NMIXX will be promoting their latest single "DICE," alongside side-track "COOL (Your rainbow)" on domestic music shows. Beyond this, NSWERs can look forward to the group's mixing, matching, and experimenting with various styles and genres of music to put their best and boldest feet forward.
Looking for more girl group-centric content? Read our previous GGreat Battle articles for IVE and NewJeans.