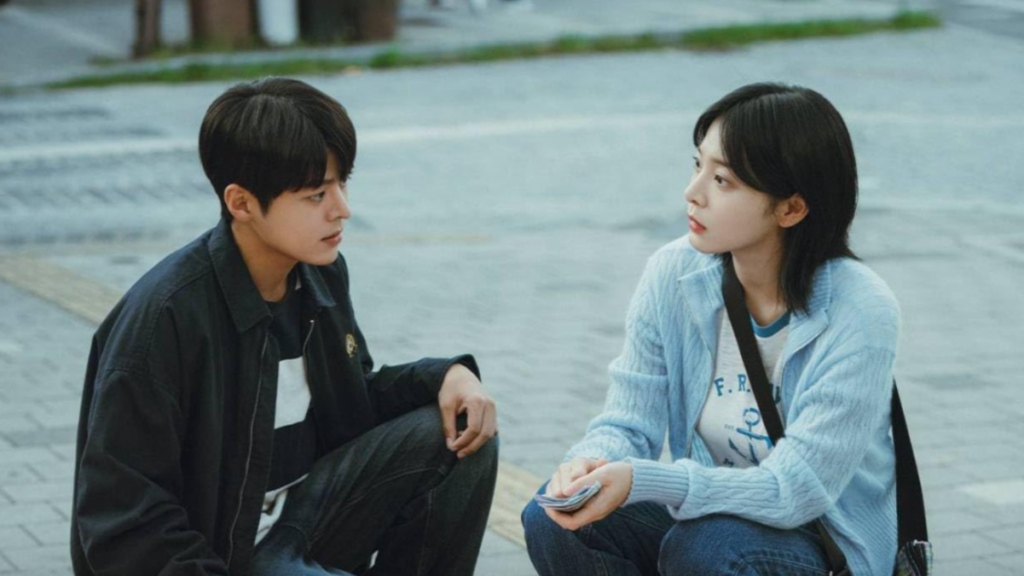 SPOILER WARNING: This article contains spoilers for Twinkling Watermelon Episode 1 and Episode 2.
Full of flavors tinged with the sizzling warmth of summer, Twinkling Watermelon (2023) is director Son Jung-hyun's newest coming-of-age K-drama. Having premiered on September 25, the new series savors the tastes of family, romance, and music through resident protagonist Ha Eun-gyeol — a high school CODA (child of deaf adult). 
Plot, Prodigy, and Practice
Ha Eun-gyeol is a musical prodigy, with a natural talent for guitar that leaves him feeling guilty for enjoying music when his deaf family can't. But having fallen in love with an instrument that gave him solace amidst bullying and familial responsibilities, he continues to secretly learn how to play the guitar throughout his childhood years. With an ever-growing dilemma that's continued into high school, Eun-gyeol is now stuck between pursuing medicine to please his parents or music to satisfy himself.
Deciding to discontinue music with a heavy heart, Eun-gyeol unknowingly travels back in time to 1995. Stumbling into a time where he shouldn't exist yet, Eun-gyeol's bizarre displacement leads him to finding his dad as a band member back in his high school days. 
Viva La Música
"In a way, [guitar] is similar to sign language. You initiate a conversation with your hands, and hear sounds as your answer." – Grandpa Viva
With a heavy heart of gold, Ha Eun-gyeol has always taken up the responsibilities of interpreting and looking after his deaf family. But when he stumbles upon the elderly owner of Viva Music, who teaches him how to play guitar, Eun-gyeol discovers how to selfishly vivir (live) for himself for the first time in his life through music.
Reminiscent of childhood filled with days snuggled under the covers with a flashlight to read, the series embraces the newfound love of discovering and learning something new. Using guitar as his escape from being the bridge between the worlds of sound and silence, Eun-gyeol enters a newfound realm of music.
Fueling his natural talent for guitar, the elderly owner — endearingly called Grandpa Viva — steps in to guide Eun-gyeol into embracing his dual identity as a CODA and guitarist. As Grandpa Viva insists on the similarities between sign language and guitar, Eun-gyeol finds that his identities aren't so different from each other. To speak into the guitar is to speak with his hands as he would be conversing in sign language. And as a master communicator now sent to the past after his decision to stop pursuing guitar, maybe Eun-gyeol's passion for music will twinkle once again.
Starring Seeds of Twinkling Watermelon
Twinkling Watermelon features Ryeoun, Choi Hyun-wook, Seol In-ah, and Shin Eun-soo as the main starring quartet inside the 1995 storyline. With some familiar faces from Weak Hero Class 1 (2022) and Business Proposal (2022), the quartet brings a rich performance as passionately headstrong youth. From cold and aloof to miserably flirtatious, the character diversity features an undeniable chemistry that sweetens the natural banter of high school students. 
For a series that embraces the impact of music to the point of time travel, Actress Seol recommends the song "GRIPPIN'THEGREEN" by Jannabi as a good representative song of the series. Pairing the natural innocence of one's school days with the boldness not yet tainted by adulthood, the series embodies the heartfelt warmth and liveliness of youth. And just like its title suggests, Twinkling Watermelon's tangy and refreshing storytelling offers a lick of summertime sweetness.
With Episode 5 soon to release on October 9, check out more Twinkling Watermelon content through tvN's official YouTube and Instagram.
Interested in more ACT!ON K-drama content? Read our piece on Cha Woongki's upcoming K-drama here!