Growing up as a second generation child of immigrant parents comes with a unique set of challenges—the most common being identity. Alternative K-pop group, UPTOWN BOYBAND, are determined to push a new narrative and help bridge that cultural gap.
EnVi met up with Roc Lee and Justin Trash, two-thirds of the Korean-Canadian trio, at 88rising's Head in the Clouds music festival in Pasadena, California. Sitting in a plush booth inside the Rose Bowl's Brookside Clubhouse, we chatted about Asian representation, their songwriting process, and what it means to redefine a new generation of boy bands.
A Second Generation Bond
Hailing from Toronto, Canada, UPTOWN BOYBAND went into detail about their shared identity crisis experiences. "Growing up in Toronto was very confusing because we identify ourselves as Koreans. But at the same time, we were never really raised in Korea so we were really in between those two cultures," said Roc. "We also realize we're too western for Korea and we're also too Korean for the western side of things," added Justin.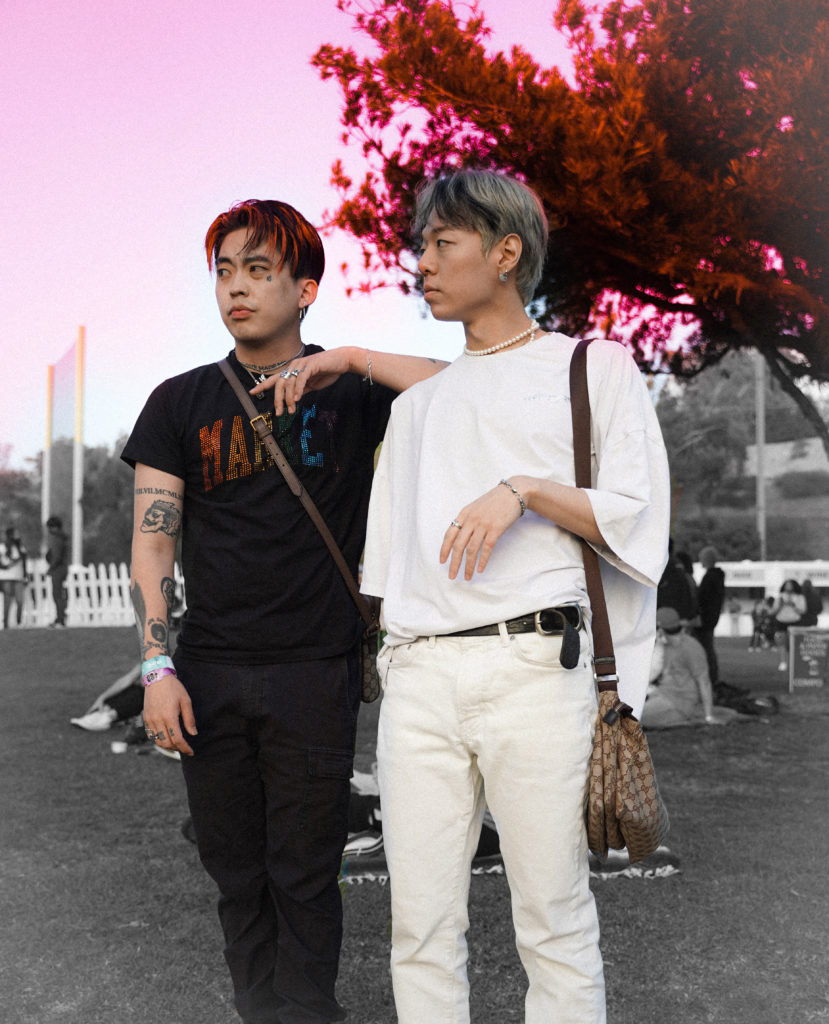 Add to that the lack of diverse representation in media, the guys also feel they didn't have a lot of role models to look up to. Using this shared sentiment, UBB came together to "make music about the vision of being a second generation Asian," as Justin put it.
Even their name pays homage to their roots. Uptown Toronto is where K-town is, and "boyband" is used as a double entendre. On top of their shared stories of second-generation Asians, the members come from creative backgrounds. Justin grew up writing poetry and skipping school to make music, and Roc studied fashion design.
The guys, who met through a mutual friend in the industry, hope to inspire the next generation of Asian creatives. "We really want to bring that message forward and become those role models we didn't have growing up. And that is essentially what we are trying to do with our music and art," said Roc.
When asked how they define a role model, Roc said, "Anybody that can inspire, give motivation, and give purpose to their community. Someone who can guide me towards what I can offer in the world."
Redefining Boy Band
In addition to bridging the cultural gap between east and west, UPTOWN BOYBAND is also unique for their knack of breaking industry tradition. "There's an alternative route of making a boy band … We don't take the traditional route, we're not traditionally beautiful, we're redefining all those things," said Justin.
With his tattoos and flaming red highlights, Justin definitely gives off a more rockstar energy, but still fits in within the K-pop aesthetic. And sitting next to Roc—with his ashy blonde hair, warm smile, and good skin—it's hard to imagine either of them as not being considered "traditionally beautiful."
"We weren't in K-pop training camps, we were just kids who liked music growing up in Toronto," added Roc. "And we were like, 'We wanna make music, we're gonna call ourselves a boy band, we don't care what they say.' This is our new definition of what a boy band should look like."
Along with the new look, comes experimental sound too. UBB's music is inspired by some of their favorite artists including A$AP Mob, N.E.R.D., and Big Bang. "Our music takes sounds from things we grew up listening to: K-RnB, K-pop, hip-hop, trap music in the west," said Justin.
Like traditional K-pop, UPTOWN BOYBAND's music is influenced by a variety of genres, including rap, pop, RnB, and hip-hop. But staying true to their nontraditional foundation, they aim to redefine the sound.
"It's a blend of both cultures. Essentially, we're just trying to bridge that gap and create a unique sound that only we can make," said Roc. He then leaned forward and with a mischievous smile hinting at exciting things to come, added, "our sound."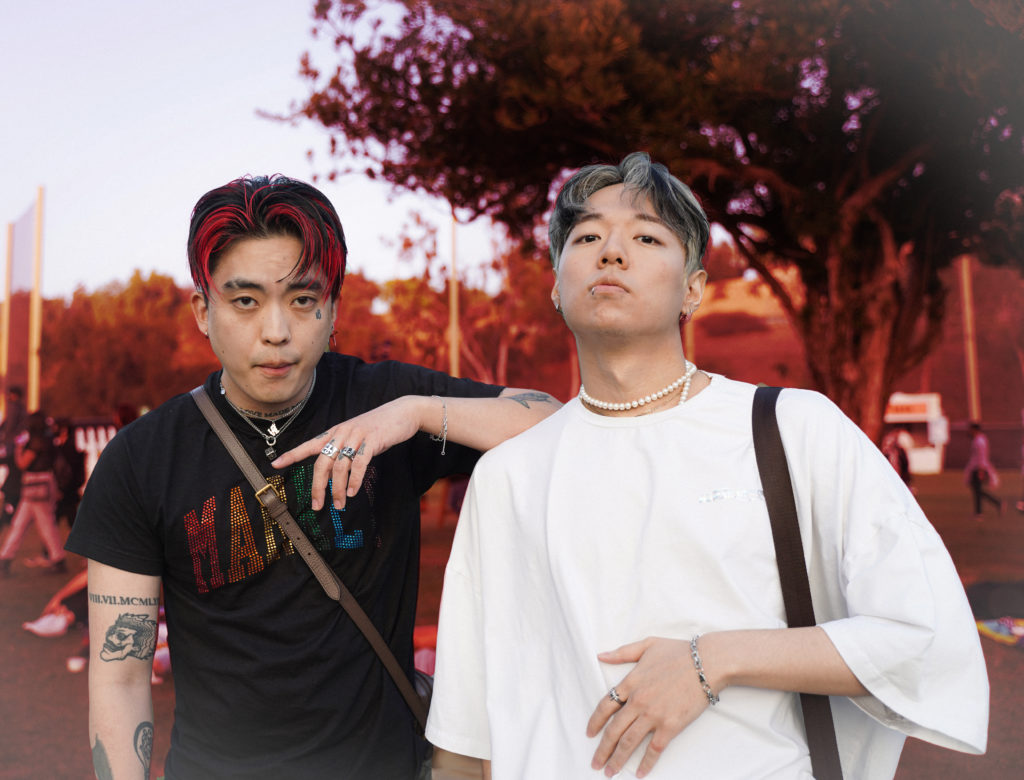 The Creative Process
The members describe their songwriting process as "natural" with a lot of free-flowing inspiration. "We sit down, we take inspiration from whatever we're listening to currently, and we'll knock down some melodies. Or if a concept will come first, we'll build around what comes up," explained Justin.
"We believe the ideas that come out first, are usually the good ones," added Roc. "It's a very natural process, we have fun and I think that's the most important thing: have fun writing songs!"
The process seems to be working because they're currently releasing one song a month. Their latest track and third single, "Tell Me," is a catchy, upbeat song paired with breathy vocals and emotional lyrics about trust issues. The music video has over 140K views on YouTube in just two weeks.
Releasing one song monthly—on top of visualizers, performance videos, and a slew of other content including social media teasers—can't be easy, but if it were up to the guys, they'd release even more.
"We're experimenting different ways to put our music out to the world and we definitely believe in the process," explained Roc. "If it was up to us, we'd release a lot more music, but sometimes when you're in a different structure in the industry there's different roll outs and plans," added Justin.
Rising Stars Heading Up
UPTOWN BOYBAND's excitement being at one of the biggest Asian music festivals shows on their faces as they list out all the artists they're looking forward to seeing. (They both agreed they were most excited for CL, which, same.)
"It's cool because it's something that we've always wanted to experience, but also hopefully be part of next year and the years to come," said Justin. When asked what their opening song would be in their Head in the Clouds lineup, the two looked at each other knowingly before teasing it's unreleased.
With an upcoming EP on the horizon, UPTOWN BOYBAND are more determined than ever to reach their goals. The self-made pop stars have words of advice for aspiring creatives too. "Don't focus on other people's journey," said Justin. "You have your own lane, definitely keep the tunnel vision. And the more you look ahead instead of the side, the more you're gonna be focusing on where your angle is."
Before wrapping up our interview to catch the next act, the guys added how much they love their fans, Club UBB. "World domination! We couldn't have done anything without them. They're the most beautiful people I know," said Roc. "They're all part of the journey, we're super excited to show them what we're creating."
Be sure to follow UPTOWN BOYBAND on Instagram and Twitter to stay updated on all their latest news.
Looking for more artist spotlights? Check out EnVi's interview with ATARASHII GAKKO! here.