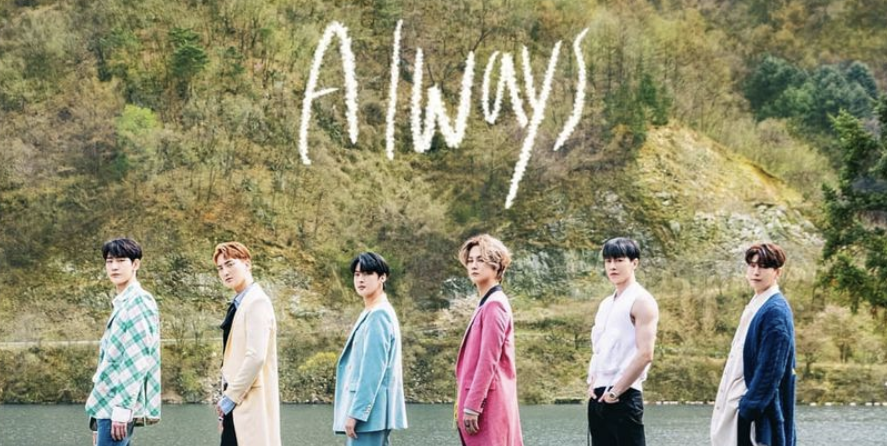 By Chyenne Tatum | @chyandblack
Seven months after their previous EP, Made For Two, VAV's remaining six members have released more new music for VAMPZ (their fandom), even if it's not the happiest of times for both parties.
Another Year, Another Farewell
In 2020, the septuplet group experienced the first of six pending enlistments (Chinese member Jacob being the exception) with lead singer Baron, who enlisted last September. This year, it's Ace's turn — the vocalist whom fans have graciously dubbed as the "prince" of VAV. Similar to how Made For Two was Baron's last group release before enlisting, Ace has also gifted fans with a farewell digital album on the day of his leave.
Always is a single album consisting of three songs: "Always," "Goodbye," and "Dry Flower," all of which were written and composed by Ace. Throughout each track, he and the other members expressed their immense love for VAMPZ and Ace's reluctance to leave.
Always By Your Side
In a greetings video, Jacob described "Always" as a "mid-tempo track with a combination of a simple guitar rending and VAV's beautiful voices." That couldn't be a more accurate description as the song opens with Ziu's honey-like vocals: "Hey my love, be mine. In your eyes, I see sunlight", he sings. Since VAV is known for the heartwarming interactions they have with their fans, it's not hard to feel the love pouring out of every syllable. The lyrics depict the reassuring warmth of the members as they mention being a shelter for the listener and always there when they need it. And although the group is stacked with outstanding vocalists, it's refreshing to hear rappers Ayno and Lou take on a softer, more melodic approach to their voices.
The two other songs on the album, "Goodbye" are "Dry Flower," are Ace's solo tracks and are both mesmerizing in their own ways. His voice is usually one of the softer ones in the group, so ballads have always shown off his timbre best. "Goodbye" is accompanied by a piano and light percussion as he conveys the heartbreak of leaving loved ones behind. Even if it seems like a sad circumstance, he assures VAMPZ that 'we will be fine' in the bridge as he takes them under his wing one last time.
In contrast to the soothing ballad, Ace describes "Dry Flower" as a song with a "strong and impressive chorus." It's a stark difference from the previous songs as it packs an immense amount of bass and even has slick choreography to go with it. The eeriness of its opening leaves you wondering where it's going. But by the end, the synths sparkle with Ace's high notes and closes the emotional album on a positive, upbeat note.
One Last Hoorah
On Saturday, May 8th, VAV held their last online fan meeting of the year titled, "Always Together," followed by one-on-one video calls with some lucky fans. During the fan meeting, the group celebrated their last few performances with Ace, answered fan questions, and played games for their online audience. Ace sported a short new haircut, ahead of it being shaved off completely afterward, but he never looked better. While the entertainment and jokes were lively and fun, it was time to get emotional halfway through the show. Three different videos played on-screen: VAV's messages to Ace, Ace's messages to VAMPZ, and VAMPZ messages for VAV.
[VLIVE] 2021 VAV ONLINE FAN MEETING [Always Together]

Replay Always Together ❤
? https://t.co/eZIpm2pLKd #VAV #브이에이브이 #Always#VAMPZ #뱀즈 #AlwaysTogether#VLIVE #OnlineFanMeeting

— VAV (@VAV_official) May 10, 2021
In Ace's video message, he recalled the best memories of his time with VAV so far and how the fans gave him strength during the toughest times. When asked what VAV means to him, he replied, "VAV is my 20's. I met VAV in my youngest and most handsome period, so being a part of [the group] and doing all kinds of promotions is the most memorable thing for me." He also noted how much he enjoyed reading fan letters and was genuinely appreciative of their words of encouragement through the years.
Until Next Time
Now that both Baron and Ace are serving in the military, VAV is down to five active members and according to their current ages, St. Van would be the next to leave. It remains to be seen what the remaining members will do in the meantime, but producer Ryan S. Jhun hinted on V Live (with Ace) that a full comeback shouldn't be expected until 2022, maybe even 2023. With that dark cloud of disappointment looming over VAMPZ heads, any type of solo or unit project is fair game for VAV.
Enlistments are never fun for the fans waiting, but at least this will give Ace a chance to recharge and experience a new environment. Until then, fans are wishing him a speedy and healthy service so he can return to music as soon as possible. After all, he's one of the seven Very Awesome Voices that this industry has yet to truly discover.
You can listen to VAV's Always on all streaming platforms and follow the group's Twitter & Instagram accounts here.
Have you heard? EXO is coming back! Check out the sweet teaser and fan reactions of the sneak peek here!
Thumbnail Courtesy of A Team Entertainment