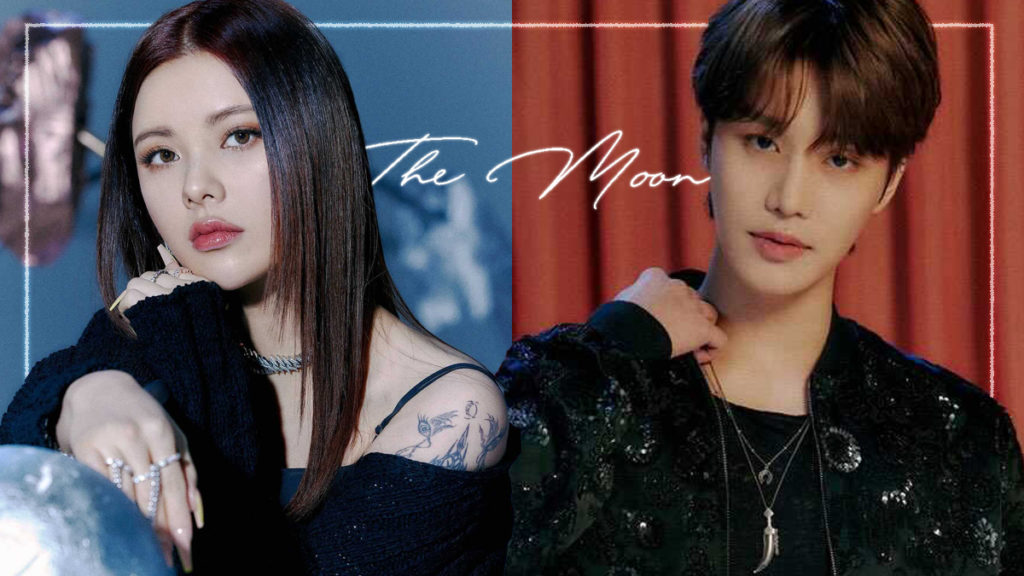 By Chyenne Tatum | @chyandblack
On April 6th, Korean R&B artist Moon Sujin announced her upcoming single, "The Moon," featuring Moon Taeil of NCT. Moon Sujin is currently signed to Million Market, one of the many subsidiary labels under SM Entertainment with other artists like Chancellor, Penomeco, and Suran.
You may know Moon Sujin from her collaborations with fellow R&B and hip-hop artists in the industry: Zion.T, Dok2, Chancellor, and several others. But most notably, she was featured on EXO-SC's 2020 release, "1 Billion Views," where K-pop fans instantly took a liking to her velvety vocals and stunning visuals.
Her project with Taeil is already causing quite the stir in NCity since this will be Taeil's first time working with another "Moon" in the industry, and because the name itself is such a special part of his identity. Fans are already dubbing the collab "2Moon," a very cute and fitting nickname for the pair.
moon sujin featuring moon taeil singing 'the moon' this is poetic this is good this is GREAT pic.twitter.com/lXXEvNmdkZ

— THE MOON TODAY! (@ekfxodlf) April 6, 2021
" Moon Sujin's single "The Moon" ft. NCT 's Moon Taeil will be release on April 11 at 6:00 PM KST. "

both 94 liners, both moon, and both vocal gods ? pic.twitter.com/3FvSapb1zr

— zy (@zndreya) April 6, 2021
And now,
on April 11, 2021 at 6PM KST.

MOON SUJIN will release her new single, 저 달 (The Moon) feat. #TAEIL of NCT.

Her dream is to come true today for having a collab with NCT's vocal line, Moon Taeil! Thank you for pick Taeil as your duet partner ??? https://t.co/iPCFWfyRC7

— 탤유니버스? 저 달! (@TAEIL_UNIVERSE) April 6, 2021
what happened today in mooncity:

? taeil tuesday
? fanplus birthday votes
? 5 years of taeil being introduced in nct u
? "the moon" collab
? mukping chilling new episode

210406 will be marked as one of the best & most iconic days in moondanse history

— ANCELE IS STREAMING THE MOON (@moontaeillie) April 6, 2021
i thought i tweeted this already but MOON sujin and MOON taeil, the 2Moon collab omg iconic already

— j ♡.̫♡ 2MOON (@dprckyun) April 6, 2021
After expressing her wish to work with NCT back in November, many fans are glad to see it's finally coming to fruition! You can listen to "The Moon" by Moon Sujin, featuring Moon Taeil on April 11th, 6 p.m. KST.
Have you listened to Kun and Chenle's "Free Love" cover yet? Read all about it here!
Thumbnail by @karenmayc