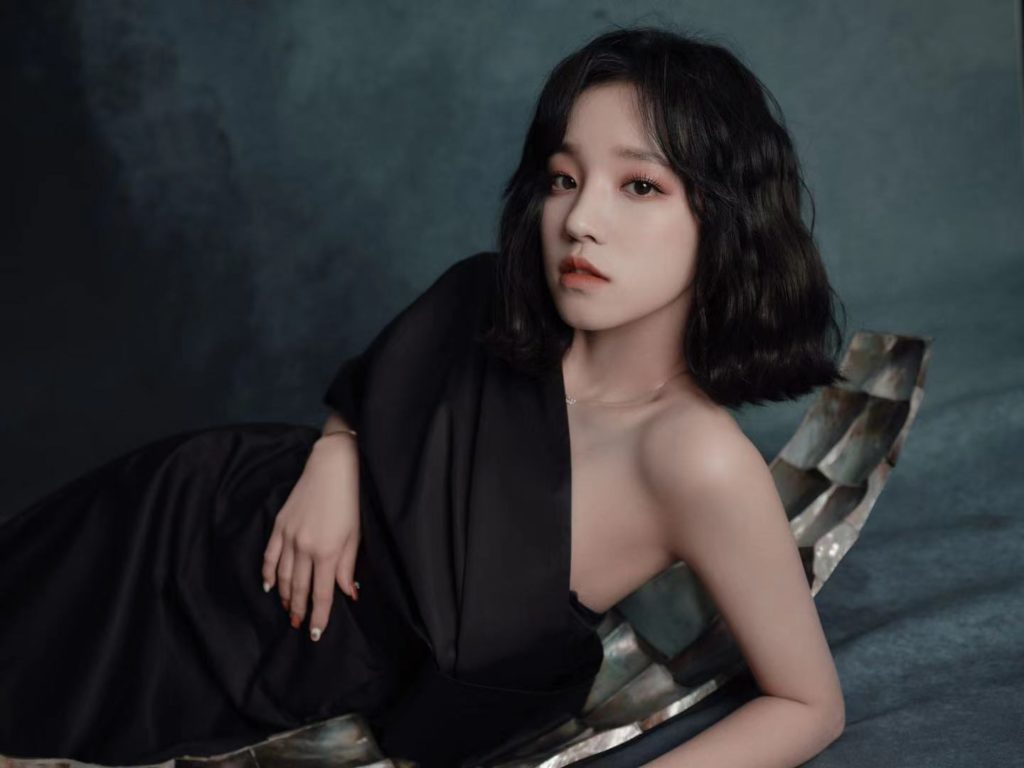 By Valerie Lopez | @valschwarie
Song Yuqi, a Chinese member of the K-pop girl group G-IDLE, adopted an edgy style in her solo debut with her rock single album A Page. On May 13 at 6 PM KST, Yuqi released two digital singles: "Giant" and "Bonnie & Clyde," both entirely in English. The music video for "Giant" was released on May 13, and the video for "Bonnie & Clyde" came a week later on May 21.
An Uplifting Rock Song — "Giant"
"Giant" is a pop-rock song with heavy guitar, co-written by Yuqi, BOYTOY, Young Sky, Peter Hyun, and ChaTone. It is an empowering song with lyrics that describe overcoming hardship and self-doubt and standing up against the negativity of others. 
The song slowly builds to the chorus when Yuqi sings, "I will rise up like a giant, Hold my head a little higher. The music becomes more epic before mellowing out until the buildup for the next chorus. 
To suit the lyrics about inner turmoil, the music video is an animated story about a girl who struggles until she finds her inner light. The video is animated in black, yellow, and mauve shades; the simplicity of it all highlights the meaning behind the lyrics. 
A Classic Love Anthem —"Bonnie & Clyde"
Yuqi's second single, "Bonnie & Clyde," describes a relationship where both parties are in love with each other without a care in the world. The single is based on the popular story of the American criminal couple Bonnie and Clyde. Bonnie and Clyde were notorious for their robberies. The lyrics of the song reference this tale stating: "I don't need money to feel good, 'Cause you're the ride or die the rest of my life."
The rock track is produced by Joel Strömgren and co-written by Galen Tenhaeff, Catalina Schweighauser, Joel Strömgren, and Benjamin Roustaing. In comparison to "Giant," it has more pop elements, even with a rock edge.
In contrast to her simple, animated video for "Giant," Yuqi's music video for the track "Bonnie & Clyde" is more action-packed like a film. In the video, Yuqi is escaping from the police in an intense getaway, showing off her acting abilities. To match the edgy video, Yuqi has a chic wardrobe full of dark yet stylish clothing.
A Seamless Transition
G-IDLE has always had a haunting, unique sound, which was highlighted by the members' diverse yet complimentary vocals and rap.  Because of their experimental sound, it is natural that Yuqi, a singer in the group, took on a new genre with her husky vocals. 
In addition to her work with her group, Yuqi has been promoting in her home country, China, through her role on the Chinese variety show Keep Running, and live stages at the Baidu GuoChao Ceremony and Mageline's Anniversary Event. 
Yuqi's edgy image and sound are new, but not unwelcome. Yuqi unveiled more of her vocal range in her debut singles "Giant" and "Bonnie & Clyde." Her debut as a solo artist is giant, and has stolen the hearts of her fans, Neverlands!
Want more music coverage? Check out our review of Taemin's recent album Advice!
Thumbnail courtesy of Cube Entertainment