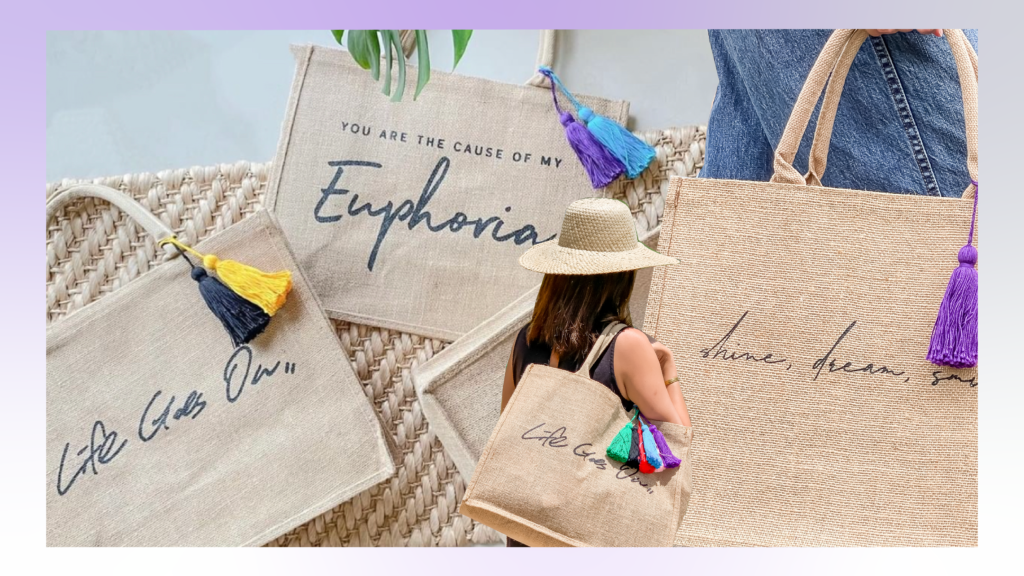 Summer is all about doing activities under the sun. If you're looking for the perfect BTS-inspired bag to carry your summer essentials then this Philippine-based online shop got you! In this latest edition of Small Business Spotlight, EnVi interviewed the owners of 6100 ARMY Fix about their jute bags, their journey from being K-pop fans to establishing their own online shop, and how they give back to their community through their small business.
From Childhood Friends to Business Partners
Brought together by their love for BTS, childhood friends Angeli, Jeri, Nicole, and MM established 6100 ARMY Fix with the intention of what Jeri describes as "bringing joy to like-spirited individuals with BTS-inspired products that support their advocacy for mental health." Jeri tells EnVi that they differ from other shops through their standard components of aesthetic, functionality, and cause.
The shop is named after the BTS fandom, ARMY, and 6100 is the zip code of their hometown in Bacolod, Philippines. According to Jeri, the "Fix" in their shop name means "satisfying or acquiring ARMYs' craving for BTS-inspired merchandise."
Jeri shared with EnVi that the idea of producing BTS-inspired tote bags sparked from one of their fangirling conversations. "We became ARMYs during the BE era, and their song "Life Goes On" from the said album holds a special meaning to all of us, given that it was the height of the pandemic. We thought it was fitting and timeless regardless of one's current circumstances in life, may it be an ARMY or not."
The Jute and Summer Aesthetic
Their core product, the BTS-inspired bags, and tassels are made from natural jute fabric with a laminated interior that is easy to clean. It comes with minimalist designs inspired by BTS' quotes and song lyrics perfect for the summer aesthetic. Jeri shared their curating process in their bag designs, "We get our designs from BTS songs that inspire us and all ARMYs. We also listen to our customer's suggestions. Once we have finalized which songs or lyrics we want to produce, we start our design process, considering that we wish to attain a natural and minimalistic look." The shop has a local supplier for their jute bags and tassels for easier production.
The Perfect Functional Bag
6100 ARMY Fix's idea of producing big tote bags started because their owners couldn't find a bag that can fit all their essentials, have minimalistic BTS-inspired designs, and fit their "Filipino Aunt" lifestyle. That is why they curated this 16×12.5-inch bag that can carry your items in one go. "It is functional, sturdy, and generous in size to fit all the day's essentials and is perfect for a weekend or beach getaway and grocery shopping," Jeri shared with EnVi.
Shop With A Cause
Their special edition boxes named after the BTS members come with a cause for every purchase. They were able to feed 51 undernourished children for 30 days through the NVC Foundation from the sales of their NamKook Mind Care Box. 6100 ARMY Fix also provided 80 students with a set of school supplies through the Tapulanga Foundation from the Jimin Kindness Box sales. With TaeJin Self-Love Box, the shop donated and planted 50 Narra seedlings in Nueva Ecija, Philippines through BTS Tree Park. Lastly, they gave 25 personal hygiene kits to the less privileged children from the Home of Hope Orphanage in Negros Occidental, Philippines through their SOPE Box. As their shop turned one this year, they gave a portion of their one-year sales to MentalHealthPH to support their leading advocacy, which is mental health.
Personal Favorite and Best Sellers
Among their variety of designs from "BTS songs with uplifting, hopeful, and optimistic messages on loving yourself" as Jeri described, 6100 ARMY Fix shared their personal favorite items from their shop. One of them is their Shine, Dream, Smile bag, whose name came from BTS' song "Mikrokosmos." "This song expressed how one person in a world of seven billion can be small and insignificant but still mean and value so much. This phrase, Shine, Dream, Smile, reminds us that you are your own star and never be afraid to dream. Use your light and choose to shine it brightly. Smile because you matter. "
Their best-selling design is the "Borahae" one that is inspired by the term coined by BTS member V which means "I purple you." Jeri further explained that "It's like a promise of BTS and the ARMYs to love and trust each other until the end."
If you are interested in 6100 Army Fix's items, you can visit their Instagram and Facebook Page to order. Currently, they only cater to buyers in the Philippines.
If you're looking for more BTS-inspired items, check out our Small Business Spotlight with Ara Collection.