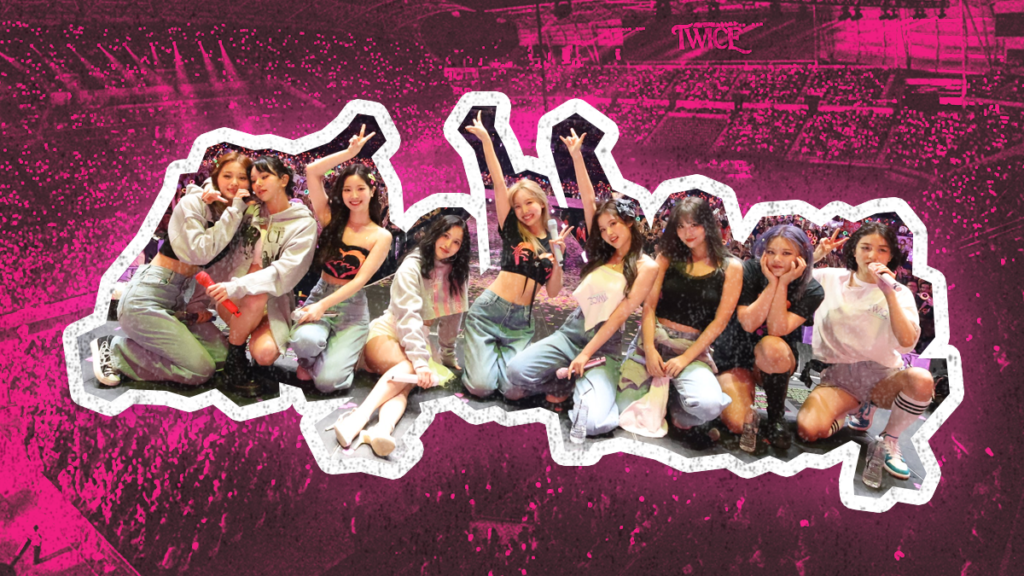 TWICE has been smashing records since debut–from being the girl group with the most music show wins to the best-selling Korean girl group of all time in both South Korea and Japan. Members Nayeon, Jeongyeon, Momo, Sana, Jihyo, Mina, Dahyun, Chaeyoung, and Tzuyu are no strangers to breaking records.
Coming off stage at Banc of California last Sunday, they became new record holders: the first K-pop girl group to hold–and sell out–a stadium show in the US.
The two nights in Los Angeles wrapped up their monumental "III" tour, which included fully sold-out shows in South Korea, across the US, and at the Tokyo Dome.
It was clear they were excited to be back in the US so quickly. As Sana stated, "Last time, I was happy to finally see you again after a long time. This time, I'm happy to see you so soon."
Giving Everyone "The Feels"
The high-energy concert opened up with their first all-English single "The Feels." They rose from underneath the stage in brand new all-white outfits, replacing their previous shows' plaid looks.
The audience screamed as each member had their moment on the big screens, proving they were just as excited as TWICE.
They then performed 2019's "Feel Special" and Eyes Wide Open b-side "Up No More" before taking their first break to chat with fans. In a mix of English and Korean, they expressed their happiness to perform in the US again. Dahyun then gave a clue for their next song, which as Chaeyoung had said "described TWICE."
Naturally, it was "Queen," another b-side from Eyes Wide Open with a prop-based choreography. After which came 2019's smash hits "Fancy" and "Turn It Up."
A More Mature TWICE
The first section of the concert highlighted what TWICE does best: upbeat, feel-good, pop songs. The next section showed the newer, more mature side that TWICE has revealed over the last two years. Opening with the big band song "Shot Clock," TWICE kept good on the song's promise of making the audience "holler all night long" as the crowd cheered along.
Changed into western-inspired black leather outfits, they performed some of their edgier songs like "Cry For Me," "I Can't Stop Me," and "Get Loud."
Next came "Espresso," as they encouraged the stadium to chant "E-S-P-R-E-S-S-O that's what I am" along with them.
They closed out the section with all-English b-side "Icon" from their latest album Formula of Love. In front of a sea of over 20,000s ONCEs and on the heels of their sold-out tour, the song's lyrics "I ain't going nowhere, I'm an icon" certainly rang true.
🎥 Chaeyoung ICON RAP

https://t.co/uSoCqby4VU pic.twitter.com/hOiPDj7iOa

— twice_trans 💟 (@twice_trans) April 23, 2022
Dancing in the Moonlight
The third segment was easily the longest, combining some of TWICE's past hits like "Knock Knock" with their more recent releases like "Scientist."
Donned in pastel and bedazzled outfits, they blazed through hits like "What is Love?," "Dance the Night Away," "Alcohol-Free," "More & More," and "Heart Shaker" with ease–you would have no clue they were already on hour two of performing. Each performance had the energy and style TWICE is known for on-stage, making them an absolute joy to watch.
They also slowed things down with ballads like "Rewind" and Jihyo's self-composed "Cactus." Although slower songs, TWICE kept the energy high in these performances. Jeongyeon and Jihyo's vocals were a highlight of "Cactus," and Momo's solo dance moment in "Rewind" is especially liked by fans, bringing an extra level of energy to the song.
#MOMO durante a performance de 'REWIND'.

TWICE ENCORE DAY2#TWICE_4TH_WORLD_TOUR_ENCORE #TWICEINLA @JYPETWICE pic.twitter.com/xnh4IohaMx

— TWICE Brasil #TWICE4 🌷 (@oncetwicebrasil) May 16, 2022
TWICE also performed Formula of Love b-side "Moonlight," which they delightedly sang underneath a full moon visible from the stage. Sunday's show even had a special treat. The group performed "Moonlight" during a partial lunar eclipse visible over Los Angeles. Chaeyoung said she felt like she was "in a drama." Nayeon was impressed by the crowd singing along, as she said she found her lines difficult. Nayeon and Jihyo then led the audience in singing the bridge again, letting the fans lead.
MOONLIGHT ONCE ver. 🌝✨
@ Banc of california stadium#TWICE #트와이스#TWICE_4TH_WORLD_TOUR_ENCORE pic.twitter.com/hipqLDbaGX

— TWICE (@JYPETWICE) May 15, 2022
"Hello" Sub-Units
2021's Formula of Love showed TWICE's first dip into making sub-unit songs, or songs with only select members of the group. These tracks were showcased with their own stages on this tour.
First up was "Push and Pull" by Sana, Jihyo, and Dahyun in complementing pink, blue, and purple outfits. The members started performing solo choreographies in different parts of the stage, each featuring different props. They then came together at the end of the stage to finish the song, showcasing a catchy choreography and vocal performance.
Then came fan-favorite "Hello" by Nayeon, Momo, and Chaeyoung. They emerged on stage riding a hot pink convertible in matching pink velour outfits and feather-lined cowboy hats (a popular look to recreate as concert outfits). As one of TWICE's rap-heavier songs, "Hello" had the audience shouting along to the addictive "Hello we up run this city" chorus.
Last up was Jeongyeon, Mina, and Tzuyu's rhythmic tropical "1, 3, 2." With the lights dimmed, their sparkly gold outfits made them shine on stage, as did their moody vocals and hypnotic flashlight choreography.
Encore Roulette
Finally came the fourth and last section of the concert–the encore, featuring "Yes or Yes," "Candy," and the much-anticipated encore roulette wheel. A key feature of the tour's previous concerts, the roulette wheel featured songs from old hits that weren't on the setlist like "Cheer Up" and "TT", to fan-favorite b-sides like "Touchdown," "Cruel," and "Hell in Heaven."
TWICE "III" ENCORE @ LA – Encore Wheel Roulette Songs

Sweet Talker
Chillax
Hell in Heaven
Sunset
Do What We Like
TT
Cruel
Do It Again
Likey
Say You Love Me
You In My Heart
Go Hard
Stuck In My Head
Like Ooh-Ahh
Cheer Up
Say Something
Touchdown
Three Times A Day pic.twitter.com/tNFV8PyOKC

— twice_trans 💟 (@twice_trans) May 15, 2022
TWICE would spin the wheel to decide the next song in the encore. Or, in the case of Saturday's concert, playfully push it to the song they wanted to sing. The encore roulette gave fans performances of Year of YES b-side "Sunset," 2016's uber-successful "TT," and the ever-popular "Touchdown." It also included a Dahyun original Encore Roulette theme song, sung to the tune of Red Velvet"s "Russian Roulette."
The wheel was taken off stage, much to TWICE's chagrin, as they would have gladly kept spinning all night. They had one last gift for fans: a reprise performance of "Dance the Night Away" with an added fireworks show to close out the concert.
Brightening the night sky with DTNA🤩#TWICE #트와이스#TWICE_4TH_WORLD_TOUR_ENCORE pic.twitter.com/JGLjzEMBvh

— TWICE (@JYPETWICE) May 16, 2022
A Love Letter to ONCE
If there was one consistent theme for the concert, it was TWICE's love for their dedicated fan base, ONCE. This is also evident in the tour's name "III"–meaning "I" for ONCE, "II" for TWICE, and "III" for the two combined. Dahyun led a cheer for the audience, yelling "ONCE!" for the audience to respond "TWICE!"
The show had interactive intermissions between sections. TWICE invited ONCEs to play and dance along to cues on screen for a chance to be featured on a live feed.
Throughout the concert, TWICE squeezed in ments–moments when they interacted with the audience. The last ment included Nayeon reassuring ONCEs that TWICE will be back soon. Nayeon led a call-and-response shouting "It's not over!" to which the fans call back "until it's over!"
They constantly expressed their excitement to be performing in front of fans, and how grateful they were that ONCE helped them get to where they are. Jihyo said that "today would be a great memory, because of you, ONCE," and Jeongyeon added that "this is all thanks to our ONCE."
It's Not Over Until It's Over
Seven years into debut, TWICE isn't showing signs of slowing down. They've slowly but steadily been amassing their own K-pop empire to match some of the biggest groups in the industry, and they're starting to bring that legacy over to the U.S.
The dedication of ONCEs and the passion that TWICE exerts in every minute of their performances show that these stadium concerts are only the beginning for TWICE.
Follow TWICE on Spotify, YouTube, Twitter, and Instagram! Or check out the members' new individual Instagram accounts: Nayeon, Jeongyeon, Momo, Sana, Jihyo, Mina, Dahyun, Chaeyoung, and Tzuyu.
Relive the concert memories (or act out your concert dreams) with their tour setlist.
Want more concert recaps? Check out our coverage of CIX's Rebel in U.S. tour.