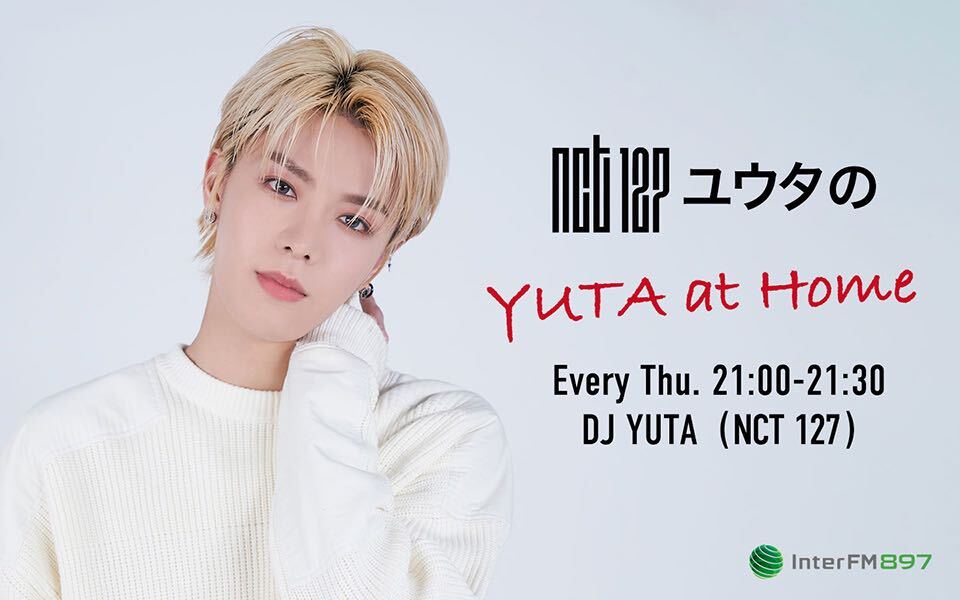 By Marbella Ramirez | @jaehvunity
In December when NCT's Yuta started hosting YUTA at Home, he wasn't fully equipped with the setup necessary for broadcast. Little distractions could be heard in the background, but then Yuta was given a studio. When his segment was set to end in late February, he was granted a month extension. Once again, the hourglass could be heard as it almost drained out. Thankfully, the fans' worries were resolved when Yuta was officially announced as a permanent DJ on March 19th.
皆様の応援のおかげで、InterFM897「NCT 127 ユウタのYUTA at Home」が4/1以降もInterFM897及び全国JFN系全国15局ネット(予定)での放送もスタートすることが決定しました。
これからも #YUTAatHome に毎週遊びにきてくださいね? ?

詳しくはこちら▼https://t.co/d50gct4gXC pic.twitter.com/wdy48rlTW2

— NCT_OFFICIAL_JP (@NCT_OFFICIAL_JP) March 19, 2021
This is the second extension awarded to Yuta's YUTA at Home, proving the strength of fans in their fight for attention from InterFM and SM Entertainment. Several weeks were spent sending appeal emails organized by fan accounts, it was how the first extension was granted. However, instead of conforming to a single extension Ai's (the name Yuta gave his fans) argued that he deserved more.
?BREAKING NEWS?
FINALLY YUTA'S RADIO IS GETTING EXTENDED.

WE DID IT AI!!!

CONGRATULATIONS. ??

WE ARE CRYING FOR REAL!
?❤️#YUTAatHome https://t.co/3sdYsLdJLu pic.twitter.com/GwQ8dFrGeO

— NCT YUTA SQUAD (@SQUADNYT) March 19, 2021
and at the end of the day yuta keeps winning he got that indefinite extension and airplay in more stations nationwide bcs of demand from his home … very proud of him

— alias (@benitaeil) March 19, 2021
do you understand how happy i am?? yuta started this radio with no setup, probably bc sm underestimated him and expected it to not be as popular, but yuta proved them wrong!! he got a studio, then a month extension, and now he's a regular dj there, im so proud of him ? #YUTA pic.twitter.com/Blpw46iiVW

— cami 愛 (@nctshunty) March 19, 2021
Along with the news of a regular program, Yuta has been given a wider audience reach. In addition to InterFm's servers, 15 JFN-affiliated stations across Japan will begin to broadcast Yuta's YUTA at Home. The details of the sites have not been disclosed yet and will be announced on the AuDee website after April 1st.
Throughout LOVEHOLIC promotions, Yuta has gained recognition in his home country. NCT 127, as a whole, graced covers on magazines MEN'S NON-NO and ELLE Japan. On an individual level, Yuta has been mentioned multiple times on Japanese news and stores have shown their support for his radio openly. On select days from March 17th to March 30th, Yuta appeared on a diverse set of radio broadcasts apart from his own. 
[INFO] 210316 #YUTA will appear on the following radio broadcasts: (1)

• LOVE FM "Top of the Morning"
March 17, 7:00AM JST
• Kiss FM KOBE "4 SEASONS"
March 18, 7:30AM JST
• FM yokohama "Radio HITS Radio"
March 21, 2:30AM JST#NCT #NCT127https://t.co/Z95z5FPayI pic.twitter.com/WVS2wh6h33

— SM_NCT (@SM_NCT_BACKUP) March 16, 2021
There is one more week of one hour scheduling for Yuta's YUTA at Home on Friday, March 26th at 11 pm JST. Afterwards, broadcasts will be shortened to 30 minutes from 9 pm to 9:30 pm JST every Thursdays starting on April 1st. 
Emails are still welcomed at [email protected] as well as messages using #YUTA897 on Twitter. The time and day may have changed but Yuta radio is still home.
Yuta has officially cemented his position as a permanent radio DJ but he isn't the first, read more about NCT's history with radio here!
Thumbnail Courtesy of SM Entertainment