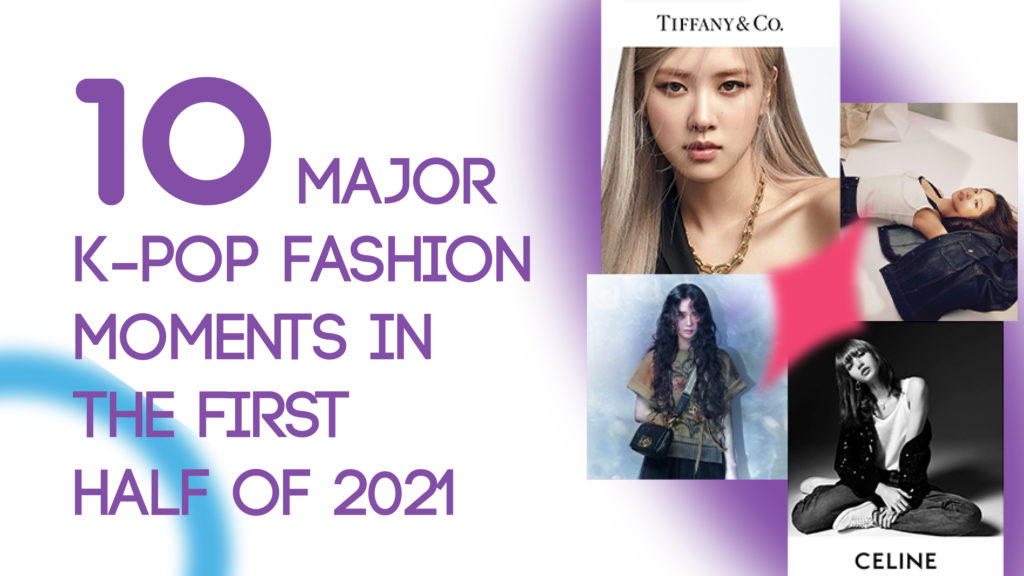 According to experts, K-pop idols have landed on the top echelon of social media, becoming "the most universally effective influencers." Over the past months, there has been intense coverage about the allure of these celebrities in the fashion industry. No longer having to prove their influence and commercial power, K-pop stars have accumulated several accomplishments under their belts and made a lasting impact in the global luxury market. 
Whether it is gracing the cover of international publications, collecting brand deals, or flaunting their flawless style on a normal day, K-pop celebs continue to make waves in the fashion world. From ambassadorships to collaborations and inspiring creatives, these multifaceted artists have changed the fashion game forever.
Here's a recount of 10 major fashion moments in K-pop during the first half of 2021.
WayV on the Cover of L'Officiel Philippines
On March 5, the fashion magazine L'Officiel Philippines released a teaser for the cover of its first-ever printed copy, hinting that things were about "to get wavy." A few days later, the publication offered more clues teasing that the "Vision" was "getting clearer and clearer". With those cues, fans of the NCT unit, WayV, were quick to discover that the publication was alluding to the international group as the cover star of the Spring issue.
View this post on Instagram
Considered to embody the essence of French style, L'Officiel was first introduced as the official magazine of the École de la Chambre Syndicale de la Couture Parisienne, and 2021 marked its 100th anniversary. The magazine is published in several countries including the US, Singapore, México, Italy, Malaysia, and now the Philippines. Though L'Officiel Manila already circulated in the country between 2015 and 2017, L'Officiel Philippines is a new chapter for this local edition. 
View this post on Instagram
Partaking in the reintroduction of such an important title was undoubtedly a remarkable feat for WayV, especially because according to the magazine's Editor-in-Chief, Danyl Geneciran, the group was chosen alongside Nadine Lustre and Yumi Lambert for a three-cover launch, after considering its  "relevance and impact" in the music industry.
Styled by Ryu Sihyuk in Louis Vuitton outfits, the members of WayV delivered a mature and stylish image that perfectly portrayed what we can expect L'Officiel Philippines to bring in upcoming issues: "global fashion and pop culture". And certainly, the cover stars did not disappoint. On June 2, L'Officiel Philippines revealed its debut number was reprinted and sold out on three occasions, setting a high bar for upcoming issues. 
G-Dragon Dazing in Chanel 
Despite the restrictions linked to the COVID19 pandemic and the Paris Fashion Week moving to the digital scape, on March 9, Chanel still found a way to showcase its front-row VIPs through several clips where the brand ambassadors joined a virtual waiting room and countdown to the Fall-Winter 2021/2022 RTW show. 
Amid a stylish group that included—among others—BLACKPINK's Jennie, top model Soo Joo Park, former f(x) member Victoria Song, Belge singer Angèle, and actress Margaret Qualley, G-Dragon surely stood out as the only male celebrity. Directed by Caroline de Maigret, the video shows the BigBang frontman clad in signature pieces from the French house—a tweed jacket, several pins with the brand's logo, and glass pearl accessories— while he playfully paces up and down, anticipating the virtual show. 
View this post on Instagram
A month later, the King of K-Pop, graced Dazed Korea's 13th Anniversary Edition as the publication's muse. The magazine introduced the singer, rapper, and model as the "main character" of the issue and explained they chose to feature him because he's "the world's most iconic and assertively, the most DAZED-like person, who loves music, fashion and enjoys art." Photographed by Kim Hee June and wearing looks from Chanel's Spring-Summer 2021 RTW collection, G-Dragon offered a look at the "most perfect yet raw moments" of his life and spoke about his love for the legendary brand. "Each person may have different images of Chanel, but I think I enjoy the fun of wearing some clothes and adding a twist," he said.
View this post on Instagram
Lisa selected as a guest jury of the ANDAM Fashion Award
Though the beloved rapper and dancer of BLACKPINK, Lisa Manoban, is no stranger to the fashion scene—serving as the official ambassador of brands like Celine and Bulgari—she cemented her status as a fashion icon earlier this year when she was announced as a jury member of the ANDAM Fashion Award. 
View this post on Instagram
This important French competition grants money and mentorship to promising fashion designers and has previously been awarded to innovators of the likes of Martin Margiela, Christophe Lemaire, and Viktor & Rolf. The panel that picks the winner is composed of 19 permanent members and 14 guest juries selected by Cédric Charbit, CEO of Balenciaga, who was appointed as Jury President this year. According to Charbit, he chose a varied group of people from across fields that "represent the different facets and faces of creativity today." 
With her media exposure and links to the fashion industry, it only makes sense Lisa was listed alongside international personalities like the former Creative Director of Céline, Phoebe Philo; Lou Doillon, French singer and actress; Sally Singer, Head of Fashion Direction in Amazon; stylist Marie Chaix and Kerby Jean-Raymond, founder of Pyer Moss. 
View this post on Instagram
The winner of the Grand Prize will be unveiled next month, but so far the names of the 14 finalists have been disclosed. The lists include—among others—Casablanca, Wales Bonner, Bianca Saunders, and the London-based fashion brand Rokh, founded by the Korean designer Rok Hwang, who recently dressed Jennie for the cover of Vogue Korea. 
Jackson Wang's fashion exploits 
There's no doubt Jackson Wang is one of "fashion's most sought-after" K-pop stars and a proven adroit businessman. From his publicized and long-standing relationship with the Italian fashion house Fendi to his own endeavors with Team Wang Design, and becoming the face of Cartier's iconic Pasha Watch alongside global stars like Rami Malek and Willow Smith, Jackson has truly carved out a place in the world of high-end fashion. 
View this post on Instagram
The multi-talented rapper, singer, and entrepreneur received 2021 with the launch of his second design project under Team Wang. Combining minimalism and luxury into all-black, velvet pieces, Jackson's fashion label dropped a collection of 11 items titled COOKIES—THE VELVET. To promote it, Team Wang opted for a model-less marketing approach and showcased the brand through "the invisible man", a concept that Jackson created in an attempt to encourage people "not to limit themselves." 
View this post on Instagram
In addition to his design ventures, Jackson landed on the covers of L'Officiel Hommes Korea YK Spring/Summer edition, Maps' March issue, and Wallpaper's April number. The multi-hyphenated artist also fronted Fendi's most recent global campaign, lending his looks to publicize the Summer 2021 Capsule Collection with the Chinese artist, Jike Junyi.
View this post on Instagram
View this post on Instagram
aespa becoming the First K-Pop Act to be Selected Brand Ambassadors as a Group
Last year, the four-member girl group, aespa, made their debut under SM Entertainment. With an electropop track titled Black Mamba, Karina, Giselle, Winter, and Ningning set the record for the most-watched debut music video for a K-Pop group, in the first 24 hours after its release on Youtube. 
Considered to be the "Rookie K-Pop Group to Watch" by TIME Magazine, aespa continued to show its potential across fields in 2021. On February 10, the girls were announced as Givenchy's new Global Ambassadors. The appointment marked the first time this French luxury house collaborated with K-Pop stars and the first time an entire group was selected to represent a luxury fashion brand. 
View this post on Instagram
Givenchy's creative director, Matthew M. Williams said in a statement that he was impressed by aespa's energy "both as a group and individually."  He also reflected on the members' appeal, explaining that each of them owns a distinctive personal style that "naturally reflects the spirit of Givenchy." 
K-pop Stars Modeling at New York's Fashion Week 
As part of the official program of New York's Fashion Week, TXT's Yeonjun, NCT's YangYang, and solo singer BIBI walked the digital runway for Concept Korea, a collaborative show organized by the Ministry of Culture, Sports and Tourism (MCST) and the Korea Creative Content Agency (KOCCA). This government-sponsored initiative was established in 2010 and it is aimed to showcase the work of rising Korean designers, serving as a platform for their breakthrough into the global market
After a successful NYFW debut in 2020, the brands WNDERKAMMER, JARRET, and UL:KIN were selected—for a second time—to represent the Korean fashion scene. UL:KIN—with Lee Seong Dong at its helm—tapped Yeonjun and BIBI as their models while JARRET, the brand founded by  Lee Ji Yeon, enlisted WayV's YangYang. 
The fashion show was broadcasted on February 17 and marked the debut of these K-pop stars on the runway. Yeonjun and BIBI stepped out in streetwear-influenced black outfits from UL:KIN's LSD collection. In an interview with Singles Korea, the member of TXT shared that he enjoyed the experience, but also revealed that he took walking lessons from a professional model and practiced in his downtime. The exciting partnership between Yeonjun and the Korean brand didn't cease after the digital runway. Following the show, UL:KIN unveiled a capsule collection in collaboration with the rapper. 
View this post on Instagram
On the other hand, YangYang switched to a more sartorial style for his modeling initiation. The multi-talented artist wore two modern suits that stood out in the dreamy setting JARRET chose to showcase its art-inspired designs. Before the show, YangYang took to Instagram to briefly express that he appreciated the opportunity.
View this post on Instagram
BTS as the House Ambassadors of Louis Vuitton 
Just a few days after the announcement of a hugely publicized collaboration with McDonald's, BTS revealed their latest fashion endeavor. This time, the K-Pop group snatched a deal with none other than the luxury fashion brand Louis Vuitton. On April 22, the French house took to their social media accounts to welcome the septet as their new ambassadors.
View this post on Instagram
Although the report surprised fans, the appointment was anything but unexpected. For one thing, BTS had been hinting at the upcoming partnership, first joining the digital audience of the brand's Fall/Winter 2021 Menswear Collection and then showing up at the Grammy Awards clad in head-to-toe Louis Vuitton looks. For another, the luxury brand has built a diverse portfolio of brand friends, ambassadors, and collaborators over the past years—think of Takashi Murakami, Liu Yifei, or Kris Wu—, which included other K-pop stars like EXO's Sehun and most recently, Somi.
View this post on Instagram
In a statement, Louis Vuitton's Menswear's Artistic Director, Virgil Abloh, shared his thoughts on this massive team-up. "I am delighted BTS are joining Louis Vuitton today," he said. Abloh, who is known for constantly crafting new collaborations, added "I am looking forward to this wonderful partnership which adds a modern chapter to the House, merging luxury and contemporary culture. I can't wait to share all the very exciting projects we are working on."
NCT 127 on the cover of Japanese Fashion Magazines 
Following the successful release of their second Japanese album LOVEHOLIC, the members of NCT's subunit, NCT 127, were selected as the cover stars of ELLE Japan's Special May issue and MEN'S NON-NO April edition. Both magazines are publications of heavy circulation in the fashion-forward Japanese market, but NCT 127's popularity guaranteed immediate sold-out.
Photographed by Kim Do Won and styled by Kim Young Jin, NCT 127 donned a sartorial style for the cover of ELLE. Johnny, Mark, Haechan, Doyoung, Taeil, Jungwoo, Jaehyun, Taeyong, and Yuta modeled bright colored suits from ME:YOOMI, Fendi, Kimseryong Homme, and Lemeteque, for the group shots. On the individual stills, each member was portrayed in all-white outfits from an endless array of designers and brands including Dolce and Gabbana, Wooyoungmi, Burberry, Saint Laurent, and Rick Owens.
View this post on Instagram
Due to the restrictions issued because of the COVID19 pandemic, the cover was lensed in Korea. However, the staff of ELLE Japan gathered to remotely monitor the photoshoot, video recording, and interview, where the members of the boy group opened up about the places in Japan they want to visit in the future, their latest "obsessions" and NCT 127's strengths.
View this post on Instagram
On the other hand, the cover of MEN'S NON-NO highlighted a strikingly different side of the NCT subunit. Leaning more towards streetwear and titled "NCT 127 ON THE STREET," this pictorial was divided into two parts: the first displaying Seoul's fashion trends and the second, "the current fashion from Tokyo." Stylists Kim Young Jin and Taichi Samura teamed up to create an "eye-catching" concept that represents the DNA of NCT 127 as a group, while simultaneously accentuating each member's style. 
View this post on Instagram
Accompanying this photo session, there's an insightful interview where the Seoul-based NCT unit spoke about fashion and music. 
Basically, Everything Blackpink Did 
Considered to be the biggest girl group in the world, BLACKPINK's record-breaking music career can only be rivaled by the myriad of fashion accolades they've collected over the years. The members of the quartet deserve a list on their own, but here's a quick recap of Lisa, Jisoo, Rosé, and Jennie's fashion feats in the first half of the year.
Other than keeping their already established links to Parisian fashion houses—Jennie as an ambassador of Chanel, Lisa representing Celine, and Rosé partnering with Saint Laurent— the girls of BLACKPINK landed new exciting brand deals. In March, Jisoo was officially appointed as Dior's ambassador for the fashion and beauty branches. The announcement came with the news of Maria Grazia Chiuri herself highlighting Jisoo as one of the inspirations behind Dior's Fall/Winter 2021 collection. Just a month later, Rosé was designated as Tiffany and Co.'s new Global Ambassador and the face of the HardWear Collection. Finally, on May 16, Jennie was revealed as the image of Calvin Klein's capsule collection Drop 02. 
View this post on Instagram
View this post on Instagram
View this post on Instagram
Additionally, the foursome appeared on the cover of fashion magazines individually and as a group. Jennie graced one of the covers of THE CHANEL BOOK—alongside Lily-Rose Depp and Margot Robbie—and fronted the April issue of Harper's Bazaar Magazine. After her successful solo debut, Rosé was featured on the cover of Vogue Australia, made it to the front of W Magazine's May issue, and became the cover star of ELLE Korea's June number. Meanwhile, in April, Lisa took the cover of ELLE Korea and Harper's Bazaar China. She also landed ELLE Thailand's cover in May and sold out two covers of Vogue Japan's June Issue within minutes. Jisoo graced the cover of various fashion magazines: ELLE Korea's January number, W Korea's February issue, and ELLE Hong Kong's June edition.
View this post on Instagram
View this post on Instagram
View this post on Instagram
View this post on Instagram
The group was also spotlighted on the cover of Vogue Korea's June issue. Lensed by Kim Hee June, Lisa, Jisoo, Jennie, and Rosé posed for individual and group covers that were inspired by the Pantone Colors of the Year 2021.
View this post on Instagram
Kai and Gucci team up for a nostalgia-inducing collaboration
Though the alliance between Kai and Gucci has grown over time, marking new milestones for the K-pop star every season, this partnership took to new heights in 2021. After years of a prosperous ambassadorship, Kai was revealed to be the muse of a special capsule collection to commemorate Gucci's 100th anniversary.
Inspired by the idol's love for teddy bears and a nickname Kai has been given by fans,  Gucci's Artistic Director, Alessandro Michele, created an arrangement of items centered around a vintage teddy bear motif, dubbed Kaigom—Kai bear. The KAIxGucci Collection includes an assortment of womenswear and menswear staples, accessories, and shoes that were unveiled through a fashion pictorial on Esquire Korea.
View this post on Instagram
In an interview for the same magazine, Kai shared his thoughts on becoming the first Korean celebrity to partner up with Gucci for a fashion line. "I am incredibly grateful and just as thrilled—it's not easy to have a collection with your name," he expressed. "It's a huge opportunity and an act of fortune, so I'm at a loss of words to describe how happy I am that it came to me.". The 27-year-old also spoke about the teddy bear and what it means to him. "It has become something that symbolizes me—a connection between me and my fans," Kai explained.
View this post on Instagram
The promotion of this fashion collaboration included giant bear balloons stationed in emblematic spots across South Korea. The art installations designed by the pop artist IM Jibin were placed in locations like the Dongdaemun Design Plaza, Namsan Tower, and Hanok Village. In addition, Kai filmed a lighthearted video where he took viewers on a tour around Seoul accompanied by his—bear—friends. 
View this post on Instagram
Talking to Chosun Ilbo in May, the CEO of Gucci, Marco Bizarri, addressed the "special relationship" between Kai and the fashion house. Bizarri said, "Kai's style is very unique and modern. I can feel absolute freedom from his music and dance, which is in line with Gucci's values."
As experts report, fashion brands are just starting to feel the power of K-pop artists as "bankable for social media engagement." The wide appeal of these celebrities will undoubtedly continue to open doors for brand deals and collaborations in the future. Let us know what your dream fashion and K-pop partnership would be by tagging @envimediaco on Twitter. 
Want to read more about fashion in K-pop? Learn about jewelry trends in K-pop here!
Thumbnail courtesy of Xana