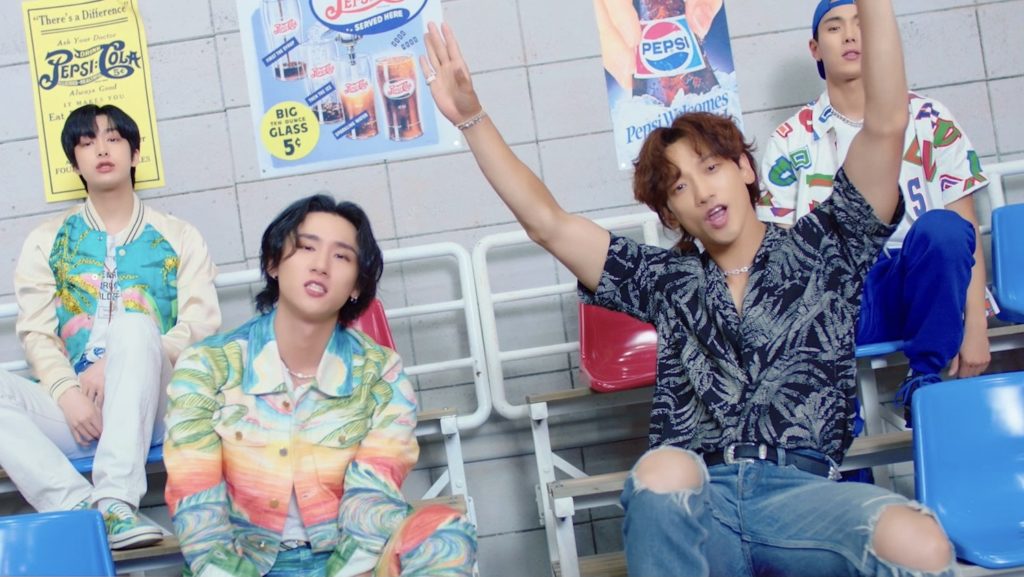 Multi-star projects might be rare in the world of K-pop, but Rain, Brave Girls, Monsta X, and ATEEZ just joined forces to promote a fun summer jam. Teaming up with the drink manufacturer, Pepsi, the star-studded lineup released "Summer Taste," a song befitting the season that invites everyone to get up and dance. The track is part of the digital single series, Pepsi X Starship Project, and belongs to the For The Love of It global campaign.
Pepsi X Starship Project
The project started in 2019 when Starship Entertainment and Pepsi partnered to present the beverage's marketing campaign in Korea. With a jingle that spanned through several countries across the globe, in their local versions, the multinational corporation searched to connect with new generations. "For decades music has been at the core of the Pepsi brand and For The Love Of It aims to continue this legacy and inspire today's music generation to live their passion," Pepsi said in a statement. 
For the first part of this collaboration in 2019, Monsta X was chosen to introduce the cheerful song, "For The Love Of It," in their home country. They joined a global lineup of performers that included SB19, Now United, and Jackson Wang. Several single releases followed after, featuring artists like VIXX, GFRIEND, Ong Seong Wu, Soyou, Zico, Kang Daniel, I*ZONE, Bae Jin Young, and Kim Yo Han.
2021 Pepsi Taste of Korea 
The campaign continued to release several songs in the past two years but at the beginning of July 2021 Starship teased a new collaboration with Pepsi. The entertainment company later revealed a lineup of artists that included members of Monsta X, ATEEZ, Brave Girls, and the solo singer Rain. 
Building up to the release of the single, Brave Girls' Yujeong and Yuna, Monsta X's Shownu, I.M, and Hyungwon, and ATEEZ's Hongjoong and Yunho sat down for an interview. The idols spoke about the Pepsi campaign, food choices, and working with other K-pop stars. 
Finally, on July 14, the track titled "Summer Taste", was released along with a season-themed music video. In the clip, the artists are seen enthusiastically dancing as they enjoy summer activities and eventually join a party. 
Co-written by AIMING, I.M, and Hongjoong, "Summer Taste" is an upbeat, heavily synth-infused song that can easily become a summer anthem. Starship Entertainment said that the song intends to deliver a message of hope "so that people can forget the frustration of daily life and feel joy and happiness."
The Stars and Summer Taste 
Prior to the song release, Monsta X's Shownu invited fans to join a live broadcast on Vlive, where he enjoyed a meal — accompanied by Pepsi Cola — and answered questions from fans. He later posted a couple of pictures on Twitter, promoting the drink and his new song.
?
210714 #몬스타엑스#V_LIVE #셔누
: 일단 밥은 먹고 삽시다

지금 바로 '#V앱' 을 통해 함께 해요 ?!#MONSTAX #SHOWNU#TASTE_OF_KOREA#SUMMER_TASTE#펩시 #광고

— 몬스타엑스_MONSTA X (@OfficialMonstaX) July 14, 2021
Summer taste pepsi~ #셔누 pic.twitter.com/BwLjWp3TBG

— 몬스타엑스_MONSTA X (@OfficialMonstaX) July 14, 2021
Ahead of the unveiling, Rain also teased the clip on Instagram and shared a picture in the company of Shownu.
View this post on Instagram
After the music video reveal, ATEEZ's Hongjoong took to Twitter to share some pictures from the set of "Summer Taste."
[#홍중] Pepsi?#ATEEZ #에이티즈 pic.twitter.com/iduDap0HsH

— ATEEZ(에이티즈) (@ATEEZofficial) July 14, 2021
Fans Can't Get Enough Of It
After the launch of the collaboration, loyal fans flocked to Twitter to share their thoughts on the track. Hashtag mentions soared and made "Summer Taste" a trending topic. The song also made it to Melon's Latest 24 Hits list and charted on iTunes in several countries. 
In conclusion ATINY are ✨blessed✨
TASTE THE SUMMER WITH ATEEZ#ATEEZ #ATEEZxPEPSI #TASTE_OF_KOREA #SUMMER_TASTE #에이티즈 #ATEEZxDIGIMON @ATEEZofficial pic.twitter.com/2YLqt2ftbE

— MULTIFAM???? (@ArmyxAtin4ever) July 14, 2021
#홍중 Hongjoong in summer taste mv is the hottest thing in the summer itself pic.twitter.com/W4N87lefQj

— CRY⋆ Dreamers (@crybabeforhong) July 14, 2021
shownu and rain

how it started how it's going pic.twitter.com/H8w3pa8aMg

— aurora loves shownu :): (@kyunstd) July 14, 2021
Monsta X, Brave Girls, Ateez, and Rain WHAT!!!!!!! Legends together we love to see it!!!

— ?ᴿᵃᵛʸᵍʳᵃᵛʸ?¹ ² ⁷ | HANBINs ? (@Http_GeniusLab) July 14, 2021
Summer Taste — iTunes #에이티즈 @ATEEZofficial #ATEEZ #SUMMER_TASTE pic.twitter.com/NVat98zNaK

— ATEEZ Charts (@ateez_charts) July 14, 2021
MelOn Latest 24 Hits — 05:00 KST

#18 Summer Taste (=) #에이티즈 @ATEEZofficial #ATEEZ pic.twitter.com/H3Cy4AGhnF

— ATEEZ Charts (@ateez_charts) July 14, 2021
Coming Up
The groups' team-up to promote Pepsi in their home country is a testament to their current popularity. Last month Brave Girls promoted their fifth mini-album Summer Queens, gathering great attention in South Korea. Meanwhile, ATEEZ took part in MNET's television program Kingdom and Monsta X promoted the song Gambler. 
"Summer Taste" is also a little gift to fans who expect to see more of their idols in the near future. As Monsta X gears up to a new era with the announcement of the single "KISS OR DEATH," which is set to be released on July 26, it seems that fans won't need to wait too long.
Want to read more? Check out our coverage on Winwin's collaboration with Louis Vuitton!
Thumbnail courtesy of Starship Entertainment.