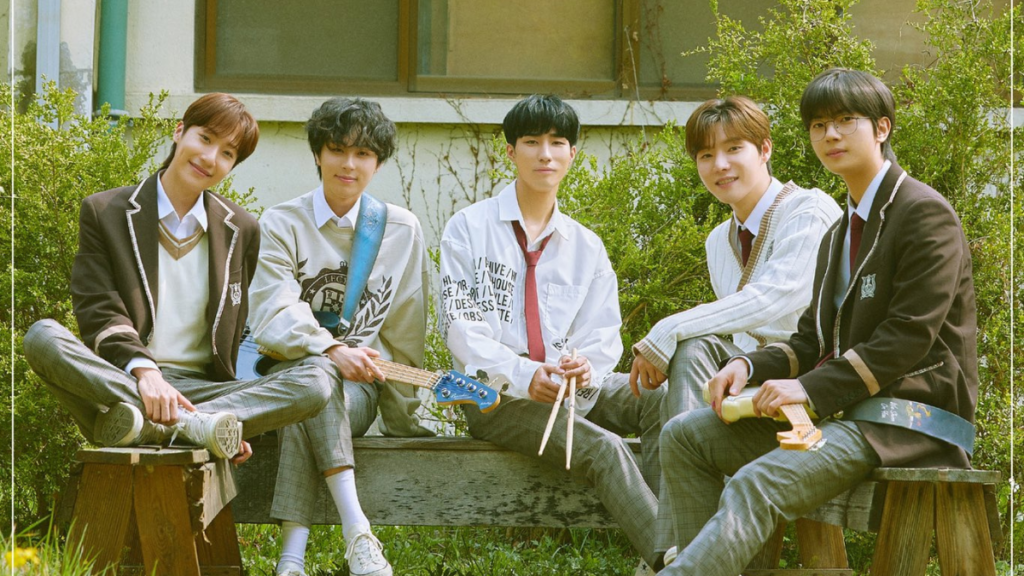 Despite being together as "Onewe" for only three years, leader and vocalist Yonghoon, guitarist Kanghyun, drummer Harin, pianist and vocalist Dongmyeong, and bassist and rapper CyA have an even longer history together. Before becoming Onewe under their current company, RBW Entertainment, the five were known as M.A.S 0094. Harin, Kanghyun, and CyA formed a trio first, and the latter brought in his friend Dongmyeong for the vocalist role. Yonghoon joined last to round out the members.
Now, two band names, twelve albums (including their Japanese single album, Reminiscence about All, and their newest single album, Timeless), and three anniversaries later, Yonghoon and Kanghyun announced their military enlistments, set to start on July 12 and August 2, respectively. With this news comes some uncertainty regarding Onewe's future; however, they have acquired countless "timeless" (pun intended) memories with their fans, called Weve. As a celebration of the band's third anniversary and as a send-off for best leader Yonghoon and iconic guitarist Kanghyun, EnVi rounded up, in no particular order, 10 of our favorite Onewe moments. 
Onewe (then M.A.S 0094) Busking at Hongdae Playground
To know Onewe is to know their busking roots. One of their most memorable performances was in 2016 at a playground in Hongdae, where the five, then known as M.A.S 0094, performed their original track "Starlight." (They recently re-recorded the track and included it in Timeless.) Curious passersby stopped to listen, many even turning on their phones' flashlights to illuminate the band as they played this moving ballad.
Onewe Performs "Reminisce about All" for Third Anniversary
In celebration of the band's third year as "ONEWE" and a callback to the original version, the members perform their emotional ballad, "Reminisce about All," once again. This time, the musical aura is much more orchestral yet even more intimate and unique than its predecessor.
Kanghyun Playing His Guitar Solos While Blindfolded
We are very glad Kanghyun decided to go the music route instead of the kendo athlete one. The guitarist is well known for his complicated solos and his calm demeanor, but he took even this to the next level. Accompanied by his trusty purple Sterling (named Boradori) and leader Yonghoon peering over his shoulder, Kanghyun challenged himself to play the "Envision" guitar solo with his eyes covered with a mask. Even more impressive is the fact that he has done this before with his "Montage" solo, too.
Onewe's Electric Girl Group Medley
Imagine your favorite girl group songs cranked up on rock 'n' roll steroids—yeah, Onewe did that. On an episode of You Heeyeol's Sketchbook, the band successfully covered IVE's "Eleven," (G)I-DLE's "Tomboy," aespa's "Next Level," and BLACKPINK's "Lovesick Girls."
Yonghoon and Dongmyeong Cover "I'll Never Love Again" From A Star Is Born
Held this past February, Onewe's online and offline concert, O! NEW E!volution II, had a few surprises in store. Yonghoon and Dongmyeong's cover of "I'll Never Love Again" from the hit movie A Star Is Born was one of them. A simple set of their two mic stands and light fog curling around their ankles added to the emotional atmosphere as the vocalists poured their hearts out on stage.
Dongmyeong Joins Oneus' Xion in "Black Mirror" TikTok Challenge
Always quick to support his twin brother, Dongmyeong shows off his dancing skills and charm with ONEUS member Xion—who doesn't love a power twin duo?
CyA Makes a Song About a Diffuser
Onewe's STUDIO WE : MAKE A SOUND series on YouTube is where the band's skills shine. Maknae CyA was inspired by his love of diffusers to make a song about them, resulting in this 10-minute clip of him writing the lyrics, producing the track, and showing off the final product. You never know what can be a source of inspiration for a song!
Kanghyun's First Acting Scene in "Universe_"
Although Kanghyun and his scene partner, Jong Yoon-Kyu, were adorably awkward and shy off-camera (neither one had acted in a music video before), on-camera, you'd think the pair had known each other their entire lives. Do we sense a blossoming friendship happening?
Harin and Kanghyun Sing "Universe_"
In their Planet Nine : VOYAGER unboxing VLIVE, Harin and Kanghyun hilariously revealed their vocal talents. Dongmyeong may have planted the idea for the two to sing the hook of "Universe_," but the '98 line made it their own as they tried to belt Yonghoon's high note. Who knew Onewe's drummer and guitarist had such pipes?
Onewe's Hilarious Dance Cover of 2PM's "Heartbeat"
Who said rock bands can't dance? Trading in their instruments for intense choreography, Onewe pays homage to legendary K-pop group 2PM and their classic hit, "Heartbeat." And although seeing the band lose steam halfway through the dance is incredibly entertaining, we can't deny they hold their own on the dance floor.
With Mnet's show, Great Seoul Invasion, officially premiering on July 20, and Onewe participating as one of the bands, as well as Yonghoon vaguely speaking about projects he has been working on lately, there are exciting things on the horizon. The group may be heading into uncharted territory, but there is much to celebrate and much more in store for Onewe.
Want more Onewe? Check out EnVi's article on their "Veronica" music video here!