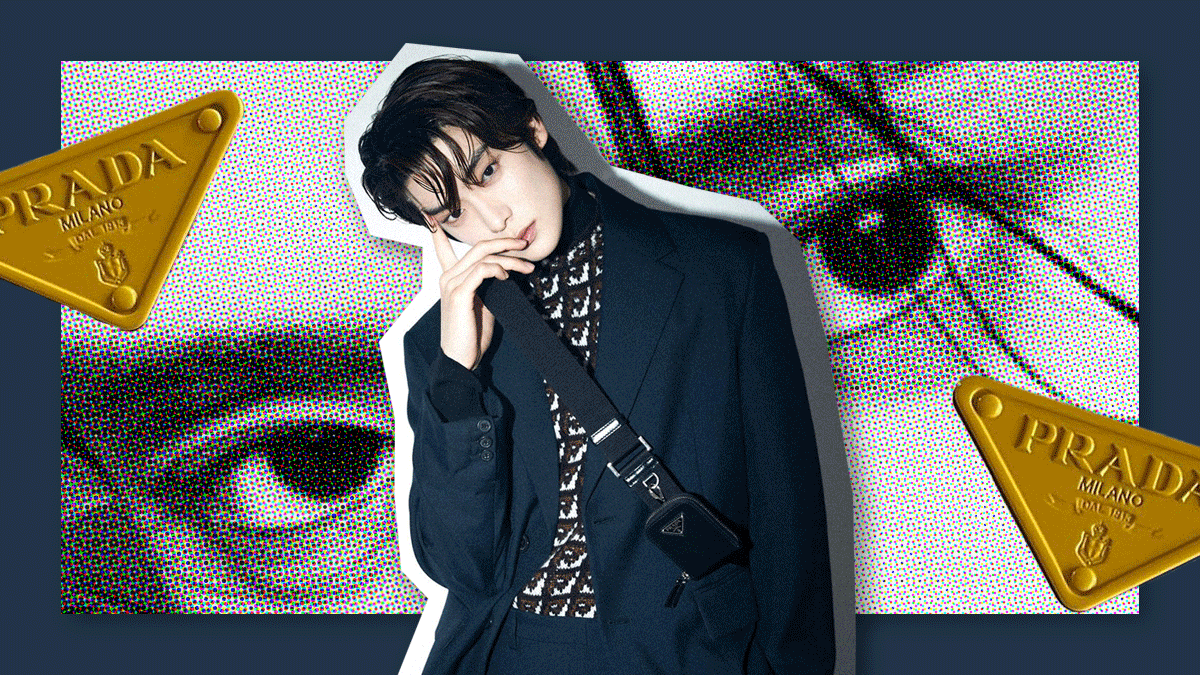 Temperatures in Europe are unusually high this summer. Weather, however, is not the only hot thing right now in Milan, Italy. Filled with fashion insiders, models, and even some global stars, the city is welcoming Men's Fashion Week once again. From Matthew Williamson's co-ed brand 017 ALYX 9SM to uber-popular names like Fendi and Prada, the world has its eyes set on the latest offerings from Italy-based brands. Equal attention garners the front row at fashion shows, packed with magazine editors, buyers, and the most fashionable celebrities. From this VIP guest list, enthusiasm has been abundantly clear about Korean singer and blooming style icon, Jeong Jaehyun—member of K-pop group NCT—on his first attendance at Milan Fashion Week. On his physical front row debut at Prada's Spring Summer 2023 show, the singer channeled Elvis Presley in a present-time reprisal of the style popularized by the rock legend.
Jaehyun's Ascendance in the High Fashion Ranks
It is not a secret that K-pop group NCT and its members have quickly ascended the ranks of the high fashion realm. With a style evolution worth watching and their involvement with some of the biggest fashion houses in the world, there's no stopping the group's fashion takeover. Among NCT members, the group's vocalist, Jaehyun is currently making waves in the world of fashion. Creating lasting ties to the Italian luxury house Prada, in addition to starring in magazine editorials and video campaigns for the brand, Jaehyun has become "one of the most sought-after K-pop artists in the industry."
Jaehyun's friendship with Prada dates back to 2021 when he was first invited to grace the digital front row of the brand's Spring-Summer 2022 menswear collection. The next season, the singer caused an internet frenzy when he took to Instagram to live-stream Prada's Spring-Summer 2022 womenswear collection. Since then, Jaehyun has set milestone after milestone with the Italian house. The most recent items in his Prada resumé include a video campaign with Vogue Korea and the invitation to attend the luxury brand's show in Milan.
Jaehyun's Milan Fashion Week Debut
On Sunday, June 19, Co-Creative Directors Miuccia Prada and Raf Simons presented Prada's Spring Summer 2023 Menswear Collection. As one of the most celebrated Italian fashion houses, Prada's show was highly anticipated at Milan Fashion Week. It goes without saying that celebrities flocked to the event. The front row was filled with A-listers dressed in Prada's signature ensembles, leather accessories, and items from the most recent collections. Of course, among the big names were stars such as Win Metawin, Song Kang, and Jeong Jaehyun.
The latest built upon his friendship with the Italian luxury house and embraced his inner rock star for the event. Jaehyun—who had previously teased his attendance at the show in a series of Instagram posts and stories—continued to show his affinity for Prada's staples, stepping out in a look that appeared to be a nod to Miuccia Prada's team-up with Catherine Martin for the costume design of Baz Luhrmann's film Elvis. The heartthrob arrived at the show dressed in a double-breasted coat, and a nylon jumpsuit. To complement the outfit, Jaehyun paired the tailored look with silver chain necklaces and leather lace-up shoes. However, what really leaped Jaehyun's look from adored K-pop idol to fashion VIP was his recently-dyed hair and the sunglasses strategically placed on top of his head, which added a stylish finish. 
Online Buzz and Jaehyun's Prada Future
Not a stranger to the social media buzz, Jaehyun's winning looks, and fashionable fit set the internet ablaze. Fans quickly took to the Internet to trend hashtags in support of the singer and his front-row debut at Milano Fashion Week. After more than a year of a blooming friendship between the singer and Prada, eager fans collectively shared their excitement about Jaehyun's unlocked feat. He is now the first NCT member to physically attend one of the four major international Fashion Weeks since 2019.
Jaehyun's major fashion milestone is one to celebrate. Between the star's personal style chops and his first attendance at an international fashion event of this kind, he has proved to be a full-fledged style icon. With the singer set to embark on concerts in Asia with NCT's subunit, NCT 127, and the upcoming release of his first drama, perhaps plenty of opportunities to further consolidate his status as a fashion maven are down the pipeline.
In the meantime, you can revisit Jaehyun and Prada's Fashion Love Affair here.