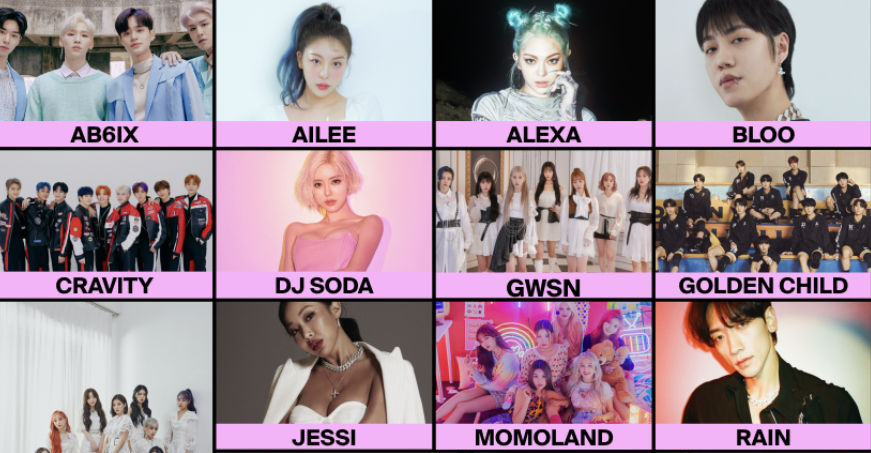 Here's everything you need to know about K-pop SuperFest happening Sunday, June 19 from 6 p.m. – 2 a.m. PST. Presented by Joy Ruckus Club and Sessions, it will be one of the largest virtual K-pop festivals in the Western World, streamed live from the Yes24 Live Hall in Seoul, South Korea featuring a star-studded lineup of musicians in the K-pop industry. 
View this post on Instagram
K-pop SuperFest, though only being hosted for one day, is sure to be one of the most talked about K-pop events of the year. Hosted by AleXa and Kevin of The Boyz, you can be sure that this one time event is going to be a festival to remember. 
In addition to AleXa and Kevin being the hosts of the evening, they will also be performing. AleXa will not be the only soloist performing at the festival, as legendary icon, Rain and showstopping vocalist, Ailee, are both included in the eye-catching lineup. Known for their impressive dancing and stunning vocals respectively, their performances are sure to have you on your feet, wherever you'll be watching from!
[켑] see u at K-Pop Superfest ✌️#mcmooney pic.twitter.com/ejTECDsiMZ

— THE BOYZ (더보이즈) (@WE_THE_BOYZ) June 16, 2021
Kevin Moon, alongside his ten other bandmates in The Boyz, will be fresh off of their successful appearance on Mnet's Kingdom: Legendary War. Joining them among the lineup are rookie boy groups Cravity, and AB6IX. Golden Child, who are well known for their complex choreograph, will also be performing at K-pop SuperFest. 
On the girl group side of things, hit-makers Momoland and GWSN will both be showing off their engaging stages. With them, refreshing girl group Lovelyz is set to perform their hits as well. Appearing alongside their seniors, rookie girl group woo!ah! will be attending as well. Only a year into their idol group journey, their fans are anticipating their attendance at the festival. Joining the stacked lineup of idols, is a roster of K-Hiphop and K-R&B performers; including versatile soloist Jessi, rapper Bloo, and refreshing DJ Soda! 
View this post on Instagram
K-pop SuperFest was put together in collaboration between Joy Ruckus Club and Sessions, in part to "honor the legacy and memory of Shin Hae Chul," a pioneer in the Korean music industry, said Kublai Kwon, founder of the Joy Ruckus Club. Sessions co-founder Tim Westergren also said of the festival "The K-Pop SuperFest represents another milestone as we bring even larger events to fans across 194 countries and 18 languages."
With a star-studded lineup and passionate organizers coming together to entertain fans around the world, K-pop SuperFest is sure to be a night to remember. 
To purchase your tickets to K-pop SuperFest visit their website here! 
For more virtual festivals, check out our review of 88 Rising's Asia Rising Together benefit fest here!
Thumbnail Courtesy of Joy Ruckus Club