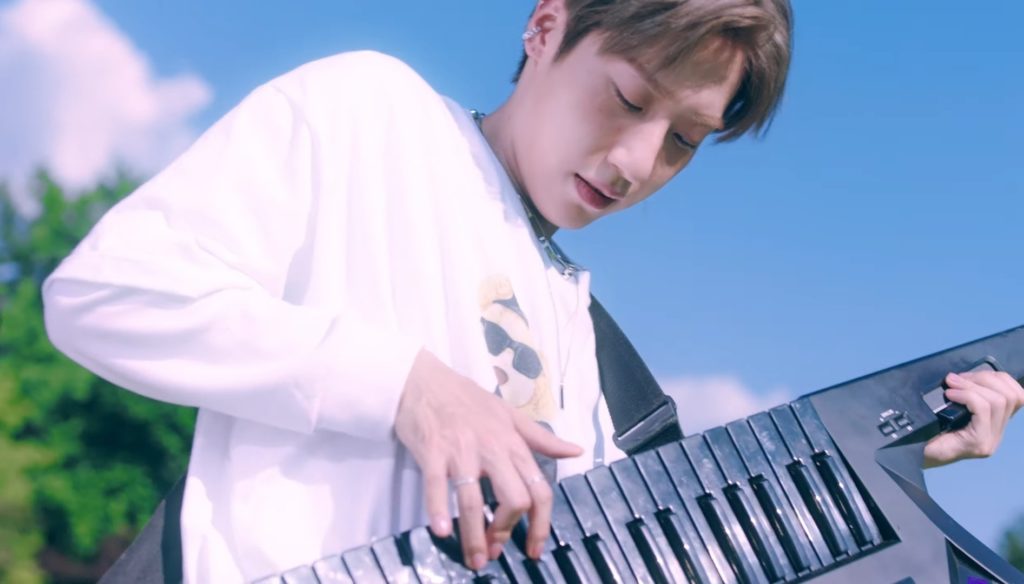 Right on the heels of their newest single, "Rain To Be," ONEWE surprised fans with yet another music video for the tropical B-side track, "Veronica." Although fans have listened to this summertime earworm for almost two weeks now, the band's resident keyboard player (Dongmyeong) added a special musical twist that is soaring through the hearts of fans online.
Keytar Solo For The Win
Throughout his years with ONEWE, 21-year-old vocalist Dongmyeong has shown time and time again that he is a star on the keys. Whether it's a soft piano lead for their ballads or an uplifting keyboard moment for their soft-rock classics, the singer carries a melody like no other. But it's his funky keytar that brings out the most charisma on stage, and the instrument he's become synonymous with among WEVE (their fandom).
In this new, slightly rearranged version of "Veronica," Dongmyeong finally took center stage with his first keytar solo that fans have waited what seems like a lifetime for. As opposed to sliding on his knees—which he usually does—Dongmyeong opted for a simple kneel as he ripped the slick keytar to shreds (metaphorically, of course). The delight and satisfaction on his face said it all, acting as an echo of what every WEVE felt while watching.
do we actually realize that we got the chance to witness Dongmyeong keytar solo or..??pic.twitter.com/15e6H7xAex

— eri ♡ logo ? (@YONGH00NEY) June 28, 2021
finally watched veronica mv and dongmyeong keytar solo gave me life

— yan ? (@carrotpanko) June 28, 2021
dongmyeong keytar solo, we're so blessed omg pic.twitter.com/zhwu8J9n7Y

— alie (@arsevanity) June 28, 2021
im not gonna stop talking about dongmyeong keytar solo
this is goldd??pic.twitter.com/6V8zftqBMl

— 아라☔ | semi-ia✏? (@minteupeullo) June 28, 2021
More Standout Moments From ONEWE
Dongmyeong isn't the only one snatching hearts in the video, though. His four band members have equally breathtaking moments, styles, and overall charm. Bassist, rapper, and ONEWE's youngest member CyA sported his hair in two pigtails and cat ears, emphasizing his boyish look compared to his usual style. It's a nice contrast to the tattoo on his forearm on full display — something that he rarely shows.
CYA'S PIGTAILS IMA AGQKWHS pic.twitter.com/VcFTgTT152

— 멍멍멍멍멍เท่ง (@weezin_we) June 28, 2021
Cya's Tattoo is so beautiful ❤️❤️❤️#CyA #onewe @official_ONEWE pic.twitter.com/mT9Z4LNkAl

— Selene (@seleneeverlast) June 28, 2021
cya with pigtails,,, the devastation,, I'll be crying if you need me he's so cute

— nickie ? wonkyun au (@isntdoyoung) June 28, 2021
I saw a glimpse of cya's tattoo in the mv and it's so beautiful?

— myvia °??° ◐?◑ (@2m00nie) June 28, 2021
Meanwhile, lead singer Yonghoon showed off another rare moment in which he played the guitar throughout the music video. Normally, the 27-year-old holds down the center stage with his multifaceted vocals alone. But here, he was able to rock out with fellow guitarist Kanghyun on strings and looked great while doing it.
Wait! I just noticed that Yonghoon is playing guitar!!!Yonghoon's guitar debut pic.twitter.com/AvCJiVfy6F

— 아켐아 (@sunshinehyungu) June 28, 2021
The guitar flirt is back now that yonghoon bring out his yongil ?? pic.twitter.com/9mdxtAEzjs

— 멍멍멍멍멍เท่ง (@weezin_we) June 28, 2021
Yonghoon on guitar
Cya's hair and tattoo
Dongmyeong's keyboard solo
Harin's hair
Kanghyun having so much fun

Onewe filming outside and are genuinely happy. I couldnt ask for more, I love this so much ?❤️#ONEWE #원위 @official_ONEWE pic.twitter.com/emVqfYxh2E

— orion | NP: AuRoRa ?⁹ (@iamorionn) June 28, 2021
Mission: ONEWE Goes Viral Sensation
Aside from the fun surprises in "Veronica," ONEWE has gained quite the attention lately, for the last two members specifically.
After debuting his electric blue hair, the Internet was buzzing with questions asking, "who is the blue-haired guitar player from ONEWE?" Well, in case you missed it, his name's Kanghyun. Captivated by his pulsating guitar solos and boy-next-door image, K-pop fans are sure to fall head-over-heels for him in no time.
oh my god the guy with the blue hair who plays guitar in onewe who is he

— mj rollin enthusiast (@bloomiyungs) June 25, 2021
who's that cute guitarist with blue hair from onewe ?

— cori⁷❆ (@ddaesangtan) June 18, 2021
The one member from Onewe with the blue hair? Yeah, I love him already

— rey ΩΧ (@hangyeomiie) June 18, 2021
Finally, there's Harin. Although he's usually playing behind his band, the drummer easily catches the eye of fans with his new long black hair and sleeveless arms. It gives him a dark, brooding look, even if he's a softie in real life.
THE DRUMMER FROM ONEWE THOUGH???? pic.twitter.com/0d1wpp9OVP

— ?harin's lover☔️? (@hohoharin) June 23, 2021
TODAY'S HARIN IS TOO DANGEROUS WITH THE SLEEVELESS TOP AND THAT CURLY HAIR AND THOSE FACIAL EXPRESSIONS pic.twitter.com/cb92AZ5GRX

— via-ronica ❖?⁹ (@soIarblues) June 26, 2021
whoever's putting onewe's drummer on my tl all the time THANK YOU SO MUCH but also pls stop i've been crying over drummers specifically for a month now i can't afford more pain

— yiouli • stream a.c.e's higher mv pls i'm begging (@sirsehyoon) June 20, 2021
While the fiery quintet released its first EP, Planet Nine: Alter Ego, on June 16, the promotional content continues to pour in with "Veronica" as the newest addition. In the meantime, ONEWE is clearly living its best life, whether in the pouring rain or the heat of the sun.
Looking for more ONEWE content? Check out EnVi's last coverage of Planet Nine: Alter Ego.
Thumbnail Courtesy of RBW Official.