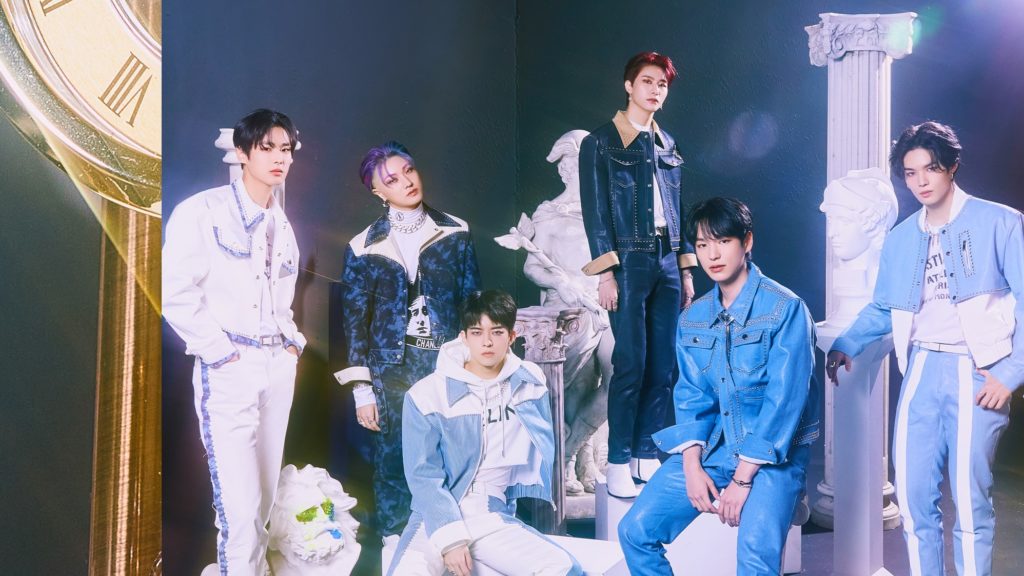 Boy group VICTON recently announced their comeback for January 18 with their third single album Chronograph. The currently six-member IST Entertainment group, consisting of Seungsik, Chan, Sejun, Hanse, Byungchan, and Subin — the oldest member Seungwoo is currently in his military service — started their roll-out with a video hinting that all their 2022 releases will be connected by a concept revolving around time.
Not long after, they released individual and group teaser pictures under the concepts titled "Chronos" and "Graphein." Here's a beauty breakdown of the most notable points in VICTON's amazing teasers.
Warm Glossy Lids
One recurring theme in the Chronograph teasers is the combination of blue and orange, sometimes more subtle, sometimes more obvious. Members Chan and Seungsik shined with a makeup technique very utilized in K-pop photoshoots in the past year: warm glossy or shimmering lids. While main dancer Chan had a more bright and metallic orange tone, contrasting nicely with the blue accents in his outfits and background, leader and main vocalist Seungsik had his eyeshadow match his hair, with a slightly more burgundy shade.
Gemstones
Gemstones are definitely a versatile, trendy, and interesting tool to elevate any makeup look. Showing up in a delicate but beautiful use of the accessory, maknae Subin sported small gemstones. Carefully scattered around one of his eyes, the golden and silver dots are a simple but effective touch that matches the concept.
Colored Brows
With an eye-catching look, rapper Hanse — already known for his unique visuals — rocked a dual-colored hair in pigtails in his teasers in both concepts, with his eyebrows colored to match the do. Right under his brows is a thick line of glitter, and his under eyes are decorated with tear-shaped gemstones. Even though his color palette is a little bit unique compared to the other members, the recurring orange and blue theme shows up in his warm brown eyeshadow, contrasting with the blue contacts.
The other two members also shined in this concept. Sejun wore mismatched eye contacts and Byungchan had a more neutral look, the green lenses matching his green outfit. 
Which among the VICTON teasers is your favorite?
Don't forget to check out Chronograph on January 18!
Want more K-pop comebacks? Check out our coverage on OMEGA X's latest mini-album here!